Eleven #fakeinterpreter jokes that made our day
A dubious deaf signer was yet another embarrassment for SA at Mandela's memorial. But, at least we can laugh about it now, lest we cry.
Meet the man who has stolen the spotlight since the memorial to Nelson Mandela on Tuesday at FNB Stadium in Johannesburg. Forget the 90-plus world leaders in attendance, the booing at South Africa's President Jacob Zuma, and even the rain. Everyone is talking about the sign language interpreter who turned out to be a fraud.
ANC spokesperson Jackson Mthembu denied knowing him or party involvement, despite videos showing he's been an ANC fixture for a while, and South Africans just can't stop talking about him.
While this confident interpreter could by no means deliver on his signing, at least he delivered material for some comedic fodder.
1. Topping the list is this beauty where the "Nailed it" meme is taken to new, glorious heights thanks to our friend with dubious signing qualifications.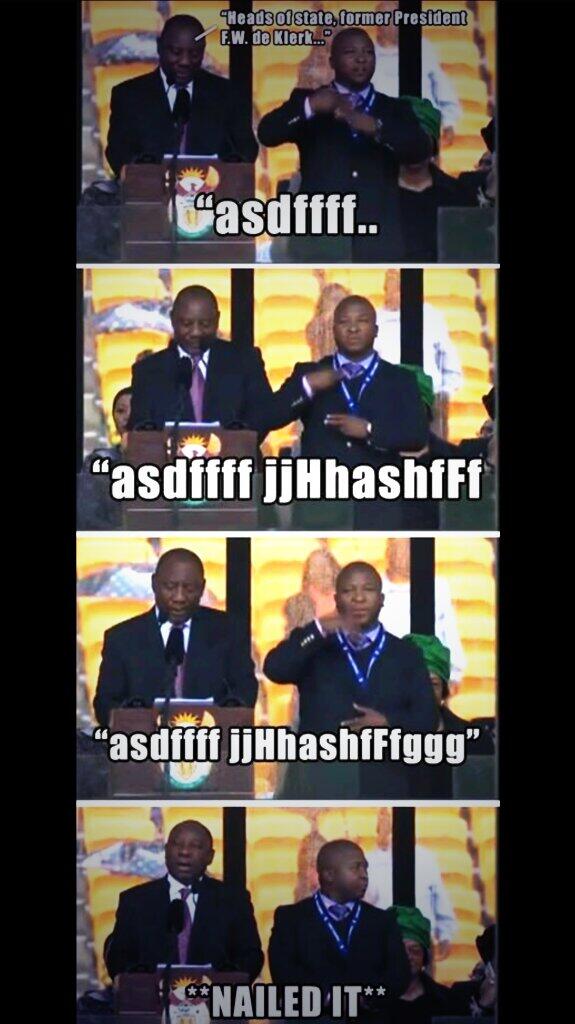 2. We have to thank ousted ANC Youth League leader Julius Malema for alerting us to this one: Turns out the man with no signing plan has been around since at least March 2012 signing the Dubula Ngombayimbayi​ (We Will Shoot them with a Cannon​) song. So many things to say about this, so little time. Our favourite bit: When he changes the sign for running halfway through.
3. The @MemorialSigner parody account wins the award for kicking off so fast and being so absurdly funny, replete with random punctuation and emphasis. A sample tweet:
Yahoo. Dustbin Woolworths. Carpet. Carpet remote control. Box. Towel. Handrail!

— MemorialSigner (@MemorialSigner) December 11, 2013
4. We also liked this. Nice.
#fakeinterpreter. The deaf community was probably on some pic.twitter.com/Zi6bthATRR

— RIP To the Legends (@Madiba_Omde) December 11, 2013
5. Pulling a zap sign at the leader of the free world all in the name of faking it till you make it. What's that you say about big balls?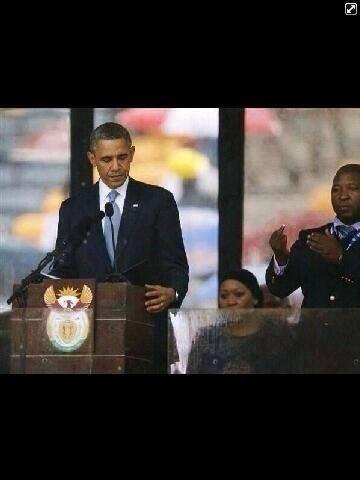 6. You'd have to understand local celebrity Kelly Khumalo's Twitter presence to get this one. Also; evangelical Christian culture.
Khaya Dlanga on Instagram: "Can Kelly Khumalo verify if this is what this guy was saying?"
7. The parody Twitter account of our favourite faux pas television station takes on the fake interpreter. The perfect spoofed storm of error upon error.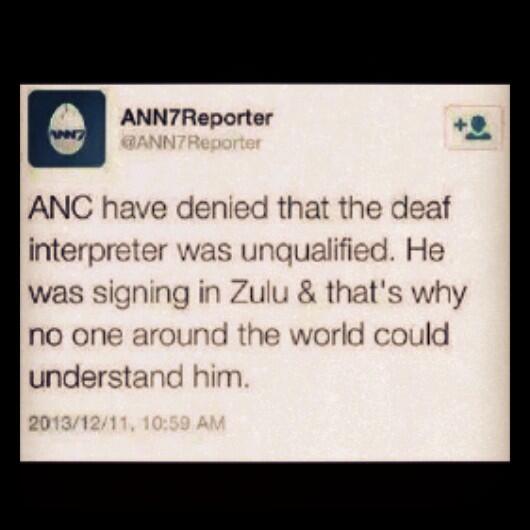 8. Don't pretend you've never pulled fake rapper gang signs in photos. We're just not sure if he's east or west side… OR we could be getting this whole thing wrong and he's infiltrating the world's stages and signing to warring gang factions to attain a peace we'll never appreciate.
9. On a wing and a prayer. It's amazing how far you'll get…
Translation: "Dear God, please don't let anyone find out I'm a fake" #fakeinterpreter pic.twitter.com/1SLU78HJEW
— Khusta Mandela (@Mkhu28) December 11, 2013
10. Youtube comedian Anton Taylor tells us why our interpreter friend has made him prouder than ever to be South African:
11. Twitter user @FaraiEC finally clears up what one of those dubious signs were:
Perhaps this video could clear up what was actually said, maybe?
But mostly we have to say: leave the fake interpretation to the comedians where it belongs. English comedian Catherine Tate does it seven different ways in this hilarious video clip.
---