Charles Mackay once noted that all bubbles are public delusions. But of all the delusions this decade brought us — and there were so many — bling bling just might have been the display of unabashed excess that allowed most of us, from Wall Street to Soweto, to get on with the collective hallucination that everything was going to be okay. That greed, actually, was good.

Art Bling: Russian oligargh Roman Abramovichh scored Lucian Freud's 'Benefits Supervisor Sleeping' for £ 17,2m
One of the first to let bling bling loose in the hip-hop culture was B.G. of Cash Money Records, who first released the song, Bling Bling, in 1999. The tune shot to the top of the charts and bling quickly became hip-hop slang for any sort of opulence — from expensive cars to diamond-laden platinum watches — all flaunted in the videos and album covers of rap stars from Dr Dre to 50 Cent, whose 2003 hit album Get Rich or Die Tryin', seemed to say it all.
Hip-hop — which began in the backyards, street corners and house basements of poor black America — quickly hit mainstream with bling- bling culture. Ever since, designer handbags with sparkling logos, twinkling tooth caps and shiny wheel rims have gone bling bling. By the time hip-hop turned 21 in 2000, it had become a multibillion-dollar industry, creating instant millionaires in its wake.
The nouveau riche who grew up with next to nothing were about to unleash an intoxicating fascination for ostentatious buying. The craving for bling would slip into all areas of public existence.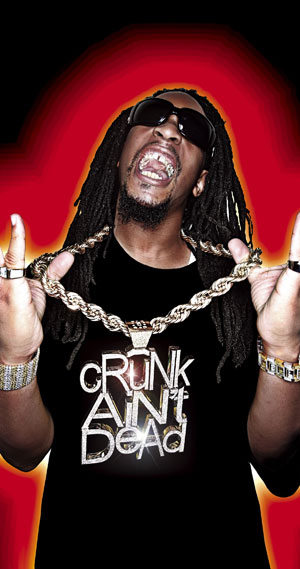 Heavy: Rap star Lil Jon's ,4kggold necklace containing 73 carats of diamonds made the Guiness Book of World Records
Politicians and pole dancers alike were caught in the rush for the shine. Even Pope Benedict XVI was not to be out-blinged; he was known for his penchant for Gucci shades and red Prada shoes.
By 2002 the pervasive craze was added to the Oxford English Dictionary. Jeans that were once R200 became R2 000 overnight. Rapper Jay-Z reportedly spent £3,5-million on an engagement ring for his fiancée, Beyoncé, in 2007, according to the UK tabloid, the Sun. Kanye West was said to have a shoe collection that would make Imelda Marcos drool. His closet was reportedly filled with 450 pairs of designer kicks, with a special maid employed just to look after them.
But of the rap stars, none went as big as Damon Dash, former chief executive of Roc-A-Fella Records — the label that produced superstars such as Jay-Z.
Dash quickly became the face of the grandiose materialism of the rap game. With his entourage, he appeared with bikini-clad models cruising on yachts and riding Bentley coupés in music videos.
As if gold was below their new-found standard, Dash and his mate Jay-Z wore platinum chains and medallions. They splashed out on the scene clad in nothing but Versace, taking materialistic sheen to glowing nuclear proportions.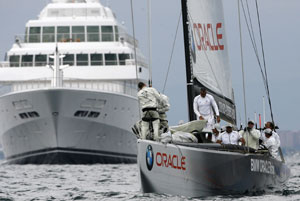 Smooth sailing: America's Cup challenger BMW Oracle Racing sails close to Oracle foundr Larry Ellison's super yacht 'Rising Sun' at teh Louis Vuitton Cup in Valencia, Spain. the five-storey yacht has 80 rooms, a helipad and a state -of-the-art cinema. (Photo: Victor Faile, Reuters)
Keeping with the hip-hop ice tradition, another rap star, Lil Jon, went and got himself a colossal custom-made 5.4kg gold necklace that spelled out — with 73 carats of diamonds — "crunk ain't dead", a reference to the hip-hop sub-genre that came out of the American South, led by Jon and his buddies.
In 2007 his necklace made it into the Guinness Book of World Records for being the largest diamond pendant on Earth.
Back at home, South African politicians would not be left out of the bling revelry. In the maze of a complex arms deal gone bad, former ANC chief whip Tony Yengeni — in Armani suits and Gucci shades — and his wife, Lumka, emerged as the local "it" couple of bling.
Yengeni came to symbolise a new kind of business creature in the new South Africa: the tender-preneur, a generally large black male who amasses wealth by winning government tenders and other politically connected entrepreneurial ventures.
In July 2001 Yengeni spent an estimated R250Â 000 on a full-page advertisement in every South African Sunday newspaper except the Sunday Times — the publication that made Yengeni's complicity in the arms deal front-page news — so he could put the record straight on the corruption charges against him. The result: his bling image was solidified. The Mercedes-Benz ML was dubbed the "Yengeni" in South African street vernacular.
Super-lavish parties
Of course there were others. Among our local blingsters we count criminal elements such as Pretoria's King of Bling, William "Mashobane" Mbatha, the Lamborghini-driving host of super-lavish parties in Atteridgeville, who was arrested in connection with a series of high-profile housebreaking and fraud charges.
Then there was the flamboyant luxury property developer, Zunaid Moti, who believed ownership was for plebs and nurtured a reputation for a flashy lifestyle. Moti bought his first Lamborghini just after turning 21. As leader of Abelengani, the family business, he convinced WesBank to pour R200-million into FutureFin, the financing scheme that helped him help the rich rent their bling cars by the month. He is now reportedly in debt to Investec for a whopping R1.5-billion.
But all bubbles do, eventually, burst. As University of California assistant professor Christopher Holmes Smith observed in the International Journal of Communication earlier this year, bling was merely "essential sustenance for the deficit-financed consumer economy".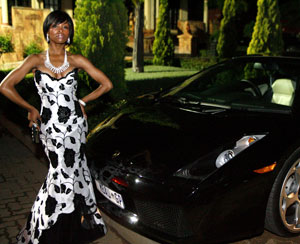 Golddigger: The reigning queen of bling, Khanyi Mbau, gets her man — and her Lamborghini. (Photo: Tshepo Kekana)
It started during the halcyon days of the dotcom boom and stretched straight to the colossal market bust of the past year that finally brought the global economy to its knees.
In the first quarter of 2009 the South African economy shrunk by 6.4%. The contraction was the biggest since the third quarter of 1984. As the world was slipping into a gargantuan economic downturn, the obvious quickly came out screaming: Africa's biggest economy had entered its first recession since 1992.
Meanwhile, Khanyi Mbau, Soweto's own Paris Hilton, was among those who lost their shine.
According to the Sowetan, her tender-preneur husband was, earlier this year, reported to have gone broke; the couple were evicted from their luxury apartment at Melrose Arch and Mbau's Lamborghini was repossessed. Sad! But Mbau survived the global crash. The Queen of Bling is rumoured to have reeled in a new sugar daddy – a mysterious politically connected businessman from Limpopo, who reportedly splashed millions of rands on a new Lamborghini for her and a lavish dwelling in Sandton where she can comfortably rest her blinged-out head.
Of course, no one loomed larger in the bling parade this decade than Brett Kebble, the flamboyant late mining mogul. In his book, Brett Kebble: The Inside Story, journalist Barry Sergeant lifted the veil on Kebble's R5-million-a-month lifestyle, exposing how the man who sponsored the country's richest visual art award had zero visible income.
Glenn Agliotti, the convicted drug kingpin linked to Kebble's murder, wasn't shy about his attention to bling either. He testified as the state's first witness in the Jackie Selebi corruption trial earlier this year, detailing his own bling lifestyle and the one he financed for the former police chief, laden in Gucci and Louis Vuitton.
Elsewhere things remain grim. The once super-rich rap mogul, Damon Dash, has been evicted from his Beverly Hills home. He owes $7,3-million in mortgage payments, and more than $2-million in state taxes, as reported by the American hip-hop magazine XXL. But Dash can take comfort in the fact that he won't be homeless alone. More than nine million American homeowners are lining up to receive government assistance to refinance their mortgages and avert foreclosure.
Other rap stars are also finding it hard to keep it real these days. In May this year The Wall Street Journal reported that rappers had begun asking for cubic zirconia, the synthetic diamond stand-in, instead of the real thing to fill in their bling. The art of ice ain't what it used to be!
Fragile global economy
Now we all know about what happened to our fragile global economy — US mortgage lenders and banks were eager to lend to homebuyers who couldn't afford to pay their bills in the first place, while the relevant authorities looked the other way.
Robert Frank, the Wall Street Journal reporter who wrote the 2007 book Richistan: A Journey Though the American Wealth Boom and the Lives of the New Rich, wrote in March that the once-flooded Richistan border was "jammed with people getting deported".
"It turns out that many of these immigrants acted like they belonged, but were really illegal aliens who got into Richistan with tourist visas and fake passports, also known as borrowed money," writes Frank. "Others lost their right to citizenship through their investments: The number of millionaires dropped by a quarter last year and is likely to drop again this year."
But this drop, of course, was coming from an all-time high. The reason Frank wrote the book was because he watched the unprecedented rise of wealth in the US, one where the rich ranks doubled in a 10-year period, creating more than 400 American billionaires who were shoving their money into hedge funds, private equity funds and venture capital, and swimming in the phenomenal returns that, it turns out, nobody really understood. By 2006 the 25 top-earning hedge fund bankers in the US earned an average of $570-million each — and those numbers were swelling by the second, according to the UK's Observer.
That was when, the paper reported, the New York's Algon­quin Hotel had a $10 000 "martini on a rock" on its menu, which came complete with a diamond at the bottom of the glass, and Oracle founder Larry Ellison was cruising around in his five-storey yacht, the Rising Sun, with its 80 rooms, a helipad and a state-of-the-art cinema.
But then Russian oligarch Roman Abramovich's £300-million mega-yacht, which comes with its own submarine and missile detection system, makes Ellison's massive ship look like little dinghy.
Rumoured to become the biggest private yacht in the world when it's completed in 2010, the 557-footer has apparently been designed to outbling the 525-footer owned by Dubai's ruler Sheikh Mohammed bin Rashid Al Maktoum.
The London-based Russian owner of Chelsea made headline news after his record-breaking art purchases in 2008 made him the proud owners of Lucian Freud's Benefits Supervisor Sleeping (at £17,2m) and Francis Bacon's Triptych (at £43m).
Since then we've witnessed key businesses — the ones that US Federal Reserve chairman Ben Bernanke said were too big to fail – fail, and miserably so.
We watched massive declines in consumer wealth, estimated in trillions of US dollars, which has left much of the bling culture in its wake.
Bernie Madoff, former Nasdaq chairman, was smacked with a well-earned 150-year jail sentence for orchestrating the biggest Ponzi scheme of all time, defrauding investors of about $65-billion. In South Africa more than 750 000 jobs have been shed in the past year alone.
But it's more than just our wallets that have been hammered by the bling obsession. In developing economies bling has left a trail of blood in its wake.
The 2007 VH1 Rock Doc Bling: A Planet Rock explored the complex relationship between hip-hop bling culture, blood diamonds and youth culture in conflict areas of the African continent, connecting the brutality on the streets of war-stricken Sierra Leone with Tupac Shakur's Thug Life and Jay-Z's diamond watch.
Kanye West observed: "What was making black people feel so empowered [in the US] was destroying other black people [in Africa]."
It was for this obsession with flashing newly acquired affluence that the world's most expensive whisky was launched in a developing country.
Johnnie Walker Blue Label King George V was inaugurated in Johannesburg in 2007 — a single bottle ringing in at R4Â 500. The bling whisky-makers claimed that Madiba's country was the fifth-largest whisky-consuming market by volume in the world. This probably comes as no surprise to our bling-obsessed culture, the aspirational drink of choice that has the elite sipping Johnnie by the litre in expensive suburban nightclubs.
Our politicians surely are showing no signs of getting off the bling train any time soon – even if we are firmly entrenched in a recession. Minister of Police Nathi Mthethwa has a new-found penchant for five-star hotels, recently racking up more than R578000 at the Hilton Hotel in Durban for himself and his entourage.
The Communist Party's general secretary, Blade Nzimande, with his R1.1-million BMW, seems to have confused socialite with socialist.
ANC Youth League president Julius Malema appeared on TV saying that being a communist doesn't mean you must wear ugly, dirty clothes. Malema and his entourage live the bling-bling lifestyle, and are known to throw the hottest parties in Johannesburg, serving up copious amounts of Johnnie Walker and Veuve Clicquot.
Malema himself nests in an up-market Sandton home, is regularly seen in a Range Rover SUV worth more than half a million rand and showed up at a recent press conference with a R250000 Breitling watch, proudly noting that he was "chosen by the poorest youth of South Africa". Yes, our Juju is a Gucci kind of leader.
In the US bling, as Smith observed, came to serve as "symbolic collateral for a speculative post-civil rights kind of politics that the hip-hop elite peddled to their core constituency in the form of a seductive guarantee, namely that long-standing social stratification could be effectively alleviated via aspirational commodity consumption".
Here in South Africa it wasn't rap stars handing down those kinds of promises, it was our very own post-apartheid bling-bling politicians, who have perpetrated the all-bling-all-the-time culture of getting what's rightfully yours, whatever the cost.
Confronted by the potential vulgarity of his bling appeal, former presidential spokesperson Smuts Ngonyama is famed for having remarked that he "did not struggle to be poor". Clearly not!
So, as our decade has landed us in one of the worst economic recessions ever, in hindsight the lessons of a global bling-bling economy now seem so very clear. F Scott Fitzgerald said of the Great Depression: "Somebody had blundered and the most expensive orgy in history is over." Bling is clearly dead for some, but for others, bling bling has just begun.