"I lost my mother at 15-years-old to HIV/Aids and her lifestyle. I didn't have a strong family to support me with morals and ethics so I had to pretty much fend for myself and learn how to try and survive and I learned the hard way from 16 to 19," Lemon Andersen told the Mail & Guardian this week.

Lemon Andersen: Reads a poem from his book to male inmates. (Lauren Clifford-Holmes, M&G)
According to Roshnie Moonsammy, executive director and founder of Urban Voices, workshops form an integral part of the Urban Voices programme.
We head into Johannesburg prison to watch critically acclaimed American poet, spoken-word artist and actor Lemon Andersen perform for the male inmates. Andersen, who is here for the annual Urban Voices Theatre and Poetry Festival, was able to share powerful personal experiences, which includes being an ex-prisoner himself.
The critically acclaimed poet, spoken-word artist, and actor is in South Africa for the annual Urban Voices Theatre and Poetry Festival.
As part of this year's workshop programme, Andersen was asked to share some of his poetry and personal experiences with male inmates at the Johannesburg prison.
For the first time this year Urban Voices involved male inmates in workshops that have been taking place at the female prison for the past three years.
According to Moonsammy, the workshops were originally designed for women as it started with the Medea project "which is essentially theatre for incarcerated women".
"There is a lot of enthusiasm, there is a lot of talent here, and the officials really want to get things going together with the inmates who have formed committees," said Moonsammy.
"But we really need more support for this programme. We can't just be doing it as Urban Voices. So we are really reaching out to government and [the national] lottery at looking to make these programmes much more sustainable."
Andersen attributes his success to his inherent talent and his determination to succeed.
The Brooklyn born Puerto Rican artist spent much of his teenage life in and out of prison.
His mother, father and stepfather got high together and shared needles, eventually leading to them all getting "sick".
Nevertheless it wasn't self pity that got Andersen where he is today — an original cast member and writer of the Tony award-winning Def Poetry Jam on Broadway, writer of three books and actor in several Spike Lee movies including Inside Man, alongside Denzel Washington.
"I didn't get into those movies because someone pitied me. I got into those movies because I was talented and I was going to work hard and no one was going to beat me at getting that job," he told the group of orange overall-clad inmates.
About 100 inmates listened intently to Andersen in the maximum security section of the prison's courtyard, breaking into whistles and applause when lines resonated with them.
"I couldn't get a job because I had three felonies, one from doping. I wanted a job that wouldn't discriminate and art doesn't. When you are doing theatre they don't care if you have felonies. They just care if you [are] good", Andersen told the inmates.
Andersen, also known as the Spit King in Brooklyn — due to his rapid-fire rap style — says reading in prison also contributed to the changes to his life.
"The people that I looked up to in prison read, and I knew that if I wanted to be a free man, a smart man, I would have to read. So I said 'Alright, so I got to teach myself how to read'."
Andersen says the first book he read in prison in Ohio was Steve Biko's I Write What I Like.
"It was too complex for me to read. It hurt my eyes every time I read it, but I read it. And that's the point. You have got to fight to learn more. Because you are only going to be as good as the books you read, you are only going to be as smart as the books you read."
Andersen says it took him more than 10 years before he was ready to write his story.
"I didn't want to write my story if it wasn't going to be written well, so I trained for about 10 years to 12 years to become the writer worthy enough to tell the story."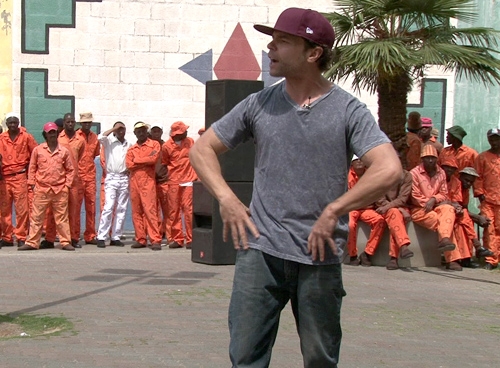 Lemon Andersen: Captivates the audience with his performance. (Lauren Clifford-Holmes, M&G)
On Thursday and Friday Andersen will perform County of Kings at the Market Theatre. The play, which was written by Andersen, was produced by Spike Lee.
"County of Kings is about hip-hop culture told through a human story. You get to see human beings and not just graffiti and dj-ing."
Moonsammy said she hoped that through meeting people like Andersen, the inmates would have a renewed faith that there is life after prison.
Andersen will perform on Saturday at the Bassline in Johannesburg with other international and local poets such as Natalia Molebatsi, Patricia Smith, Beau Sia, Likwidskillz and Lisa Combrinck.
Urban Voices then moves to the Baxter Theatre in Cape Town from October 27.