Thanks to the United States's refusal of arms to its close Middle East ally, Denel landed the first customer for its armed drone aircraft capable of American-style assassinations – Saudi Arabia.
The country has a dubious record on human rights and has been strongly condemned by the likes of Amnesty International and Human Rights Watch for executions and the detention of peaceful protesters. It came in for especially harsh criticism after reports that it deployed troops to Bahrain in 2011 to suppress a potential Arab Spring uprising in that country.
According to a respected specialist newsletter, Intelligence Online, engineers from the Denel Dynamics division are working with the Saudi military to create an armed version of the Seeker 400 drone, which Denel has marketed for surveillance use. Such drones, Intelligence Online says, would be capable of carrying Denel Dynamics' Mokopa or Impi missiles.
The Mokopa is an anti-tank missile touted for its accuracy and the Impi is intended as a multipurpose missile that can carry smaller anti-personnel payloads. The latter was developed specifically for use with lightweight aircraft.
The Seeker 400 has a range of up to 250km, putting many Middle Eastern hot spots within range of units based in Saudi Arabia. But the primary target for Seeker missions is expected to be strikes on suspected terrorists similar to the US's infamous strikes in Pakistan. The craft can be operated for more than 16 hours at a time, making it capable of "loiter and strike" missions.
Denel has been dropping hints of an armed version of the Seeker since 2010 but this week, after at first flatly refusing to comment on the report, it issued a statement saying it observes "strict confidentiality requirements imposed by our clients" unless directed otherwise.
Representatives of the Saudi Arabian embassy in Pretoria were not available to take questions.
Trouble
Denel has previously identified Saudi Arabia as one of the key markets it would like to expand into and has been looking for buyers for both its drone aircraft and missiles. It has been supplying unarmed, unmanned aerial vehicles (UAVs) or drones in the region for some time and has previously boasted about the growth in sales.
In late 2012, the Denel Dynamics division announced a joint venture with Tawazun Holdings, a holding company owned by the Abu Dhabi government, to manufacture missiles in that country – including the models apparently to be used with the Saudi drones. "Manufacturing will be central to Tawazun Dynamics's operations," Denel said at the time. "This will enable Denel Dynamics … to expand and strengthen another side to its business."
It is not known how many UAVs Saudi Arabia is in the market for, or what number of missiles it would keep on hand if the sale is concluded.
Denel ran into trouble with an attempted deal – which ultimately failed – to sell howitzers to Saudi Arabia, in which it paid a R100-million "commitment fee" to a Saudi agent in 1996. Although it emerged later, it was really the precursor to South Africa's arms-deal scandal, a prequel in which many of the characters and issues in that saga made their first appearances: Joe Modise, defence minister and corruption suspect; Yusuf Surtee, middleman and influence peddler; kickbacks dressed up as "commission"; and what appeared to be foot-dragging by law-enforcement agencies.
The story began in the mid-1990s, when Denel was trying to sell Saudi Arabia G5 and G6 artillery systems. From later court papers, it emerged that, in 1996, the Denel board agreed to pay about R100-million in "advance commission" to the Saudi agents in the hope of closing the deal. When the deal failed to materialise, the auditor general raised the alarm but investigations were put on the back burner in the hope that the Saudis would eventually buy.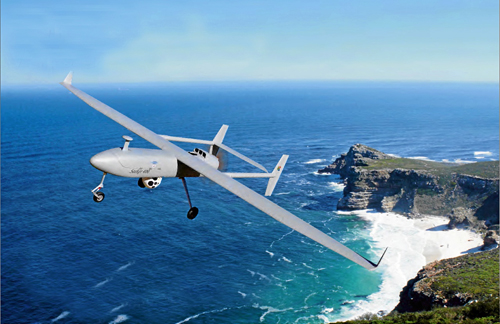 Denel's Seeker 400. (Reuters)
In February 2001, when Saudi-controlled Cell C was finally awarded South Africa's third cellphone licence, there were vain hopes this would clinch the weapons deal.
Voluntary association
In 2002, the Scorpions finally started to follow the money. They had evidence that some of the R100-million paid into a Swiss account might have flowed back into South Africa as kickbacks to officials at Denel and others, including Modise and the ANC. The Swiss released the bank data but, before it could be accessed, the Saudi agent launched a court challenge in South Africa, attempting to interdict the handing over of the information. Although the Scorpions initially resisted this, in 2005 the matter was removed from the court roll without explanation.
At present, the US is denying Saudi Arabia armed Predator drones, even though the US operates them from at least one base in Saudi Arabia. Instead, American suppliers have sold it versions of the Predator specifically engineered to make it very hard to mount weapons, in line with a policy to prevent the proliferation of remotely operated weapons.
The US is a signatory to the Missile Technology Control Regime (MTCR), a voluntary association of countries that seeks to restrict the use of long-range precision weapons. Originally it was aimed at ballistic missiles but recently was expanded to include UAVs, which could deliver weapons of mass destruction. South Africa is also a member of the MTCR.
The Seeker 400 falls short of MTCR guidelines, which restrict the use of vehicles with a payload capacity of 500kg and a range of 300km or more. The Denel craft has a maximum payload of 100kg and an intended control distance of 250km, although that can be extended with the use of additional ground stations or satellite communication.
Criticism of the American use of drone strikes has been mounting for years because of the high number of civilian casualties. Analysts have also expressed concern that the lack of risk to troops and pilots, combined with the relatively low cost of drone strikes, could make military commanders comfortable in launching missions that would otherwise not pass the planning stage. That could also contribute to an undesirable gung-ho attitude.
Diplomatic consequences
There are also concerns about the legal status of drone assassinations, which fall into a grey area between military engagement and covert operation. People with knowledge of South Africa's battle in Bangui in the Central African Republic (CAR) this week said real-time reconnaissance by drones could have saved lives but were dismissive about the use of armed drones both there and in conventional battles in general.
Meanwhile, the UN's new intervention brigade in the eastern Democratic Republic of Congo, tasked with taking on some of Central Africa's most notorious armed rebel groups, will have recourse to reconnaissance units, including drones – a first for the UN. South Africa will provide some troops for the force.
The US embassy did not respond to questions about possible diplomatic consequences arising from the sale of an armed UAV to the Saudi government.
According to the UN register of trade in conventional arms, Saudi Arabia has been a relatively small importer of armoured vehicles from South Africa, although the United Arab Emirates and Jordan have bought larger quantities of them. Iraq and Yemen have also bought South African arms, according to a database maintained by the Stockholm International Peace Research Institute.
In 2011, the last full year for which figures are available, South Africa exported R9.16-billion in weapons, of which R228-million went to Saudi Arabia, permits issued by the National Conventional Arms Control Committee show.
That puts Saudi Arabia in the top 10 importers of South African weapons, although it is dwarfed by the sales of more than R2-billion each to Sweden and the US.