He is The Man. Augustin Kayembe, a dapper 53-year-old Katangan, was born in Zambia, has Congolese parents and lives in Johannesburg.
Kayembe has established himself in the course of a career spanning three decades as one of the continent's top music promoters and the undisputed champion of African nightlife.
He started out selling cooldrinks and beers from a cooler box on the streets of Lubumbashi, the Democratic Republic of Congo's dusty mining capital, then progressed to opening his own bar and launched the first Chez Ntemba nightclub in the same city in 1987. Today, Kayembe runs an empire of more than 40 Chez Ntemba ("our corner") clubs across Africa – a mind-boggling feat.
In most Chez Ntembas the bedrock sound is African, featuring ­generous doses of the Democratic Republic of Congo's legendary, sensual rumba music. Kayembe's DJs are also all fluent in South African house, Angolan kizomba and American hip-hop and R&B.
At the two Chez Ntembas in Windhoek, Kayembe says, punters have no truck with rumba and insist on listening solely to house, kizomba and American beats.
Ever the pragmatist, Kayembe has studied local trends and accommodated them. But rumba itself has changed, he says.
"Rumba has gone down, it is too slow. It is not like the ndombolo and soukous sounds of the past. This slow music is for Congolese people only. People at clubs love fast music. Now the musicians who are slow are killing themselves. Congolese musicians are getting replaced by Nigerians and Ivorians, who play faster beats."
Hectic sounds
Like Jamaicans, who shifted from the hectic sounds of ska to the laid-back style of rocksteady in the mid-1960s, Congolese seem fatigued by the frenetic exertions required by up-tempo ndombolo and have settled into a gentler groove, giving plenty of room to nifty, Latin-inspired footwork, which is of less appeal, it seems, to the non-Congolese crowd.
A feature of all Chez Ntemba clubs is the immaculate sound systems. There is no distortion, a rarity in much of Africa's nightlife. Another welcome aspect is the excellent bar service.
"My father taught me that, if they are run correctly, clubs should always succeed, because people will always like to dance to good music and to drink," says Idris Kayembe, one of Kayembe's sons, who runs the Cape Town outpost of the empire.
In 1991 the Democratic Republic of Congo, then Zaire, suffered widespread rioting and looting by soldiers, known as les pillages.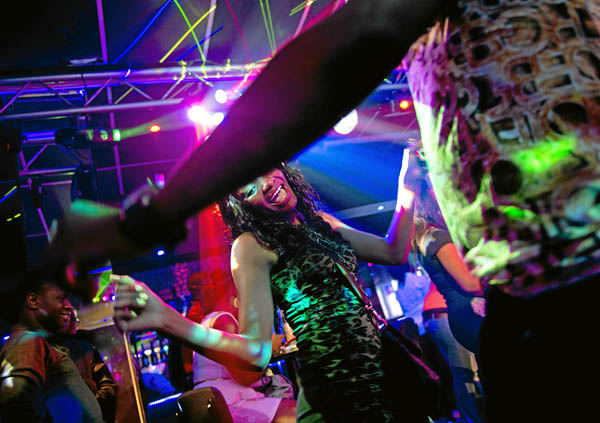 Chez Ntemba in Melrose Arch, Johannesburg, is one of the jewels in the nightclub emperor's crown. (Paul Botes, M&G)
Kayembe remembers: "They took everything and I decided to leave. I went to Zambia, where I was born. In 1992 I opened a Chez Ntemba in Lusaka, in Kamwala. That was popular, so I opened another, at Mike's Car Wash."
Zambians, it turned out, could not get enough of Kayembe's rumba-drenched club formula, and Chez Ntembas quickly mushroomed around the country.
"In the Zambian townships at that time they were playing Congolese music, but in town it was always American. And at that time Americans started singing bad things with bad language. People like Tupac. But Congolese music was respectful. It sang about love. And we had the newest Congolese music because of my connections."
Kayembe brought Congolese artists to play at his Zambian clubs, cementing close friendships with the country's musical fraternity that have endured.
He is particularly close to Koffi Olomidé, a volatile musical genius, whose honey-voiced, Latin-infused rhythms reign – for now – as the champion sound in the music's heartland, Kinshasa.
Listen closely to the songs and you will hear that Olomide, and other top notch Congolese singers, like Fally Ipupa and Ferre Gola, continually reference Kayembe and Chez Ntemba. Most people pay huge sums for the privilege of being referenced in songs by musicians like these, a tradition called libanga (literally, throwing stones) in Lingala, but, for Kayembe, it is different.
"I promote them and they love me, so it is normal that they sing about me. They don't tell me beforehand, but afterwards, when I hear the songs, I call them to say thank you. I did buy equipment for Ferre Gola once, though, after he'd mentioned me four times in songs. It cost R500 000."
Soon after 1994, sensing the possibility of a fresh opportunity in South Africa, Kayembe came to Johannesburg to explore and, in 1996, he opened a club in Jeppe Street. Chez Ntembas soon followed in Hillbrow and Bruma.
Kayembe moved his family to South Africa, but there were problems, mostly involving the police, who repeatedly raided Chez Ntemba clubs on weekends, carting the clientele down to the nearest police station, demanding residence papers, accusing them of being illegal immigrants and, apparently, soliciting bribes to let them go.
Happily, it seems, Kayembe and the Johannesburg law enforcers have since become friends, and the police no longer raid his clubs. Kayembe has closed the Jeppe Street and Bruma clubs, but the one in Hillbrow is still going strong.
He has also opened one in Melrose Arch, where there are two dance floors. He recently opened a hotel in Melrose Arch as well. At his club in Cape Town, which is just off Long Street, there are three dance floors – one playing African sounds, another house and the third R&B.
There are Chez Ntembas in Malawi, Swaziland, Lesotho, Zimbabwe, Angola and Congo-Brazzaville. Kayembe tours his empire regularly, but most of the time has to trust his managers to keep things going. But there has been some trouble.
"In Maputo we had to close because another club owner sent people to shoot me."
Botswana also presented problems: "The new president there doesn't like alcohol because his father liked it too much. So we had problems with the club in Gaborone and closed it."
The two big money spinners are in Kinshasa and Brazzaville. "In Brazzaville they are like the French. They do not drink beer and whisky. They drink champagne. Lots of champagne. And Kinshasa is a well-established club. People support that club without fail."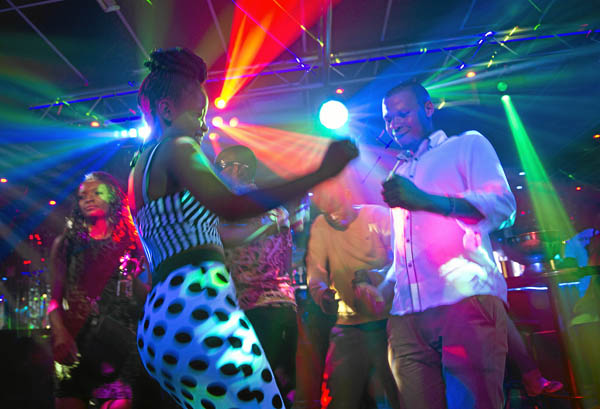 Chez Ntemba in Melrose Arch, Johannesburg. (Paul Botes, M&G)

The Chez Ntemba on the Rond Point Forescom, in Kinshasa's upmarket Gombe district, is always packed at weekends with a well-dressed party crowd with the stamina
and the dance moves to keep going until dawn.
Kayembe has tried Europe, but found it tricky: "There, they want taxes and licence fees before you have had the chance to make any money! And in France the Congolese like fighting too much. They come to fight in your place, and after three fights the police can close you down."
Some club fights are political. In Europe and South Africa les combatants, militant expatriate supporters of Congolese opposition politician Étienne Tshisekedi, have taken to attacking not just members of the government of president Joseph Kabila, but anyone else they judge guilty by association. These include Congolese musicians who have sung for the president and Kayembe, in whose club the ruling elite likes to rumba the Kinshasa night away. Kayembe and his sons have been attacked by les combatants in South Africa in the past, and generally move around with beefy bodyguards.
Kayembe says the years of running nightclubs have messed with his sleep and he is tired: "I just can't sleep before 2am. My brain has changed after all these years of sleeping late. I cannot do this forever."
Kayembe hopes that running his newly opened hotel in Melrose Arch will be more relaxing and that eventually he can hand over his nightclub empire entirely to the managers. As much as he likes Johannesburg, he wants to return to Kinshasa and open another hotel there.
He is under less pressure these days to earn for his large family – he has at least 15 children. But he has no plans to retire: "I am a slave to work. People wonder what is my fétiche. But while they look for magic I know there is no magic. I am working, I am investing. That is the fétiche."
"In Maputo we had to close because another club owner, a Greek, sent people to shoot me"