A controversial R570-million Free State dairy project was riddled with irregularities, investigators for the national treasury have found.
Exclusive material from the investigation shows that the treasury launched a full-scale investigation of the Estina dairy following several Mail & Guardian exposés about it in mid-2013. The reports suggested the deal with Estina – a company without agricultural experience and led by a computer sales manager – flouted treasury rules and was designed to milk provincial government coffers.
The articles also flagged allegations of the Gupta family's proximity to the project and several of the role players.
Until recently, the treasury would not confirm that an investigation was taking place.
Now a document obtained by ama­Bhungane shows that in Oct­ober last year a forensic team was dispatched by the treasury to Bloemfontein to question officials about the bizarre contract to develop a large dairy and milk processing plant in the northeastern Free State town of Vrede.
Investigators were shocked by what they heard, including:
The Free State agriculture department did not follow any supply-chain procedures when agreeing to fund the project through Estina, a private company;
The department did no due diligence on Estina or its claimed partnership with Paras, a major dairy company in India. Paras subsequently denied any involvement;
The Free State paid grants directly into Estina's bank account and the responsible official admitted she had no real evidence of how the money was being spent;
A "feasibility study" was done only after the contract was signed;
It appears the "loosely drafted" contract – skewed in Estina's favour – was drawn up by Premier Ace Magashule's legal adviser. The contract commits the department to shelling out R342-million and Estina will be billed for the balance of the R570-million project cost "if necessary";
Small-scale farmers, who were supposed to be beneficiaries of a 51% share in the scheme, were only identified recently and the official could not explain how they were chosen; and
Approval for the project was rushed through despite the fact there was no budget, no feasibility study and no urgency.
One of the investigators remarked in apparent exasperation: "Estina is using government's money to establish a plant, putting cows on land that is given by government rent-free. Now they get to make a fortune off the infrastructure."
The disclosures are made in a confidential transcript, which records an extraordinary interview with the Free State department of agriculture chief financial officer, Dipatle Dlamini.
Dlamini was questioned on October 9 2013 by two forensic executives, Suad Jacobs and Trevor Barnard, of the law firm Edward Nathan Sonnenberg (ENS).
ENS conducted other interviews – to which amaBhungane has not had access – and has since completed its report to the treasury.
It is not known what their final conclusions were.
Despite the damning admissions, the treasury seems hamstrung by devolved accountability that makes it difficult for the national department to intervene in provincial procurement.
Political sensitivities
There are also political sensitivities, given that the project is publicly associated with allies of President Jacob Zuma, including Magashule and the influential Gupta family.
Although there is no evidence that the Guptas are beneficiaries or involved in the irregularities, their proximity does raise the question of whether political connectivity played a role.
For months, the treasury refused to respond to questions from amaBhungane. When confronted with the evidence contained in the transcript, a source within the department confirmed that the issue was a political hot potato.
But the treasury spokesperson, Jabulani Sikhakhane, would only say: "National treasury is still studying the report, after which a decision will made on the way forward."
The transcript reveals that the dairy project appears to have been conceived during a visit to India by senior department officials and the then agriculture MEC, Mosebenzi Zwane, whose home town is Vrede.
The trip was signed off by Magashule, a close ally of Zwane.
Following the visit, officials in Bloemfontein were summoned to a presentation on the dairy project by Estina on May 24 2012.
Just three days later, on May 27, the head of department wrote to Estina accepting the proposal. On June 13, Magashule's legislature approved the deal.
The Free State government failed to respond to detailed questions but appears determined to press on with the project.
In a written response to a question in the provincial legislature in November last year, the MEC for agriculture, Mamiki Qabathe, said the project should be completed by July 2015. She detailed R114-million in expenditure so far, which includes 351 dairy cows at a cost of R6.2-million, a price that the opposition Democratic Alliance has noted is nearly double the market rate.
AmaBhungane was also told that about 30 cows and calves have already died – and this week saw many carcasses that had been dumped in a gully on the Vrede property. These losses suggest the project was poorly conceived and is being poorly run.
Other costs also seem inflated, such as a security gate and guard house for R2.6-million and a collection of basic tools – a spanner set and similar tools – for R2.5-million.
The doubtful beneficiaries
It appears there was a scramble to identify supposed beneficiaries of the dairy project only once the national treasury started asking difficult questions.
Local chair of the African Farmers Association of South Africa (Afasa) in Vrede, Ephraim Dlamini, told amaBhungane an urgent meeting was called in October last year by Mosebenzi Zwane, the former agriculture MEC.
"The hall was full of people, most I didn't know who they are. We were told to bring a copy of our IDs and you submitted names and addresses.
"Zwane gave a good speech about how we are going to be owners of this farm because we will own 51%. He begged us not to sell shares to anyone even if they offer millions.
"I warned people not to sign anything without fully understanding what is going on."
What breaks his heart, Dlamini said, is that people who had few cows sold them because they were promised they were going to get cows from the dairy, "but so far not a single person has received anything". He said beneficiaries appeared to have been "already chosen" by the politicians.
Dlamini said he understood that people were desperate: "But, by the look of things, this is not going to go anywhere and people will be worse off.
"Politicians don't understand … these are people's lives. They have this habit of doing things as if they have community support and then when they get caught they come to the people to legitimise these fly-by-night projects. It's nothing we haven't seen before." – amaBhungane reporters
Mass grave points to daily deaths
Mystery surrounds a stinking stack of nearly 30 dead cows that were dumped in a ditch on the Vrede dairy farm project on the outskirts of the northeastern Free State town. The place where the animals were dumped is about four metres away from a river that provides Vrede with its drinking water.
It is clear from the state of some of the carcasses that some of the animals died quite recently, even as late as Wednesday, February 5. The site, visited by amaBhungane this week, is not far from the actual dairy where the more than 300 cows are milked, and backs up rumours that cows are dying on an almost daily basis on the controversial farm. Residents of the nearby Thembelihle township said they were concerned that diseases might spread as no one could offer any explanation for the deaths.
Along the R34 national road from Vrede to Newcastle, amaBhungane used the second entrance to the Vrede dairy farm and had to walk for about 2km. The sickly odour was present way before the actual site. The section where the cows were dumped was not easy to find as it was hidden among patches of tall bluegum trees, with overgrown grass in the area.
The smelly ditch was infested with clouds of flies hovering over the piles of decomposing cows. It looked as though three of the carcasses were dumped quite recently. One of them, a Friesland dairy cow, lay on the flattened remains of many other decomposing cows. The ears of many of them had been cut off.
A source who did not want to be identified said the fact that the makeshift graveyard was situated so close to a strategic water source was a health ­hazard, especially if it rained.
AmaBhungane could not establish the cause of death as the farm's project manager, Chandrana Prasad, did not respond to questions.
Vrede's municipality could also not be reached for comment. ­– Tabelo Timse
* Got a tip-off for us about this story? Email [email protected]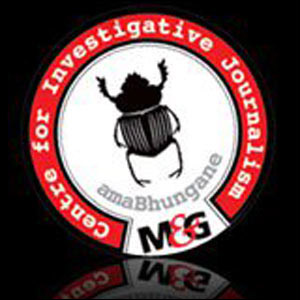 The M&G Centre for Investigative Journalism (amaBhungane) produced this story. All views are ours. See www.amabhungane.co.za for our stories, activities and funding sources.