Marvin Gaye's children gun for Pharrell Williams's "Happy"
Late R&B singer Marvin Gaye's family came out victorious in a court case against musicians Robin Thicke and Pharrell Williams over the 2013 hit song Blurred Lines, that features both Thicke and Williams, as well as rapper TI (born Clifford Harris Jr.) on March 10. According to the Guardian, the jury concluded that Williams and Thicke's Blurred Lines was copied from the Gaye's 1977 hit Got to Give It Up. Gaye's children filed the lawsuit and a jury awarded them $7.4m. Blurred Lines became a chat topping single and was 2013's best selling song in the United States, according to Nielsen SoundScan. And now in fresh allegations, Rolling Stone is reporting that the Gaye family are claiming the song Williams' s single, Happy, and Gaye's 1965 single Ain't That Peculiar sound alike based on a mash-up they heard of both songs.
The Pharrell Williams Happy and Marvin Gaye's Ain't That Peculiar mash-up
"I'm not going to lie. I do think they sound alike," Nona Gaye, Marvin's Gaye's daughter told CBS news during an interview. However the family is not planning on taking legal action against Williams' Happy. "We're not in that space," she added.
Nike celebrates anniversary with Braamfontien pop-up store
This month marks the 28th anniversary of Nike Air Max shoes since the shoe first hit the shelves in 1987 with Air Max 1. It was Nike designer, Tinker Hatfield, who created the shoe's cushioning with visible air so that runners would see the benefits of the cushioning technology. The product has been dubbed "a staple to sneaker culture". Now the public can have a closer look at the evolution of Air Max shoes at the pop-up store at the Alexander Theatre in Braamfontein, Johannesburg, as part of the 25PSI project. The different Air Max models, from Air Max 90 to Air Max 97, are on display on the theatre stage until the end of March. Consumers are able to purchase the shoes ahead of Air Max day on March 26.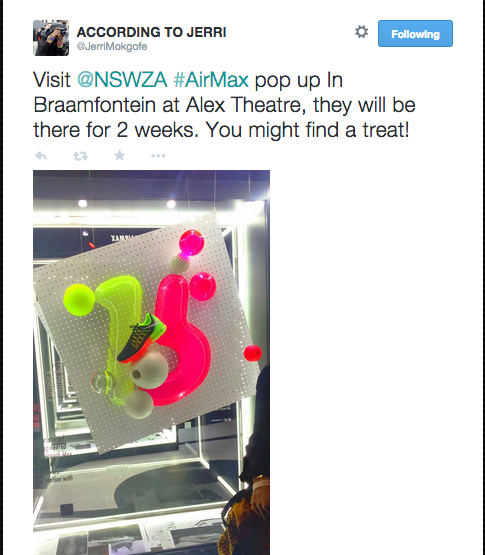 Nkululeko "Flabba" Habedi laid to rest
Hip hop artist, Nkululeko Habedi, best known to fans as Flabba was laid to rest over the weekend (March 15) at West Park Cemetery in Johannesburg. Mourners gathered at the Alexandra Stadium to bid farewell to the Skwatta Kamp member who was allegedly stabbed to death by his girlfriend Sindisiwe Manqele in his Alexandra home on March 9. Members of the hip hop group Skwatta Kamp and Habedi's daughter, Lesego, who read a poem for her father, were among those who paid tribute to the late star. Manqele's bail application is currently in progress.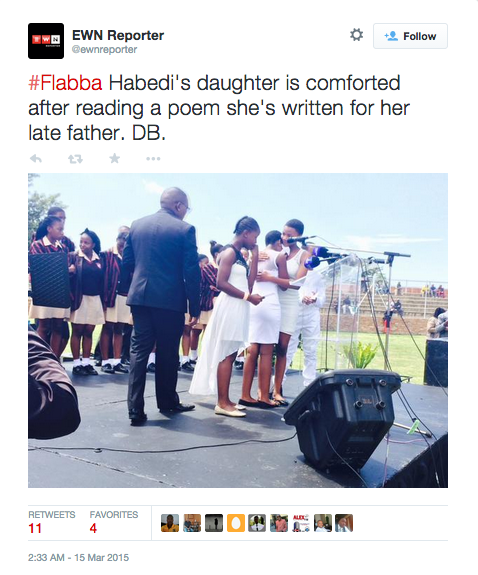 Jamie Foxx and Martin Scorsese to team up
Actor Jamie Foxx and film director Martin Scorsese are set to work together on the upcoming Mike Tyson biopic, according to Foxx. Foxx will take on the role of heavyweight boxing champion Tyson under the directorship of the esteemed director/filmmaker. The last boxing movie Scorsese worked on was the 1980 biopic, Raging Bull, which was a story about a self-destructive Italian American middleweight boxer called Jake LaMotta. Robert De Niro played the role of LaMotta. Scorsese has not confirmed his involvement in Tyson biopic.
Zoolander returns to the catwalk
Owen Wilson brought his signature smoldering model face to Paris Fashion Week on March 10 to announce the sequel to the 2001 movie Zoolander, which is set for release in February 2016. Wilson and co-star Ben Stiller did a "walk off" on the runway during the Valentino fashion show as their alter egos, Derek Zoolander (Stiller) and Hansel (Wilson). Zoolander is comedy film that shows the stereotypes associated with the modelling and fashion industry in a comedic way. Derek and Hansel were rivals in the first movie. The follow up moive, which was written by Jennifer Aniston's fiancé Justin Theroux, is currently being shot in Rome.