The land is not just the dusty earth on which we stand. It is a kinship with our ancestors. It is an affirmation of self. It is the urgent aspiration for dignity and agency. This week the Mail & Guardian is proud to publish a story that is a continuation of a new, specialised reporting genre, focusing exclusively on the land, led by celebrated journalist Lucas Ledwaba
He rubs his sleepy eyes with his hands as he sits up on one of the two double beds in the single room he shares with his brother in a high-rise building in Berea near the Johannesburg city centre.
It is just before midday on a weekday. Musawenkosi Zulu has been sleeping after a gruelling night shift at a restaurant where he was hired three months ago. This is his first job since he migrated to Johannesburg from KwaZulu-Natal in 2013.
Home is not necessarily a glittering castle. It is a cramped room on the first floor of an old, rundown building that was recently the subject of a protracted court case. But it is home, nevertheless: an abode near the city, near work and other amenities such as stores and recreational facilities.
Zulu, who migrated to Johannesburg from Mfongosi in Nkandla, KwaZulu-Natal, loves the convenience that comes with living near the city. It takes him just one taxi ride to get to his workplace in Eastgate.
If he lived in one of the far-flung townships that are a legacy of apartheid's notorious Group Areas Act, which led to the ejection of black people from the city to faraway locations with dysfunctional public transport, he would probably have to spend more time and money to get to work.
It is estimated that, on average, 10 000 people from across the country and beyond its borders migrate to Johannesburg every month.
All roads lead to the roaring big city, just as they have since the 1886 gold rush that gave birth to this bustling metropolis.
Whereas in years past the Jo'burg inner city was mainly a place where people came to work during the day before retiring to homes in far-flung townships, suburbs or informal settlements in the evenings, it is now increasingly becoming a place in which people sleep and set up homes.
As a result, the already congested city has now become a new battleground for space, for a place to live while pushing the hustle in the 'burg.
Johannesburg property agent Max Katz has been working in the inner city for the past 15 years. Through his company Synprop, Katz searches for and identifies buildings that have the potential to be converted into low- cost residential units.
[Visionary: Property developer Max Katz has been working hard to identify derelict buildings that can be converted into low-cost residential units to address the city's dire housing needs. (Delwyn Verasamy/M&G)]
He is an active player in the gentrification of the inner city that has turned commercial buildings, old office blocks, warehouses, garages and derelict residential blocks being rescued from near-collapse and converted into trendy, modern living spaces.
Katz reckons it will never be possible, at least not in the near future, to create sufficient accommodation to cater for the thousands of people who pour into the city every month.
"We will never, ever, ever. Not in your lifetime, not in my lifetime," says Katz.
The migration into the city is not only an issue confronting the City of Gold, it is also a challenge faced by cities globally and experts say it is likely to accelerate in the next decade as people abandon rural areas for the bright lights and the lure of better opportunities they believe exist in the city.
United Nations agency Unesco predicts in its Global Trends Towards Urbanisation report that, by 2030, nearly five billion (or 61%) of the world's people will live in cities.
Unesco says the movement of people towards cities has accelerated and the world's urban population is now growing by 60-million people a year.
Johannesburg, given its legacy as a racially segregated city designed for commercial and not residential purposes, faces particular challenges.
As thousands of black people poured into the city after the 1994 political settlement, Johannesburg's white-owned businesses and landlords, overwhelmed by the unexpected influx of people who for decades were not allowed to live in the city, took flight.
In some cases, landlords left buildings unmanaged, leaving tenants confused and vulnerable to organised gangs of building hijackers. In time, much of the city deteriorated into a disgusting slum of crumbling, unserviced buildings and crime-ridden streets.
But the gentrification of the inner city is slowly putting the shine back into this historic metropolis. Buildings like One Eloff, which was once a warehouse for high-end cars in what was traditionally the city's motoring hub, is now a trendy residential and business hub.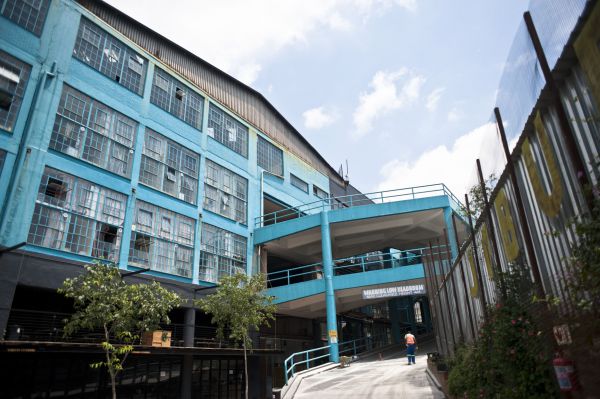 [Refreshed: Buildings like One Eloff, which was once a warehouse for high-end cars in what was traditionally the city's motoring hub, is now a trendy residential and business hub (Delwyn Verasamy/M&G)]
The ground floor serves as business space, with small retail shops, coffee shops, art workshops and a restaurant. The top floor, where once engines roared and tyres screeched, has now been transformed into bachelor and two-bedroomed units.
The voices of motor mechanics shouting out instructions have been replaced by the chatter of residents and music playing softly from their rooms. Elsewhere, what used to be government department offices, such as those at the corner of Eloff and Commissioner streets, are to be developed into 400 residential units, to be completed by 2019.
A building that once housed the offices of retail giant OK Bazaars, also in Eloff Street, which in decades gone by was Jozi's commercial capital, has been sold and will also be transformed into residential units.
"Big business in the inner city is residential [units], not commercial," says Katz.
Bachelor and two-bedroomed flats are going for monthly rental rates of between R3 500 and R5 000. Developers have put in stringent measures such as biometric access control systems to manage the number of people living in the buildings. They have also installed prepaid meters to regulate the use of electricity and water.
The scars of old Jo'burg still prevail, though. An example is the derelict 44 Nugget Street building, an eyesore whose windows are shuttered with cardboard boxes. It stands next to a newly developed and beautifully painted building, Diamond Place, whose owners have had to change the entrance to move it away from 44 Nugget.
"Derelict buildings — to have people living in a building without toilets, lights, water — it's a crime," says Katz.
The Gauteng department of infrastructure development is also driving the inner city's rejuvenation with the Precinct Project.
The project aims to turn existing government-owned multistorey buildings into one-stop hubs where people can access healthcare, government administrative services, insurance, banking, schooling and public transport in reasonable proximity.
The province has also set aside R8-billion for the Kopanong Gauteng Government Precinct project, in which 21 buildings in the Johannesburg city centre will be rehabilitated and developed over a three- to five-year period.
Many of the city's newly revamped, privately owned buildings mirror One Eloff, offering shopping, business and retail space on the ground floor with the upper floors serving as residential units. Considering the lack of open spaces for recreation in the city, some developers are turning once-drab rooftops into playgrounds and spaces for recreation.
At Progressive Primary School in Mooi Street, the little ones study in classrooms converted from a car repair workshop. They spend their break time playing on artificial grass on the rooftop.
Katz says the scramble for buildings in the inner city has led to developers moving east, to traditionally industrial areas such as Jeppestown. There, workshops and warehouses are fast being bought up and transformed into residential units.
Although it is clearly yielding positive results for the city, gentrification has also put the authorities, developers and property owners on a collision course with occupants of some of the old buildings, many of whom are low-income earners, job seekers or owners of small businesses who live from hand to mouth and cannot afford the rentals at the newly refurbished buildings.
In May, the South Gauteng High Court upheld an appeal by residents of Ingelosi House in O'Reilly Street, Berea, where Musawenkosi Zulu resides, to halt their eviction from the building.
The owners of the block bought it in 2011, hoping to turn it into offices for their prepaid meter business. Some of the tenants had lived in the building for 10 years. This is but one of many similar cases brought before the courts.
An earlier Constitutional Court ruling compels developers and the City of Johannesburg to provide alternative accommodation for tenants evicted from buildings. This has forced the city to develop a temporary emergency accommodation strategy.
"We can't afford high rents. Many people are unemployed. They survive on piece jobs," says Mkhululi Dlamini, who lives in a house with 34 others in Berea. The property in Primrose Street has had its fair share of takeover attempts by building hijackers.
Dlamini, who is a member of the Inner City Forum, an organisation that fights for the rights of inner-city dwellers, has lived on the property since 1996. The house in Primrose Street has been partitioned into 12 smaller rooms. But in June, part of it was destroyed in a fire believed to have been caused by a faulty stove. The house is sandwiched between high-rise buildings. The tenants pay the council for services but have no knowledge of the whereabouts of the original owner.
"We love living here. It's next to town, work and schools. We are not criminals. We are just people who want to live a normal life," Dlamini says.
As some struggle to adapt to changing times, young entrepreneurs like Nomfundo Malinga, originally from Ladysmith in KwaZulu-Natal, are finding the changes to the inner city beneficial to their business prospects.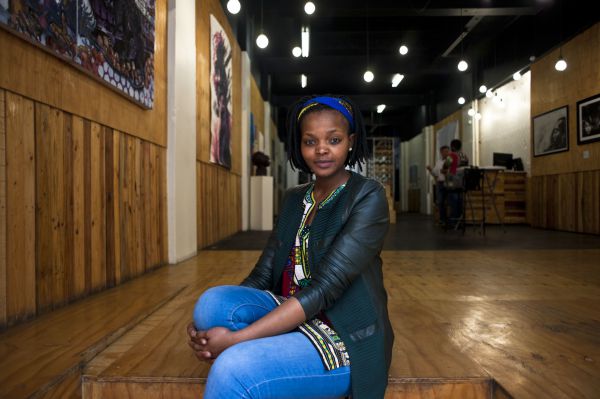 [Artistic flair: Nomfundo Malinga owns the 13th Floor Gallery at 95 Commissioner Street, bringing culture to the people of the city with various forms of art (Delwyn Verasamy/M&G)]
Malinga runs the 13th Floor Gallery at 95 Commissioner Street. She moved to her current location from the buzzing artistic hub of Maboneng.
Her business is located near a terminus for the Rea Vaya bus system. Malinga believes that it is a misconception that the inner city is a dangerous hellhole. She argues that, just like in any other part of the city, there are also notorious hotspots in the Johannesburg city centre.
"It's convenient," says Malinga, referring to the benefits of living and working in the inner city. "In my case, I live in the city and work in the city. Home is three blocks away. You cut down on transport [costs]."
Yet she believes that, although living in the city has its benefits, there are also downsides — such as the cramped and claustrophobic conditions, especially if you live with children.
"The only unfortunate part is that some of the buildings we occupy have restricted space. It's a transit space. You can't settle with family in the CBD. Why make it so compact? Where do you play with the kids? Some [flats] are lucky to have rooftop gardens. But what about those who don't?"
Malinga says she notices her children's hunger for open spaces when they visit friends in the suburbs. "They enjoy the garden spaces so much," she says.
She also thinks that the authorities should work on improving safety in inner-city parks, many of which are populated by homeless people, vagrants and drug peddlers.
Her next-door neighbour, Congolese national Ben Kadiya, runs The Gentleman, a grooming salon in Commissioner Street. He has been in this space since 2013. Before moving to Johannesburg, he worked in a Cape Town restaurant. A qualified teacher, he opened his first barbershop in Newtown.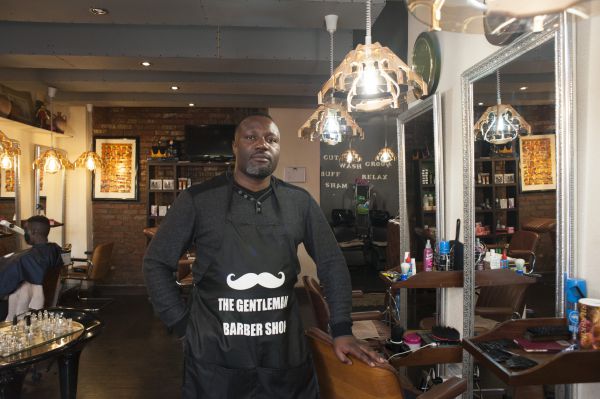 [Making ends meet: Ben Kadiya, who runs The Gentleman salon in Commissioner Street, is optimistic about the inner city. His business has grown steadily in the past two years (Delwyn Verasamy/M&G)]
Crime, however, is a reality that continues to haunt the inner city. When he was in Newtown, Kadiya lost count of the number of times he was robbed with knives and at gunpoint.
Three weeks ago, on a Sunday, burglars broke into his shop and made off with equipment valued at more than R6 000. But he is optimistic about the inner city and has seen his business grow steadily in the past two years.
Bheki Dube runs Curiocity Backpackers and Mainstreetwalks in Maboneng. He is a man of the city and believes it has great prospects of developing into a liveable place. Dube grew up in Troyeville and has never thought of abandoning the city.
"When the land subject comes up, I think of property," says Dube.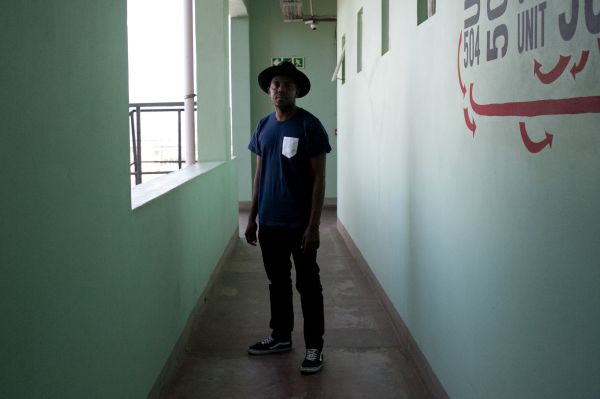 [Bheki Dube's walking tours focus on Jozi's hidden treasures. He has also ventured into the hospitality business with his company, Curiocity Backpackers. (Delwyn Verasamy/M&G)]
He believes that, although people tend to think of untouched spaces in the broader context of land ownership, in the context of the city "it is always balanced, looking at it from a property [perspective]".
His walking tours focus on Jozi's hidden treasures. He has also taken advantage of the interest in the city as a tourist destination to venture into the hospitality business with his backpackers, a vibrant spot frequented by an equally effervescent and diverse clientele from across the world.
Katz believes that the creation of spaces for young entrepreneurs in the inner city has led to "an explosion of new ideas".
Dube believes that the gentrification of the inner city has the potential to turn the area into an "integrated ecosystem where people can live, work and play in an urban landscape".
The city clearly holds great promise for young entrepreneurs like Dube, whose innovative ideas tie in with the demands of those who have no affordability issues.
But for those who survive on the margins of the economy, like Mthandazo Mbambo, a vegetable vendor who lives with her family of six in a one-roomed apartment in Yeoville, the changes to the landscape of the inner city may not hold such pleasures.
Mbambo first lived in a one-bedroomed flat in Berea with her four children and her husband after relocating from Zimbabwe in 2006. The family struggled to afford the R3 100 monthly rental. She then moved to Yeoville, where the family moved into a single room at a rental of R600 a month.
View Court, where Mbambo lives, was at the centre of a dispute between residents and four different men who tried to hijack the building after its original owner disappeared. At the moment, residents are living there by virtue of a court order that halted a developer's attempts to have them evicted.
As developers eye the neighbouring suburbs to spread the urban rejuvenation project, residents like Dlamini live in fear and uncertainty of the future. For now, they hope that the changing times will not spell the end of their days in the inner city. And they are not prepared to submit without a fight.
"We will never allow rent increases. We have no money [and] there are no jobs," argues Dlamini. — Mukurukuru Media