Petroleum giant Engen has gone to court to stop protests by residents of Durban's Wentworth township who want it to give them shares in the company, jobs and contracts as "reparations" for alleged damage it has caused to their community over the past 60 years.
On Monday, the Durban high court will hear an application by Engen for an interim order to stop members of the South Durban Basin Community Development Trust from protesting outside its refinery in Tara Road.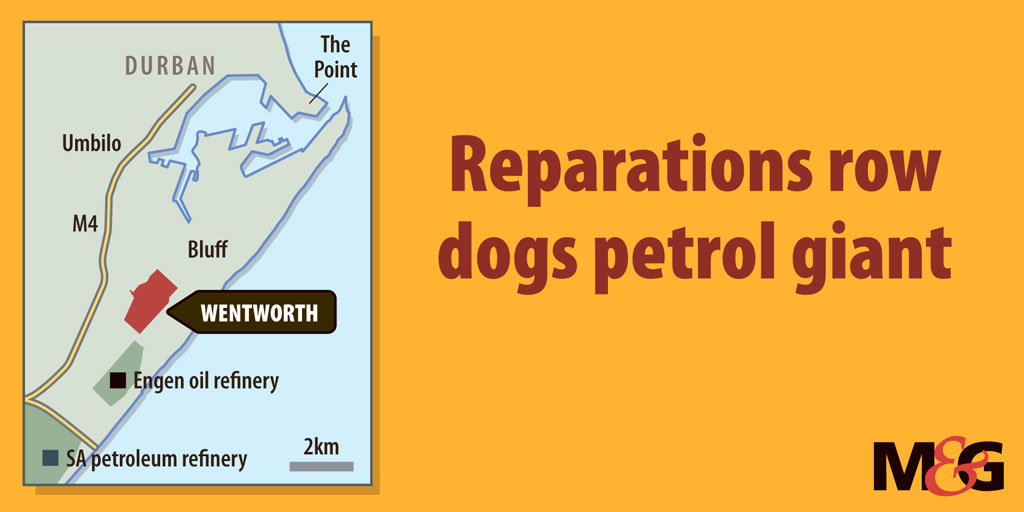 In papers, the refinery's acting general manager, Ernest Reid, said the forum, led by Frank Alexander, had refused to participate in its stakeholder engagement forum and instead had conducted protests, including burning tyres, outside the refinery.
Engen wants the protests, which Reid said were illegal as the refinery is a national key point, halted, saying Engen risked incurring "irreparable losses" from the damage caused.
Alexander said the trust was consulting its lawyers.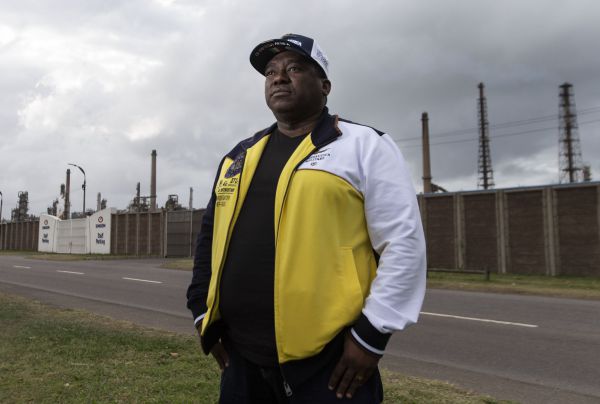 [Investment: Local activist Frank Alexander wants to see Engen make lasting financial, employment and infrastructure contributions to his community. (Rogan Ward/M&G)]
The protesters have been pressing Engen, which, as Mobil, opened its refinery in Tara Road in 1954, to be "transparent" about the proposed sale by majority shareholder Petronas, which controls 74% of the company.
The refinery has a capacity of 135 000 barrels of crude oil a day and supplies 1 500 service stations in Southern Africa and the Indian Ocean islands.
Wentworth residents have led several protest marches to the refinery to highlight their demands and force Engen management, and the leadership of minority shareholder Phembani, to meet them.
Last month, police opened fire on protesters who had blocked access to the refinery to prevent trucks from entering and leaving, which has inflamed tensions and sparked several other protests.
In an interview earlier in the week, Alexander told the Mail & Guardian the marches and residents' meetings were also aimed at forcing Engen to build a training centre in Durban South, to employ local people beyond the maintenance shutdowns, and to do business with local security, transport and engineering contractors.
"Engen owes us as a community. The various owners have been making billions over the years. We want the company to give the community shares as reparations for the damage it has done in 60 years of operation. This is a multibillion-dollar concern … In all this time there has been no attempt to include this community,'' Alexander said.
Wentworth residents were being treated in the same way as rural people who gained nothing from mining activity, he said. "There is a commonality between what is happening here and what is going on in the rural areas that are being mined … They are operating literally on our doorsteps and giving us no opportunities, ignoring us. That can't be correct.''
Alexander said that, even though Fairvale Secondary School, a technical school, was located directly across the road from Engen, there was no programme to develop or recruit local youngsters for permanent jobs.
In a memorandum handed to refinery management on June 6, residents and nongovernmental organisations made a number of demands and asked for a face-to-face meeting with Engen chief executive Yusa Hassan.
The demands included building a training centre in Wentworth, placing local young people in learnerships, employing permanent maintenance staff from the area, and extending engineering, transport and security contracts to local companies.
The memorandum questioned Engen's commitment to residents' environmental rights, demanding that it create a 24-hour clinic to deal with health issues allegedly stemming from the refinery's operations.
Sister Renette Roskruge of the Engen Community Stakeholder Forum, a network of local residents' organisations and NGOs, said they had been unhappy with Engen's levels of investment in the area, but that a recent meeting did make some progress. A further meeting to discuss more community investment was set for Thursday, she said.
"We have been very dissatisfied in the past. Last week we met with their CSI [corporate social investment] team. It was very fruitful. In the past, it [engagement with Engen] has been fruitless,'' Roskruge said.
Desmond D'Sa, who chairs the South Durban Community Environmental Alliance, said Engen did employ locals as temporary workers during maintenance shutdowns.
"Beyond that, they aren't employing local people and aren't providing bursaries or training for the local youngsters. This fight has been going on for years,'' D'Sa said.
"Engen has been interested in the bottom line and nothing more. There's no commitment to this community. We've been fighting with them since 2001 to replace rotting pipelines but they don't want to invest. Engen doesn't want to address anything that threatens to reduce its profits," he said.
Both Alexander and D'Sa accused Engen of using apartheid-era legislation, including the National Key Points Act, to prevent legitimate protest action by calling in the police.
In a letter to Alexander, Engen chief executive Hassan said that Engen was "fully committed to transformation" and had "extensively and exhaustively reviewed its business principles and broad-based BEE [black economic empowerment] improvement plans and strategies".
"Engen has also over the years appreciated the importance of doing good for the immediate communities of the Durban South Basin and has always endeavoured to play its part in building social cohesion by contributing to social development interventions."
Hassan told Alexander that his organisation should join the existing stakeholder forum, set up to deal with social, economic and environmental issues, to channel its "concerns".
Engen spokesperson Gavin Smith said Engen was a "proud long-term contributor to the upliftment of the South Durban community, as an employer, partner to local businesses, bursary sponsor and social investor''.
Smith said Engen had invested R40‑million in social projects in 
the past five years through the forum. This included funding four maths and science schools in the vicinity 
of the refinery, a computer skills training centre and sports programmes that were identified by the forum.
Smith said Engen had offered learnerships for apprentices last year, and that more than 70% of its shutdown workers came from South Durban, and 25% of refinery employees were from the south of the city. He said that Engen used small contractors and had recently committed R1-million for local schools to be repaired by two small South Durban firms.
The protests had not had an impact on Engen's refining capacity, but trucks had been stopped by protesters, who had burned tyres on the perimeter of the plant, Smith said.
Because the refinery was a designated national key point, he said that "the law requires that Engen ensure [its] security''.
Although Engen recognised the right to protest, it "reserves its rights in the face of unlawful and dangerous efforts by the protest group to disrupt the safe and responsible functioning of the Engen refinery and related services".