Platinum giant Impala says it has to cut 13 000 jobs to remain in business, leading government to accuse it of being reckless and a union to threaten strikes at its shafts.
The tensions have led one observer to note that conditions now are similar to those leading up to the Marikana tragedy, in which 44 people were killed.
Impala, the second-largest employer in the platinum sector, last week announced its intention to cut 13 000 jobs over the next two years, reducing full-time and contracted employees from 40 000 to 27 000 by 2021.
Impala's losses are estimated to be at least R14-billion over the past six years, spokesperson Johan Theron said.
Impala is the second large mining company to announce jobs cuts; gold miner Sibanye-Stillwater last year said it would lay off 2 000 people.
The Association of Mineworkers and Construction Union (Amcu) this week threatened to strike if jobs were cut. "We will make sure that there is not an ounce of platinum that will come out of the ground," Amcu president Joseph Mathunjwa told the media on Tuesday.
David van Wyk, director of research at Bench Marks Foundation, which monitors corporate social responsibility, warned that another Marikana may be on the cards, should the retrenchments go ahead.
Van Wyk attributes the decline in sales and revenue in the platinum industry to overproduction of platinum and the motor industry shifting from the use of platinum to make catalytic converters.
The platinum price hit $200 a ounce in 2008 but was trading at just $826 this week.
Impala plans to reduce production from 750 000 ounces a year to 520 000.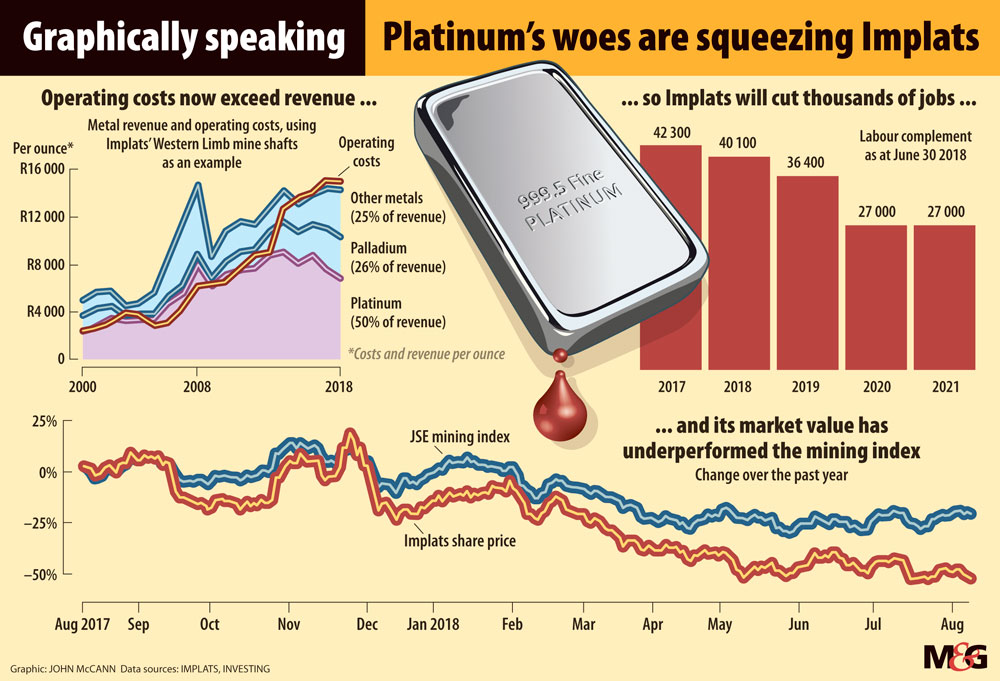 "Despite all our efforts over the past six years, given the current operating performance and low platinum prices, the entire business is at risk unless drastic action is taken,"said Theron.
Continued losses at the Rustenburg mine will lead to Impalabeing
unable to repay its lenders.It will close six of its 11 Rustenburg shafts, which have reached the end of their life.
Minister of Mineral Resources Gwede Mantashe last week said Impala's decision to cut jobs was"reckless".
Mathunjwa threatened that, if negotiations with Impala failed, the union will "hit where it matters most". He proposed the nationalisation of the loss-making shafts as a solution to deal with the crisis.
Royal Bafokeng Platinum chief executive Steve Phiri called on government to provide the sector with solutions. Phiri told Mining Weekly that tax relief could be offered to mining companies to retain personnel. He also suggested that lower pay for fewer working hours could helpto avoid retrenchments.
Although the National Union of Mineworkers agrees with Amcu's position, spokesperson Livhuwani Mammburu said the NUM has not yet discussed its stance on the proposed job cuts.
"As NUM we can even work with Amcu and we do not have a problem at all, if they want us to take the fight to Impala Platinum … Let's do it together. As workers we must fight together for common challenges we are facing."