On Sunday evening, the National Museum in Rio de Janeiro was enveloped by an inferno that destroyed the 200-year-old centre of science and history. This was a man-made disaster — a result of the savage austerity introduced in Brazil and the indifference of its political class to learning and culture.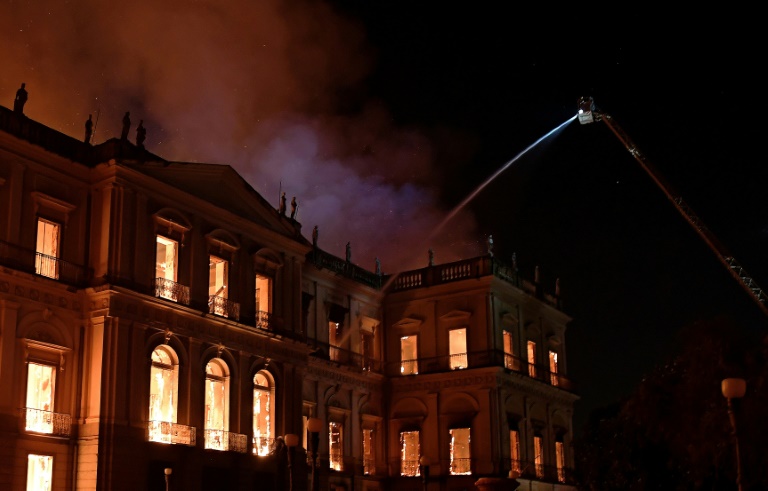 [The fire that engulfed the 200-year-old National Museum in Rio de Janeiro is symbolic of the state of political and economic play in Brazil. (Carl De Souza/AFP)]
The flames that annihilated countless items central to Brazil's national heritage parallels the nation's political crisis that has destroyed the future for millions of Brazilians. For Brazil's political establishment, cultural and educational funding is worthless if it doesn't serve the needs of the market.
Twelve million Brazilians are unemployed, political violence is rising and the frontrunner going into October 7's elections — Luiz Inácio "Lula" da Silva — is imprisoned and his candidacy has been blocked. In his absence the neofascist, Jair Bolsonaro, leads the polls.
Lula's candidacy was blocked by the "ficha limpa" (clean state) law introduced by his Workers' Party (PT) government in 2010, forbidding those with appeals against court convictions from running for office. Lula was sentenced last year to 12 years in prison for corruption and money laundering. South Africans, shaped by our experience of former president Jacob Zuma, should not mistake his conviction for a victory for accountability and democracy.
Lula's conviction was based only on the testimony of a businessman who received a substantial reduction in his sentence in return. Lula's case was pushed through Brazil's usually sluggish legal system by judges seeking to block his candidacy. Candidates of the establishment centre-right, implicated in worse acts of corruption — including incumbent President Michel Temer — remain free.
Lula, who, according to the historian Perry Anderson, is "the most successful politician of our time", left office with an 84% approval rating, after leading Brazil through a period of dramatic poverty reduction and rapid economic growth. Beloved by millions, his supporters view him as the father of the poor, Brazil's answer to Nelson Mandela. His enemies depict him as a sinister authoritarian ringleader of a mafia-like party that centralised power through corruption. The truth, as it usually is in these cases, is more complicated and in this Lula embodies Brazilian democracy in all its contradictions.
Born to a poor family in Pernambuco state in 1945, Lula and his family, like millions of his contemporaries, made the long journey from the drought-ridden poverty of the northeast to Brazil's great industrial city, São Paulo, in search of a better future. Lula dropped out of school in the second grade to support his family as a shoeshine boy, later finding employment in one of São Paulo's factories during Brazil's "economic miracle".
A military dictatorship had crushed Brazil's union movement and workers, like black workers during apartheid, were paid a pittance, faced dangerous employment conditions and were paid below the amount needed to sustain them and their families. Lula, who preferred football and parties to politics, found himself drawn into union politics as a result of the exploitation and injustice that his fellow workers faced.
His experience as a union leader dealing with an authoritarian regime drew him into left-wing politics and he went on to lead the Metal Workers' Union of São Bernando, emerging as the foremost leader of the Brazilian working class in the historic 1978 wildcat strike, involving 500 000 workers, that shut down São Paulo's factories. Equivalent to our own experience of the 1973 Durban strikes, the strike gave birth to a powerful and radical new unionism.
Before the strike, opposition to the dictatorship had been largely concentrated around the officially sanctioned opposition party — the Movement for Brazilian Democracy. The forces that emerged from the strike joined forces with the Catholic left, Trotskyist groups and other social movements to form the PT in 1980.
Its formation was of historic importance for two reasons: first, it marked the last mass social democratic party founded anywhere and, second, it was and remains the only real, modern, mass political party in Brazil.
Although the party struggled electorally in the first years of its existence, it and Lula played a key role in the 1984 Diretas Já (Elections Now) campaign that ended Brazil's military dictatorship. The PT emerged as a major political force by the 1990 elections, coming a narrow second, losing again in 1994 and 1998. Lula, his allies and his key strategist —former guerrilla José Dirceu —moved towards the centre, dropping much of PT's socialist rhetoric and positions to calm capital. Lula, running on the slogan "Paz e amor" (peace and love), came to power in 2002 after placating the fears of capital by promising to adhere to macroeconomic orthodoxy.
As a working-class man with little formal education, Lula represented a significant victory against Brazil's social apartheid. Brazilian apartheid, unlike South Africa's, has always been based on informal practices of exclusion rather than naked bigotry inscribed in law. Lula's victory and policies marked a series of historic victories, even if the structures of economic exclusion and racism in the country remain largely intact.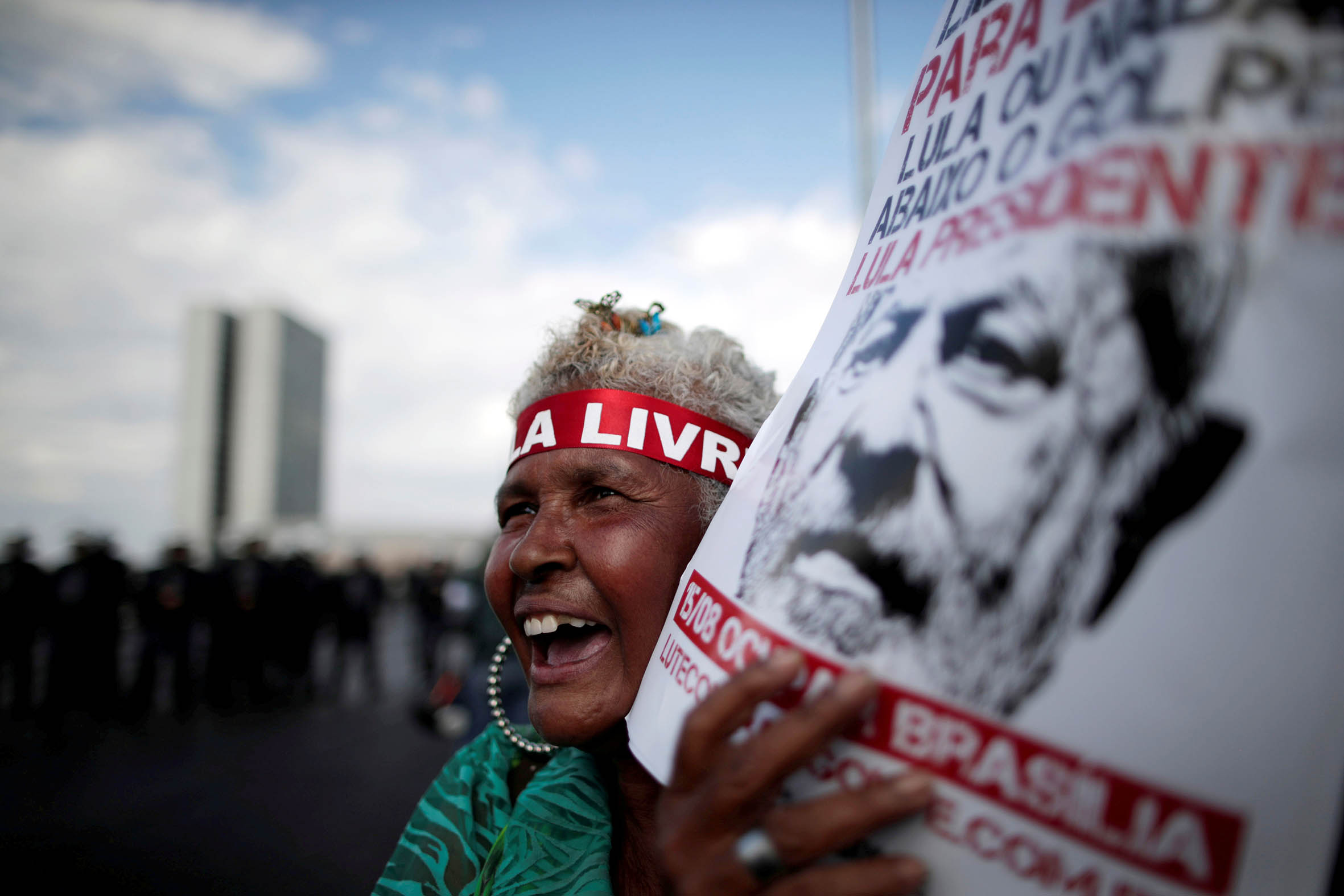 [Supporters of Brazil's former president, Luiz Inacio "Lula" da Silva, marched in support his presidential candidacy. (Ueslei Marcelino/Reuters)]
Lula championed a style of governance dubbed "Lulismo",which was described by leading PT intellectual André Singer as "soft reformism", where the government would pursue social policies in favour of the poor without challenging the foundations of elite power. Lula's two successive governments lifted millions out of poverty, significantly expanded access to higher education, increased social spending and rolled out infrastructure to the most impoverished regions of the country. It also demobilised its base in the social movements and the trade unions.
But the story of Lula is not merely a banal narrative of a humble servant leader. Lula is the shrewdest and most calculating political mind in Brazil. His experience as a union leader meant he is experienced in bringing together warring groups to the table and forging a deal.
Lula is not the radical his enemies portray him to be; in reality he is a moderate who prefers compromise and consensus to confrontation. But, for all his success, he failed to significantly alter the status quo in Brazil, and his tenure did not lead to significant efforts to reform the political system or the oligarchical media, or halt systematic elite tax avoidance.
Lulismo embodies the 1988 Constitution, which greatly expanded social rights while leaving the corrupt dictatorship's political system intact, forcing governments to forge back-room deals with the legion of tiny rent-seeking parties in Brazilian politics. Lula used his remarkable political skills to govern in alliance, at times with the most backward elements of Brazilian politics.
The bureaucratisation of the party and the demobilisation of its base, along with the effects of the 2006 Mensalão (monthly payments) scandal, which removed many of the party's other key leaders, meant that Lula lacked a clear successor. Dilma Rousseff, Lula's replacement, found herself ill-equipped to deal with Brazil's escalating crisis, and the PT's former allies became the architects of her impeachment.
The impeachment, which was more akin to a parliamentary coup, was brought about by an elite willing to tear up the 1988 Constitution, forsaking democracy to remove a moderate social democratic party from government to save itself from corruption charges and appease capital.
The PT's candidate, with Lula banned, is Fernando Haddad, a former education minister and mayor of São Paulo. He is a technocrat who lacks a strong connection to the party's base. Lula's endorsement, however, will most likely prove enough to propel him into the second round and perhaps even win the election.
Brazil's never-ending corruption scandals have discredited the country's establishment political parties. In this dangerous and uncertain environment, it might just be the case that Lula, banned from running, was the only person capable of saving the 1988 political settlement.
Benjamin Fogel is based in São Paulo andis a PhD candidate in Latin American history at New York University. He is a contributing editor to Jacobin magazine and the website Africa is a Country