POLITICS
It has become almost expected that truth commissions will be introduced to try to consolidate a transition from authoritarianism and conflict to democracy and peace. This is evident in Zimbabwe and Ethiopia, for example, where a recent change in leaders has prompted discussions about the need for, and possible format of, truth-telling and justice.
In such contexts, the memory of South Africa's Truth and Reconciliation Commission (TRC) looms large. The commission's hearings enjoy a near mythic status as a forum in which victims relayed their suffering; security officials spoke of and, on at least one occasion, acted out their involvement in torture; the media provided live coverage, soundbites and documentaries; and people across the country watched and discussed them.
Yet the TRC was far from perfect. Few have read the commission's lengthy report. And, while a majority reportedly approved of the commission's offer of amnesty for full disclosure of politically motivated, apartheid-era crimes, public support fell during the 2000s because the government paid limited reparations and public prosecutors failed to bring charges against alleged perpetrators whose amnesty applications had been denied, or who had never applied.
Critics also challenge the TRC's focus on bodily integrity rights to the neglect of other injustices, such as mass removals and racially determined socioeconomic opportunities. They question the portrait painted of the nation as a diseased and wounded body that can be cleansed and healed through "talk therapy"rather than as an unjust product of deep-seated inequalities that demand substantive reform.
Given this mixed evaluation, what have countries that have sought to adopt a South African-style truth commission learnt, and failed to learn, from the TRC?
The specifics vary by country, but insights can be gained from Kenya's Truth, Justice and Reconciliation Commission (TJRC), which I discuss in a new book: Performances of Injustice: The Politics of Truth, Justice and Reconciliation in Kenya.
Established in 2008, the TJRC received more than 4000 statements between 2009 and 2013. It held public — and women's— hearings across the country; hearings for adversely mentioned persons (AMP), the accused; and it published a lengthy final report.
Significantly, those involved clearly sought to learn from the TRC. This included the lesson that when women spoke in South Africa they tended to speak about the experiences of proximate men, rather than of their own suffering, which prompted the TJRC to hold women-only hearings across the country.
The TJRC also moved beyond a focus on bodily integrity rights.
The commission, established in the wake of Kenya's 2007/2008 post-election violence —when more than  100 people were killed and almost 700 000 were displaced — sought to investigate an array of injustices. These ranged from state repression and causes of political violence to perceptions of economic marginalisation and irregular land acquisition between Kenya's independence in 1963 and the end of the post-election violence in February 2008.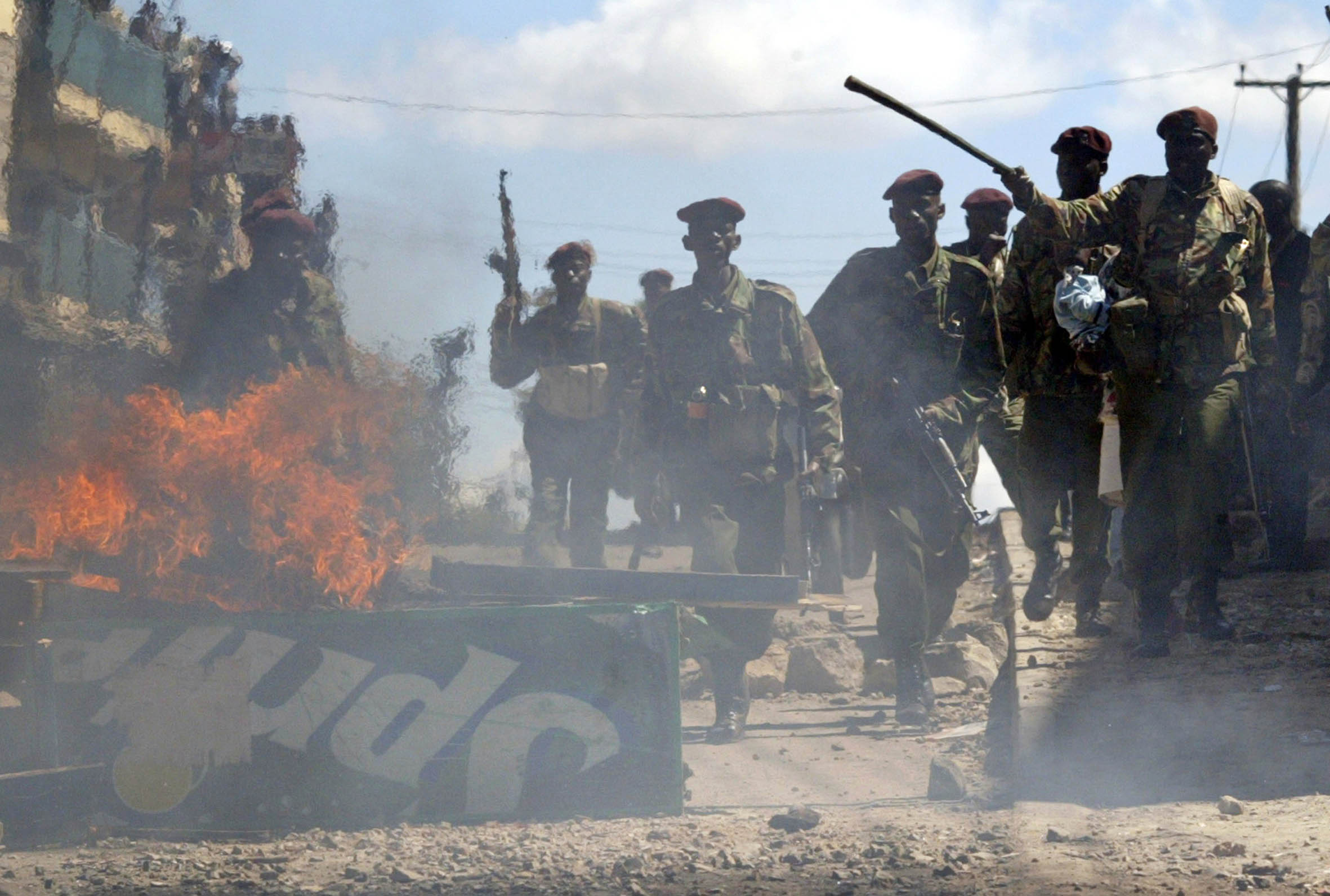 Kenyan police (above) quell 2008 post-election violence in Nairobi. (Tony Karumba)
It saw this violence as triggered by a disputed election but fuelled by these more deep-rooted problems.
There were lessons, however, that backfired. For example, while it recognised the importance of Archbishop Desmond Tutu's charismatic leadership, the TJRC —much to the frustration of all involved —was soon undermined by a credibility crisis regarding its chairperson, ambassador Bethuel Kiplagat. In short, as a senior civil servant under President Daniel arap Moi, Kiplagat was connected to three injustices the commission was meant to investigate. This prompted claims that he had been purposefully appointed to undermine the commission's work. Kiplagat eventually stepped aside but, after appearing before the TJRC as an AMP, later returned to head the commission.
Other lessons were largely ignored. This included the importance of popular reception and political buy-in, as well as the inherent limitations of such a temporary body.
In terms of reception, the TJRC opted to spend much of its time holding public hearings. The point —as with the TRC —was to give victims and perpetrators a chance to speak to commissioners,but also for wrongs to be publicly acknowledged and for a new nation committed to human rights and dignity to be enacted on a public stage.
While the TRC heard testimonies from previously silenced victims and the confessions of perpetrators and became a "media event", the TJRC's hearings looked very different. In short, many of the injustices discussed had been covered by previous commissions of inquiry;only one man in a closed-door hearing admitted personal responsibility for wrongdoing;and —in the absence of a clear transition and amid an ongoing credibility crisis —the country's profit-oriented media largely ignored the hearings. At the same time, the TJRC was upstaged by the International Criminal Court, which charged four prominent individuals with crimes against humanity; two of whom —Uhuru Kenyatta and William Ruto —went on to win the 2013 and 2017 elections.
As a result, while witnesses got to speak to commissioners and immediate audiences, and some testimony helped to inform the final report, the point of holding the hearings in public was largely lost.
This links to the importance of broader political contexts. As noted, the TRC's legacy was undermined, at least in part, by the government's failure to fully implement the recommended reparations' programme or to initiate prosecutions.
In turn, Kenya's TJRC relied on the TJRC Act's stipulation that "recommendations shall be implemented". But such legal provisions proved insufficient. Thus, while the office of the president allegedly pushed the TJRC to change sections of the land chapter that adversely mentioned Uhuru Kenyatta's father and Kenya's first president, Jomo Kenyatta, Parliament went on to amend the Act so that the report needs to be considered by the National Assembly —something that is yet to happen.
Finally, although the TJRC recognised hearings were insufficient, there was a tendency to present the commission as something that would achieve truth and justice and contribute to an ongoing process of reconciliation. However, as a short-term body with a limited mandate that required intense public engagement and political action, the TJRC was never going to be able to address the complex ways in which unjust pasts actually persist —a state that requires ongoing debate and substantive socioeconomic and political reform to approach.
The lessons to be learnt from the TRC and TJRC are complex but include the following:
To be effective public performances that help enact a sense of transition, truth commissions need a receptive audience.
A commission can encourage this through its operations,but it also depends on broader contexts.
Reports and recommendations are likely to be ignored, and implementation requires ongoing political struggle.
Truth commissions should not present themselves as bodies that can achieve such lofty goals as truth, justice and reconciliation, but as processes that can make a contribution to, and help inform, longer political struggles for the same.
Gabrielle Lynch is a professor of comparative politics at the University of Warwick