The play Museum of Lungs charts the story of a woman living and working in Johannesburg, who is dealing with the aftermath of a devastating medical diagnosis and demands your attention as soon as the lights go down.
It is a collaboration between South African writer Stacy Hardy and Egyptian Laila Soliman, who directs the memoir with intelligence and sensitivity.
The play begins with Hardy describing how falling ill was a consequence of working in the big city — travelling on its roads, pushing up against its people and fighting for space. A mysterious ailment settles into her body, weakening it and troubling her mind. She does not know what it is, where it comes from or how to deal with it. This helplessness underscores the next eight years of her life, which she spends desperately trying to heal her body.
Hardy's nuanced exploration of the concept of "living with" illness is striking. She speaks of her illness, eventually named as tuberculosis, as an intrusive roommate or squatter. It is always there and there is very little she can do about it. It becomes a characteristic of hers: she has TB; TB is the reason she cannot work, the reason her partner leaves her when, in spite of herself, she becomes too sick and needy.
Feeling isolated and vulnerable, and having to face her body's fragility and her own mortality, Hardy, whose stage presence is that of a seasoned actor, feels let down. She is alone at a time when her body seems to have given up on her — the same body that had allowed her to experience the many pleasures of life.
Early on in her journey to understanding her illness, she asks: "Can this be my body if I don't like it?"
Issues of body image are difficult for many women to address, even without chronic illness, so this question hits home. Do you have to like your body to appreciate it, or learn to take care of it?
When Hardy first falls ill, she goes to the doctor. There, she discovers that the South African healthcare system is cruel. She is pushed from one doctor to the next, without any clear communication about what is wrong with her, leaving her to fill in the gaps. Specialists and nurses talk past or at her, and one is so careless as to let Hardy hear her say:"I am struggling to draw blood from that cancer patient."The dismissive misnaming of her disease is alarming, and makes her acutely aware that she was wrong to expect comfort and reassurance from the medical fraternity.
She learns that her illness is one that is not expected to afflict a white woman. A doctor asks: "Does your work take you to the township?", implying that Hardy could only have picked up the disease after associating herself too closely with black people.
The heavy themes raised in her monologues are complemented by the sparsely set stage. As she moves around a relatively empty space, she manipulates light using a torch: she directs the light onto the shapes in a small black box, creating a montage of her feelings and thoughts, and thereby taking the audience through the landscape of her experience with TB.
The puppet that Hardy uses to represent herself (and her body) is captivating. Designed by Marius Kob, it is at once frail and resilient. Hardy, while exploring her journey to healing, breaks it apart and displays it in different stances. It becomes an extension of her, subtly amplifying her movements and taking up some of the space that her own fragile body cannot.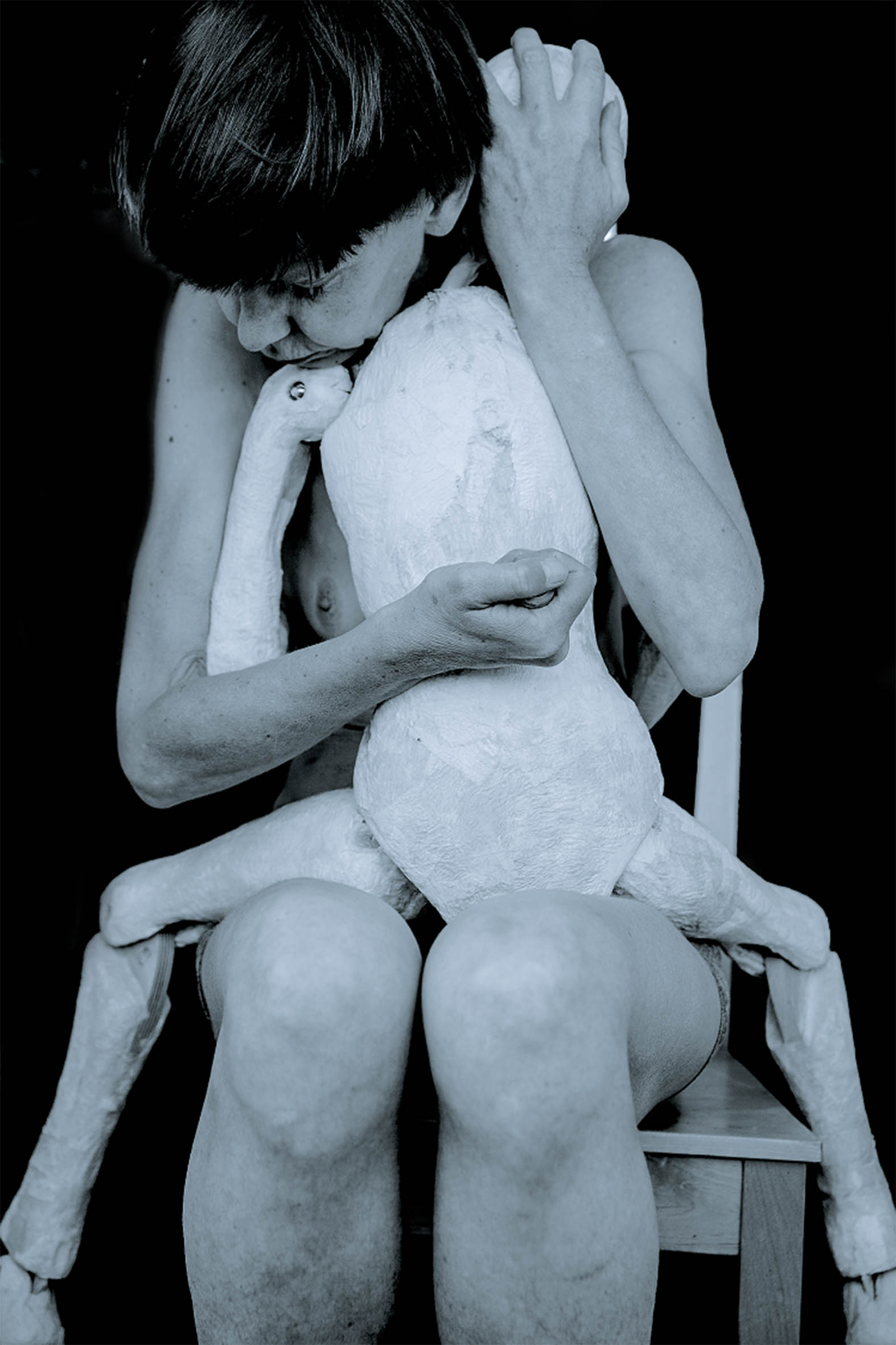 [Moving: Stacy Hardy raises heavy themes during her monologues in Museum of the Lungs]
The musical atmosphere of Hardy's strange world is by a collaboration between composers Neo Muyanga and Nancy Mounir (Egypt), whose plaintive rendition of Ana fi intizarak (I await you) is a highlight of the play's carefully considered score.
It is through living with TB that Hardy learned what she believed in and saw more clearly where she fitted into society as a white woman. Without paradoxically claiming that being sick "saved" her life, it can be said that seeing how TB was viewed as a poor black people's disease, and therefore a lesser priority in the healthcare system, sensitises her.
A crucial break in the mood of the play comes when Hardy picks up a loudhailer and walks into the audience. She leads a chant about illness as a form of resistance against capitalism. The audience is taken out of the scene of the play and asked to engage with a flyer about the SPK — the Socialist Patients' Collective — an organisation that claims illness is a side-effect of capitalism.
It emerges that Hardy has learned that being ill is a valid way of being and operating in society. It does not have to decrease a person's value but can give you a means through which to interrogate the system.
Taking a closer look at how the ill are treated, the play suggests, is a good way to begin evaluating the structures that hold up society.
Museum of Lungs is on at the Little Theatre in Cape Town from September 14 to 16