Just two days after Mexico's Day of the Dead celebrations, in which marching bands and skeletal puppets paraded through city streets, William Kentridge's video installation, More Sweetly Play the Dance, opened at Centro de las Artes de San Agustín, a mountaintop art centre in the Mexican town of San Agustín Etla. The 15-minute film's brass-band music and danse macabre were a fitting complement to this annual season honouring those who have died.
Kentridge is just one of many Southern African artists whose work forms part of the Crossing Night (Hacer Noche) exhibition taking place around the Mexican city of Oaxaca de Juárez, an area famous for both its deeply moving Day of the Dead celebrations and its many galleries and cultural institutions.
Crossing Night, a programme by Idris Naim, a Mexico City-based nonprofit organisation dedicated to the promotion of the arts in Mexico and around the world, includes five exhibition chapters, artist residencies, educational workshops and a talks programme, showing work by artists such as Marlene Dumas, David Goldblatt, Nicholas Hlobo, Jackson Hlungwani, Penny Siopis, Portia Zvavahera, Athi-Patra Ruga and Cinga Samson. The exhibitions, exploring relationships with death in Southern Africa and Mexico, run from 10 November 2018 — 5 February 2019.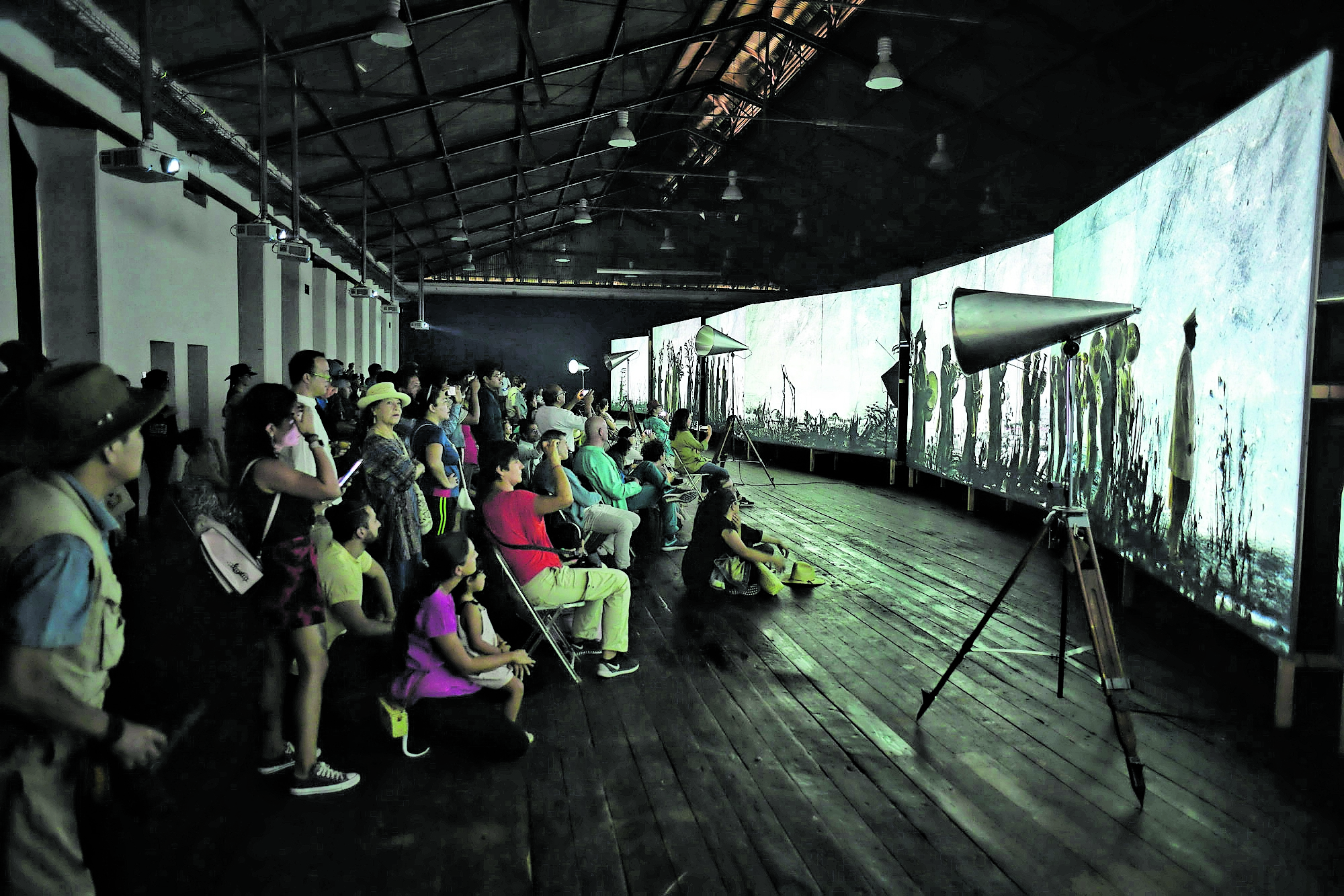 In William Kentridge's More Sweetly Play the Dance a brass band leads animated drawings and videos of figures, some with IV drips, others pulling bodies, who perform a danse macabre. (Jalil Olmedo)
"Death was Josh Ginsburg's idea," says Francisco Berzunza, co-ordinator of the programme, of his South African artist-curator friend's suggestion, which Berzunza then formulated into the exhibition's overarching theme. "Death is a highly ritualised affair in South Africa and Mexico; and death is an incredibly violent and unjust affair in South Africa and Mexico."
Berzunza, a Mexican who was previously the cultural counsellor at the Mexican embassy in South Africa, is the main organiser of the event. He was tasked by Oaxaca's vice-minister of culture to produce an exhibition in Mexico linking the two regions. Inviting friends and acquaintances to participate, with work he found spoke to him best concerning the theme, he and a small team of collaborators have pulled off an ambitious project spanning two continents.
Berzunza says death need not only be presented in dark, heavy terms, "it can also be playful and cheerful".He describes Johannes Segogela's work on show as "quirky and funny", and sees Simphiwe Ndzube's on-site installation as humorous. "They lighten the mood," he says.
Ndzube, who moved from Cape Town to Los Angeles two years ago, joined his fellow artists in Oaxaca to recreate The Rain Prayers, a 2016 installation of almost human-like wooden poles gathered like a community on a mission, inspired by his memories of growing up in the Eastern Cape, where the faithful would congregate on a mountain and pray for rain when livestock was dying from drought.
"I guess it's similar to the processions you see for the Day of the Dead," he says. "It comes from a macabre place but I prefer [it] when people view it as playful."
For his installation in the former convent of Santo Domingo, he has used shoes, hats, gloves and umbrellas sourced in Oaxaca.
Siopis, who spent two weeks in the residency programme at Centro de las Artes de San Agustín, found that witnessing the Day of the Dead celebrations offered her another way of thinking about the subject of the afterlife.
"[In Mexico] death is embraced as a living experience," she says, comparing it with the Western attitude of keeping death at arm's length. "It's very celebratory, inviting ancestors into one's living spaces," she says about the Mexican tradition of welcoming the dead back from their graves into the homes of their loved ones, with colourfully decorated altars laden with their favourite foods and beverages. "Death is not a homogenous experience at all but everyone has the experience."
During Siopis's residency she continued her work on themes of death and transfiguration, using the colour red. Besides her 2011 video titled Communion, featuring the death of a South African nun in 1952, she's showing work resulting from her residency, painted with a red dye made from Oaxacan cochineal. When dried, the cochineal, an insect found on the prickly pear cactus, is crushed with a mortar and pestle (a practice Siopis undertook herself) to produce the red dye that was introduced to the rest of the world during the colonial period.
Siopis was joined on the residency by fellow Capetonians Georgina Gratrix and Jared Ginsburg, as well as Angolan Tiago Borges, who all produced or adapted work for Crossing Night during this period. (Sabelo Mlangeni will be doing a residency there later in the year.)
Gratrix, known for her flower-filled oil paintings, has adorned canvases with brilliant orange marigolds. The scent of these flowers is said to lead the dead home.
Borges, who grew up in war-torn Luanda, has produced a fanzine that illustrates his take on the Garden of Eden. "I guess we're destroying this planet because we want to live in Eden one day," he says, adding that it's often forgotten that "ideal" locations such as London, Paris and Lisbon were created by people whose names never made it into history books.
"There's a history of blood, scars and suffering we don't read about, yet somehow people admire these places. But we can create our own mythologies," the self-proclaimed punk artist says.
With the help of seven students who attended a four-day workshop presented by Borges at the Centro de las Artes de San Agustín, he has documented a Garden of Onomatopoeia, where new words suggest unexpected imagery. Polystyrene sculptures resulting from the workshop were photographed within nature, creating alternative narratives for the zine.
"It's local-specific visual poetry; a construction of an experimental reality," Borges says of the zine's narrative. "I want to inspire people to see the world in creative ways."
Berzunza sees great value in such residencies. "Art is not an isolated phenomenon. It's produced in a particular context. It would be a shame if we were to import an exhibition to Oaxaca that was not related to the context [of Mexico]." He believes cross-cultural exhibitions such as Crossing Night are catalysts in creating a necessary dialogue conceived from within an immersive environment.
Photographer Pieter Hugo is exhibiting 12 new images in the Centro Fotográfico Álvarez Bravo, all shot during a previous visit to Mexico in April. Inspired by one of the country's renowned murals, the room-encompassing Del Porfirismo a la Revolución by David Alfaro Siqueiros in the Chapultepec Castle, depicting a workers' revolt, Hugo has staged local garbage collectors in a similar pose, carrying a body outside a local market.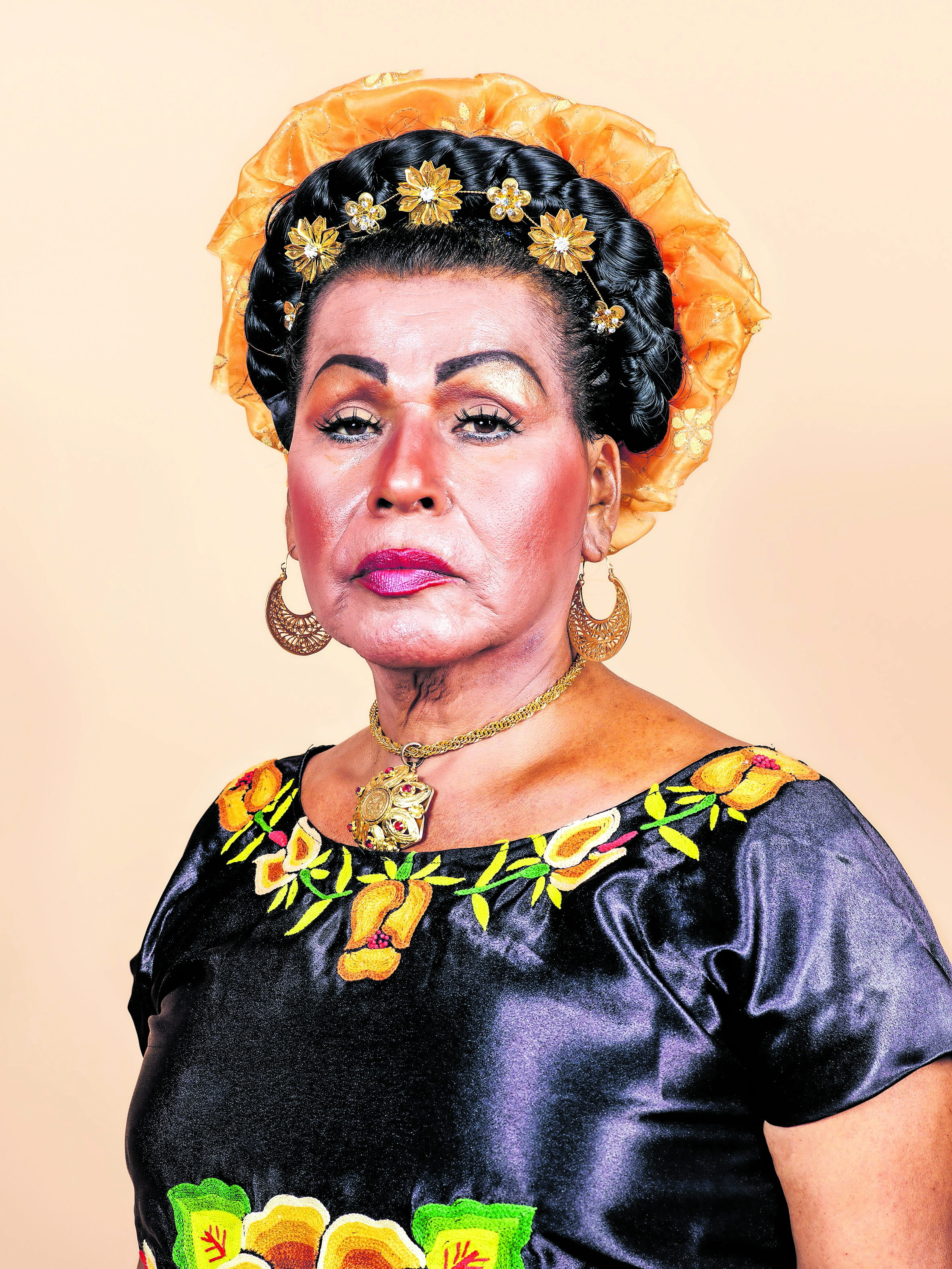 Pieter Hugo's Muxe (above) and Cinga Samson's Ubuhle benkanyeziarepart of the exhibitionCrossing Night (Hacer Noche)
Another portrait is the result of a chance encounter with a prison Passion play over the Easter season. It documents a thorn-crowned Mexican Jesus. "There's a preoccupation with death here [Mexico] that appeals to me," says the visual artist.
Hugo's work is in the same gallery as that of Jo Ractliffe, a fitting venue considering Ractliffe's photographic collection has been curated as a collection inspired by the gallery's namesake photographer Álvarez Bravo's Striking Worker, Assassinated, an image included in the first photographic book Ractliffe ever bought, and which has always struck a chord with the South African photographer.
It seems much has come full circle with Crossing Night.
"It's like the sound of the rooster, as depicted in Kimbundu," says Borges of this Angolan metaphor for waking up to a new day, having arrived safely from a dark dream. "There's a dumbing of the planet and a lack of memory, but hacer noche is always there."
Crossing Night [Hacer Noche] runs from November 10 to February 5 next year in Oaxaca de Juárez, Mexico