Tafadzwa Mahere* can recall little of the shack, except the streetlight streaming through one of its small windows. Dragged from the street at knifepoint, it was in that tiny, dark shack that he was beaten, choked and raped — his attacker making it known "that he was punishing me for being gay".
Mahere is not only a victim of rape, he is also a victim of hate crime.
The Prevention and Combating of Hate Speech and Hate Crimes Bill adopted by the Cabinet in March defines a hate crime as an offence motivated by that person's prejudice or intolerance towards the victim because of characteristics including age, race, culture, ethnic or social origin, nationality and sexual orientation.
Victor Chikalogwe, the gender rights and refugee co-ordinator of the nonprofit People Against Suffering, Oppression and Poverty, says Mahere's rape last Saturday was a hate crime "because he has been raped by someone in his community who knows that he is gay and from another country".
Mahere reported the attack to the police, who were "sympathetic at first, but I think it was because I was crying so much they felt sorry for me".
The sympathy soon turned to abuse. A few days after the attack, he spotted his attacker walking the streets of Philippi East where they both live. Mahere called the police in the hope of having the perpetrator arrested. Instead, he was the one who was questioned. "How can you be raped when you are a man? How can another man rape you?" they mocked.
"They were being very, very homophobic," says the 25-year-old, who left his home country of Zimbabwe in 2013 for South Africa "because I wanted to be free here to be gay".
"They were asking those questions so loud that people walking past us could hear them and started laughing at me. I was like a joke … They chased me out of that van. And the way they did that," he pauses, "I just felt like I'm worthless. Like I am not a human."
A report released in February this year by the Hate Crimes Working Group found that two in three cases are not reported to the police and that offenders are apprehended in only a quarter of these reported cases. Of the 900 cases surveyed, verdicts were reached in 62 cases with only 16 convictions.
In July last year, Terence Makapan was assaulted after being called a "hotnot" during a night out with friends in Stellenbosch. The attack made headlines nationally after Makapan posted a video of the incident on social media.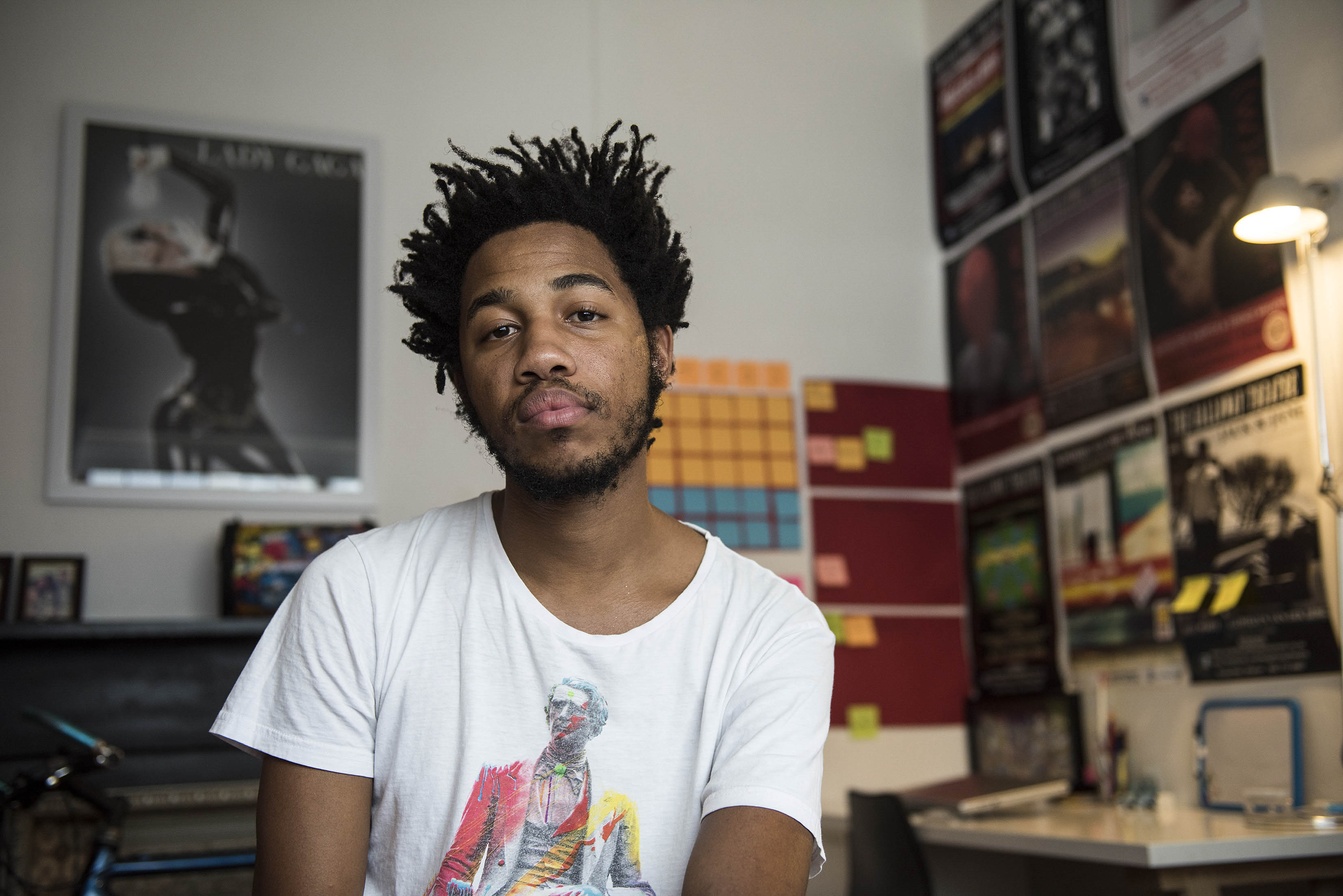 More than a year after Terence Makapan was assaulted in Stellenbosch, the police are yet to take a statement from his attacker. (David Harrison)
Unlike Mahere, Makapan was not verbally abused by police. But, more than a year later, the police are yet to take a witness statement from the accused. To Makapan, this is "concerning and frustrating".
Sanja Bornman, an attorney with Lawyers for Human Rights, says: "The racial slur that accompanied the assault indicates that Terence's attacker was motivated by prejudice against the colour of Terence's skin," which is why the attack constitutes a hate crime.
Makapan (25) says: "I'm not an aggressive person. I've never been in a fight my whole life. It wasn't my instinct to want to fight back. I just thought in that moment, 'Try and document as much as you can'.
"So I whipped out my phone and started recording. I uploaded the video to Facebook with a purpose of identifying this guy because I would have hated for him to get away with this. And also to show the country the shit that still happens."
Despite the outcry, Makapan says "nothing has been done" to date.
"I know these things take time, but I haven't heard anything. In my mind, I was, like, 'you have everything: the perpetrator's name and surname … I even gave [the police] the name of his family's farm. There are multiple witnesses, but nothing has happened," Makapan says.
Numerous calls and messages to the investigating officer proved fruitless. "He blue-ticks me on WhatsApp and doesn't say anything. When I'd call him, he wouldn't respond or, if he did, give me excuse after excuse. I've been patient, but a few weeks ago I was, like, 'this is ridiculous'. It's so difficult for me to move on with my life without knowing that proper justice is being done."
One of the aims of the Bill is to ensure that those who are victims of hate speech or hate crimes get to see justice.
The police are "an essential part" of the problem, says Louise Edwards, a programmes officer at the African Policing Civilian Oversight Forum, a nongovernment organisation dedicated to promoting police accountability on the continent.
Edwards's organisation has recently started research into "what the South African Police Service's performance would be like if the Bill becomes law … Basically, their capacity to be able to effectively implement the policing aspects of hate crimes and hate speech."
Edwards says: "There are a number of concerns. There are things that would need to be put in place to ensure that there is effective implementation if it does become law."
For Edwards, the training of police officials will be "incredibly important, because being able to have something tagged and investigated as a hate crime is often going to start with the police themselves. Victims of hate crimes can often be quite vulnerable people who may not be able to say 'I am a victim not just of an assault or rape, but also of a hate crime'."
How these cases are investigated is another key element. "There should be some special instruction to them regarding how to investigate hate speech or hate crimes. So they will need to look at the type of questions they are going to need to ask of complainants or victims. How they draw that out and how they treat victims is incredibly important in terms of securing the trust of communities to report such crimes."
Brenda Muridili, the national spokesperson for the police, concedes that "SAPS does not have a category for hate crime or crimes that are classified under hate crime".
In response to questions sent by the Mail & Guardian about the assault on Makapan, Stellenbosch Central police station's communications officer said "the investigation officer of mentioned case traced the suspect in Rawsonville and a statement would be taken soon" and that the "case is still under investigation".
Makapan is "suspicious of this sudden response because they feel they might be shamed", but he welcomes the long-awaited development.
"I just want SAPS to do their jobs so that people don't feel so hopeless," he says.
"So often, people don't report incidents like these, or any others for that matter, because they say it won't make a difference. And we shouldn't have these feelings about people paid to protect us. I just want people to be held accountable. Both him and the police."
Edwards says that, if the Bill becomes law, "what would be good to see, but would cost more money, is the formation of specialist units within SAPS to deal with these type of crimes.
"Because these crimes are complex; they are not easy to investigate. It will increase the burden on SAPS, yes, but it is such an important issue. And if they're not going to be picking it up, this law is not going to be worth the paper it is written on."
It has been only a few days since Mahere was raped and then humiliated by the police. Although there is nothing he can do about the violence he experienced, he hopes, that, in his future dealings with the police he — and others like him — will be respected.
"What I want from the police is for them to help the person despite his sexuality. If someone comes to them … they should just help that person, regardless of their sexuality or where they come from. They should just help people."
* Not his real name.
Carl Collison is the Other Foundation's Rainbow Fellow at the Mail & Guardian