As the continent with the most natural resources, we really feel the brunt of global warming. The national department of tourism has been a big proponent of responsible, sustainable and eco-friendly principles pertaining to the tourism industry. This zeal to protect our environment and leave behind a zero or positive carbon footprint is now becoming the guiding principle in the Meetings, Incentives, Conferences and Exhibitions (Mice) industry.
Established in 2009, the Event Greening Forum provides checklists on things to do to make your event or your part in the event more sustainable. The Event Greening Forum has a checklist of expectations of what constitutes a green event, and those guidelines are imperative to the organisation of Meetings Africa. "For example, you'll notice that we don't have plastic water bottles. We have water dispensers with biodegradable paper cups, which goes a long way towards sustaining our environment," says vice chairperson of the Event Greening Forum, Neo Mohlatlole.
The Event Greening Forum and National Convention Bureau (NCB) provide training to exhibitors on how to organise their stands and exhibitions without doing any damage to the environment.
"We need to be the trend-setters. We need to make sure that in our process of marketing South Africa, we leave behind a good carbon footprint," says NCB chief convention bureau officer Amanda Kotze-Nhlapo. "We go out through all the stands to find out which ones obliged to our checklist to ensure that the Meetings Africa is a sustainable and environment-friendly event," she adds.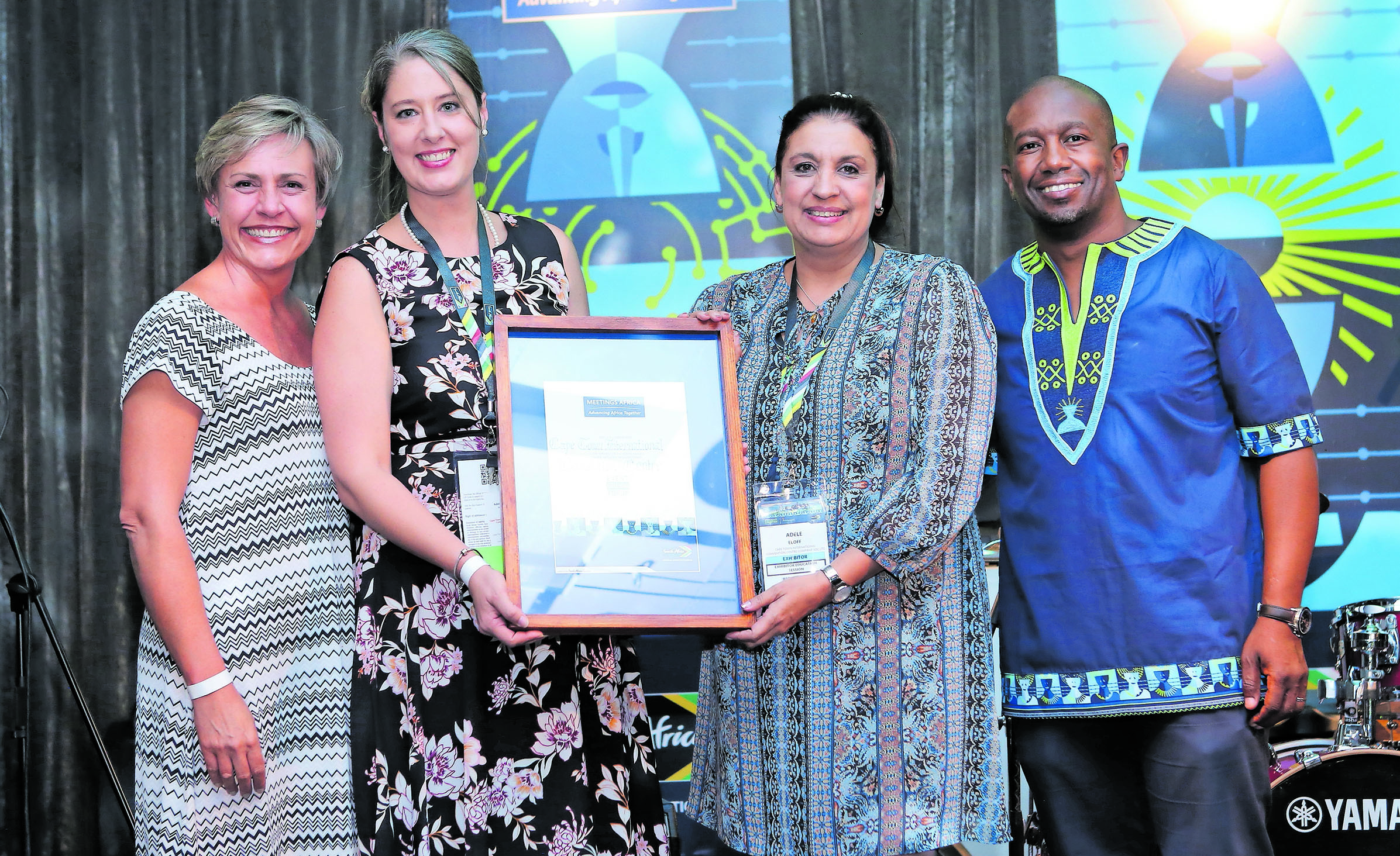 The Green Stand Awards are awarded to stands that have gone out of their way to embrace greening principles, thus encouraging everyone at the event to do likewise.
The categories for the Green Stand Awards are small, medium and large stands. The winner for the small Green Stand Award was Resource Design for using recycled cardboard material to make their stand, instead of printing out information on paper; they shared their information with visitors and buyers electronically and also provided bamboo straws. The medium award went to the Cape Town International Convention Centre, which embraced greening principles in their procurement processes through engaging with stand designers to ensure that they used natural materials that were compact and lightweight. They also provided their information electronically and will repurpose their banners. The large one was awarded to the Cape Town and Western Cape Convention Bureau; their stand materials are made from eco-friendly material, and have been used at 12 events over the last three years.
These are some of things that event organisers can do to ensure that they leave a positive carbon footprint and help to sustain our resources. The buyers received Gautrain vouchers to use the train instead of driving around, thus reducing their carbon emissions. Encouraging companies to embrace greening principles in their event planning also encourages them to go green in how they generally operate their businesses.
Instead of buying corporate gifts for the buyers and exhibitors, the organisers of Meetings Africa instead gave the visitors and buyers a voucher to purchase a gift of their choice from the Meetings Africa Sustainable Village. The village offers environment-friendly approved and locally manufactured products. It was established in 2017 and has come to be known as one of the highlights of Meetings Africa. It's a showcase of locally produced products by black-owned SMMEs. It empowers several small businesses and offers them opportunities to market and sell their products to a wide audience, while ensuring that the visitors and buyers receive gifts they have chosen and are invested in. Most of the businesses are chosen for also having a social or skill empowerment element in their operations, such as products made as part of a skills development programme in a community in need of those skills.
"It's important that we leave behind a positive footprint on our environment as we go about business," says South African Tourism chief executive Sisa Ntshona.