If she had her way, she would choose to live in her parents house rather than in the run-down, off-campus block of flats that houses 30 other students.
"I sometimes do not even feel that I'm a university student because of the conditions I stay in. It's only when there is a lecture in front of me that I feel that I'm attending university," said the third-year student at the University of Zululand, who did not want to be named.
She moved into the squalid flats, which are about 3km from KwaDlangezwa campus, because she could not secure a room on campus when she started her studies at UniZulu three years ago.
For R450 a month, she gets a 9m2 room with cement floors and paint peeling from the walls. All her possessions are piled up on top of each other because there is nowhere else to put them. There are no cupboards and no desk. She has to share four pit toilets with 31 other students.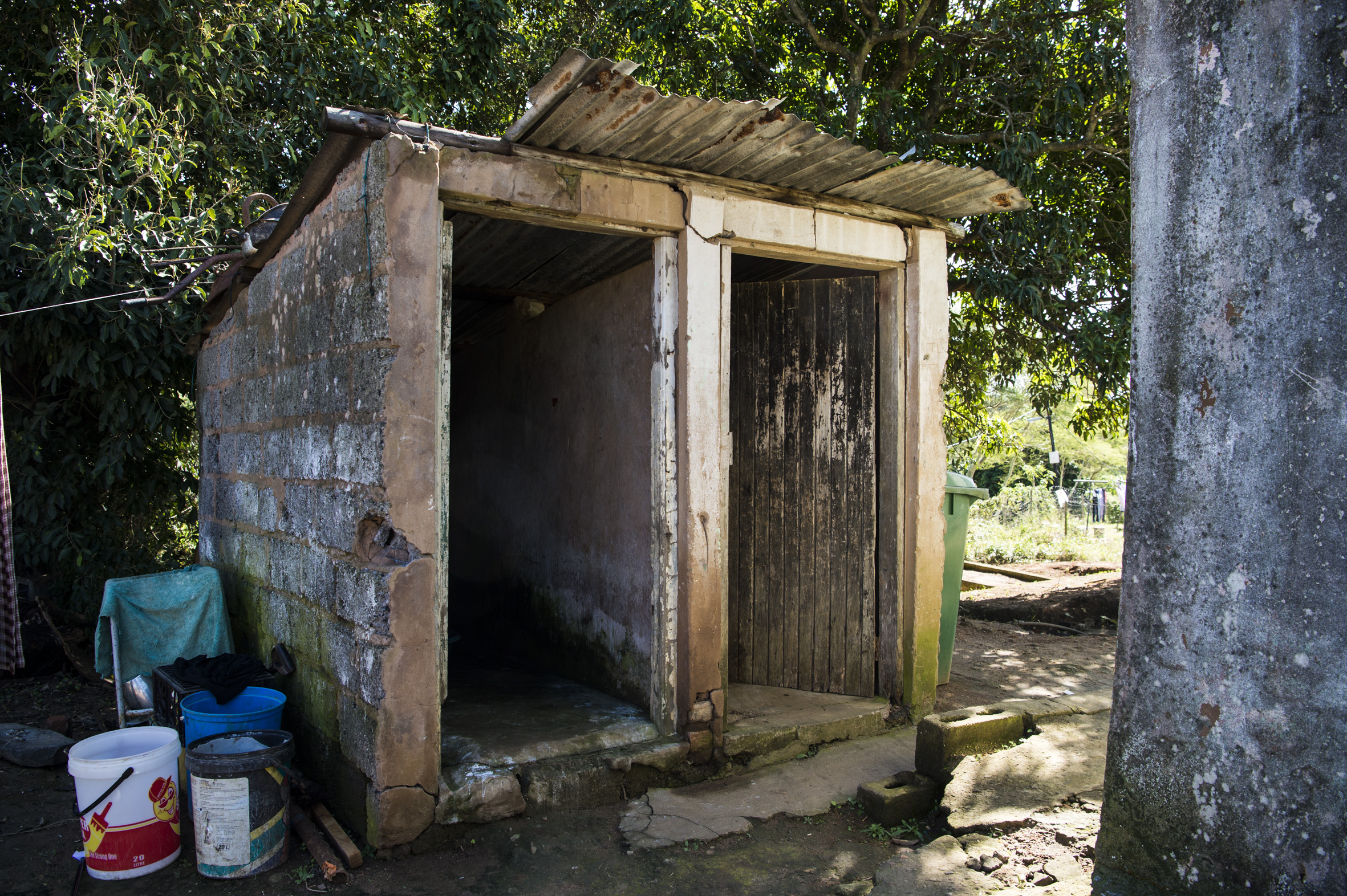 Pit toilets. (Delwyn Verasamy/M&G)
The room comes with nothing more than a steel bedframe, so she had to bring her own mattress. She also cooks and washes in the room because there are not even communal kitchens and bathrooms in the block.
"Even at home I don't stay in such squalor. If this university was closer to home I would be staying at home because this place is inhumane. We do everything in this tiny room," said the student.
Hers is a plight faced by thousands of students studying in rural universities who cannot secure accommodation on campus.
'Not a housing estate'
Early this year, students across the country protested about the shortage of accommodation on campuses.
The deputy director general at the department of higher education and training, Diane Parker, acknowledged before the parliamentary portfolio committee on higher education in February that the shortage of quality student accommodation remains — and will for a long time remain — an issue of concern.
But, she said, it would not be reasonable to expect universities to be held responsible for accommodating all students in university-managed accommodation.
"Universities are not housing estates. Their focus must be on teaching, learning and researching, but of course [also] support vulnerable students for their success, particularly at their early years of study."
Parker said the biggest problem was at universities in rural areas where there is not enough off-campus accommodation.
She told Parliament that, through the department's student housing infrastructure programme, 300 000 beds were going to be constructed over the next 10 years to alleviate this shortage; 200 000 of these would be for universities and the rest would be for technical and vocational education and training colleges.
Even for those students living in residences on UniZulu campuses, the conditions are not necessarily better. In some residences, six students are crammed in a room meant for two. There are no desks, showers have only cold water and some weekends there is no electricity.
Safety concerns
Off campus, another block of dilapidated flats in the KwaDlangezwa area accommodates five students who pay R400 rent each a month. The yard does not have a fence and is next to a busy street. At the far end of the yard is one pit toilet with no proper door. Next to it is a makeshift communal bathroom where students use their plastic wash basins to bath. Its door does not close properly.
First year student Bongumenzi Dube is one of the five occupants. He said he lives there because it is close to campus and he can study in the library until late.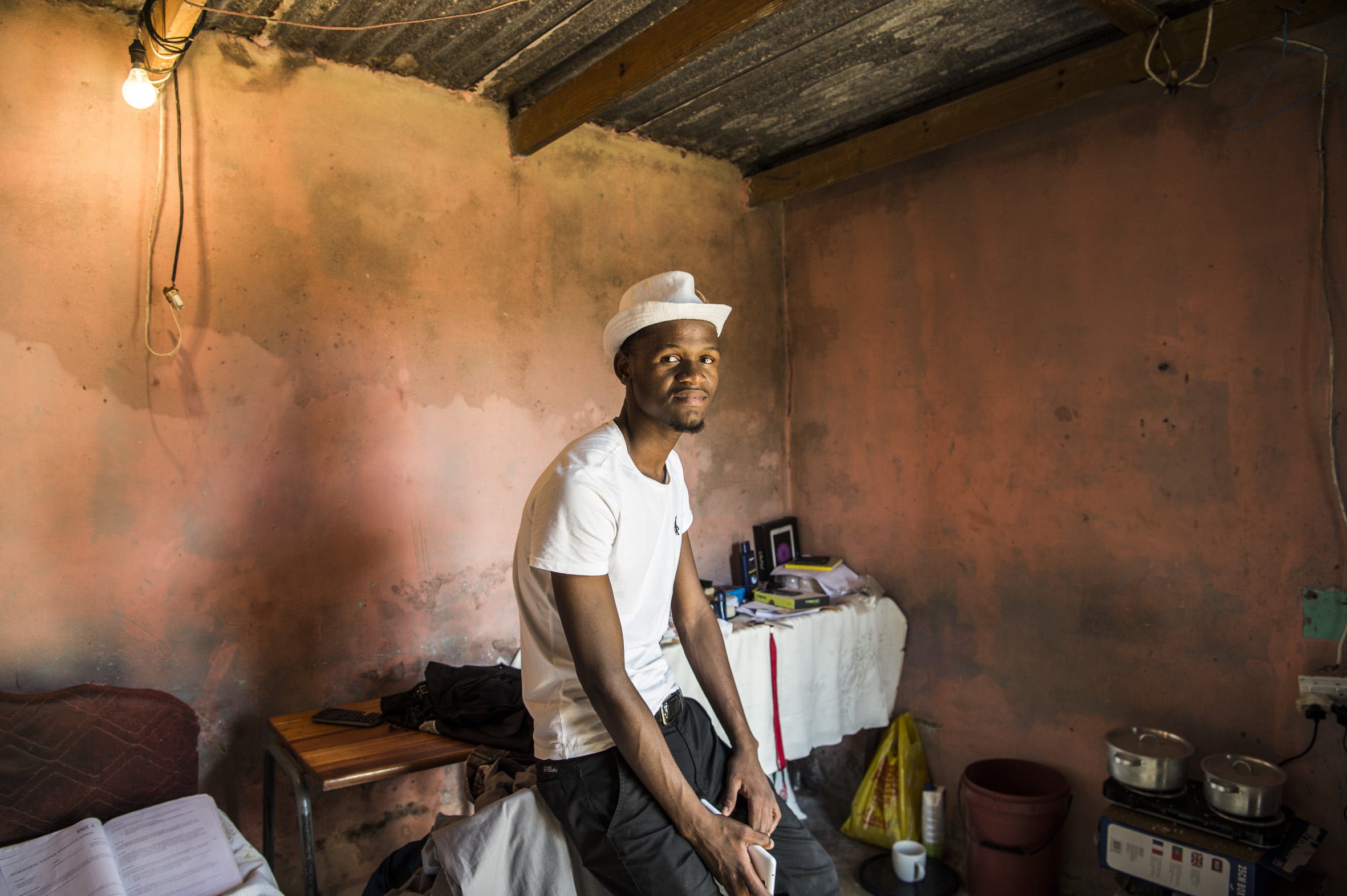 First-year University of Zululand student Bongumenzi Dube, pays R400 a month for a room in a block of flats off campus that houses five students and has pit toilets. (Delwyn Verasamy/M&G)
"There is a lot of noise around here and that is why I don't like studying in my room, even though I stay alone. People go up and down in the yard and around there is always people playing loud music which makes it difficult to study," he said.
Students living in the township also worry about their safety because of the crime in the area. They say they are soft targets of amadabuka, criminals.
"Our biggest problem is that of amadabuka; they break into our rooms. Eyi, akuphephile ngempela la [It's not safe, really]. They break into our rooms at gunpoint and take our laptops and everything," said a student. "We don't even have burglar bars. There are better off-campus residences, but they are far from the campus and are expensive and we cannot afford R1 000 rent."
Female students said they are afraid when they leave the university library late at night. They are not escorted by security guards and must travel the dark streets alone.
Another block of student flats is above a tavern, making it difficult for people to study, especially on weekends.
In other places visited by the Mail & Guardian, students spoke of how their rooms get wet when it rains. There were also heaps of garbage next to rooms.
"It's hell. I just want to finish and leave this place," said one student.
Back on campus, the M&G visited the equally decayed Sub F residence that houses first-year students.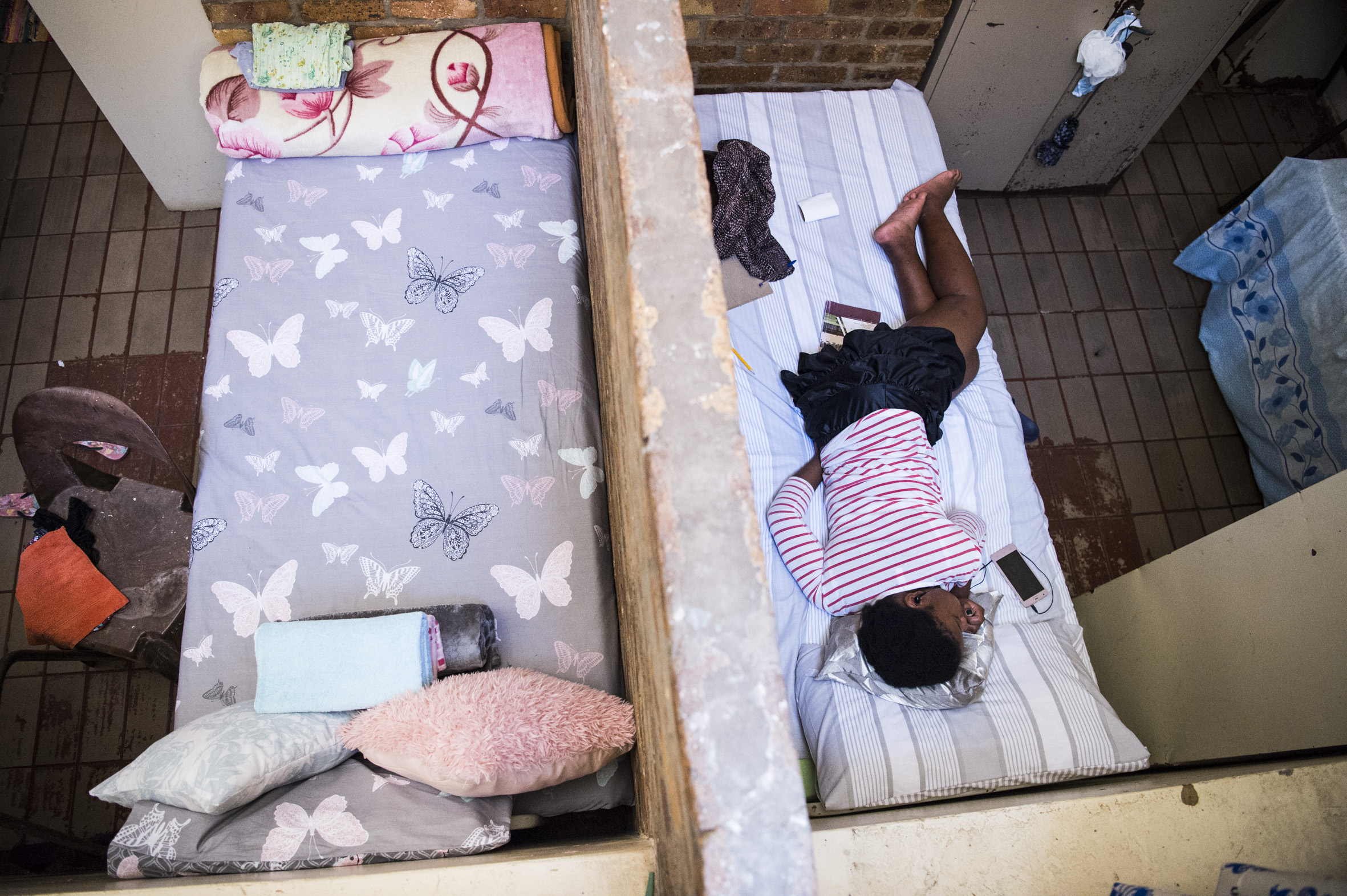 Overcrowded accommodation on campus. (Delwyn Verasamy/M&G)
The rooms are meant for two students but now accommodate six. Students do not have desks, have to cook in the rooms because there are no communal kitchens and have only two tiny cabinets in which to store their groceries and clothes.
The space between the beds is so small that two people cannot stand at the same time. The students said not only was their accommodation uncomfortable, it also affected their ability to study.
"You can't study here. We just come here to eat and sleep and study at the library. But the library closes at 11pm. And sometimes you want to come back and study, but you find someone chilling with their friends and you can't chase them away, or you find another person cooking. It's just chaotic. It's hell, actually," said one of the students.
Most toilets have no doors and electrical wiring hangs loose from the ceiling in the bathrooms. Students complained that there was no hot water to shower, and that on some weekends the electricity tripped and they were left without power to cook and charge their phones until the Monday, when someone would arrive to fix it.
"We always look forward to going home on holidays because this place is just horrible. This was not my idea of a university when I was in high school," said another student staying in Sub F.
The spokesperson for UniZulu, Gcina Nhleko, said it was not the university's policy to have more than two students in one room. "If this is happening as you state, the university views this in a very serious light. The matter will be investigated and appropriate steps taken accordingly."
The students said there were six beds in the room assigned to them by the university.
Nhleko said UniZulu was included in the department's plans to tackle the shortage of student accommodation at universities.
She added that the university was implementing a safety plan suggested by a security task team initiated by Minister of Police Bheki Cele in 2018. She did not elaborate on this plan because she said talking about it would be a "security risk".
Venda a different story
Things are better at the University of Venda, in Thohoyandou in Limpopo.
Students the M&G spoke to said they intended staying in off-campus accommodation in Maungani village until they finish their studies.
Tinayeishe Lucy Matyavira is a third-year law student. She lives in a single room in an off-campus residence about 150m from campus. The room is modest, covering an area of 12m2, and has an en suite bathroom. She pays R11 400 rent a year.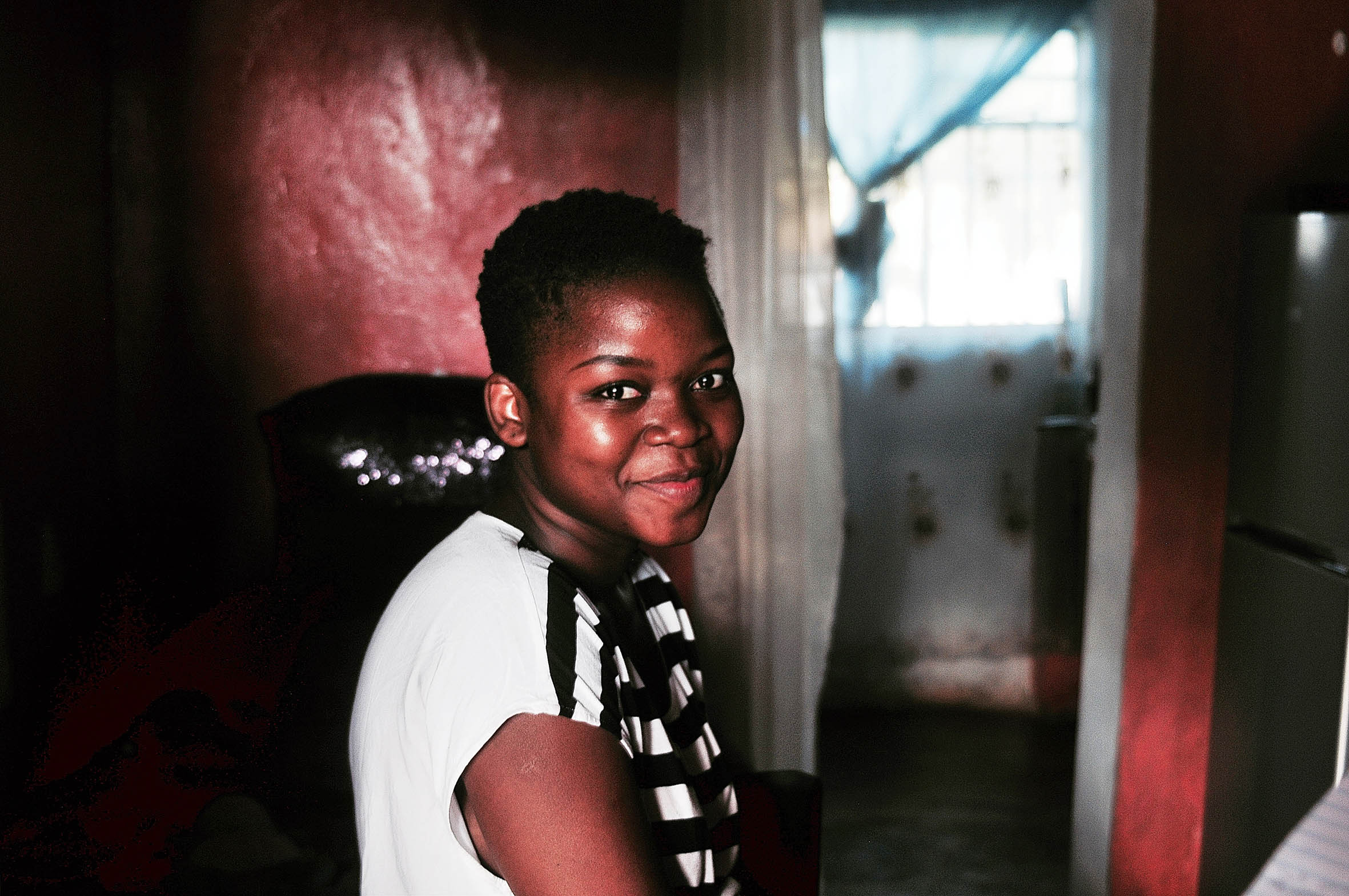 Tinayeishe Matyavira, who is studying at the University of Venda, is satisfied with her off-campus accommodation. (Lucas Ledwaba/Mukurukuru Media)
"I did not apply for a room on campus because it's noisy and there are just too many people and I don't like that kind of environment," she said.
"I have been happy since I moved here."
She said she was "traumatised" last year when thieves broke into her neighbour's room. But, after that one incident, the landlord employed someone to guard the place at night.
The downside for students staying at this off-campus residence is that they pay for their own electricity.
"Ayi, that one is a challenge because electricity is expensive," said Matyavira. "You have to limit everything you do such as cooking all the time because your electricity has to last you longer. I wish it was included in the rent."
About 200m away from where Matyavira lives is a block of flats known as Black Hostel. Mayana Charlene Maluleke, a second-year environmental studies student, lives here. She pays R600 for her 12m2 room that comes with a desk, wardrobe and a bed.
Although she was initially disappointed when she did not get a room on campus she is now happy she never got it.
"My experience has been good. I will stay here until I finish my degree. It's safe, I don't have any problems," she said.
After break-ins at the block of flats last year, an alarm system was installed and guards now patrol throughout the night, which makes the students feel safe. The same guards walk students back to their rooms at night once they have finished studying on campus.
"You just give them a call and tell them that you want to go back to your place and they escort you to your door," said Pertunia Tiyiselani Zitha, who also lives in Black Hostel.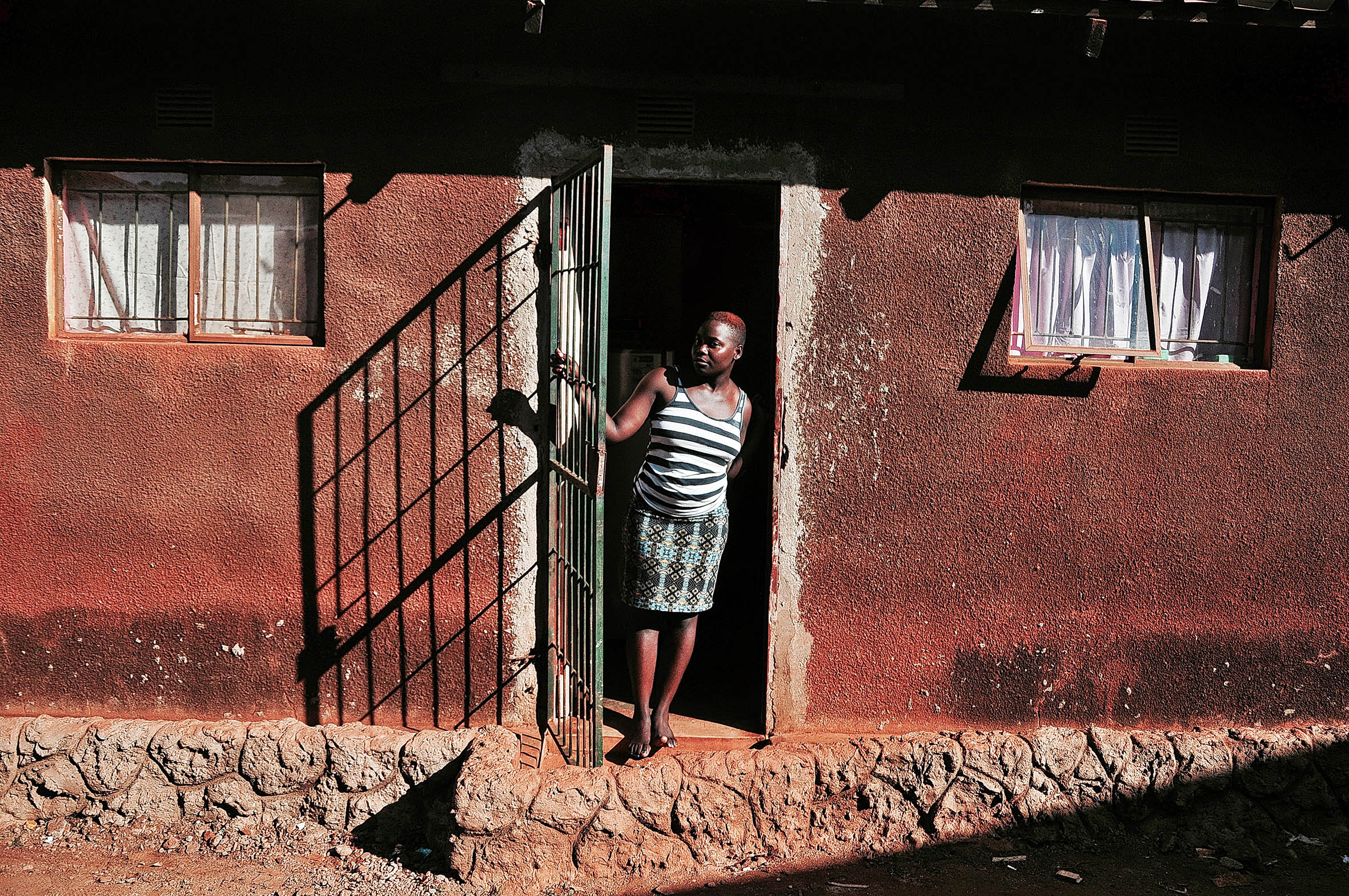 Students Tiyiselani Zitha. (Lucas Ledwaba/Mukurukuru Media)
The student said there was also a strong police visibility around the village, especially on weekends, which makes them feel even safer.
The M&G also visited Montana residence, one of the university-accredited off-campus residences in Marude village. Parts of it has been turned into a student village with three-storey buildings that have been approved by the university to house students.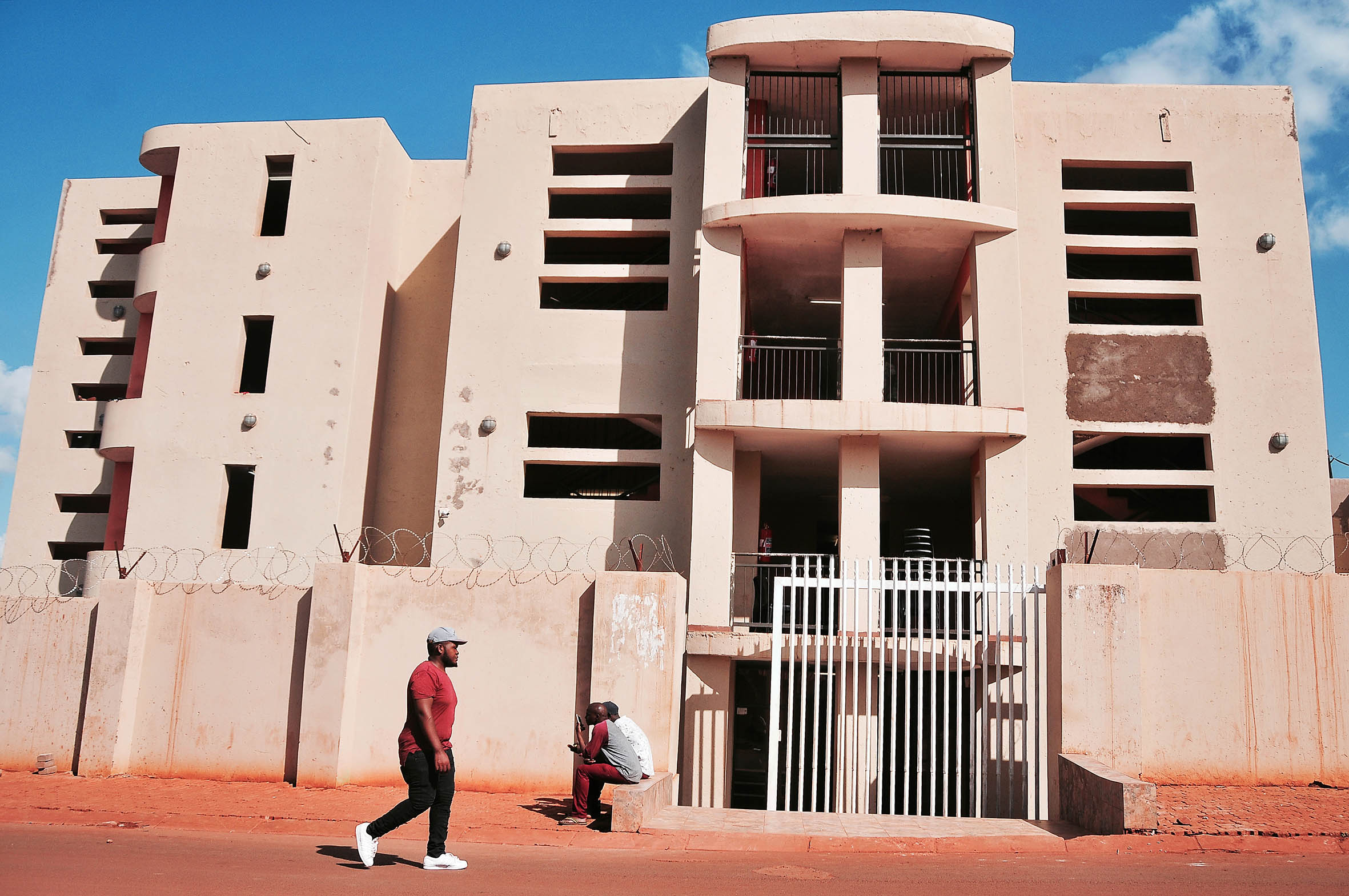 The university has also acquired accredited off-campus residences such as Montana (Lucas Ledwaba/Mukurukuru Media)
Students who spoke to the M&G at this residence said they were happy with their living conditions. About 180 students live there and they share rooms. There is a communal kitchen with gas stoves, a TV room, three toilets and three showers per block.
Buses transport the students to campus.
The only negative for fourth-year forestry science student Mulalo Kutama is the poor internet connection. Even though the building has wi-fi, Kutama said it does not allow her to download PDF files for research purposes.
"That has been my biggest battle but, besides that, the res is fine and it's safe," she said.
*The University of Venda had not responded to questions about its plans to construct more residences by the time of publication.