The word "hesitate", which recurs in the titles of both exhibitions of William Kentridge's art at the Zeitz Museum of Contemporary African Art (Zeitz Mocaa) — Why Should I Hesitate: Putting Drawings to Work — and the Norval Foundation — Why Should I Hesitate: Sculpture — implies that they are defined by anxiety and a degree of tentativeness.
These are not the sentiments you would expect to be tied to exhibitions by the country's leading artist and an international art star. Kentridge makes art, delivers it and reproduces it with unparalleled confidence. People acquire it with confidence too.
Perhaps the title, without a question mark at the end of it, means that his place in the art canon is so entrenched it cannot be overturned — why hesitate.
Of course, "Why should I hesitate?" is a question posed by a black soldier in Kentridge's recent opera, The Head & the Load, as he struggles to decide whether to participate in World War I. However, it is intended in the context of these double exhibitions to have bearings on Kentridge's practice.
That his signature style is so recognisable — usually monochromatic, relying on outdated or anachronistic modes of expression (shadow puppets, black and white film, silent films) — suggests, too, that the outcome of his art is not as unpredictable as he would like to believe. At the press preview and in the artist's statement, Kentridge insists his art emerges from overcoming doubt.
It appears the curators of the Zeitz Mocaa exhibition — Azu Nwagbogu and Tammy Langtry — were most authentically gripped with "hesitancy". Where do you begin to tell the story of Kentridge's art when he has produced so much? The word "excess" is evoked in their statement on the exhibition — "the possibilities seemed as endless as they were exhaustive".
Indeed, Kentridge has produced a lot of art, perhaps too much. He is an extremely shrewd artist and businessman in the sense that he recycles motifs, reproducing them in a variety of mediums over the years, thereby extracting every potential — artistically, ideologically and financially.
A prime example of this would be the film Shadow Procession (1999), which offers a signature leitmotif — a dark silhouette of people in a procession. It has recurred in countless works and mediums, from Triumphs and Laments (Frieze, 2016) along the river Tiber in Rome, which in turn is translated into the eponymous print series (2017–2019), an elaborate series of prints held together with aluminium pins; tapestries from the Porter Series; and a performance-filmic work More Sweetly Play the Dance (2015.)
It is a pity the Shadow Procession film is projected only onto the exterior of the Zeitz building at night and not alongside all the artworks that flow from it. However, in presenting some of the tapestries, print and filmic works linked to the procession theme together on the same level of the museum, the symbiotic relationship between the various mediums is made clear.
It is also made transparent, through a video work showing the making of the Triumphs and Laments prints, at David Krut Projects in Joburg, that Kentridge is not this god-like creature who can translate his expression in every medium. In relying on a team of people with different skills to create a product, he functions more like a filmmaker or director.
Drawing, particularly in charcoal, however, remains in his hands and is the "source" of his work. It is, therefore, the main focus of the Zeitz Mocaa exhibition. Early drawings from the 1970s might mark the "beginning" of the way he used this medium to translate the world around him, but it is in the charcoal animation films from the 1990s — oddly buried in the Centre for the Moving Image's basement — that you can witness his novel application of drawing. This could be described as "tentative", given it is subject to erasure and constantly evolves.
The Norval show pivots on Kentridge's sculptural output. The latter suits that institution, which is much smaller, and — following the Edoardo Villa exhibition there — appears to accommodate sculpture well in the large, vaulted gallery at the end. In fact, the Kentridge sculptures were created for that setting. Apparently, before the Norval Foundation was completed, its patron, Louis Norval, entreated Kentridge to produce sculptures for that gallery. Reportedly, Kentridge balked: quiet, small artworks could be gobbled up in that space.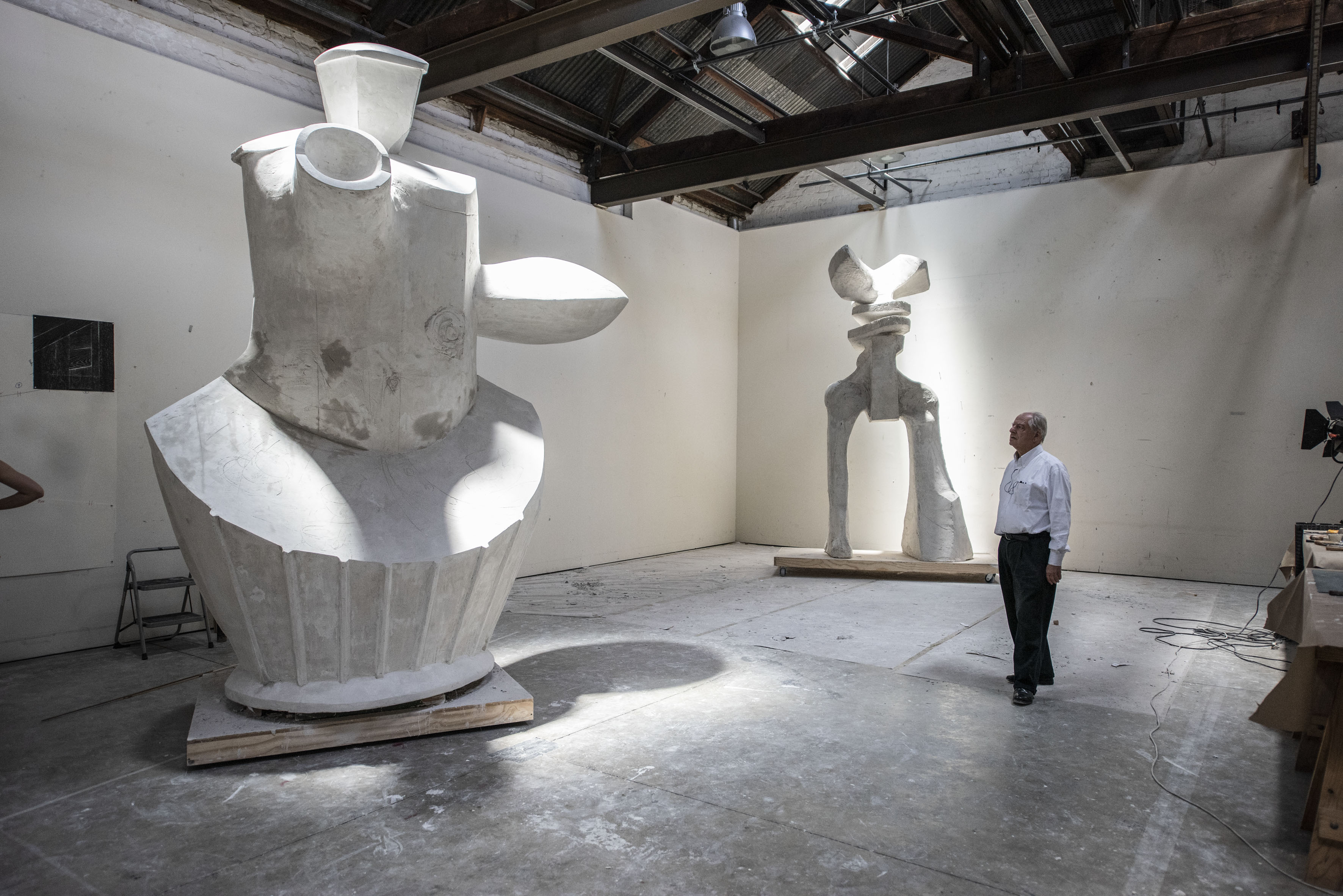 William Kentridge alongside his oversized sculptures made for the Norval Foundation, where the focus of that survey is on his sculptural output. (Stella Oliver)
Not surprisingly, Kentridge responds to that gallery space in the form of large, black, bronze sculptures unlike those seen before in South Africa. Naturally, he relies on his established motifs — the ampersand, a bedraggled cat and a pigeon, among others — translating them in large scale.
This might recall a pop art mode — enlarging ordinary consumer items — but they are not slick items. Instead they are crude, black, bold objects that, like most of his art, appear to hail from another time and place. They are like oversized relics connecting with the works at the Zeitz Mocaa, such as the O Sentimental Machine (2015), a filmic installation evoking an event in Trotsky's life, which appears like a museum diorama or a set from a period film.
The political content of Kentridge's art and the thematic threads uniting it offer different access points into his art. They are repressed in these two exhibitions. In separating the various mediums as the curators (Karel Nel and Owen Martin curated the Norval Foundation exhibition) have done, the exhibitions don't penetrate to the heart of his practice — his fixation with history and how his anachronistic aesthetics and modes of expression reveal how our society is locked into the past, fascinated by it (as a form of entertainment) and, at the same time, unable to acknowledge parts of it.
As Kentridge states, society is marked by contradiction — we move forward and there are many technological advances, yet we are caught in old cycles. He makes this explicit in the 2007 filmic/stereoscopic work titled What will Come (has already come). The sci-fi creature-cum-war machine that pounds through the landscape on its tall metal legs brings to mind HG Wells's The War of the World. Kentridge, however, aimed to address the Italian invasion of Ethiopia in the 1930s.
Kentridge's use of found records, from old account ledgers to dated maps, provides him with the language for revealing, substantiating and exposing colonial abuses. How do you evoke memories and deeds that have been erased from a collective consciousness? How do you account for abuse?
These questions had immediate and personal resonance for Kentridge as a white South African and he tried to bring them to bear in other African contexts — the annihilation of the Herero people in Namibia and Africa's participation in World War I, which informs Kaboom! (2018) and The Head & the Load performances, which relate to the filmic work and drawings on exhibit at Zeitz Mocaa. The drawings for those works are not too dissimilar to those in Felix in Exile, the 1994 filmic work in which dead bodies litter a rural landscape.
In this way he keeps returning to the same place, not only aesthetically, but ideologically and politically — annihilation and abuse of power playing over and over. He cushions the blow of this reality by embedding this cycle in an outmoded theatrical language, and using an upbeat or classical soundtrack that either detracts from the horror or dramatises it, aestheticises it.
His expression itself locks these acts in history in such a way that we cannot access them as "truth" — they are art, perhaps even entertainment. This could either be seen as a weakness in his practice and approach, or his way of trying to get at something that is no longer accessible in any case. The novelty of his modes, makes his audience gaze with wonder, and delight even, at the unpalatable.
The "medium" lens through which these exhibitions are curated (with an emphasis on form), allows audiences to appreciate him as an artist. This may still be necessary for South Africans who have yet to encounter his oeuvre.
Why Should I Hesitate: Putting Drawings to Work shows at Zeitz Mocaa until February 2020. Why Should I Hesitate: Sculpture shows at Norval Foundation until May 2020.