In this section: Buti Manamela; Lebogang Maile; Aalia Ismail; Khume Ramulifho; Andile Lungisa; Julius Malema and more…
Buti Kgwaridi Manamela
National Secretary: Young Communist League of South Africa
Buti Manamela has become the face of the Young Communist League of South Africa by virtue of being its national secretary since its re-establishment in 2003.
Manamela has, in recent months, become a match for controversial ANC Youth League (ANCYL) president, Julius Malema; there is widespread belief that he should be reelected to his position because he is the only person brave enough to take on the ANCYL leader.
The young communist is a member of the ANC's strategy committee in Parliament, that does the overall planning of the ruling party's work in the National Assembly.
He chairs the special projects committee which oversaw the 91st birthday celebrations of former president Nelson Mandela and organised the South African Chapter of '67 minutes of volunteering".
Although Manamela was caught on camera sleeping during an early sitting of Parliament, he has turned into one of the most active young MPs.
He has been vocal on the issue of labour-brokering, calling the employment practice a new form of slavery.
Those who had hoped that this young firebrand would tone down his radicalism and mature into a diplomat are probably jubilant. The young Red oozes growth and his future in politics looks bright, even if it means that he will be spending years on a crusade to sell communism and socialism to South Africans. — Mmanaledi Mataboge
Lunch spot: Indigo Blue Moon, Brooklyn, Pretoria
---
Nkhumeni "Khume" Ramulifho
National Leader: Democratic Alliance Youth
Khume Ramulifho doesn't make the news with controversial statements. The Democratic Alliance Youth's national leader leaves that to ANC Youth League leader Julius Malema.
Instead, Ramulifho's public statements are informed by party policy, and he responds to his opponent's rebukes with restraint.
This calm leader of the official opposition turned a spotlight on Malema's ability to engage in intelligent discussion when he challenged the populist to a public debate; Malema turned him down. But Ramulifho continues to keep Malema in check and often takes him on, particularly where the ANCYL leader's conduct is questionable.
The 31-year-old believes the militancy that has, for years, characterised youth political leadership in the country is irrelevant and that clear policy articulation is the way to go.
A member of the Gauteng provincial legislature, he serves on three committees: the education, gender, youth and people with disabilities committee, the portfolio committee on safety and the roads and transport committee.
In addition to his position in the DA Youth, Ramulifho serves on the federal council, the party's supreme policymaking body, the federal executive and the Gauteng provincial executive committee.
He articulates DA policy with the confidence he has gained from his active involvement in party structures since he joined, when he was only 20 years old.
Ramulifho believes the DA provides him with the platform to address youth issues because its vision of an open-opportunity society is inclusive, making it easy to engage.
As part of his contribution to community development Ramulifho is involved in a mentorship programme for Shondoni Secondary School in Limpopo. He holds a national diploma in human resources management and a certifi cate in municipal governance. — Mmanaledi Mataboge
Lunch spot: Spur, Braamfontein, Johannesburg
---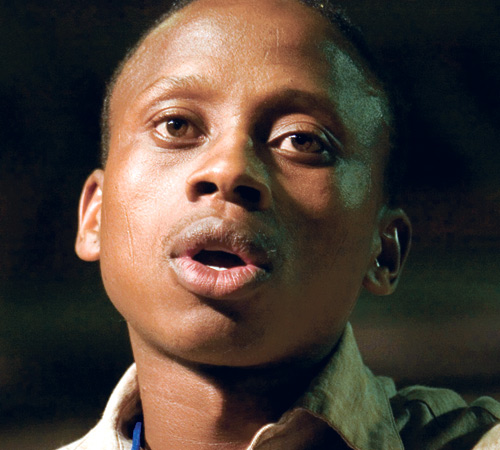 Andile Lungisa
Deputy President: ANC Youth League
Since he was elected deputy president of the ANC Youth League in 2008, Andile Lungisa's political career appears to have taken a positive turn. His name is often whispered in the corridors of power as a potential replacement for ANCYL president Julius Malema — though it is unlikely that this will happen in the near future.
An articulate but reserved politician, the 31-year-old Lungisa is passionate about confronting the challenges facing young people today, among them HIV/Aids, unemployment and poverty. And he intends to use his position as chairman of the National Youth Development Agency as a way to address these challenges.
Born and bred in Tsomo in the Eastern Cape, Lungisa became active in politics at the age of 14 through the Congress of South African Students.
After being recruited by the South African Students Congress in the early 1990s he was elected chairman of the region, which includes Port Elizabeth and Grahamstown.
In 1998 he started an ANCYL branch in the western suburbs of Port Elizabeth, called City Central, and became a branch executive. In 2001 Lungisa was elected deputy chairperson of the league's Nelson Mandela region and became ANCYL deputy president in 2008.
Lungisa, who is also a playwright and a poet, has worked extensively in the creative sector in the Eastern Cape. In 2005 he was rewarded with The Herald Citizen of the Year award in the arts and culture category.
He serves on the Broad Based Black Economic Empowerment Council chaired by President Jacob Zuma, which was established in December 2009, and is vicepresident of the Pan-African Youth union, a structure of the African union. — Matuma Letsoalo
Lunch spot: Moyo, Melrose Arch, Johannesburg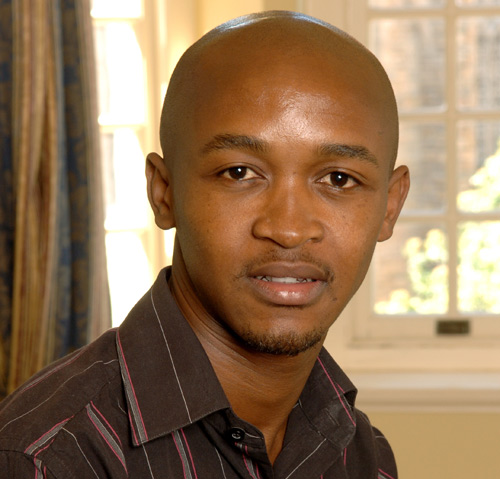 David Maimela
Deputy Director: Policy and
Governance, Office of the Premier, Gauteng
David Maimela is a man of policy and principal, and he's not afraid to voice either. Whether debating educational policy in his previous capacity as South African Students Congress president or weaving democratic ideals and Bertrand Russell into a blog entry about soccer, Maimela is a man of measured words.
But he's also a public servant who loves to help create policies, which is why, at 28, Maimela works in the office of the premier in Gauteng in the policy and governance branch, where he helps process policy documents and manages the office of the deputy director general.
It's a fast-paced environment with tight deadlines, but Maimela doesn't mind. If he wasn't formulating ideas to constitute a working policy framework, this Mandela Rhodes Scholar would be lecturing or undertaking intensive policy research and analysis.
At least, this way, he gets to part of the political nervecentre of Gauteng and aid the direction of Africa's economic hub. — Cat Pritchard
Lunch spot: MeatCo Restaurants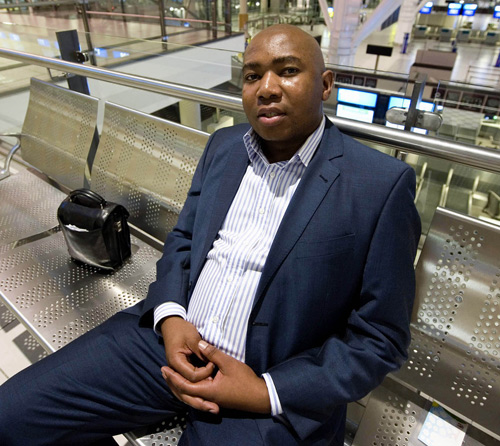 Mduduzi Manana
MP: ANC
Mduduzi Manana is one of the young MPs who have brought about a new era of youth participation in holding the executive to account.
The 26-year-old, the youngest MP in Parliament, serves on two portfolio committees: public works and international relations and cooperation. As a
further indication of confi dence in him, Parliament also designated Manana as a commissioner of the magistrates' commission.
This member of the ANC Youth League's national executive committee had no idea how powerful Parliament was until his party sent him to the National Assembly last year.
He is now one of more than 300 MPs who draft laws and interact with the parliaments of other countries and he has dedicated himself to reading and knowing how government departments work so he is able to hold them to account.
Manana believes that the laws of the country can only favour the youth if young MPs increase their participation in lawmaking and policy formulation.
One of the many debates he participated in was during the tabling of the budget vote on public works when he urged the department to ensure that young people benefit from the expanded public works programme. He has also taken up the issue of economic development targeting rural women.
Unlike those of other youth league leaders, Manana's business interests have never put him in the spotlight or raised uncomfortable questions. Manana, who holds a BA degree in political science and sociology from the University of KwaZulu-Natal, believes in transparency and detests leaders who use their political weight to secure business, calling that a travesty of justice.
He draws much of his political wisdom from his mother, Sibongile Manana, provincial minister for safety, security and liaison in Mpumalanga, but quickly dispels any notion that he might be an extension of his mother's political activism.
However, he does admit to going to his mother for advice whenever he finds himself in a political dilemma. — Mmanaledi Mataboge
Lunch spot: Cubana, Green Point, Cape Town
---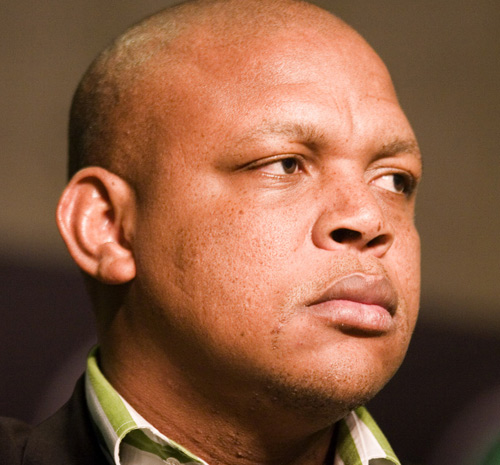 Pule Mabe
Treasurer: ANC Youth League
A politician-cum-businessman, Pule Mabe is determined to change the lives of many South Africans. Despite his busy schedule as ANC Youth League treasurer, Mabe has successfully managed to build a business empire in the media industry.
At 29, he owns a publishing company called KG media, which publishes Kwela Express, a monthly transport newspaper. Through Kwela Express Mabe has managed to create both a print and an electronic platform for the transport industry. He recently started a show on SABC2, focusing on transportation issues throughout the country.
Last year Mabe, a former Mail&Guardian trainee journalist, established the Kedibone Mabe Trust to fund deserving students from his home town, Phalaborwa, to study journalism, marketing and transport engineering.
He is currently in the process of establishing the Kwela Media Institute in Johannesburg, aimed at training young people in journalism, design, media and sales.
Mabe's previous leadership roles included serving as deputy president of the Student Representative Council at Technikon Northern Gauteng, now called the Tshwane University of Technology, between 1998 and 1999. He also served as Gauteng Youth Commissioner between 2003 and 2009. — Matuma Letsoalo
Lunch spot: Macnose Café, Soshanguve, Pretoria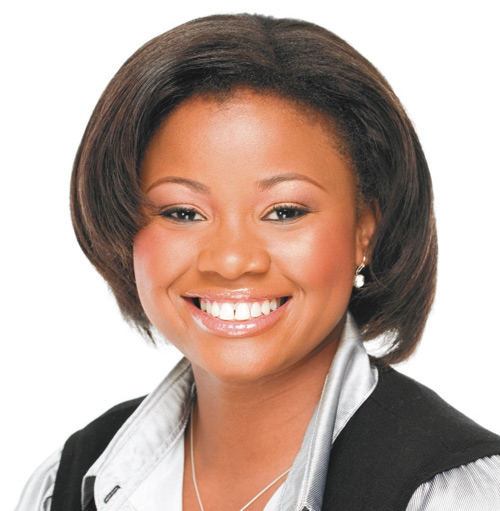 Gugu Ndima
Spokesperson: Young Communist League
Gugu Ndima took many of her colleagues at Discovery Health by surprise when she courageously challenged the company's CEO, Adrian Gore, last year on the company's ill-treatment of black workers and its failure to transform.
The 26-year-old's hard-hitting letter, which she wrote to Gore after she was fi red for failing to come to work on election day, sparked a political storm, prompting Cosatu's health union, Nehawu, the ANC and the communist party to intervene and question the company's commitment to transformation.
Formerly deputy president of the South African Student Congress, Ndima joined the Young Communist League [YCL] as national spokesperson in August last year. Apart from her full-time job as spin doctor for the YCL, Ndima, who studied fi nancial accounting and credit management, is a freelance writer for several publications, including Afropolitan magazine and the Black Business Quarterly. She says she sees her involvement in politics as a calling rather than a career. —Matuma Letsoalo
Lunch spot: The Hurricane, Katlehong, Johannesburg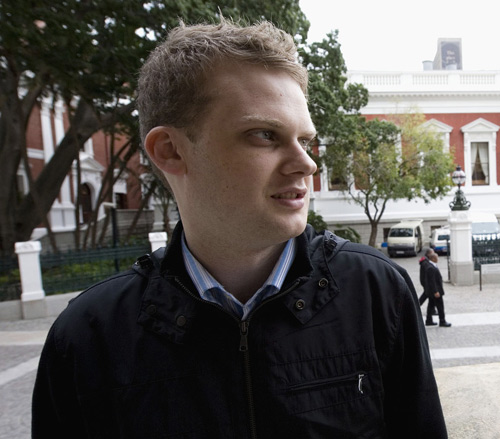 Ross van der Linde
Chief Operations Officer: Democratic Alliance
'Powerful policies will solve South Africa's problems, not powerful personalities."
Is this an official statement from Ross van der Linde, former media director of the Democratic Alliance, or a personal manifesto from a liberal democrat who wants to get people debating about real issues not personal agendas?
Either way, it's a politically informed opinion from a 24-year-old who, according to generational profiling, should probably be doing some menial job that doesn't require too much effort or responsibility. Instead, Van der Linde gets to work (read: Parliament) before 8am and spends his day engaging with the press, reviewing draft documents and statements and meeting with MPs.
In his current position Van der Linde doesn't have to choose between his two loves — media and politics — which he did when he started out in politics, working in the DA's parliamentary research department. It didn't take long before he was appointed press offi cer, just ahead of the 2009 elections, and then head of the party's media department.
As the newly appointed Chief Operating Officer, Van der Linde oversees and manages parliamentary operations and focuses on political communications, which means getting the DA's message across and keeping tabs on the political stories being reported in the press.
It's a perfect fusion for a man who graduated top of his politics class at Rhodes university and obtained an honours degree in philosphy, politics and economics from the University of Cape Town, while dabbling in a bit of journalism on the side, including a brief stint as a sports reporter for e.tv.
But politics is definitely this Jo'burg boy's true calling.
It's the reason he's committed to building a competitive political system and why he's so proud to have had a hand in modernising the DA's parliamentary operation. Because effective systems help to promote more proactive policies — policies he hopes will solve South Africa's problems. — Cat Pritchard
Lunch spot: Eastern Food Bazaar, Cape Town

Rulleska Singh
Media Spokesperson: Mayor of Cape Town
There are not many 21-year-olds who could take up a job as the media spokesperson for the mayor of Cape Town, with a brief stint at Top Billing as her only work experience.
But then Rulleska Singh is not your average Rhodes university journalism graduate.
A self-confessed "A Type" personality with a passion for the public sector, Singh is used to swimming in the deep end.
It doesn't bother her that she's contractually bound to keep her cellphone on or that she fi elds calls from 5:30am to 11pm every day.
Luckily, she's just as comfortable handling queries from the Vietnamese consul as she is preparing for the mayor's address to the World Economic Forum.
It's this variety of challenges and people that inspires her to aspire to becoming a strong, capable leader who affects real change.
Because that's what the public sector means to her — an opportunity to serve her country. — Cat Pritchard
Lunch spot: Chai Yo, Cape Town
---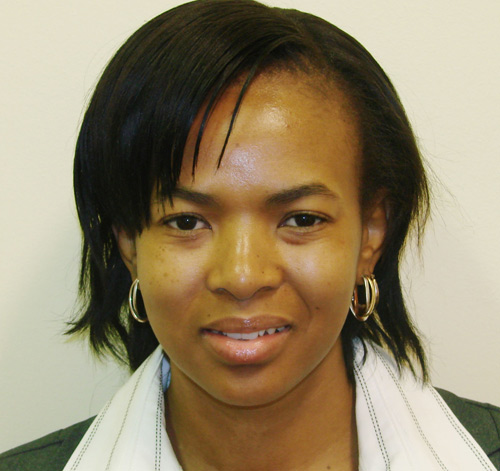 Pat Lebenya-Ntanzi
Acting National Chairperson: IFP Youth Brigade and IFP MP
Pat Lebenya-Ntanzi was involved in the entire process that led to the formation of the National Youth Development Agency last year — from discussions about the legislation that paved the way for the formation of the agency to its signing into law.
Though she always dreamt of making a difference in people's lives she did not know how she was going to achieve that. Now Lebenya-Ntanzi contributes directly to legislation processes in Parliament.
This 33-year-old Inkatha Freedom Party MP serves on Parliament's portfolio committee on trade and industry as well as the portfolio committee on women, children and people with disabilities — a portfolio she is passionate about.
Lebenya-Ntanzi continues to be vocal during youth debates in the National Assembly and her greatest push this year will be to see through the implementation of the resolutions of the annual youth parliament.
Her weekends are dedicated to the IFP's constituency work, while she divides the
parliamentary recess period between party and youth development work. — Mmanaledi Mataboge
Lunch spot: Daruma, Durban
---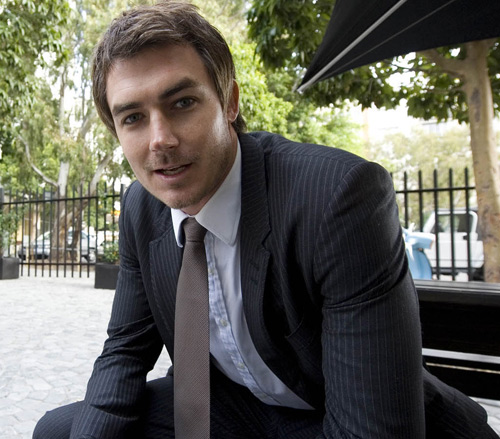 Tim Harris
DA Spokesperson; member of the NCOP
Tim Harris has a five-year plan — it involves making sure his term in Parliament (five years) brings opportunities to all South Africans.
At 30, Harris has three elections under his belt, one of which resulted in the Democratic Alliance winning the Western Cape, and is a member of Parliament's National Council of Provinces, where he sits on the select committee on f nance.
When he's not applying his masters in economics to the issues at hand or saying "Mr Chairperson, I rise on a point of order," as the DA's Whip, Harris is representing the interests of his constituents and liaising with other liberal democratic parties around the world.
If Harris wasn't building democracy at home he would be exploring the continent — an adventure he undertook with two friends when he travelled through 22 countries in Central and West Africa. If democracy is about choice, we think he made the right one by pursuing politics instead of merchant banking. — Cat Pritchard
Lunch spot:Estern Food Bazaar, Cape Town
---
Gareth Morgan
Shadow Minister of Water and Environmental Affairs
Gareth Morgan asks a lot of tough questions.
It's his job. In fact, in 2009, Morgan asked ministers more parliamentary questions than any other MP. But if those questions mean that important laws are amended and his Durban West constituents get the justice they deserve, he will probably ask many more this year.
The one thing this Durbanite has never questioned is getting into politics, which he did at 18, when he served as a student activist for the Democratic Alliance (DA). Four years later, he was elected the DA's media offi cer in KwaZulu-Natal and, by 27, he had proven himself suffi ciently to be elected to Parliament.
It goes without saying that Morgan is a busy man. When he's not speaking to community organisations, visiting public institutions and dealing with the queries of constituents he's attending a sitting of the National Assembly or looking after issues in the portfolio committee of water and environmental affairs.
But if Morgan has moved up the party ladder because of sheer drive and hard work, it's his belief in constantly educating himself about the issues at hand that sees him lead from the front. It is also the reason why, when awarded a prestigious Rhodes scholarship, he read for a politics, philosophy and economics degree and an MSc in environmental change and management at Oxford. It's also the reason he is a member of Globe International's G8+5 Climate Dialogue and regularly donates indigenous trees to local schools, using the opportunity to educate learners about climate change.
With so much energy and focus, it's not surprising that Morgan has completed eight ultra marathons and 10 standard marathons and has run up and down the highest mountains in Scotland, England and Wales in under 24 hours. Just imagine what he will accomplish in the next 33 years. — Cat Pritchard
Lunch spot: The Arts Café, KZNSA Gallery, Glenwood, Durban
---
Adrian Lackay
Spokesperson, Sars
Working for the taxman was never part of the plan for South African Revenue Service (Sars) spokesperson Adrian Lackay. Growing up in the sleepy town of Pniel in the Western Cape, Lackay was more interested in understanding the world from a social and political perspective.
So he studied journalism at the Peninsula University of Technology in Cape Town and landed his first job as a junior reporter on Beeld.
The quiet young man, who started at the paper as a crime reporter, soon blossomed into a confident journalist who went on to cover Parliament and return to his first love, politics.
Lackay took the leap into government communications, becoming a crucial part of the new taxpayer-friendly image of Sars, joining Pravin Gordhan's team, first as a researcher and later as spokesperson.
His popularity among journalists, which earned him the Best Communicator award for 2010 from the National Press Club, is the result of cultivating relationships that started years before, when he was still a colleague on the other side of the divide.
And his ability to break down complicated macroeconomics into simple sound bites makes him a favourite on radio talk shows. — Mandy Rossouw
Lunch spot: Kream, Brooklyn, Pretoria
---
Zingaphi Jakuja
Spokesperson: Presidency
When Zingaphi Jakuja (formerly Matanzima) became a teenage mother at 17, those around her put her down as a statistic — another youngster with a future ruined by an unplanned pregnancy.
But the opposite happened. Falling pregnant spurred Jakuja's determination to prove the odds wrong. And today, at 30, she is the mouthpiece for the highest offi ce of the land.
As spokesperson for the Presidency Jakuja deals with both local and foreign journalists, invoking her own training at the Nelson Mandela Metropolitan university in Port Elizabeth to help her understand the pressures under which reporters work.
After she completed her university studies in 2002 she joined The Herald newspaper in Port Elizabeth and later the SABC, but soon realised the seaside town in the Eastern Cape was too small for her. Jakuja left for Pretoria, where she joined the government communications and information systems in 2005 as a policy guru.
She moved swiftly through the ranks, working as a media liaison officer for Zola Skweyiya in the department of social development and later for the ministry of minerals and energy.
Jakuja joined the Presidency shortly after the inauguration of President Jacob Zuma, becoming the youngest member of his powerful communications team.
At home in Pretoria she is now mother to three children and wife to Mthunzi, a technical engineer at the Ford Motor Company. — Mandy Rossouw
Lunch spot: Smoke, Groenkloof, Pretoria
---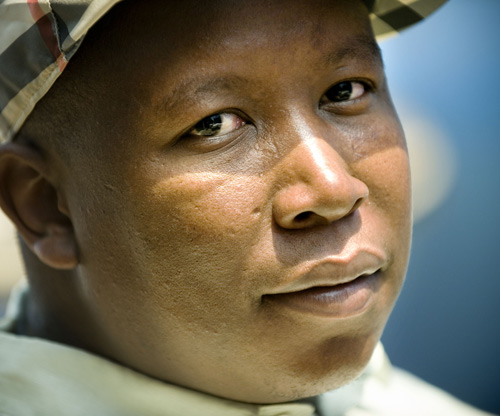 Julius Malema
President, ANC Youth League
Whether you need help getting a tender, qualifying for a job or securing votes for a political position — Julius Malema is your man.
The ANC Youth League president managed to move from being a young leader with a penchant for the politically incorrect to becoming a wealthy
powerbroker in the ruling party. And he had an exceptional presidential term. until recently.
At the end of 2009 Malema looked indestructible, with President Jacob Zuma calling him a future ANC president.
With Johnnie Walker Blue Label in one hand and the keys to a million-rand Range Rover in the other, he convinced infl uential business people such as Patrice Motsepe that nationalisation of the mines — a Malema-esque interpretation of the Freedom Charter — is the only way to lift the underclass out of poverty.
Although the idea was met with great skepticism, even by communists, Malema soldiered on, convinced that his might in the party would allow
him to prevail.
Then 2010 arrived.
He woke up one Sunday to damaging newspaper reports that exposed his involvement in government tenders worth hundreds of millions of rands. His response: wax lyrically at press conferences about journalists' sexual behaviour and bribery allegations.
Then in March Malema outdid even himself. He went to Zimbabwe to express support for Robert Mugabe, kicked a BBC journalist out of a press conference, calling him a "bloody agent" , sang "Kill the Boer" at the top of his lungs after being told not to and then said former president Thabo Mbeki was more youth league-friendly than President Jacob Zuma.
Two months later, he was in front of the ANC disciplinary committee forced formally apologise to Zuma and pay a R10 000 fine. The worst punishment of all? Attending anger management classes.
But disciplinary hearing did more than embarrass him. It gave Malema's detractors exactly what they needed to prove that he is not fi t to be a leader.
Now some of his most trusted comrades are whispering that he should be challenged at the 2011 Youth League conference.
The story of Malema shows the ANC at its worst — greedy, intolerant and power-crazy. And it also shows how an illustrious liberation movement can be held ransom by a 29-year old Gucci-wearing politician. All of which makes Malema the most infl uential youngster in the country. — Mandy Rossouw
Lunch spot: At home, Sandton
---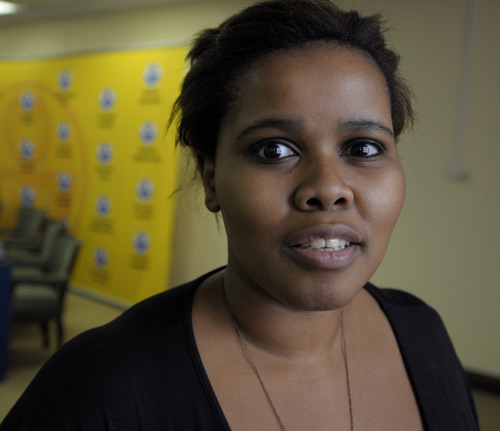 Lindiwe Mazibuko
Spokesperson and MP: Democratic Alliance
Lindiwe Mazibuko is not your typical Democratic Alliance (DA) parliamentarian. She sings, for example, in choirs and in the shower (Kurt Darren's Kaptein span die seile is a favourite). Then there's the part about her degree in Moroccan rhetoric. She also claims to be a hopeless romantic. And she doesn't mind posting photographs of herself in hair curlers on the internet, entitled "Vanity, thy name is woman" .
At the same time, Mazibuko talks like a Google executive about communication technology in Parliament; she is the go-to girl who speaks on behalf of the DA and she takes on President Jacob Zuma about morality.
Outside the halls of power Mazibuko, who turns 30 this year, just cannot wait for the Woolworths quality sale. Her Twitter account is abuzz with comments about the fashion sense of her fellow MPs, with deputy transport minister Jeremy Cronin once lauded for the way he was "working" a skinny tie on a bland day in the national legislature.
Mazibuko was born in Manzini, Swaziland, but did most of her growing up in Durban, where she is now MP for Durban North. She studied music at the University of KwaZulu-Natal and political communication at the university of Cape Town.
She joined the DA as a researcher in 2008 and caught the eye of DA leader Helen Zille, who quickly appointed her national media liaison officer before she became an MP in 2009. After the 2009 elections, Mazibuko was also anointed as the shadow minister of communications — speaking four languages including French helps — in addition to her role as national spokesperson.
And, just two years into her political career, PrincessShorty, as she is known on Twitter, is already touted by her colleagues as a possible successor to Zille.
Mazibuko is one of the group of hot and highly ambitious MPs the DA has brought to Parliament to change its image from a whites-only outfi t to a party that can attract the best and brightest, regardless of race. — Mandy Rossouw
Lunch spot: Societi, Cape Town
---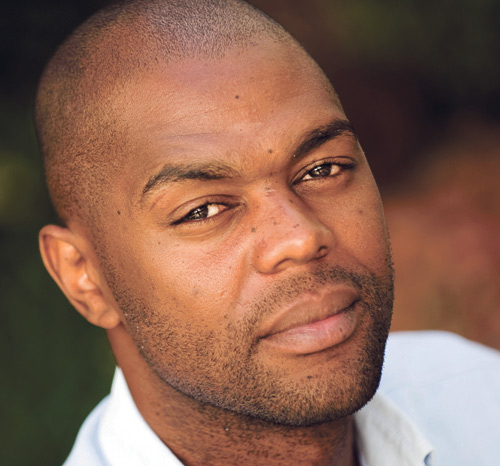 Malusi Booi
General Secretary: Cope Youth Movement
His job as general secretary makes Malusi Booi the engine of the Congress of the People Youth Movement.
The 32-year-old was national coordinator for youth when Cope was founded in 2008 and was later appointed in a full-time capacity to the party's head office to build the structures of the youth wing.
under his stewardship the Cope youth movement has challenged political leadership styles, including those within its own party. It successfully pushed Cope to hold an early elective conference in an effort to halt the leadership squabbles that threatened to cripple the party.
The youth wing also started a campaign called Thuma mina (send me), which allows young members of Cope to assist poor learners with reading material and school uniforms and also help to renovate schools.
In addition to doing Cope work, Booi, who is a project manager in the construction industry, is on the boards of three companies, including his own Johannesburg-based Cyoyo Logistics.
Booi studied towards a national diploma in quantity surveying at the Durban university of Technology, a degree in project management through unisa and is currently studying business management at Wits university. — Mmanaledi Mataboge
Lunch spot: Ten Bompas, Dunkeld West, Johannesburg
---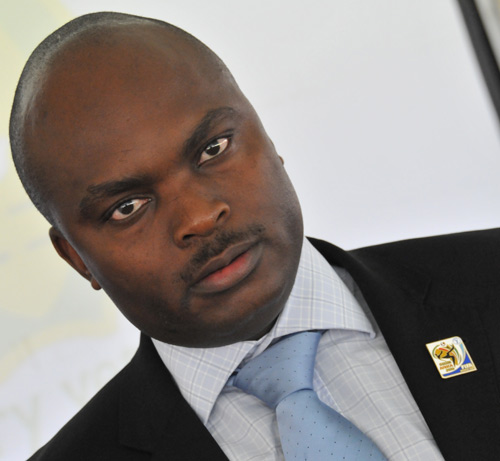 Ndivhuwo Mabaya
Head of Media Services: Ministry of Defence and Military Veterans
Ndivhuwo Mabaya has been speaking for Cabinet ministers since he was 22, when he landed an internship with the transport ministry under the late Dullah Omar.
The 31-year-old spin doctor moved from transport to housing and is now with defence and military veterans.
And he's not shy about what he needs to say. Not long after Mabaya moved to the defence ministry with Minister Lindiwe Sisulu last year the soldiers' march on the union Buildings exploded on to the streets. Mabaya faced the military unions head-on, with daily condemnation of the march that turned violent.
But his primary responsibility is to develop and implement the ministry's media strategy and to manage communications channels. A journalism graduate of Tshwane University of Technology, Mabaya sees his job as that of a communication "advisor" rather than simply a spokesperson.
He was the brains behind the television series Breaking New Ground which communicated to viewers across the country progress made on government's promise to build houses for the poor. — Mmanaledi Mataboge
Lunch spot: Café 41, Brooklyn, Pretoria