Ace Magashule is blamed by residents of Zamdela for the unhappiness that sparked violent protests this week – but he sought to shift the onus to the Municipal Demarcation Board, questioning why it changes boundaries at election time.
Minister of Cooperative Governance and Traditional Affairs Richard Baloyi this week put on hold the process to merge the Metsimaholo and Ngwathe municipalities. The proposed amalgamation of the two municipalities into a metro sparked violent protests in Zamdela township in Sasolburg, leaving four people dead and over 200 arrested.
Magashule, who is ANC chairperson and Free State Premier, said he had raised the issue of demarcation at the ANC's Polokwane and Mangaung conferences.
---
Read More on the Sasolburg protests
Zamdela riots force state's hand — for now
Service delivery: Municipality cliff face of democracy
Fighting for scraps in the Republic of Sasol(burg)
---
"We've never understood why the demarcation board [has always] re-demarcated ward and municipal boundaries every time there is an election on the way. The important question for us that should be addressed is: What do we do with unviable municipalities? What do we do with municipalities that cannot collect taxes and have no revenue? We have raised this matter with the national treasury, but nothing has happened so far," said Magashule.
He also accused the demarcation board of failing to consult widely in Zamdela before deciding to amalgamate the two municipalities.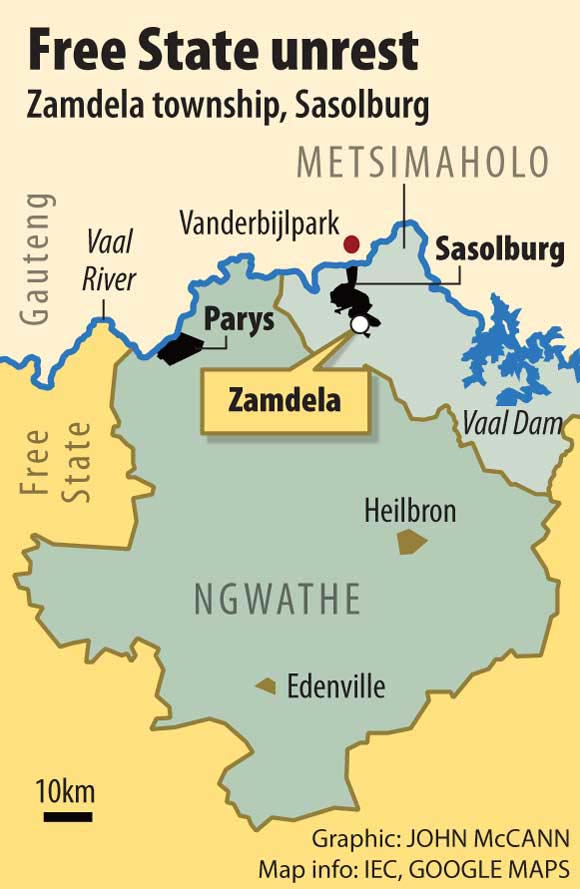 The suspension of the proposed demarcation of boundaries will not only apply to the two municipalities in the Free State, but also throughout the country.
Baloyi said the government has learnt lessons from the upheavals in Khutsong, near Carletonville, and had acted immediately this week to stop the proposed demarcation until a high-level task team has investigated the entire process.
Dealing with demarcation
"Of course we've learnt lessons – that's why we are saying we can't leave it to chance," Baloyi told journalists on Thursday.
"One lesson we learnt about the possible changes to boundaries is that people view it as a sensitive matter. Some of the lessons we learnt are bitter."
Baloyi said the ministerial task team dealing with demarcation, launched last year and chaired by senior civil servant Mpumi Mpofu, with Gauteng premier Nomvula Mokonyane and former constitutional affairs minister Roelf Meyer serving as members, will investigate, among other things, the reasons for considering changes of municipal boundaries every time the country approached elections. The task team will also investigate whether the public participation process has enabled all affected parties to have an equal say in influencing possible changes in the boundary changes.
In an interview with the Mail & Guardian this week, Magashule rejected accusations that he has failed to listen to the concerns of people in Zamdela.
"I have no say on demarcation. This is not our process. It is the process of the Municipal Demarcation Board. I was not there. Our [provincial minister] for cooperative governance, traditional affairs and human settlements, Olly Mlamleli, and minister Baloyi were responsible for the process. They are the ones who have been dealing with the situation. It [the board] falls under the jurisdiction of [Baloyi's] department.
"The argument of the board, which will never be understood by our people, is that those municipalities that are unviable should be amalgamated with those that have resources. Ngwathe has no tax base and revenue because Vredefort, Koppies and Edenville are subsidised by Parys," he said.
Lucky Malebo, chairperson of the Zamdela concerned residents' group, accused Magashule of failing residents of the township.
Rampant corruption
"We are angry that duly elected leaders like Ace [Magashule] always come to the people during elections. After they are voted in, you never see them again. The problems in the area have been simmering for a long time. He promised to come to the stadium but he never came," said Malebo.
Malebo said Zamdela residents are opposed to the merger with Ngwathe municipality mainly because the latter is affected by rampant corruption, poor service delivery, theft, fraud, nepotism and political interference. Zamdela lies about 40km from Sasolburg.
He added: "Ngwathe has nothing to offer us economically. If you merge the two municipalities, the standard of living of our people will be even lower. The Ngwathe municipality is currently owing Eskom about R116-million … It is also owing the Rand Water a lot of money. We are also concerned that people will no longer receive indigent grants if we merge with Ngwathe. Here we receive six kilolitres of free water and 50 kilowatts of free electricity. Ngwathe doesn't have these grants," said Malebo.
The demarcation board's chief executive, Gabusile Gumbi-Masilela, and its management were unavailable for comment as they were locked in a board meeting on Thursday. The Hola Bon Renaissance Foundation, a Johannesburg non-governmental organisation dealing with community assistance projects, called for the Municipal Demarcation Act of 1998 to be amended "so that it may suit the South Africa of today".
Foundation chair Bontshitswe Mothopeng blamed the Sasolburg riots on the demarcation board and called on its members to resign within 72 hours".