Amid the banging, crashing, drilling and hammering that is the soundtrack to our interview, Southern Guild's Trevyn McGowan appears completely unflustered. The Southern Guild exhibition opened at the Museum of African Design in Maboneng, on what is essentially a construction site.
In its fifth year, Southern Guild is a global design phenomenon driven by the vision of husband-and-wife team Trevyn and Julian McGowan. The latest exhibition will be of nearly 200 objects by 100 South African artists and designers. Two-thirds are new objects and the rest are part of a retrospective. The list of names is a who's who of South African contemporary art and design.
In those five years, Southern Guild has grown from exhibiting for three days a year locally to going global. Now the McGowans spend up to five months of the year travelling to the world's top design fairs in Dubai, Miami and London to show and sell the best of South African design.
"We have had extraordinary responses and the sales have been phenomenal," says McGowan. She mentions the recent sale of two editions of Porky Hefer's incredible womb-like nests, named Bettina Esca, made from leather and fish netting, and the bronze Skull Candy sculpture by Bronze Age.
McGowan says: "In quite a short time, we have grown substantially and are now invited as only one of between 20 to 40 galleries worldwide to these big curated shows. Our designers' names are up there next to the likes of Corbusier and Ron Arad, the most prestigious names in the world. It's an amazing affirmation of what we have achieved and what our talent is capable of."
Apart from the McGowans' vision and determination, there are a few reasons that can explain this upward trajectory. McGowan says that globally there is an appetite for the new but also a sense of intrigue about what it means to come from South Africa.
"For us, the most important thing is to try and keep our own voice and that is what we are finding we are getting the best response to."
She mentions the work of Guy du Toit for this exhibition. "One of my favourite pieces from the show is informal seating – it's a little pile of bricks, in bronze, the kind that builders on a site might make a little seat of to have their lunch. They are very much sculptures but they also function as a narrative of who we are as South Africans.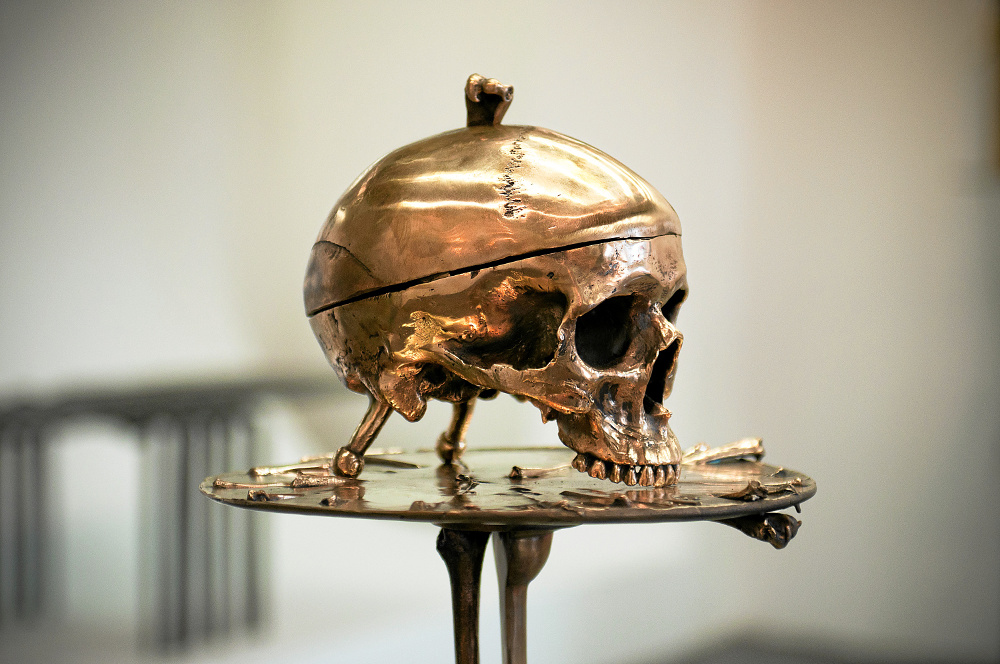 Southern Guild Heavy Metal_Bronze Age Skull
"What's interesting to me about what makes our design voice authentic and different in the international marketplace is something that calls back to a heritage or to the socio-political realities that a South African would identify with, and I don't know if all over the world they do that with bricks, and they make informal seating, but it is something intrinsically African. It's very beautiful to me on all those different levels."
By a lucky coincidence, the life span of design, as apart from art, craft and architecture, in South Africa dovetails neatly with a rise in "collectable design". McGowan says collectable design is also a young movement. "There are galleries that have been in existence for 50 years that started with mid-century design – in the Thirties and Forties but collectable design really comes from the 20th and 21st century and it became a global recognised movement when Design Miami started 10 years ago. In that time, you now have about 12 fairs around the world during the year, almost always attached to major art events."
Collectable design made sense as an attachment to the world's premier art fairs – approaching the same buyers and collectors who keenly understand paying for something that will increase in value. She mentions that, in New York City, a dining-room table can fetch half a million dollars, "really close to art prices".
If you must ask, Southern Guild prices start at about R7 000 and can reach to R700 000 for an item.
Strict adjudication has been a critical success factor in managing to preserve the authenticity of a movement that is so young. South African design has managed to find its niche within this for another reason: "It suits us so well because we can't compete on the same mass manufacturing level as the European designers."
Many of the pieces are one-offs and others are limited editions.
McGowan says that, although she and Julian are the decision-makers, "it often comes from the designers because something is too complicated to make again, they are using materials or found objects or something they don't want to repeat. Otherwise it is a conversation we have around how many should there be of this or that.
"It's also a fine line. We are quite careful about that. We say that it's a limited edition of 15 pieces but each one is unique: the shape will stay the same but maybe the patterning or colouration will change. In the international marketplace it's quite a debatable thing. People try to stretch out as many editions as they can but we can only produce limited numbers so limited edition really has to mean incredibly special."
For many artists, especially those trained by the academy, making the transition from fine art to creating décor objects is particularly challenging. McGowan says: "We often approach people who already work in 3D, like Conrad Botes, Brett Murray and Wayne Barker. We have had really good collaborations with these artists and worked with them repeatedly. They also seem to enjoy a sense of belonging to the family of Southern Guild – they like the idea of what it is and what it means.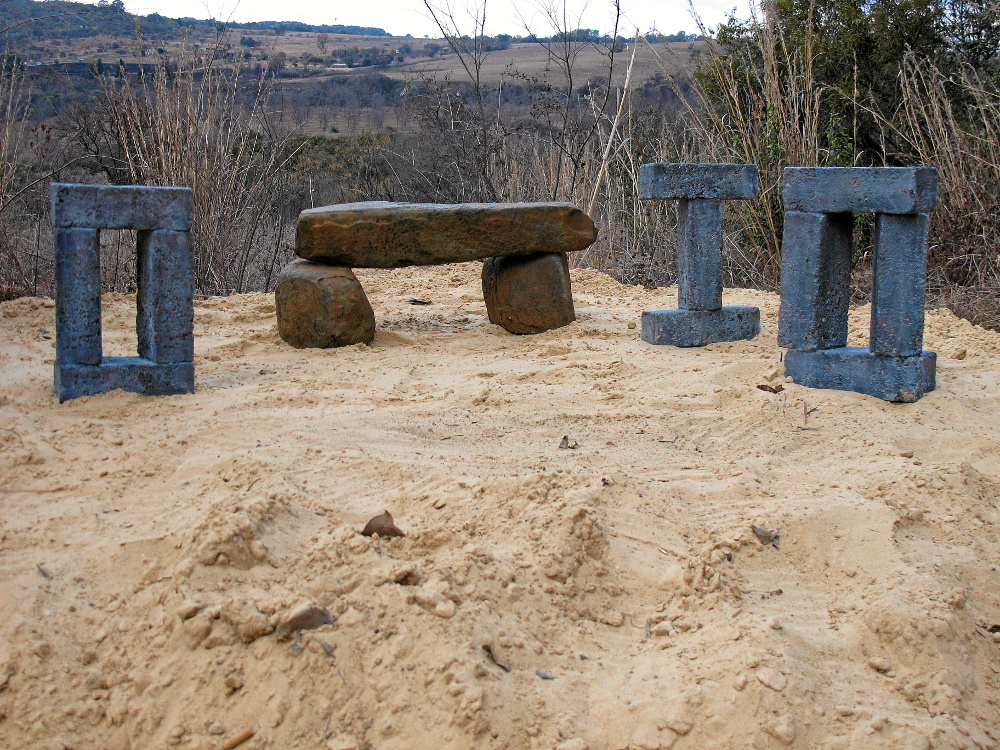 ? Guy du Toit's Improvised Seating. (Photography supplied)
"I think that some people do struggle, though, especially artists doing it for the first time, because what was a sculpture now becomes something to be used in a more domestic way perhaps. But we have always encouraged the idea that you don't have to feel that you need to put a piece of glass on something to make it functional. We are much more interested in something straddling the boundaries between design and art."
She talks about retaining the essence or integrity of what a sculptural piece is so its transformation from artwork to design object may be through a change of scale, or the amplification of certain features. Through this it becomes something else. She mentions Dylan Lewis's Console I, an exaggeration of the plinth on which his sculptures would normally rest.
"It came about in conversation —plinths are already furniture, the table for a sculpture, so what happens if you extend and exaggerate that … and it's incredibly successful for me. That piece became, like a mountain, an organic outcrop but actually it's a usable surface and it doesn't detract from being a sculptural piece from a very renowned artist. I think initially people think, 'Oh, I can do a piece of furniture' and then they struggle. But it's about going through that whole journey to come back to a place that feels satisfying and not compromising in any way. That also makes it more interesting for us."
The McGowans both have a design background. They spent 20 years in London, returning to South Africa to start a business supplying retail stores in the United Kingdom and the United States, among them big names like the Conran Shop and Anthropologie. Source was the origin of what grew into Southern Guild. Doing business in South Africa, or rather doing ethical business, always involves something more than just selling products, and Southern Guild could have stayed a shopfront but instead has partnered with corporate sponsors to set up a foundation to recognise and support local design talent.
This year, Africa's star architect David Adjaye will be guest of honour at the awards that take place on the exhibition's opening night.
In February, Southern Guild will curate Guild, part of the World Design Capital that will put a global spotlight on South African design in Cape Town. Oddly, although Cape Town is associated with all that is haute and hip in design, the buyers aren't there. McGowan says: "Particularly in Johannesburg, we have better sales results than in Cape Town. In Cape Town, we sell to our Jo'burg buyers and international buyers."
She says: "Without doubt, this is our best collection yet. We wanted it to be approachable, accessible. We want schools and college students to be able to identify with design in an easier way than with art because it's a chair so they have a connection and then they get the story on top of that."
It's a testament to the appeal of successful design that, as I was leaving the space, I noticed that two construction workers in blue overalls had paused, cellphones raised, and were photographing Brett Murray's metal and gold leaf Crown Jewels.
---
Southern Guild is on at the Museum of African Design, 281 Commissioner Street. The exhibition runs from October 25 to November 3. Visit www.moadjhb.com