The ANC still seems hell-bent on trying to contain the damage the Nkandla controversy may do to it during the 2014 elections – even though that strategy has not exactly paid off to date.
Questions around the amount government is spending on President Jacob Zuma's Nkandla homestead has been a growing headache for the ANC since the Mail & Guardian first reported in 2009 that extensive construction was underway at the compound.
In 2014, spending on Nkandla will be a major election issue; various opposition parties have said in as many words that they will use it to argue that Zuma is an unfit leader, that the ANC has created a snowballing system of patronage, and that change is sorely needed.
The issue is either being linked to or is drowning out crime, the traditional centrepiece of opposition campaigns, service delivery, the main message the ANC is leaning towards, and the economics of race, which newcomers the Economic Freedom Fighters are trying to put front and centre.
Yet on the weekend, the ANC continued its attempts to limit coverage and discussion of Nkandla rather than confronting it, while Zuma himself spent three full news cycles – which were packed with speculation on impeachment – speaking about struggle history, and appointing judges and a new auditor general, but breathing not a word about his home.
ANC insiders said the party was caught by surprise when the M&G on Friday published details of the public protector's draft report on Nkandla, which in its current form finds that the government built houses for Zuma family members, contrary to Zuma's claims that his family funded their own residences. But they insisted that core ANC voters saw such reports as unwarranted, personal attacks on Zuma, and would not sway them come general elections.
Speculation was premature
"We all know you guys are doing the work of the [Democratic Alliance] when you say these things," one party leader joked.
Officially, the ANC encouraged South Africans not to discuss the published details of the public protector's report, saying there had been no formal finding yet and that speculation was premature.
That seemed to have almost as much effect as a prior attempt by ministers in the security cluster to "caution" the media and public that publishing photographs of the homestead would be illegal, in what smacked of an effort to reduce the number of such photographs voters would see before the elections. After many media outlets and a large section of the online population effectively rebelled against that attempt, the ministers sought to soften their position through "clarification".
Another approach to Nkandla containment seemed equally doomed to failure. Several mid-rank ANC leaders said it was important to point out that although security spending on the homes of PW Botha and FW de Klerk had been in the range of hundreds of thousands of rands, building costs and inflation made that roughly equivalent to the R215-million spent on Zuma's homestead more recently.
Indeed, over the weekend comments in various online forums, including the comment sections of the M&G, claimed that inflation-corrected security spending for De Klerk and Botha's homes was in excess of R300-million each, or that hundreds of millions had been spent securing the homes of Nelson Mandela.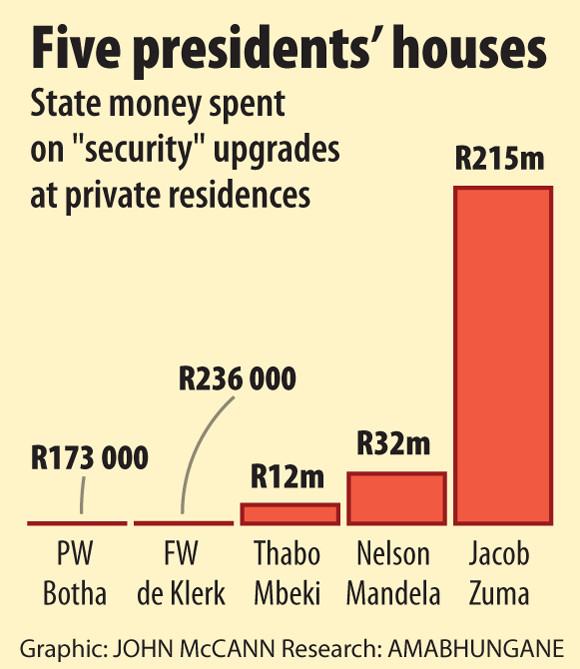 Off-the-record comments
But far from being accepted at face value, those attempts at spin were almost universally met with either scorn, outrage, or calculations that showed just how very far off the mark such claims were.
A third attempt at containing fallout was characterised by absence rather than action; security ministers (who during the fight to delay the public protector's report were energetically punting the results of an internal probe they said had found no personal culpability on Zuma's part) steered well clear of the action. The ANC, meanwhile, spoke by way of statements and spokespeople, with off-the-record comments providing far more details than the few interviews with top party leaders.