Even though national police commissioner Riah Phiyega did her best to quell tensions by visiting the strife-torn township of Relela, outside Tzaneen, yesterday, it is unlikely that her visit will bring immediate calm.
Ask any resident of Relela what they want right now, and the answer is likely to be the same: they want the missing body parts of Kgomotso Rakgolane returned to her family. Rakgolane was discovered murdered on January 25 without her arm and hands.
"What people are mad about is that they say they can't bury that girl [Rakgolane] with missing body parts," said Jeremiah Manyike, a local resident. "If they can find the body parts, there will be peace. The worst part is that police are no longer using rubber bullets, they are using live ammunition."
A total of three people have been murdered in the ensuing riots, including an apparent passerby, 15-year-old Tshepo Baloyi who was apparently killed by police gunfire as he came back from an errand for his family. The protests have drawn people from neighbouring communities such as Motupa, Moleketla, Mapitula and Bukuta.
The violent demonstrations were caused by the release of three people taken in by the police for questioning in connection with Rakgolane's murder. A crowd of community members allegedly set two houses, belonging to two of the questioned, on fire and were said to be on their way to light the third house when a confrontation with police resulted in the gunfire that killed the teenager on the weekend.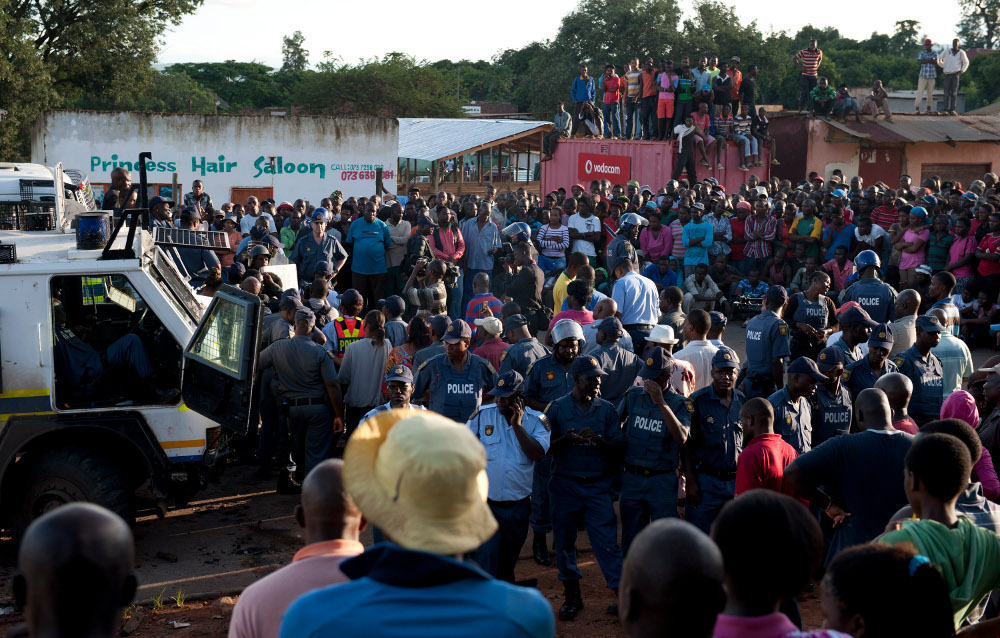 Mohale Lithy Selowa and Mozere Molele (both 25) died on Tuesday afternoon after being shot by the police in a tense standoff with some community members. A crowd allegedly pelted the three-roomed satellite station with rocks and attempted to petrol bomb it.
Details disputed
Details around the shooting have been sharply disputed, with police spokesperson Hangwani Mulaudzi saying the police acted in defence as their lives were being threatened. Community members have called the deaths executions, pointing out that the two were allegedly shot outside on the street as opposed to near the police station's perimeter.
In her address to the media yesterday afternoon, Phiyega praised the actions of the police, saying "public order, stability and law and order" were non-negotiable issues. "We have a duty as police to ensure that our duties are carried out without favour, fear and with no apology," she told a crowd of journalists and police before addressing the community.
"The country has good laws and we must enforce those laws. That is non-negotiable. Nowhere in this world are people allowed to crowd a police station and plunder it. That's criminality."
Phiyega said of the 13 000 protests that take place annually in this country, 1 800 were violent but "you have never heard of 1 800 people dying at those protests. The men in blue are well trained in managing those marches. While there are rights, there are also responsibilities."
Unhappy community
During her public address, a young community member named Tonic asked Phiyega two distinct questions which she did not answer to the crowd's satisfaction: "Who gave police the order to kill our people?" and "Are we going to get the parts of Rakgolane's body before we bury her?".
Phiyega repeated her comments about peaceful protests and ongoing police investigations, which led to her address being aborted as the crowd grew restless.
"Riah Phiyega, who has no experience in policing, what she says doesn't correlate with what is happening in the community," said Raymond Lefopha, a youth dressed in an Economic Freedom Fighters T-shirt.
"Police shot people from outside the premises. They couldn't enter the gates as the police were there with guns. People were throwing stones from the outside. People ran away once they saw people lying down from gunshot wounds."
Other youths interviewed by the Mail & Guardian said one of the two men who died on Tuesday was murdered on the street, while the other was found behind a nearby shop.