It was a fun game, to imaginatively drop the 16th-century Portuguese poet Luís de Camões among the crowds gathered at the Big Bay life-saving club on February 2.
Camões, in his epic poem Os Lusiadas, gave the world the mythological figure of Adamastor, the Cape storm god who appeared to Vasco da Gama when he tried to round the Cape in 1497.
Da Gama attempted this feat in late November and the Adamastor would have appeared in the guise of the Cape's infamous summer Southeaster, which, in the intervening centuries, has driven countless ships ashore, razed homes, flattened gantries and flipped cyclists when they rounded Chapman's Peak during the 2009 Cape Argus Cycle Tour.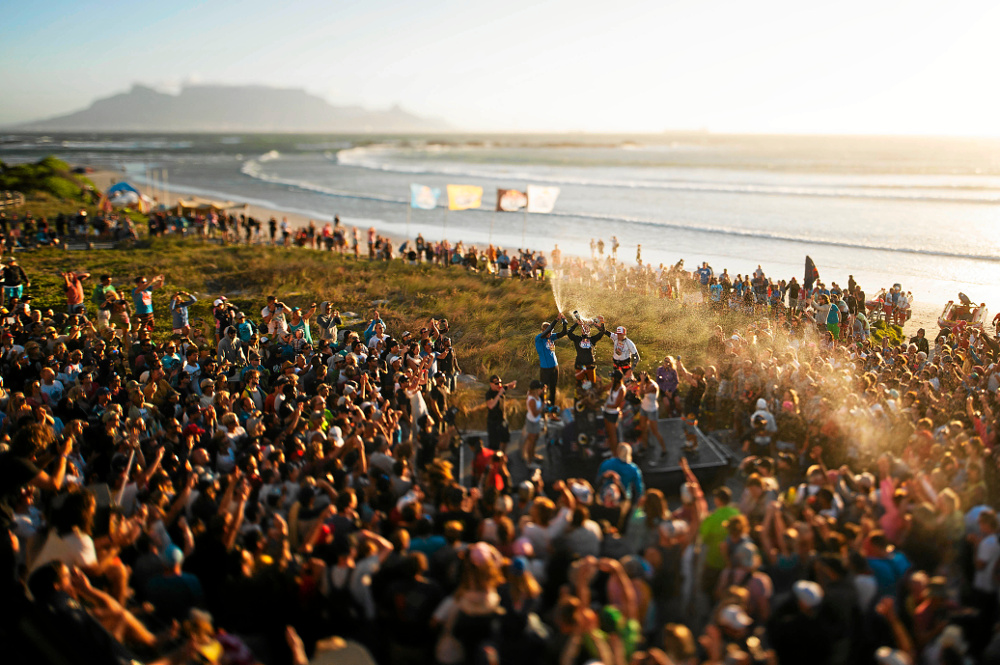 Vantage performance: Kevin Langeree celebrates with Ruben Lenten and Steven Akkersdijk on Big Bay Beach in Bloubergstrand after Langeree's winning jump (Kolesky/Nikon/Lexar and Jaanus Ree)
As a psychological nuisance, the Southeaster ranks with France's Mistral and California's Santa Anas, and one can assume that its undiminished reputation would have pleased Camões – authors of all centuries have been inordinately fond of their villains.
Respect, however, was in short supply on the first fresh Sunday in February, and never more so than when, in the late afternoon, Dutchman Kevin Langeree headed out into Table Bay on a small carbon-fibre board with 35 knots trapped in 9m2 of kite. After hopping over two closed-out waves, he launched 20m into the air from the lip of a glassy breaker. Seen from a certain angle, the flying Dutchman appeared to travel up the ridge of distant Devil's Peak, before sailing along the top of Table Mountain.
The writer Jennifer Shute, in an essay about Cape Town, The Annotated Guide, memorably described Table Mountain as "topo-graphy turned logo". Here was topography turned extreme sports hologram as Langeree hung in the air for nearly 10 seconds, landing 250m from where he took off.
Camões could be imagined going pale as the emcee's excitable commentary boomed out over the surf-marbled waters: "Langeree sticks it, ladies and gentlemen; he sticks the monster."
Big Bay
More than 12 000 people came down to Big Bay that day to watch 24 of the world's most accomplished kite surfers compete in the 2014 Red Bull King of the Air competition. Tens of thousands more watched a live streaming of the action on a dedicated website but, as British kite boarder Lewis Crathern said on the day: "Millions of Capetonians simply don't realise that they live [with] the French Alps of wind."
I too was numbered among the unwashed until, in late 2012, when I travelled to the small town of Lüderitz on Namibia's windswept Atlantic coastline to report on the Lüderitz Speed Challenge, an event organised by French kite surfers Sebastian Cattelan and Sophie Routaboul.
Somehow they had convinced the Namibian authorities to allow the excavation of a 1km-long speed-sailing trench along the edge of a lagoon in the vast diamond-mining reserve known as the Sperrgebiet, or, simply, the prohibited area.
The previous year's event had seen American kite surfer Rob Douglas clock an average speed of 55.65 knots, or more than 100km an hour, on the "desert ditch", the sail speed record at the time.
Watching the kite- and wind-surfing competitors blast into the course from the elbow of the starting bay was a revelation, but equally amazing to me was how the contestants spoke of Cape Town in terms that made me, a resident of 15 years, feel as if I had somehow missed the point – that I had failed to recognise the peninsula's genius loci.
Therefore, when the editor of the Red Bulletin (Red Bull's extreme sports-oriented magazine, to which I contribute the occasional article) asked me late last year whether I would be interested in writing a profile on 17-year-old Capetonian kite-surfing sensation Oswald Smith, I welcomed the opportunity to investigate this parallel universe in my own backyard.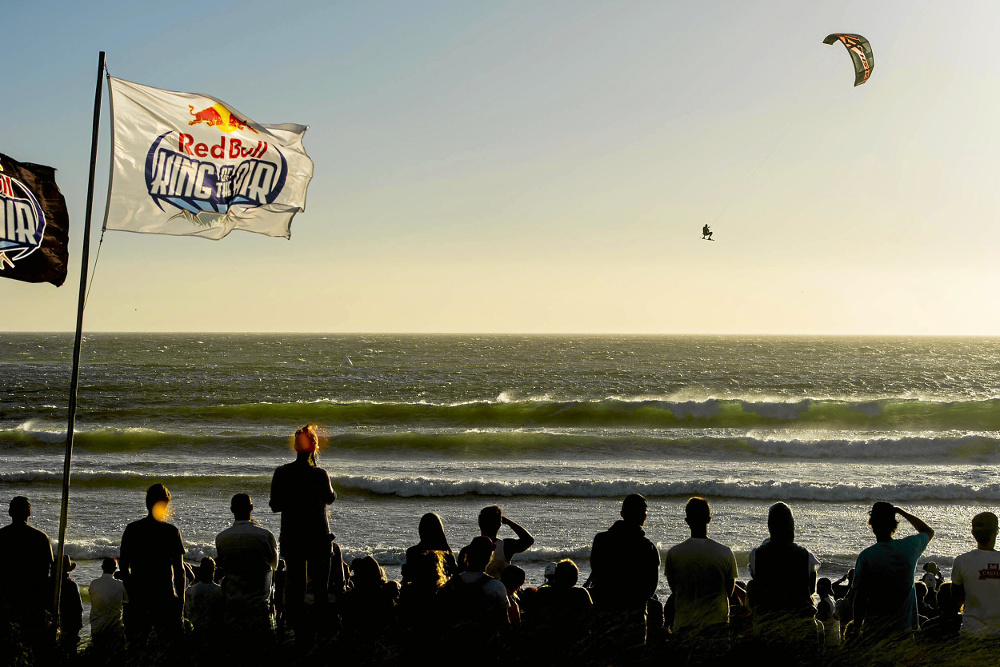 Vantage performance: Kevin Langeree's winning jump. (Kolesky/Nikon/Lexar and Jaanus Ree)
Dutchman
I arranged to meet him on the beach beneath the Table View strip, where his sponsor was having an exhibition day. Having historically shared the gentle prejudice inner-city Capetonians reserve for the Atlantic coast suburbs of Milnerton, Table View and Blouberg – Cape Town's answer to the architectural vapidity of Johannesburg north – I was surprised to find myself surrounded by European accents.
"Scusi?" said a head of wet, black ringlets, when I asked it whether we were on Dolphin Beach.
The young men and women around me were greeting each other like long-lost friends.
"Season's on, man," a wiry, suntanned Dutch kid shouted over to a wiry, suntanned Afrikaans kid.
"Ja, for sure," replied the Afrikaner, "You kaaskoppe [cheese heads, ie Dutchmen] always come back to steal our waves."
"And your chicks," said the grinning Dutchman.
That morning the Southeaster was blowing 15 to 20 knots, perfect for the kite-boarding hobbyists, whose multicoloured kites began to fill the seaward view. The serious riders, many of whom had arrived on the once-off October flight out of Holland that KLM puts on exclusively for board riders on account of the luggage they have to cart around, were still having coffee in kite-surfer haunts such as Carlucci's or Bayside Café.
For the past 10 years, they have included the likes of British national Aaron Hadlow, five-time world kite-boarding champion, and Dutchman Ruben Lenten, who won the 2005 Red Bull King of the Air competition, then held in Hawaii, when he was just 16.
As the wind speed began to pick up, they filtered down to the beach.
Former South African kite-boarding pro Tyson Rawlins was prowling the strip on his matt-black Harley Davidson and stopped to greet some old comrades.
"Kite boarding has been one of Cape Town's unsung boons," he told me. "Where a local kite boarder will buy one kite every second season, some of these Europeans walk into our kiting shops and buy whole quivers in one go."
Kites
Kites are categorised according to the size of the canopy in square meters, and a good kite surfer's quiver might consist of three or more sizes to allow the rider to make the best of a variety of wind speeds. At about R16 000 for a single kite, a quiver is a significant investment, especially when you factor in the boards (R5 000 to R9 000 each), and harnesses (about R2 000).
"It's not just the industry that benefits," Rawlins said. "All up and down this bit of coastline, from Sunset Beach to Derde Steen, the restaurants and bars market themselves to the kite-boarding community, offering themed cocktails and the like. These guys hire houses, rooms and rent-a-cheapie cars and, the moment the wind stops blowing, they're out looking to go sky diving, wine tasting or whatever. Aaron Hadlow has even bought a house here."
One of the more knowledgeable oral historians of Cape Town's kite-boarding scene is Grant Brown, co-owner of the Endless Summer Beachhouse, which, to give you an idea of his clientele, is shut when the southerly trade winds cease at the end of summer.
"It all started with the windsurfers," he said. "The sport really took off in the Eighties, and Cape Town became a hot spot, thanks to the uniformity of the wind. Just like kite surfing does now, wind surfing supported businesses in the area. The sport then began to stall in the Nineties mainly because the associated costs had become prohibitive. But that's just when the first air-foil kites were in development and, by the late Nineties, Capetonians had embraced this new sport of kite surfing."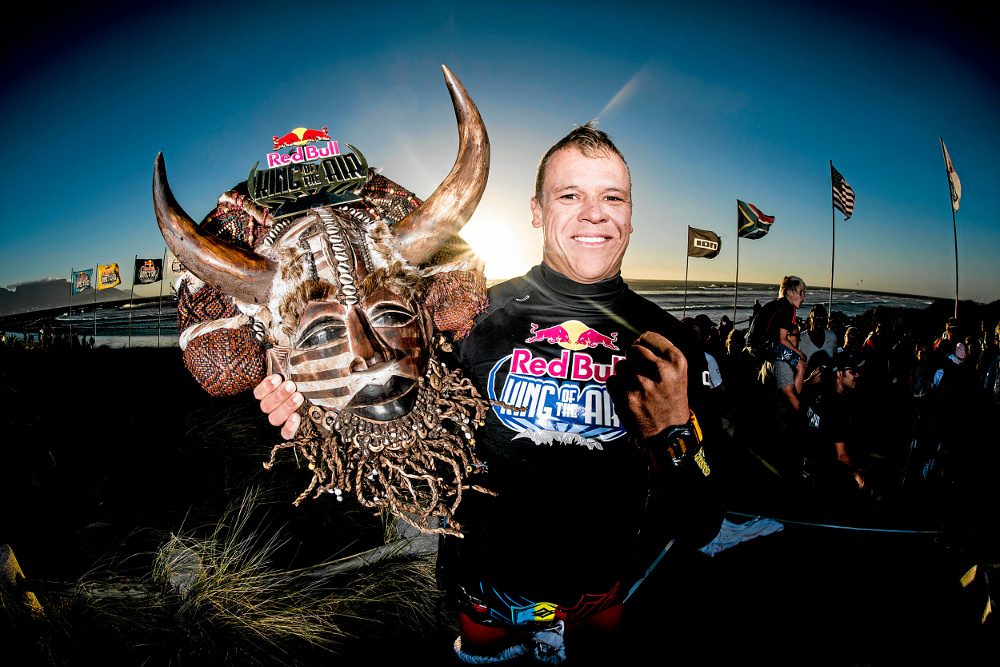 Blown away: Kevin poses with the trophy after winning the Red Bull King of the Air event that took place on February 2. (Nick Muzik, Kolesky/Nikon/Lexar and David Harrison)
The early years saw the emergence of local kite surfers such as Greg Thijsse, Antony Berzack, Tyrone Rawlins, Taro Niehaus and Alan Steele, all of whom spent time on the world tour, where they wowed fellow competitors with tales of the diamond conditions on offer at home.
"My friend Greg Thijsse invited me to come stay in 2004," Lenten told me. "He lived right at Dolphin Beach, which has become one of my all-time favourite spots in the world. Besides the wind conditions, it was the overall active lifestyle in Cape Town that really kept me coming back. Great vibes – and plenty of good parties around."
Alex Vliege
One of the many European kite surfers to arrive in the early 2000s was Dutchman Alex Vliege, the head judge of this year's King of the Air competition.
"There isn't much to do in Holland in winter, you know, and so Cape Town's summer with all this great wind was an easy sell," he said.
Vliege said that the sport grew at an extraordinary rate until "around 2006" when a combination of factors began to constrain growth.
"As with windsurfing, the costs of kite surfing began to rise. Also, freestyle kite boarding had been the major discipline in competitions, and that had evolved from this focus on who could pull off the biggest jumps, which is what happens at King of the Air, to lower but far more technical wake-boarding-style jumps, which only the very youngest and most supple riders could manage. The older riders began to lose interest," he said.
Ozzie Smith is South Africa's untouchable freestyle king and watching him perform several spine-twisting aerial stunts last year brought home Vliege's point about the limitations of age. In fact, what really brought this home was a conversation I had with Smith's mother on the beach.
"Oh, we have a standing weekly appointment with our chiropractor," she said of the strains of being a kite surfer's mother. "These days, he comes to the house."
Globally, the number of kite boarders is estimated to be about 1.5-million and the industry is worth about $321-million annually, according to research by the market leader, Switch Kites. When growth flattened out, Capetonians who had invested in the industry became extremely concerned.
"In the early years, I would sell between 30 to 40 boards a week, but then that number sort of halved and then halved again as interest waned," a local board-maker, Raymond Long, said.
"Fortunately, steps were taken to diversify the events at major competitions, to include speed and slalom events, as well as wave riding, and this reignited the interest of older boarders, because strategy and experience were once more a factor," he said.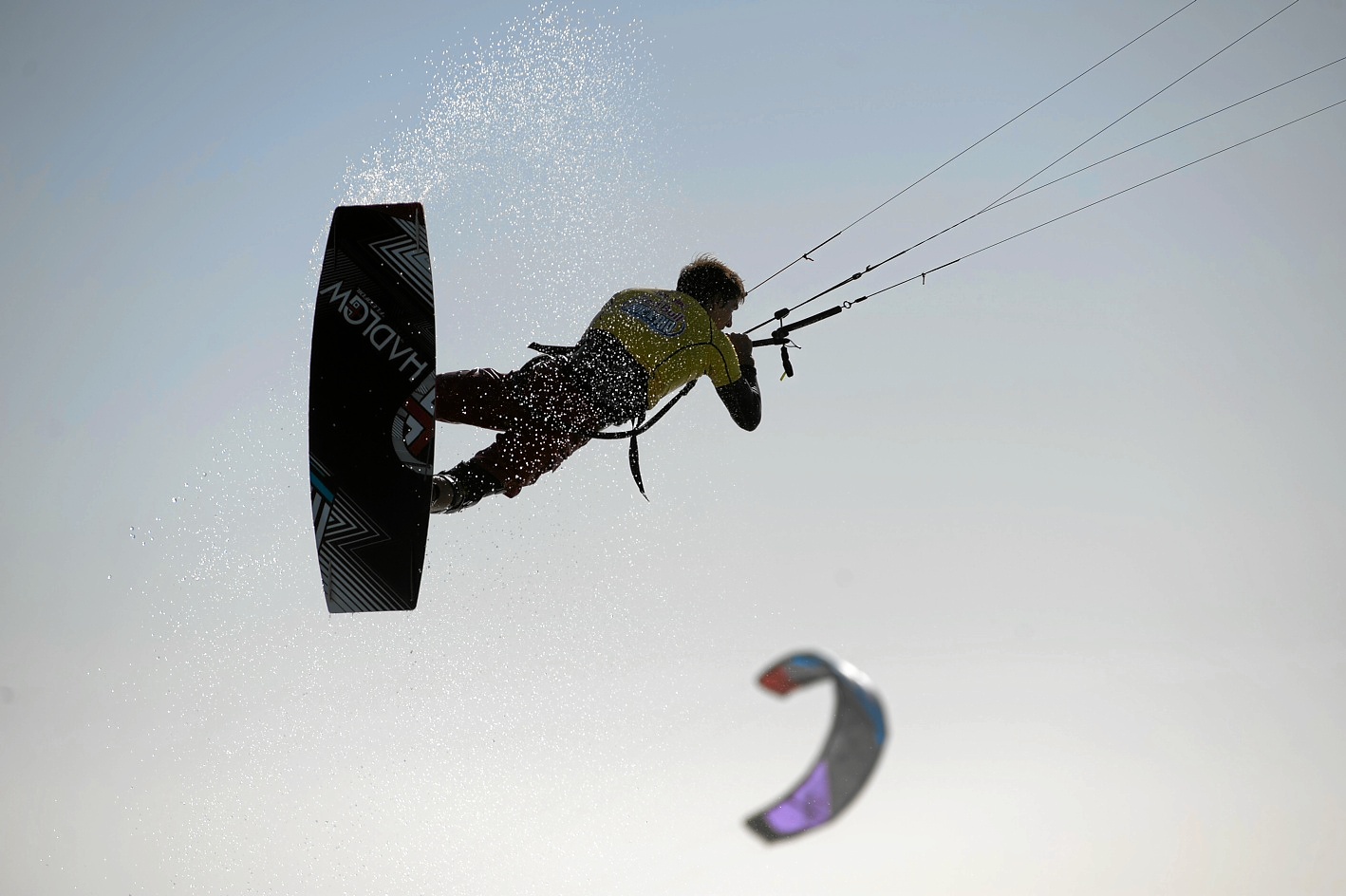 (Nick Muzik, David Harrison)
King of the Air
The Red Bull King of the Air competition, which was resumed in 2013 after being suspended in 2005 (because freestyle kite surfing was no longer about "big air"), is very much a part of the diversification – a harking back to the earlier focus on sensationally high jumps.
In this event, it is perhaps the younger, less experienced riders who are most at risk of injury: at this year's event, for example, Smith was concussed and suffered a bad case of whiplash, and 2013 winner Jesse Richman (21) broke a leg.
"Most of the competitors will only fly like this once a year, and that's what makes it such an exciting event: the way the crowd senses that each rider is pushing beyond his limits," said Andries Fourie, a local kite-surfing instructor, who placed fifth in last year's event and fourth this year.
By all accounts, the competition has been a boost for kite surfing both locally and internationally, though those who know the sport remain concerned about its development.
"The traditional media doesn't report on kite surfing, which has implications for sponsorship, which has knock-on implications for the development of the sport, because practically no professional kite surfers have the support of trainers, nutritionists and therapists, without which it is very difficult to push boundaries," Lenten said.
Although undoubtedly true, one only has to look back at the world's great sports stories, almost all of which predate professionalism as today's sports stars would recognise it, to know that a certain narrative richness is lost when the big endorsements roll in.
Fourie, for example, after recording the second-highest jump of the day at King of the Air and beating most of the big endorsed names of kite surfing, had to be back at work the next morning – teaching others to kite surf. To be able to compete on the world kite-surfing circuit in 2014, Dutch kite surfer Jerrie van de Kop, another of the King of the Air contestants, launched a successful crowd-funding project, and young Smith gets up at 5am every morning to do his homework, so that he can pursue his passion when the wind is up.
Red Bull appears to have recognised the power of the underdog by creating an event in which contestants are only as good as their last 10 minutes on the water, after which one rider can be dumped out and all other scores return to zero. It's an epic event, in the non-surfy sense of the word, and so, perhaps, Camões, who also liked heroes, would not be so aghast after all.