RUTH FIRST AND JOE SLOVO IN THE WAR AGAINST APARTHEID by Alan Wieder (Jacana)
Back in 1989, with the Berlin Wall about to fall, I enjoyed a long and leisurely dinner with Joe Slovo at his Lusaka home. The youngest of his three daughters, Robyn, popped in, but mostly it was just Joe, his friend Pallo Jordan and me, and it ended with a fine bottle of red wine.
"A gift," Joe said after absorbing our compliments, pausing for effect, "from Erich Honecker."
Jordan, an independent-minded leftist and no admirer of the ailing East German leader whose fortunes were taking a tumble, offered a raised eyebrow. I offered a nervous smile. Slovo burst into laughter, clearly relishing the irony of it all.
In Cape Town seven years earlier I had attended a memorial for Ruth First, who had just been assassinated by a parcel bomb. One of her comrades from the 1950s addressed us on First's remarkable struggle contributions over the decades, and rounded it off by telling us that "they were the glamour couple of the left".
She then turned her attention to the scruffier women activists of the student left, pointedly informing them that Ruth took "great care" about personal grooming.
Reading Alan Wieder's biography of this rather extraordinary couple, these moments came to mind. With their very different personalities, regular rows and often opposing views, they emerge as two of the most compelling characters within the ANC's historical cast.
First was known as an open-minded Marxist who refused to toe the pro-Soviet line. But she was also something of a martinet – the cliché "doesn't suffer fools gladly" pops up from several of Wieder's interviewees. Then again, her fierce intellectual rigour and clarity in debate seemed to disguise an underlying self-doubt and shyness. As her close friend Ronald Segal put it in a eulogy: "She was fascinatingly full of paradoxes: seemingly less concerned with the risks to her life than with having her hair done …"
The apartheid state did its utmost to demonise Slovo, portraying him as a ruthless KGB colonel and all-purpose bogeyman. But the mensch I briefly knew, and who emerges from the pages of this book, was warm, witty and charming – and, in private, a lot less doctrinaire than most other South African Communist Party (SACP) leaders I encountered.
Their close friend Wolfie Kodesh is quoted as describing Slovo as a down-to-earth and funny working-class intellectual.
First is portrayed as more complex. "She didn't have a rapport with ordinary working-class blokes … and yet she would give her life to protect them and their rights – of course, she did give her life," he said.
Wieder traces their parallel lives, moving from one to the other, blending the narrative with extracts from 78 interviews.
Inevitably, there will be significant details omitted in a book of this kind. For example, there's no mention of Slovo's role in securing Jordan's release from an ANC detention camp. Yet the book provides a rigorous account of their lives, mainly positive but never descending into hagiography. It is perhaps too detailed to appeal to casual readers, but for historians and anyone who engaged in anti-apartheid politics, it makes for a compelling read.
First, who came from a well-to-do Johannesburg Jewish communist family, threw herself into the struggle as a teenager, invariably emerging in leadership positions despite the patriarchal milieu of the time.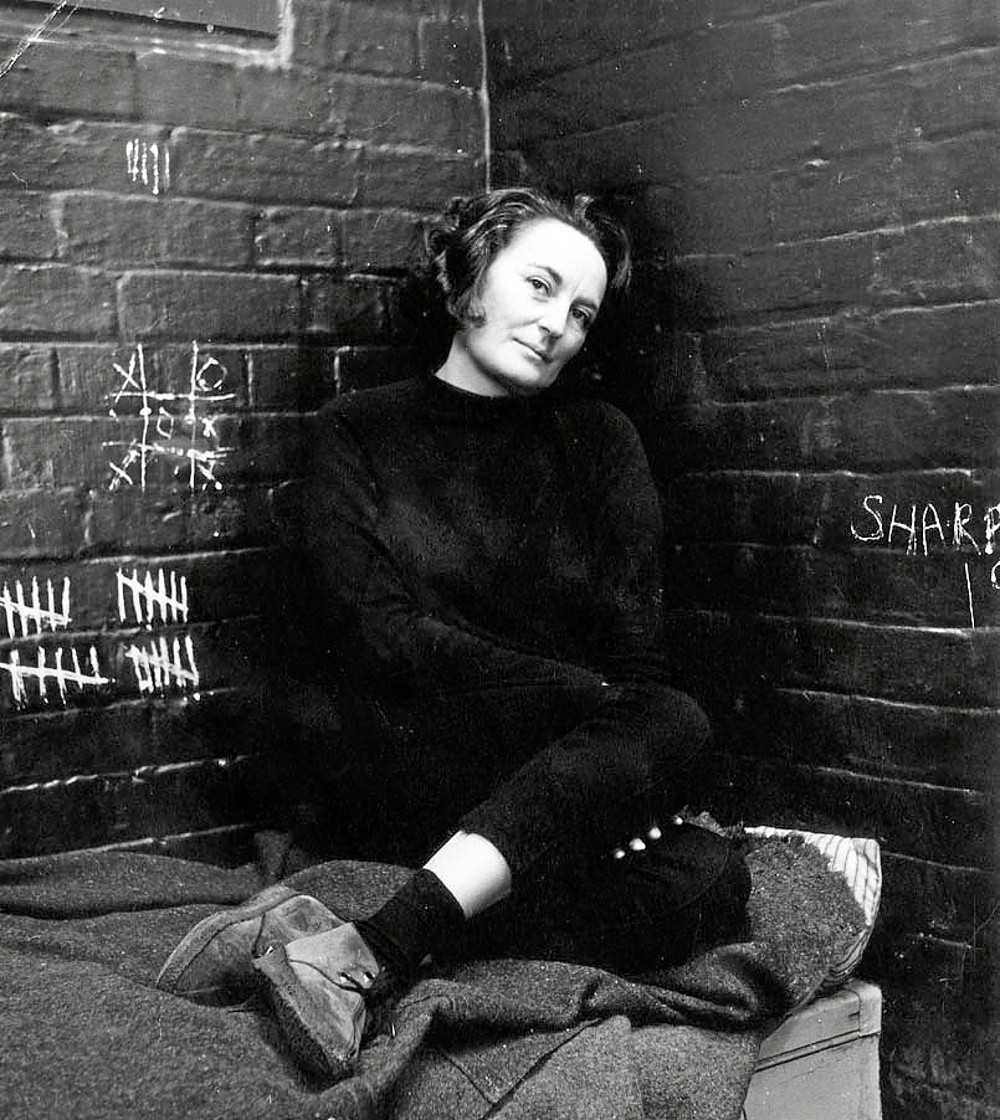 Ruth First in Jack Gold's film on her imprisonment.Courtesy of Ruth First Papers Projects
Aside from her work in the SACP and the Congress of Democrats, her prime role came as an editor and writer for the pro-communist South African Guardian and its various successor titles, tirelessly campaigning, exposing slavery on white farms, championing causes, quizzing activists, always careful to check her facts.
Slovo, born to a Lithuanian family who emigrated to South Africa when he was nine, grew up in rougher circumstances – a working-class Jewish lad who left school at 15, joined the communists, forged his birth certificate to fight the Nazis and returned from war to get an ex-combatant's pass to study at the University of the Witwatersrand,where he completed his first-class law degree, while rapidly rising to become a party leader, a founder member of Umkhonto weSizwe (MK) and a well-heeled advocate.
Both were defendants in the 1956 Treason Trial. First was listed and then banned. She was also detained without trial for 117 days (the first white woman to be detained under the 90-Day Detention law). She attempted suicide while in detention, and later wrote a book about her experiences, one of nine she authored or edited.
The great love of First's youthful life was her fellow party leader Ismail Meer, but that affair was doomed by the racial politics of the era, and later she and Slovo began their combative 34-year relationship. Both had affairs, although Wieder treads lightly in this area; for example, he does not mention the son Slovo had with another party activist.
First remoulded herself as a Marxist academic after joining Slovo in exile in London in 1963, and was open to the anti-Soviet views of the new left. Hardline party members demanded her expulsion and Slovo acknowledged that they would have succeeded had she not been his wife. They constantly quarrelled about major political issues (including the Soviet invasions of Hungary and Czechoslovakia), but Slovo later admitted he was strongly influenced by her views.
His public orthodoxy was secured by the Soviet Union's role in bankrolling the SACP and the ANC, with Slovo regularly visiting Moscow and East Berlin, besides liaising with suspected KGB officers. He welcomed Gorbachev's reforms but only voiced criticisms of the party's paymasters after the fall of the Berlin Wall in 1989.
The odd couple relocated to Mozambique in the late 1970s, where First took up a post as training director of the Centre of African Studies, which she relished, although some of her colleagues criticised her "democratic centralism" and her refusal to allow them to criticise Frelimo.
In those final four years she lived relatively frugally, let her hair frizz out, became more consciously feminist and regarded the time as the most fulfilling of her life.
The last third covers Joe's final years: his second marriage to Helena Dolny and his ever-increasing political and military role – chief of staff and head of special operations in MK (responsible for the key "armed propaganda" attacks on power stations and military bases in the early 1980s, and the key point man in Operation Vula in the late 1980s).
It also covers his major part in the Convention for a Democratic South Africa negotiations where, as SACP leader, Slovo astonished friends and enemies by proposing the "Sunset Clauses" that helped to close the deal —and finally his 21 months as minister of housing.
The book ends soon after Nelson Mandela bids his old comrade and friend goodbye.
Writing after Madiba's death, it's hard to avoid wondering what Joe Slovo would have made of the 19 years that have followed and whether he would have been able to maintain his avuncular optimism.
Ruth First, I am sure, would have been scandalised.