Can we trust the department of basic education's latest data on school infrastructure?
It shows some improvement in the government's battle to provide schools with the buildings they need, but specialists in the education sector say they have seen "massive" disparities in the data and are worried about its reliability.
In addition to the data's dependability being in question, so too is the quality of provinces' infrastructure implementation plans.
"We are seriously concerned with the accuracy of the information that provincial departments are using to draw up their plans," said Brad Brockman, general secretary of the nongovernmental organisation, Equal Education.
"In June the national department [told us] that in the Eastern Cape there are 260 schools without electricity, 90 without water and 66 without sanitation. Yet … the [new] National Education Infrastructure Management System [Neims] report states that in the Eastern Cape there are 377 schools without electricity, 339 without water and 366 without sanitation. What accounts for this massive disparity?
"If provinces don't have accurate information, their implementation plans will be seriously flawed. Schools that are meant to receive water, electricity and sanitation, and are meant to be rebuilt with appropriate materials, will be passed over."
The Neims reports are a database of the immovable infrastructure at South Africa's more than 23?000 public schools. This year's report was released in October. The previous report was released in May 2011.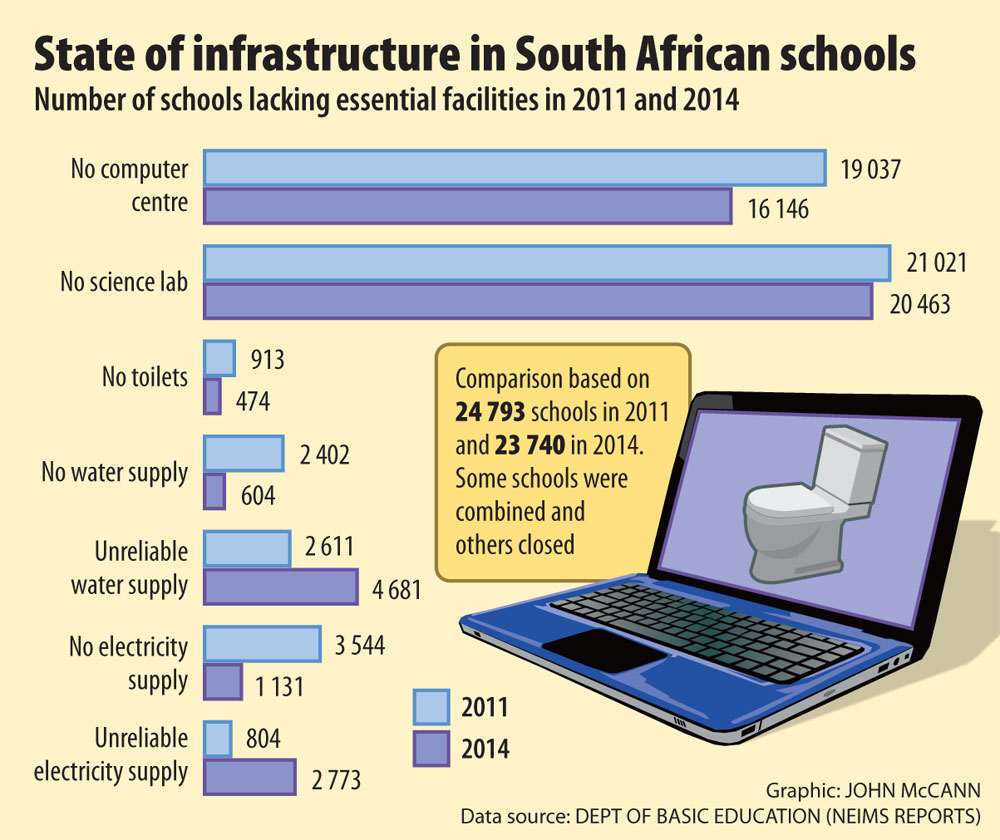 School infrastructure is in the spotlight because provinces had until this Saturday to submit plans to Basic Education Minister Angie Motshekga describing how they will improve schools to meet norms and standards for school infrastructure, which the minister published in November last year.
The standards, which were published after a four-year battle for them by Equal Education, gave provinces a year to submit their plans.
Departmental spokesperson Elijah Mhlanga said Motshekga had met the nine education MECs this week and they had submitted their implementation plans in advance of their Saturday deadline.
Responding to questions about the reliability of the Neims reports he said: "Neims is a live system which is used to update work done on a regular basis. Information changes daily or thereabouts. It is not static."
Cameron McConnachie, an attorney at the Eastern Cape office of the Legal Resources Centre, said the department lists 200 mud schools as needing to be replaced or closed, but "at least 10 schools have already closed, a handful have already been replaced through other building programmes and at least 50 only need maintenance – not replacement.
"Mistakes like these have massive budgetary implications, skew planning, and prolong the suffering of thousands of pupils by years."
Nikki Stein, an attorney at Section27, said the rights organisation "has, in the past, had problems with reliability of data, which is why we continue to call for a thorough audit of the conditions at all schools.
"It is also very important that there is some degree of flexibility in their processes, to accommodate problems reported to them that they may not have picked up and to respond on an urgent basis to emergencies."
It is discrepancies like these that have rights organisations calling for the plans to be made public.
"This is why we are demanding that [plans are made public], and allow schools to say whether their schools have been wrongly classified or left out entirely," Brockman said.
"Provincial departments should send the plans to schools and publish them on their websites. The national department should also publish the plans on their website."
McConnachie said it was vital that communities interrogate the plans, not only to make sure that all schools with infrastructure needs were recorded "but also to make sure the department doesn't 'overbuild'".
"If we see that the department is planning to build 12 toilets at a school with 50 pupils, we can raise the alarm. A number of … schools are already becoming white elephants because they are too big."
Mhlanga said "the minister will consider the plans and make her input in due course" and the plans "will be made public once they have been finalised".