Typically, the prologue begins with a child's face pressed up against a store window, flanked by sticky fingers staining the glass that separates them from the sneaker display. The multitude of colour compels. Aspiration meets desperation as the child begins plotting how he's going to get what he can't have. His mother beckons for him to keep up; she has neither the time nor the money for such a distraction.
For the six sneaker collectors who are gathered at Sussex Studios in Woodstock, one of Cape Town's urban renewal zones, a version of this story would resonate with how collecting started for each of them. Except for rocking dope sneakers to accent any given day's attire, the guys are pretty normal. By day they hold several different job titles. But in their spare moments and whenever they can find the time, they search online for the next footwear release. Conversations centre on who's got which pair. Some of the guys are good friends; others are new to the fold. Still, they all share the common denominator of being a collector.
Eric Leeson (29), a financial planner from Kensington in Cape Town, calls himself a Jordan fanatic. He's a family man who's already started collecting for his sons; the youngest was born just last year.
This owner of 110 pairs of sneakers worth more than R130000 says, for him, sneaker culture stemmed from hardship. Growing up, you only got the things you needed. "I honestly had three pairs: school shoes, a pair for PT [physical training], a pair I went out with – and that was it.
"When I grew up, my mother was buying cheap shoes. I got my first pair of Nikes on my 13th birthday. But I couldn't keep them. Your cousin didn't have shoes, so you handed them down to him and he handed them down to his cousin. Eventually they'd have their last walk and get thrown in the bin."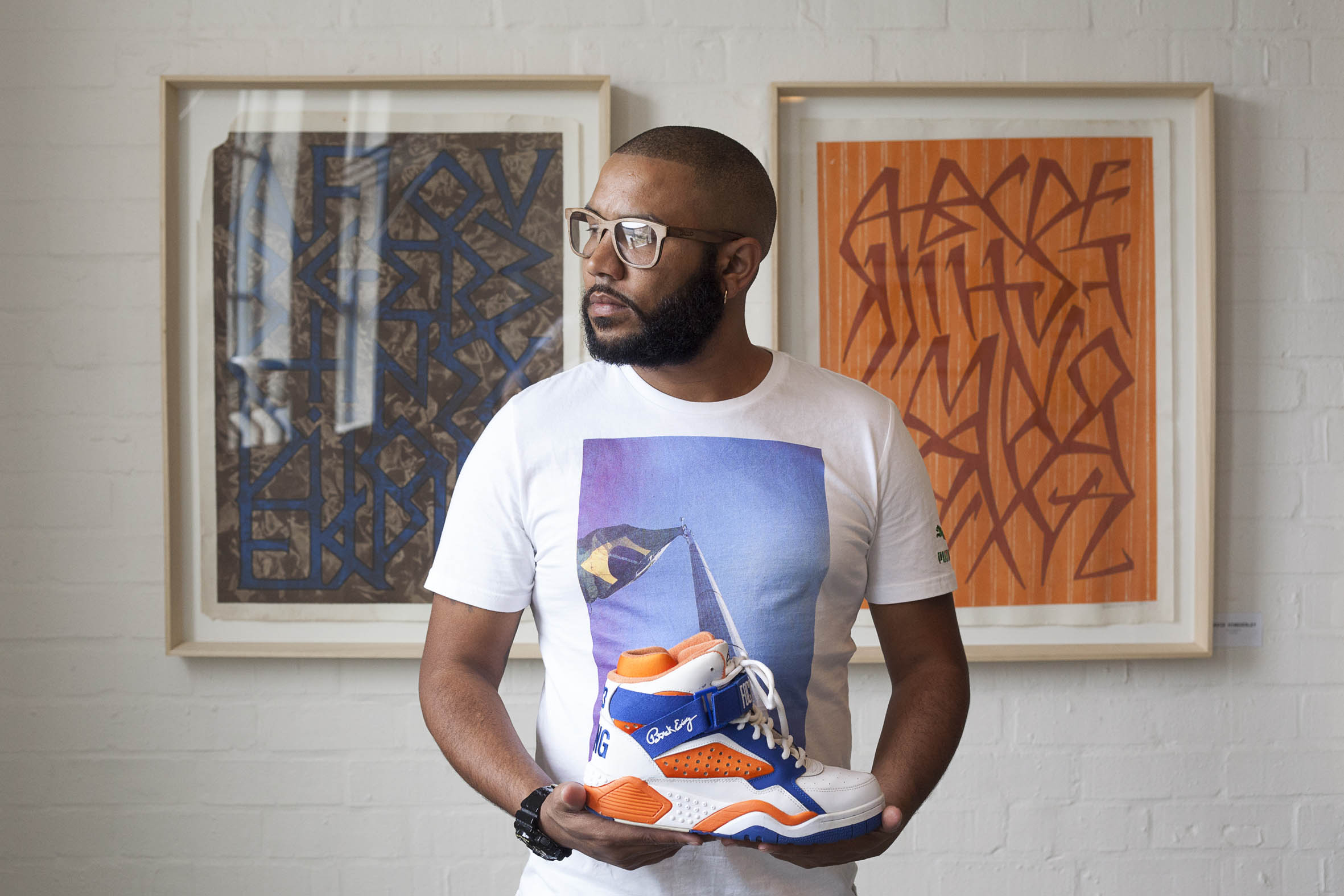 Rolo Rozay (Dylan Culhane/Sportscene)
Rolo Rozay (30) of Bishop Lavis rocks that Rick Ross swag. The Puma store manager shares a similar sentiment with Leeson, explaining that some people misunderstand sneaker subculture. They think that buying each Jordan that comes out, or all the other releases, makes them sneakerheads – but they're mistaken.
"There are people who buy the shoes that they couldn't afford back when they were younger. Now they've got money – now they can get a hold of those shoes. Those are the people that I think are the elite few." He adds that serious collectors don't feel the need to showcase the "kicks" they own.
Justin Cameron (30) has been building up his footwear arsenal over the past decade. The green in Cameron's oversized camouflage shorts is replicated in his cap and his sneakers. He imports most of his collection.
This Nike Air Max collector gets a call from a sales assistant at the Sportscene store in Canal Walk whenever a new pair is about to drop. He used to source them from the United States and the United Kingdom when he did work there.
But now that he's back in South Africa, this light-hearted collector with undertones of a serious edge has started working at a car rental agency.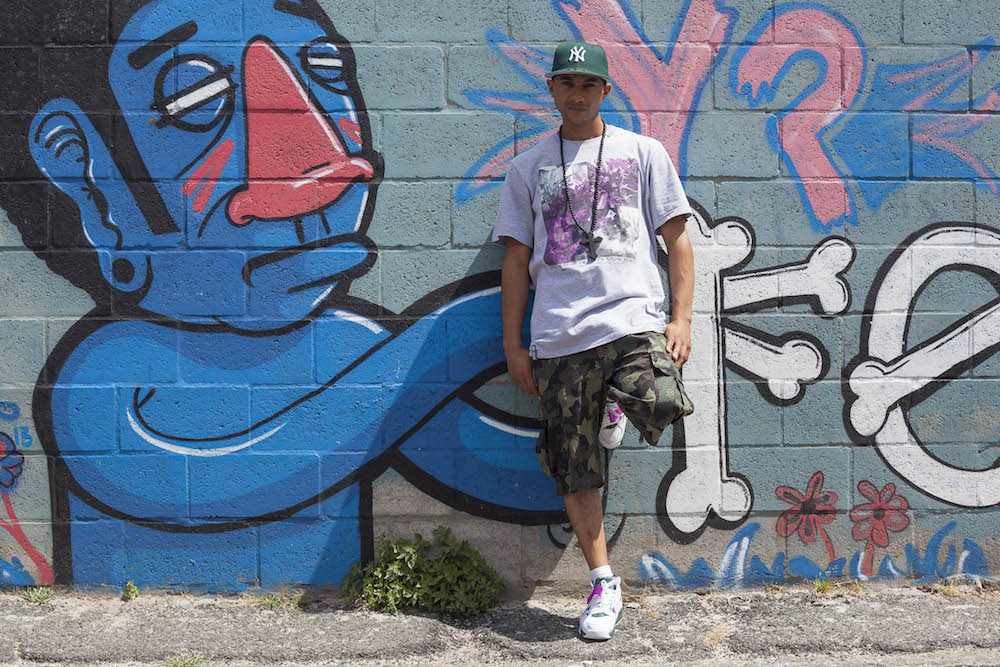 Justin Cameron (Dylan Culhane/Sportscene)
Cameron says kicks are more accessible overseas and there are significantly more events that promote them, such as Sneaker Con in the US and Sneakeround in the UK. Local permutations would include Jozi's Str.Crd and the Mother City's Laced Up Sundays, hosted by Lost Property.
Pop culture beginnings
Pop culture chronicler Rob Lammle traces the beginnings of sneaker culture to the late 1970s in the Bronx, New York. As hip-hop gained traction and became popular in urban communities, the wardrobe received increasingly more attention.
In the mid-1980s, sneakers were catapulted into popular culture by hip-hop act Run-DMC and basketball player Michael Jordan.
The documentary Just for Kicks shows how the rappers rebelled against an amateur musician who was trying to start an anti-sneaker campaign. He associated the footwear with gangsterism and violence.
Run-DMC hit back with My Adidas, blasting those claims and voicing their support for sneakers as a cool cultural symbol – as real, as street. The track rose to number one, leading to the signing of a $1-million deal between the rappers and the shoe brand, a 70-city tour and almost 400000 pairs of sneakers sold.
The rise of Jordan came at about the same time. Drafted into the Chicago Bulls, he signed an endorsement deal with Nike in 1984. The basketball star sported the Air Jordan 1 sports shoes during the following year's National Basketball Association (NBA) season. Their colours – black and red – contravened an NBA regulation, resulting in Jordan being fined $5000 each time he wore them.
In rebellion, he stuck to his guns and kept paying the fines. Advertisers had a field day, dropping lines such as: "Fortunately, the NBA can't stop you from wearing them." Sales soared. These recalcitrant acts were serious catalysts in exponentially growing fan support and sneaker sales.
South Africa came a little late to the party. Shops such as Shelflife and events like Str.Crd and Laced Up Sundays have only become prominent in the last few years. Last month SABC1 aired its first episode of Ayashisa Amateki (Sneakers are Hot). Hosted by local documentary maker Menzi Mthethwa, who chronicles sneaker culture and the big dogs in it, the show delves into the growing sneaker trend in South Africa. It looks at elements such as sneaker design, popularity, accessibility and lifestyle.
The programme's name may sound familiar to old-school vinyl listeners as they recall the hit pop song of the same name from the 1980s, by Mercy Pakela. Even though it's been more than two years in the making, Ayashisa Amateki is testament to the growing popularity of this street fashion.
The makings of a sneakerhead
There are as many versions of what defines a sneakerhead as there are sneakerheads. For some it's a matter of persistence. Twenty-six-year-old Athlone resident Yaaseen Khan wears the title as a badge of honour. His black sneakers have purple and orange zigzags on them. His cap is orange; his black shirt has orange Nike insignia on it. Khan owns 129 kicks, the earliest of which were amassed as a teenager.
He shares an anecdote about a pair of sneakers he desperately wanted to get his hands on. It was being auctioned and it would mean staying up into the early hours of the morning for a chance at bagging it.
"I needed to go to sleep and there were five hours until the auction began. So I set my alarm and left my PC on that specific page. When my alarm went off, I waited until I could make the last bid on the pair."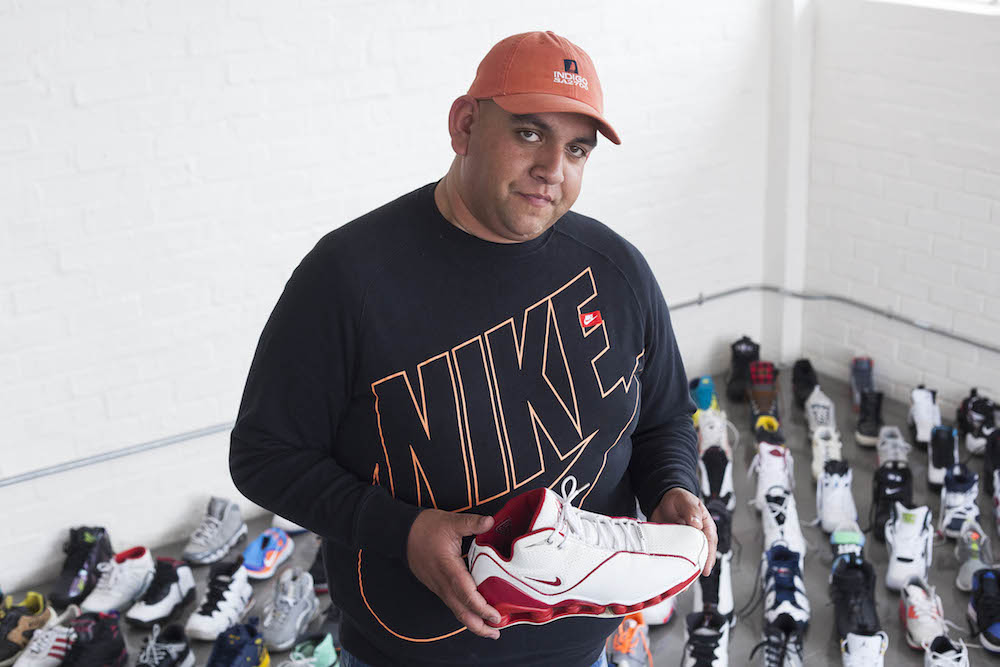 Yasseen Khan (Dylan Culhane/Sportscene)
Sometimes that's what it takes: pausing priorities to ensure snagging the coveted kicks. His passion for and knowledge of sneakers comes in waves. They propel Khan, who isn't averse to cutting corners and using his clout to get what he wants. He admits to sometimes asking the person manning an online auction simply to name their price so he can bypass the rigmarole and uncertainty the bidding process can bring. "With stuff you really want, you have to do what it takes. I'm not done. There are 10 very important pairs that I still need to get, which have been very difficult to find."
Mandisi Lean (24) is based in Ekurhuleni, east of Johannesburg. He's a self-professed sneakerhead. He also customises, repairs and refurbishes leather sneakers. He says to be afforded sneakerhead rights requires a degree of comprehension about sneaker culture. For him, it takes "a valid knowledge of the influencers that have an impact on the sneaker consumer culture – the musicians and other creatives that collaborate with big sneaker brands.
"It takes understanding the history of the movement itself. And it also means being in the loop with the latest drops and the technology applied in sneaker production." His last stipulation for being a sneakerhead? Having a dope collection to lay claim to.
For Leeson, owning sneakers is a matter of practicality. "It's pointless spending R2?000 on a pair of shoes you're never gonna wear. When I could afford to, I would buy two pairs because in 20 years' time I wanted to be able to still have a fresh one." It's called doubling up – one to rock and one to stock.
Twenty-five-year-old sales co-ordinator Ryan Herman jokes that being a sneakerhead has its drawbacks, or what he terms sneaker problems. "You match your sneakers to your clothes – but not too much. Not full out.
"Some people say we're worse than girls because you sit in front of your closet and you're like: 'What goes with what? What am I gonna wear today?' It takes time."
This he says while pointing to the pair he's wearing, which sports some lime-green thread. Then he indicates how that's been subtly duplicated in the shirt he's wearing too.
For the love of money
Khan acknowledges the serious dough involved in investing in sneakers, but he says he's not interested in getting a return on his kicks: "I bought them because I like them."
At the photoshoot, the sneakerheads brought select pairs to feature in the snaps. Six collectors had limited-edition kicks they'd amassed over a significant chunk of their lives. With the resale value depicting demand, one could only guess at just how much potential cash was stacked on all of those boxes.
Leeson shares an anecdote about local sales of the Nike Air Yeezy II following the shoemaker's collaboration with rapper-cum-designer Kanye West.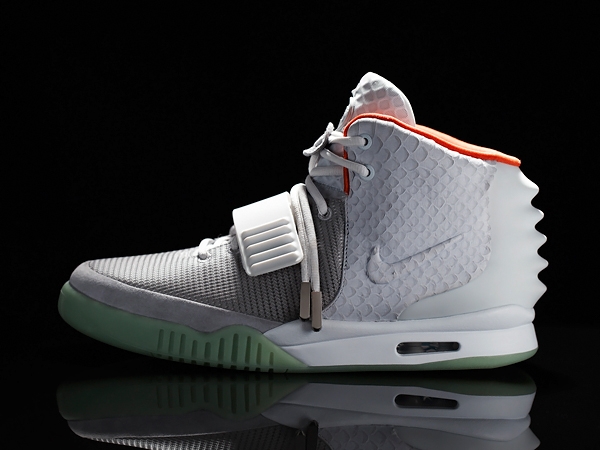 Nike Air Yeezy II
He says Shelf­life had been the only retailer in Africa to launch the shoes. You had to send a tweet to get a ticket that would secure your spot in the queue. You paid R3000 for a pair. Thirty pairs were available. And just outside the store, guys were offering up to R20000 to purchase them from those 30 lucky buyers.
Shelflife is said to have held on to one pair of each colour, knowing that the hype would escalate exponentially. And they were on the money – because today on eBay you're paying anything from R70000 to R130000 for a pair.
Art dealer and gallerist João Ferreira is excited by the move that has made contemporary culture collectable. Noting the investment opportunities, he says: "The collectable clothing market has grown substantially and so will the niche sneaker market with the dissemination of information, the growth of the interest group, exhibition in important spaces and being sold at auction."
It may be difficult for the average Joe to understand why anyone would pay the equivalent of a month's rent on a pair of shoes. But as Cameron puts it: "Most of the people who were wearing the shoes that I wanted were drug dealers and gangsters – they could afford it. So when I started working, I was like: 'This is my money. I can do whatever the hell I want with it.'"