These days you are likely to get parking close to the entrance of your local shopping centre, and your year-end function will probably be an office braai instead of a plated lunch at a fancy venue. You are likely to notice more closing-down sales at small shops than usual and fewer golfers on the golf courses.
This is because the economy is in a rut. Although things are tighter, the classic signs of distress are not nearly as pronounced as they could be, given the general economic negativity. Observers are divided over whether this suggests South Africa has weathered the storm or that the worst is still to come.
The real concern is that the subdued economy is the beginning of a new normal.
Some indicators undoubtedly show distress: gross domestic product growth for 2016 is expected to be virtually flat — 0.1% for the year — and the unemployment rate worsened to 26.6% in the second quarter of the year. The rand, at about 13.90 to the dollar, remains weak.
"When we look at South Africa, what we see so far is that the environment is rich for distress but it is yet to show up" said Kevin Lings, Stanlib's chief economist.
In previous downturns, the first signs of distress would begin with leading indicators such as consumer confidence, which would act as an early warning sign that citizens are beginning to come under pressure, Lings said. Next, sales of larger items such as furniture, cars and homes would begin to suffer. Credit extension would grow, before bad debts would mount, and widespread retrenchments would indicate that the slump had begun to bite.
There are some signs of these preliminary indicators, but there have not been subsequent, anticipated, signs of intensifying severity.
The FNB/BER consumer confidence index has shown a deterioration. On a scale of 100 to -100, consumer confidence came in at -11 for the second quarter of 2016, lower than -9 in the first quarter. The index was last in positive territory when it registered 4 in the second quarter of 2014. Business confidence is also at a 30-year low.
Real retail sales growth has not yet dipped into negative territory, as it did in 2009, but it slowed to 0.2% year on year in August.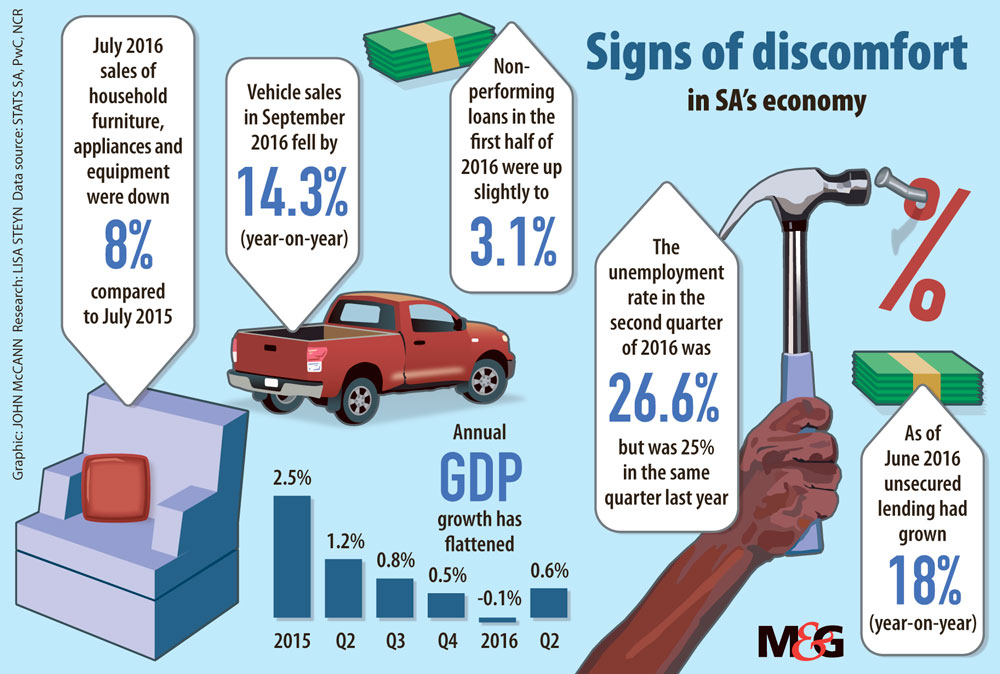 Statistics South Africa figures show a drop in the sales of household furniture, appliances and equipment (at constant 2012 prices) — down 8% in July this year, compared with the same month last year. Vehicle sales have taken a knock, declining 14.3% year on year in September. But, with more than 47 000 units sold, it's still much higher than in 2009, when sales figures dipped well below 30 000.
The housing market has been notably flat, said John Loos, FNB's housing and property sector strategist.
Lings said, next, households would compensate for the shortfall in capital for the month and fund the difference with debt. "Typically, credit that would show up would be unsecured loans. Store credit, personal loans and overdrafts at a household level are a key indicator of when people are under stress.
"But we haven't seen the type of growth we would get ahead of a typical distress event," he said.
At the end of June, unsecured lending had grown 18% year on year, as reported by the National Credit Regulator (NCR). But its total value was still significantly lower than 2012 levels.
"We think the after-effect of African Bank [the country's largest unsecured lender, which was placed under Reserve Bank curatorship in 2014] is limiting this," Lings said.
The subsequent tightening of regulations and the implementation of affordability testing and debt counselling are thought to have had a positive effect.
Bank impairments at the big four banks in the first quarter of 2016, as reported by PwC, show nonperforming loans at 3.1% of the total in the first half of 2016, up from 2.8% in the same period last year. Provision was made for increased impaired or bad debts, and they are considered to be under control.
NCR numbers showed mortgage arrears figures jumped from 8.2% of the total value of accounts to 9.3% in the first quarter of 2016. In the second quarter, there was a slight further rise to 9.4%.
"The average year to date value of arrears as a percentage of the total value of mortgage accounts is 9.3%, up from the 8.5% average for 2015. But even the recently elevated level remains far down on the 16% high of early 2009," Loos said.
According to TPN, a credit bureau that compiles data on rentals, tenants in good standing with their landlords slipped from a multiyear high of 86% in the third quarter of 2014 to 82.2% in the first quarter of 2016.
Loos said: "It appeared as if the financial stress situation was about to gather momentum … but the deterioration was short-lived, as the second quarter estimate for tenants in good standing rebounded to 85.1%."
Lings view was that "it should give us comfort that we are not recreating the mistakes of the past".
Capitec, which posted good results last month, said it would pull back on lending to low-income workers in industries such as mining and small-scale retail because they are at "high risk of having unstable income".
But Stanlib hasn't seen the widespread retrenchments it feared would take place.
"In the mining, construction and manufacturing sectors, the data doesn't suggest there has been any acceleration in retrenchments. The trend is towards the downside, but it's not the typical pattern you expect where companies are cutting a lot of staff."
The reason for this, Lings said, could be the huge jobs cuts made during the 2008-2009 financial crisis, when South Africa cut a million jobs in the formal sector.
"Companies didn't add those jobs back. They have been incredibly reticent in adding more jobs. So now, when you get a downturn, businesses don't have the excesses they had in the past. There's little to trim."
Liquidation and insolvency numbers, as reported by Stats SA, have not moved significantly.
The director and chief economist of Econometrix, Azar Jammine, said he felt the worst was over — at least in the short term.
"The drought had a tremendously negative impact, and people hadn't realised the extent of it."
Electricity has not been constrained, inflation is turning out to be a lot less than anticipated, interest rates haven't risen to the extent anticipated, and the rand has fallen but costs are not rising, which is a wonderful opportunity for exporters, he said.
"It's quite different this time around. It's a slow erosion, not a huge slump."
So when might things turn around? Probably not any time soon.
"I think this is the new normal both locally and internationally," said Jammine.
But Lings fears there is a high risk now that South Africa will enter a self-reinforcing downward spiral.
"Let's say the economy continues to deteriorate and confidence dissipates.
There's a further holding back triggered by a number of circumstances — we are vulnerable to this. Business may see a need to do the real cost cutting. The cutting of those jobs become self-reinforcing … others will follow," he said
"Circumstances are ripe for that to happen."
The typical way to deal with a worsening situation is to provide relief by cutting interest rates or stimulating the economy on the fiscal side. But there is not much leeway either way, Lings said. "There needs to be an effective policy response to get growth going where it can," he said.