There have been protests, court battles and street battles.
But as rent prices swell, waves of evictions have swept through Cape Town. What happens after the sheriff has come knocking? Activists argue that officials are perpetuating apartheid by removing poor black and coloured people from the inner city to far-flung, inhospitable areas. From Salt River to Wolwerivier, and from Sea Point to Blikkiesdorp, the Mail & Guardian looks at four people's stories in a mounting housing crisis. In the past few months, one has been evicted and another faces eviction. They are being moved to where the two other interviewees already live. In this three-part series, each one is waiting for something: a place to call home.
---
They come from far and wide — Atlantis, Melkbos, Kraaifontein — to sit in the chair. Already she has three Brazilian hairstyles booked for this week. All across the Cape, people are thronging to see stylist Magdalene Minnaar.
Her own hair is curled, the extensions reaching her shoulders and framing her face and light brown eyes. Her skin glows youthfully.
On her wall, a painting of a man and a woman dancing elegantly stands out from the corner of her lounge. She painted the image herself. Her life in the United Kingdom, where she honed her skills as a hairstylist, seems so far away now. How she used to try to hide her plat (flat) Afrikaans accent! And the zushy, clipped English! Lord. She misses the adventure. But people need her here, she says.
When the confines of her bright green corrugated-iron shack in Wolwerivier and the constant clamouring from neighbours become too much, Minnaar escapes to the V&A Waterfront — a confluence of tourists and middle- and upper-class Capetonians — for a coffee with friends. It usually happens twice a week.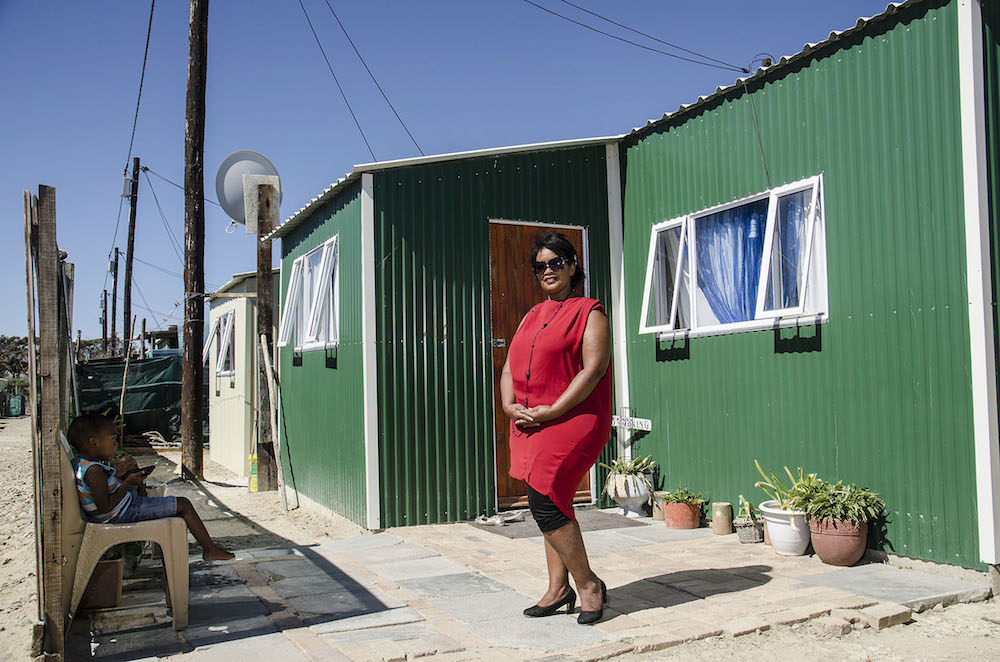 By 11am, opera music is blaring smoothly from her shack. She prefers Italian opera. Located 30km from the Cape Town city centre, Wolwerivier is a two-hour walk from the nearest shops.
There's a knock on her door. One person asks for a piece of Sellotape. Another asks for his identity document. She keeps folders with people's documents safe and, when they need to apply for jobs or anything else away from this informal world, they tap on her door for their papers.
"There's nothing for them. You can't ask your neighbour because your neighbour also has nothing," she says, sitting on her couch.
It wasn't always like this. Minnaar's father moved here as a farmworker after losing his own farm. Two years ago, most of the current residents arrived after a decision by city officials to relocate people to more "appropriate" sites.
In this isolated community where there are no shops and where jobs are scarce, Minnaar is planning her own small empire. As she dreams ahead, she may find that her customer base will increase even if she's not ready for the people who may move in.
"I'm planning to make a salon here," she says, waving her hand expansively around her shack.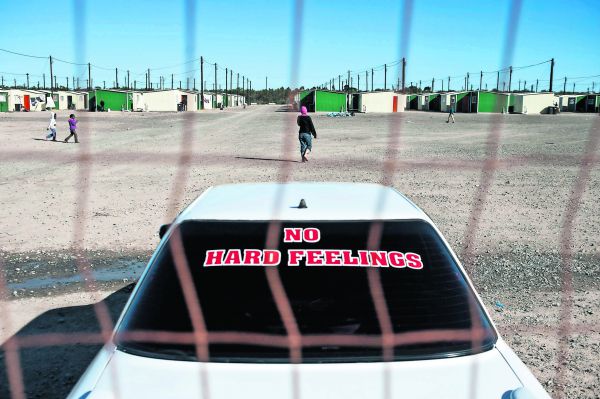 Milnerton is a quiet paradise of long stretches of white sand and sparkling ocean. On a windy day, the sky is strewn with kites masquerading as colourful clouds.
For two years now, a young man has been boarding a bus in Milnerton and making the hour-long journey to Salt River. That is where he grew up, where he was schooled, where his community is and where his family lived before they were evicted. That is home.
The Salt River traffic circle is well known in Cape Town. Around the circle, large warehouses have become boutique coffee shops. In the sprawl behind the fashionable, modern buildings, the weathered semi-detached houses and corner superettes are tightly packed together. The children's games that lead to careening chases through the narrow roads are interspersed with occasional shouts from watchful "aunties".
In one L-shaped road, an infamous drughouse called Ring-a-Bell once distributed its wares through an arcade where kids played. The drug den no longer exists and music blares loudly from the Old Biscuit Mill market a two-minute walk away.
The Biscuit Mill was one of the first buildings to be transformed around the Salt River circle. It ushered in macaroons, crostini and flat whites, and people followed in their one-series BMWs and Polos.
Between the Biscuit Mill's music and the former drug house, the young man from Milnerton, Abdullah, now sits perched on a wall outside his friend Abu Bakr Smith's house.
"He visits us every day. There's nothing for him there. He doesn't know anyone yet," says Smith.
Smith blends into his surrounds — black sneakers, a cap perched on his head at a stylish angle and faded dark jeans. He looks like he could live anywhere in Cape Town, but he is here, in a road where the class divide could hardly be more stark.
Across from his house is a lot with stables. Inside are people instead of animals. He remembers that the stables were filled with sheep and horses when he was a boy. When the owner left, the animals were removed and homeless people moved in.
Further up the road is a tall gate. Behind it, warehouse shops busily sell to customers who drive through in their shiny sedans. The gate is almost always open and only closes once evening settles in and the area becomes quiet.
In this strange mix of homelessness, bustling shops and people who know no other home, Smith wanders among different societies in the span of a few hundred metres.
"This place is taatie [crazy]," he laughs affectionately.
He loves it. He feels the pressure of keeping the family here, amid and despite all the change. His plans for his future, he knows, are intricately tied to a future for his family. But his life is about to change. He lives in a place where some of the oldest families have already been removed to far-off camps and he fears that he will be one of them.
In a place known as Blikkiesdorp or Tin Town, the voice of Matilda Groepe (62) bellows out and ricochets off the metal, an instrument in its own right. Occasionally Aunty Tila forgets to use her "inside" voice.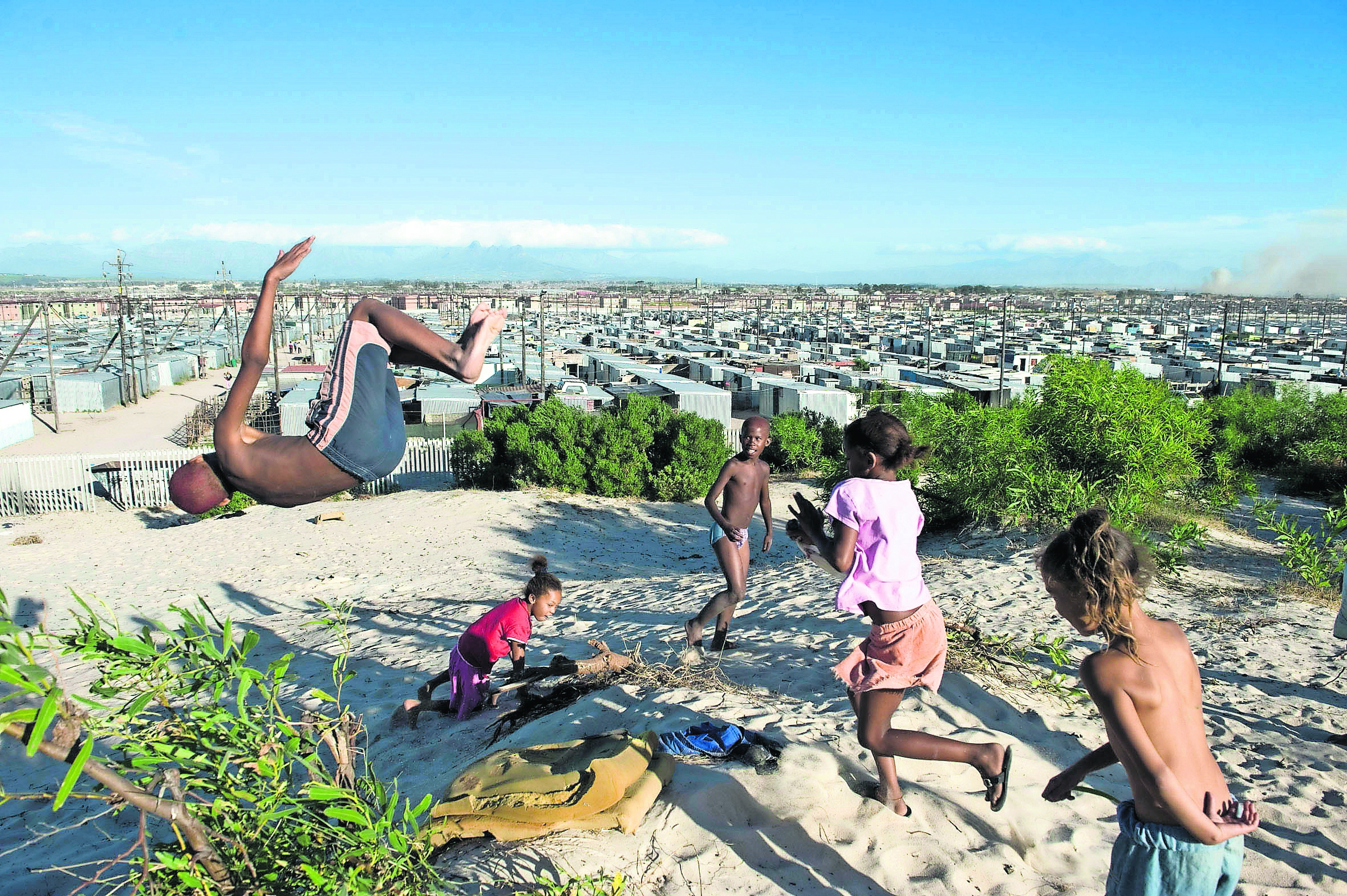 "Every year. Every year. Every year!" she booms, her voice rising in a crescendo with each repetition.
Groepe looks comfortable in a fluffy white jersey and loose-fitting pants. Her hair is short and straight, and her dark brown eyes are lined with thick black eyeliner.
She's in the midst of a tirade, arguing that each year the housing budget is not properly allocated. Her home is one of hundreds in this crowded settlement in Cape Town.
Overhead, a plane loudly jets over the expanse of the Delft area, located near the Cape Town International Airport and with Khayelitsha as its neighbour.
The noise frustrates residents, exasperated by the deep screech of each flight.
Groepe's life has been entwined with the city for almost all her life. Like many coloured working-class women in the Cape, she had a job in the clothing and textile industry and watched as each factory shut down as the years passed.
The factory in Woodstock where she once worked produced jeans. It closed down in the early 2000s. Her work there opened up the opportunity of becoming a backyard dweller.
And it was an opportunity.
Groepe had lived in Hanover Park, on the Cape Flats, with her husband, where she mourned the deaths of her eight babies. Two were miscarriages and six were stillborn. She speaks of the deaths, hurrying through the words, but her voice catches.
After her husband died in 2003, Groepe wanted to get out of the house they had shared. Unable to afford a place of her own, she asked a colleague in the Woodstock area for a place to sleep and became a backyard resident.
It was then that she entered into a second life of landlessness. She doesn't regret leaving Hanover Park, but since then she has battled to find a house.
"I'm a lone ranger," Groepe says quietly, sitting in Blikkiesdorp. But she is well known in the community.
Her neighbours, the ones who love her and hate her alike, all know her history as part of the landmark Symphony Way pavement protest in 2008. Groepe was one of hundreds who occupied the Delft road leading to the airport after facing violent evictions.
Their occupation of the pavement lasted a remarkable two years before they were moved to Blikkiesdorp —an area that was meant to exist only temporarily.
For most people, running water is a blessing but every time Groepe goes to the tap, she knows she is familiarising herself with a permanent life here instead of the temporary one she was promised.
"We've got flush toilets and prepaid meters. What does that tell you?" she asks.
She considers herself part of the Cape's unwanted poor. But still she fights, even though she feels trapped.
Everyone knows Thandeka Sisusa by her middle name — Beauty. She lives in another world of Sea Point that few people get to see. The centre of that world is the Shoprite store on the seaside neighbourhood's bustling main road.
Outside the Shoprite, people sitting on boxes greet Sisusa with warm familiarity. They recognise her as she approaches from a distance because she walks with a limp that stayed with her after she had polio as a child. She's a popular woman and almost everyone she knows is black or coloured, poor and surviving in a suburb that is still mostly white.
Sisusa has only ever known Sea Point since she arrived in Cape Town at the age of 13 from the Eastern Cape. It was a daring journey that she took on her own after her mother was murdered, allegedly by her father.
She envisioned a city of opportunity. And, in some ways, it obliged.
She first lived in the Esplanade block of flats in Sea Point. She wanted to work but, with the help of an American woman, managed to attend Sea Point High School.
"She didn't take me like I'm a domestic worker for her. She didn't want me to do any cleaning in the house," Sisusa remembers.
The woman left when Sisusa completed her matric and eventually, she became a domestic worker. It was how she ended up living in the so-called maid's quarters in some of Sea Point's most sought-after properties.
Above those quarters flats tower, looking over the ocean and the strips of sand it brushed against. But beneath, in a basement near the parking area, is another world entirely.
Narrow storage rooms converted into shoebox apartments disappear into the wall. They are lined up alongside each other and jeans, T-shirts, socks and dresses hang resignedly outside, having long given up hope of being touched by warm sunlight. Despite the hierarchy of those living at the top and at the bottom, Sisusa doesn't take any nonsense.
The apartments on top are more spacious, with bigger kitchens and en suite bathrooms. Many of the people living in them only know those in the maid's quarters as cleaners or security guards. But Sisusa is not bothered. She flips the bright pink streaks in her dark hair.
"It's not to say that because people live higher, they are better," she says, sitting on her bed.
Sisusa now lives in the maid's quarters of another building, but she's no longer a maid. She shares a bed with her 19-year-old daughter and her baby.
Inside her room, there are motivational quotes stuck to the wall. Baby clothes threaten to topple over from a chair. A fridge, sticking out into what is left of the room, stands out-of-place next to a well-used hotplate.
She now works in tourism and, somehow, on a volunteer's stipend, she keeps her family running.
"The money we earn is only enough just for us to eat. Not to pay a lot of rands. We can't," she says.
In a year from now, Sisusa will find herself living in a completely different place. It is bigger, with the kitchen separated from the makeshift bedroom and a balcony outside.
But it is then that she will encounter even more fear than she knew while traversing into a new province as teenager.
In a short while from now, these four people will see their lives reflected in one another. Their experiences will become one another's fears and memories as they edge closer to the deep loss of places they call home.