On the eve of the official nominations opening for the ANC elective conference, influential party leaders from KwaZulu-Natal appear to be preparing to buck the provincial leadership's backing of former African Union commission chairperson Nkosazana Dlamini-Zuma as presidential candidate in December.
On Monday night, Bheki Cele, the deputy agriculture minister and a national executive committee member, added his voice to the lobby in KwaZulu-Natal backing deputy president Cyril Ramaphosa.
Cele, who backed Jacob Zuma in the run-up to his election in Polokwane, affirmed the ANC principle of its deputy president becoming president, a de facto endorsement of Ramaphosa.
Addressing a cadres' forum in Port Shepstone, Cele sharply criticised the Zuma camp and backed the leadership of the ANC's Lower South Coast region. These leaders have backed Ramaphosa and, as a result, have been stripped of their administrative powers by the province.
Ramaphosa had been billed to address the meeting but could not make it because of a meeting between the regional leadership, the province and the ANC national working committee to discuss the suspension of their powers, so Cele stood in for him.
Two other regional executive committees who have tacitly backed Ramaphosa — Harry Gwala and Far North — have also had their powers suspended.
A fourth region, Emalahleni, where Ramaphosa has backing from both the ANC in Newcastle and the civic movement, has been dissolved.
While telling the audience he was not backing any particular individual, Cele said the ANC had maintained the tradition of its deputy president replacing the president at the end of their term of office since 1967.
At Polokwane — where the eThekwini region Cele had chaired played a crucial role in Zuma's election — they had "fought'' for this tradition, which should not change now, he said.
"Even now, we will fight for it and we will win," he said.
Cele tore into the Guptas and "their friends", saying they should "stop interfering and chowing money" and "allow the ANC to lead".
Cele's backing of Ramaphosa comes a week after he publicly backed ANC branches that have taken the KwaZulu-Natal leadership to the high court in Pietermaritzburg. Addressing a gathering of branches at Umlazi, Cele said they should continue to take court actions to "teach us to lead".
A highly influential former chairperson of the eThekwini region and provincial executive committee member, Cele was one of Zuma's staunchest supporters in his road to taking the ANC presidency at Polokwane in 2007. But the relationship soured after he was named in the Ground Cover intelligence report, which said Cele and other leaders were plotting against Zuma.
After being dismissed as national police commissioner, Cele returned to active ANC politics and managed to secure a seat on the ANC national executive committee following nomination by the ANC's KwaZulu-Natal branches, where he still commands a huge following.
Cele declined to speak to the Mail & Guardian this week, but an aide said he would address a similar cadres' forum at Umzumbe on the South Coast on Sunday.
"Then he will wait for the opening of the nominations to take place and decide from there,'' the aide said.
Cele is understood to have met Dlamini-Zuma on her return to South Africa from the AU and, during their discussions, suggested that she avoid being drawn into factional ANC politics should she become involved in national ANC politics.
"When she indicated that she would be available for a leadership position, he made a plea to her not to align herself with factions or become any grouping's candidate and to rather let things take place through natural processes. The 'premier league' was vocal already by that stage and she immediately went with them,'' his aide said.
This led Cele to gravitate towards Ramaphosa and to begin to campaign for him.
Cele is not the only high-profile KwaZulu-Natal ANC leader to back Ramaphosa before the opening of nominations. Senzo Mchunu, touted as a potential secretary general on a Ramaphosa-led slate in December, accompanied him to several public engagements earlier this year and has all but declared open support for the deputy president, saying he would only confirm his choice once nominations opened.
Mchunu is seen to be the force behind the court application by the ANC branches that have taken the provincial executive to court to demand a rerun of the November 2015 provincial conference.
He was recalled as premier by the provincial ANC several months later as part of a provincial Cabinet reshuffle in which his loyalists, including former local Cabinet ministers Mike Mabuyakhulu, Peggy Nkonyeni and Cyril Xaba, were also purged.
The branches, led by Vryheid ANC councillor Lawrence Dube, claim the election, which Mchunu narrowly lost to Sihle Zikalala, was rigged and have challenged the decision by the provincial leadership to go ahead with the elective meeting six months before their term expired. The matter was argued last week and judgment reserved.
ANC treasurer general Zweli Mkhize is also being punted as a potential deputy president on the same slate — a dark-horse presidential candidate should an alliance with Ramaphosa fail to solidify.
Mkhize, who is to address cadre forums in Phongola in far northern KwaZulu-Natal on Saturday and Sunday, has added his voice to the critics of state capture by the Guptas and the need for organisational overhaul in recent months.
On Wednesday, trade union federation Cosatu in KwaZulu-Natal announced that its provincial executive committee had affirmed the decision to back Ramaphosa as presidential candidate.
Its provincial chairperson, Edwin Mkhize, said they were drawing up a programme to "expose" Ramaphosa to workers in the province and provide him with platforms from which to campaign for the presidency.
---
ANC head honchos blamed for rebellion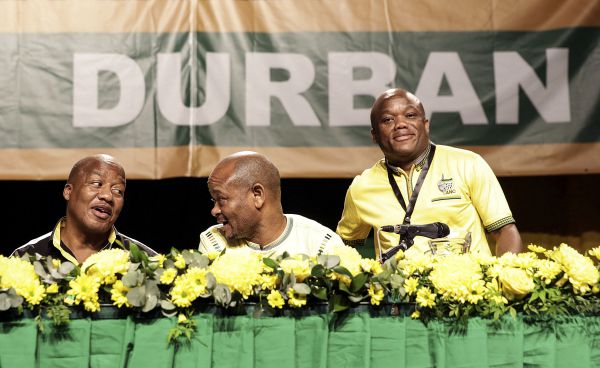 [Senzo Mchunu (centre) is believed to be behind the court bid to unseat his rival Sihle Zikalala (right). They are seen with Jackson Mthembu (left). (Rajesh Jantilal/M&G)]
ANC treasurer Zweli Mkhize believes the court case brought by the ANC "rebels" in KwaZulu-Natal is an indictment of the party's national executive. He said this week the ANC's national working committee (NWC) and officials had met the provincial leadership four times to try to persuade them to halt the November 2015 KwaZulu-Natal conference.
The case challenged the result, which was won by sitting chairperson Sihle Zikalala's faction. It was brought in the high court in Pietermaritzburg by branches loyal to his predecessor, Senzo Mchunu. Judgment is pending.
The controversial provincial conference was held six months early, despite the concerns of the national leadership.
"We had about six meetings of the NWC and officials, going to KZN … we were persuading them not to continue with it [the conference]. The PEC [provincial executive committee] met and sat, and then came back to say to us they want us to go and request that they be allowed [to go to conference]. That's how the thing happened,'' Mkhize said.
He said they had proposed that both groups sit down and address their problems, which included gatekeeping, manipulation of membership and membership fraud.
"We had said to them, 'you are divided, leave the conference; let's talk about how to unify you.' They went, we gave them a programme, [and] when they came back, they said, 'We still can't unify.'
"That matter could have been resolved and we could have pulled everyone together but unfortunately it happened,'' Mkhize said. "It's an indictment on us as leadership. Tensions will always exist in any part of the organisation. The trick is to work on them and try to get them resolved."
Meanwhile, Zikalala this week faced a backlash from the legal profession over his attack on advocate Tembeka Ngcukaitobi at a rally after the court case last week. Zikalala had told supporters outside the court that Ngcukaitobi was a "counterrevolutionary" and an "EFF [Economic Freedom Fighters] lawyer".
The National Association of Democratic Lawyers (Nadel) subsequently demanded that he apologise, but Zikalala issued a statement in his personal capacity that stopped short of apologising and repeated his discontent about Ngcukaitobi representing the ANC branches challenging him.
Zikalala said Nadel's comments were "welcome" as "part of a constructive engagement". His comments were "in relation to ANC comrades using someone who has consistently represented other political parties on matters relating to the ANC".
Advocates for Transformation (AFT) spokesperson Dumisa Ntsebeza said Zikalala should issue an "unequivocal retraction" instead of "issuing a half-hearted response".
"What concerns us the most is that the utterances of such a senior leader seek to undermine the very essence and fabric of the advocates' profession, namely the independence of each practitioner,'' Ntsebeza said.
"The AFT therefore objects in the strongest terms to anyone placing labels such as 'counterrevolutionary' or 'EFF lawyer' on any of its members on the basis that such member may have represented someone or some organisation,'' he added. — Govan Whittles and Paddy Harper
---