There are two buildings in Cape Town that witnessed generations of workers. They stood tall on two islands of tarmac in the windswept suburb of Salt River.
There, coloured women would work until their eyes grew tired and their hair turned to grey. They would watch as, with each punch on their clock card, their children grew and grew until, one day, they matriculated and went further up the social ladder than their parents had ever been. They would then observe as the factory grew weary and as coffee shops replaced homes.
This is the story of two buildings and the lives they touched.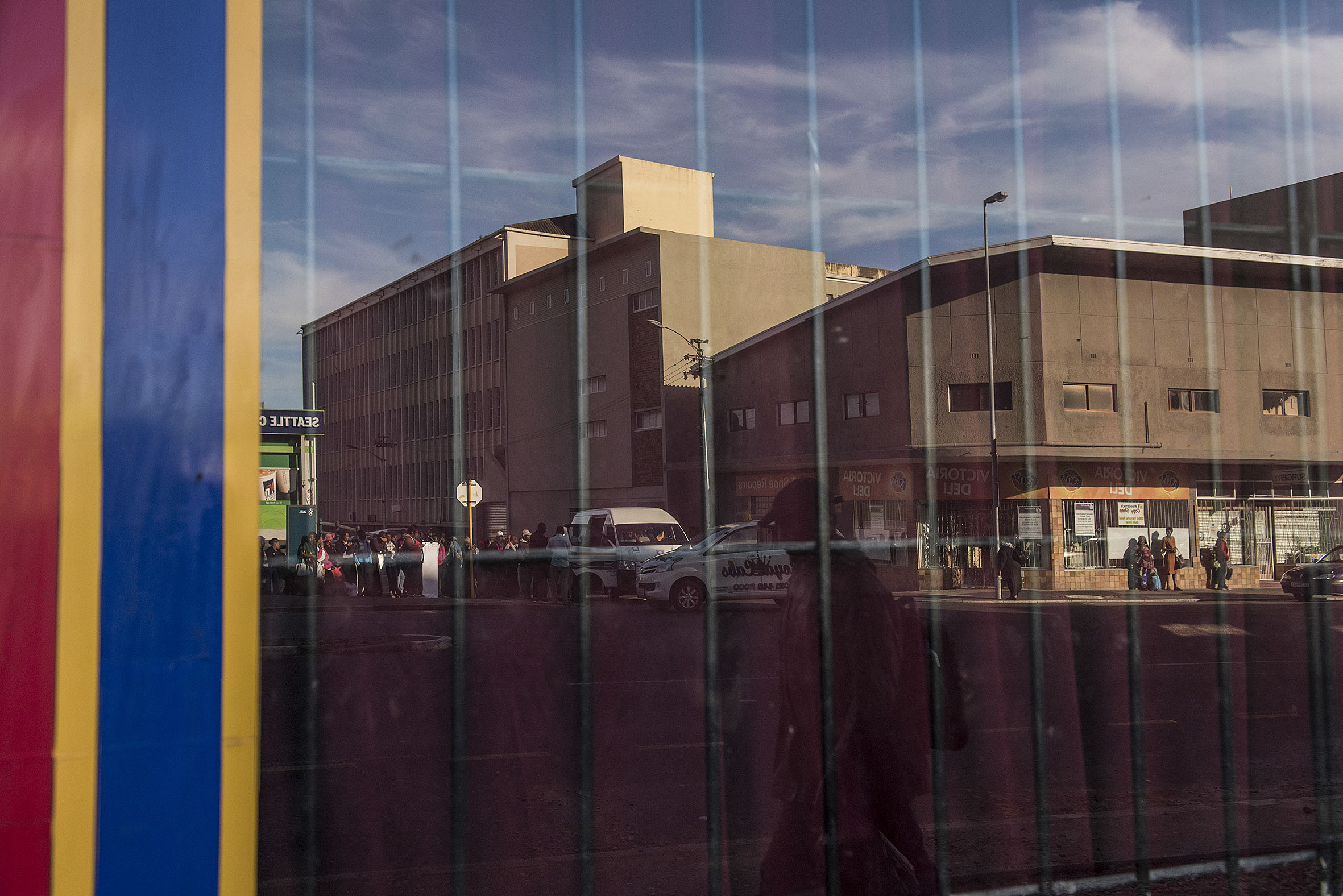 [One of the two Rex Trueform buildings (David Harrison)]
During a walk along the winding roads of the Cape Town city centre, a woman with red-brown hair and a flowing dress hears a voice call out her name. "Lucette!" the shout comes from across the street, breaking through the drone of traffic.
Lucette Lombard turns her head to look. In the near distance, she sees a woman she knew once upon a time. They met each other in their years of work, but that was a long time ago.
"When I go to town and I see any one of the machinists, they will shout from one side of the road to the other side to call me. Everyone knew who I was," Lombard says, laughing.
Lombard wasn't always popular with the machinists who worked on the sewing machines at Rex Trueform, but she came to know thousands of them. If you say the name Rex Trueform in Cape Town, most families recall it as fondly as a long-lost relative who made them proud.
During apartheid, in 1953, it was ranked the sixth-largest clothing consortium in the world. The clothes, made by the hands of workers in Salt River, would be exported around the globe.
The company followed Lombard in each stage of her life: she knew about it as a girl when she saw her mother go to work at the factory, she would go to it every day as a 17-year-old who had to earn money to help her family and she would rely on it when her two children were born and after her husband died.
Her mother spent most of her life working at a sewing machine, along with many other coloured women who worked inside the Rex
building.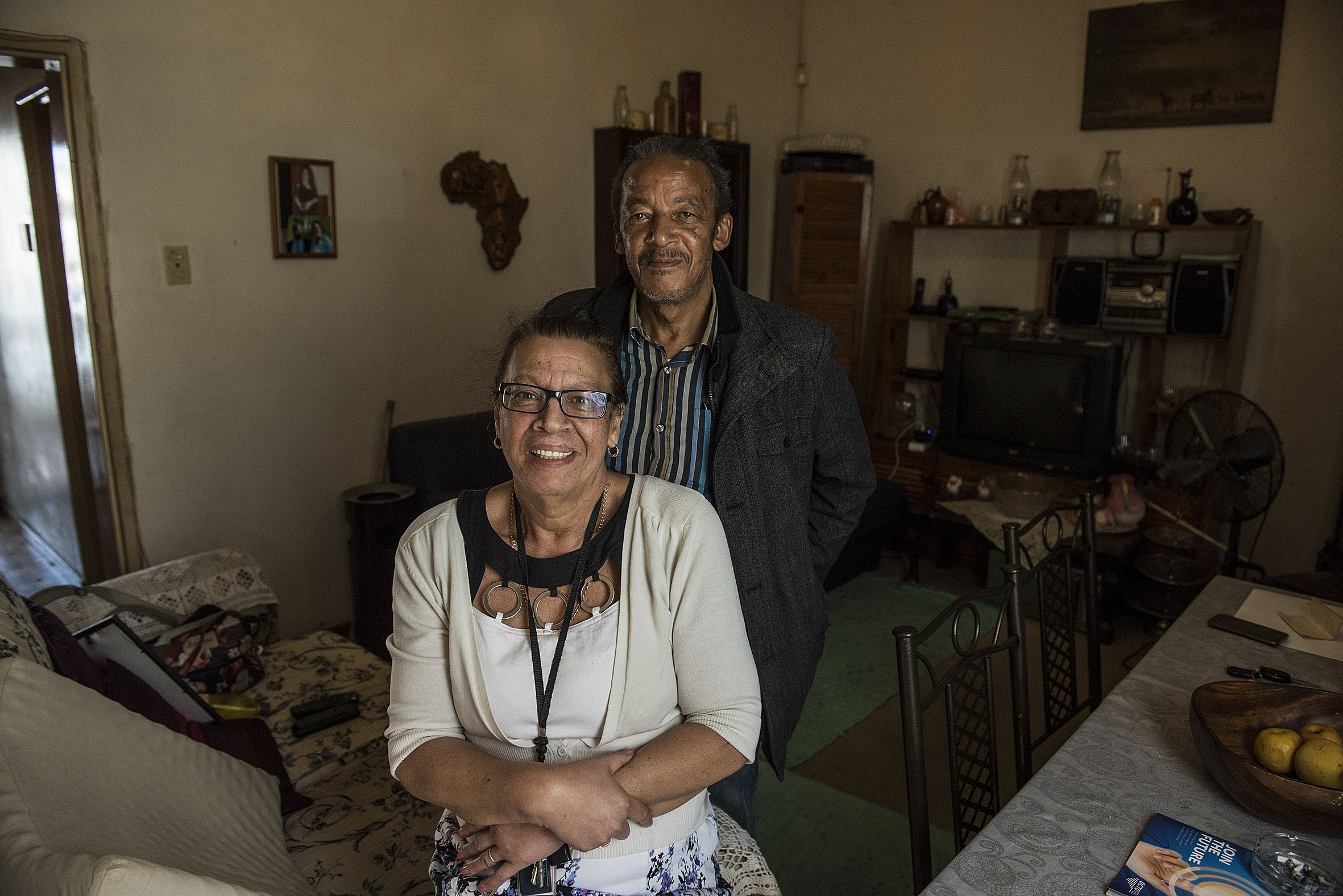 [Generations of coloured people worked at the textile factory, including Lucette Lombard and Richard Bobbs (David Harrison)]
But Lombard's experience was different. She worked in the administration block, where she could escape the sound of the sewing machines.
"That noise alone gives me a fright. It's loud! Like a car engine revving," she says.
She was one of the few coloured people allowed to work in administration, which was usually reserved for white employees. Coloured women had their place at the machines or in the cutting room, where they would cut material to be sewn into garments.
She believes that her skill with numbers paid off.
"I am actually a fair-skinned person but I think it was more my skill," she says.
Architect of the past
In the 1930s, Salt River was on its way to becoming an industrial hub. It was here where the city's clothing and textile industry thrived under racist laws that favoured white owners.
Before the factories were built, the suburb already had a history of people who fought bravely to hold on to their land.
Centuries before industrialisation crept in, the area around Salt River was home to a KhoiKhoi settlement. When the Portuguese invaded, a crew of sailors under the leadership of a man named Francis de Almeida attempted to steal cattle and kidnap two KhoiKhoi children. They failed and their crime sparked a war. It was the KhoiKhoi who won, driving the colonialists back to their ships.
But later, under English colonisers, the city became a minefield of non-European and European segregation for coloured and black people.
In this setting, Bernard Shub and Philip Dibowitz commissioned famed architect Max Policansky to design a building that would be the linchpin of their clothing empire. Both Shub and Dibowitz were Lithuanian Jewish refugees who had fled persecution in Europe. They saw a gap in the Cape market for a high-quality local clothing manufacturer, which they called Rex Trueform.
Rex ushered in a new era in Salt River. In 1938, the building Policansky designed was completed on the corner of Queenspark Avenue and Victoria Road. It was unlike anything Capetonians had seen before. It would become Rex Trueform's cutting room and fabric storeroom. The building had no decorations outside and there were no dramatic columns. Its planes were flat with ribbon windows — a band of windows in a rectangle box shape — running across its front.
Policansky broke unspoken rules in Cape Town. Whereas the city favoured classical columns like the iconic ones at the University of Cape Town's Jameson Hall, Policansky brought in the understated modernist design that was all the rage in Jo'burg and in parts of Europe.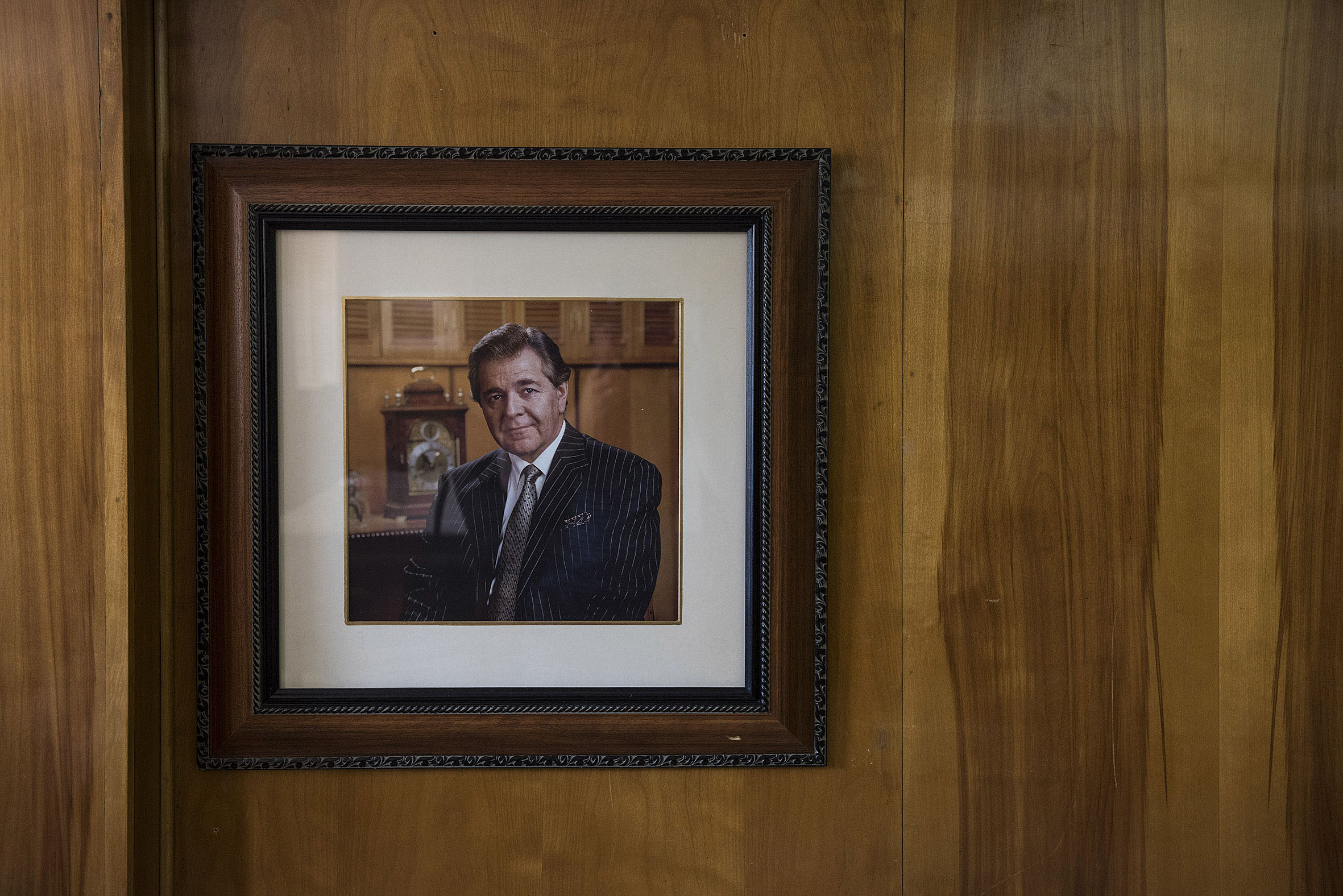 [Houses were replaced with restaurants and the company, started by Bernard Shub, was sold (David Harrison)]
In 1948, he completed the second Rex Trueform building in Salt River, which stands directly opposite its sibling. That building would become the iconic Rex Trueform factory, where families such as the Lombards were employed.
Although Policansky broke some rules, he obeyed others. His buildings, particularly the 1948 one, helped to formalise segregation. The factory staff would enter from Manrose Street, whereas the mostly white administration staff would enter on Victoria Road, at the front of the building.
Lombard's partner, Richard Bobbs, is an old-timer at the company. He was one of those who used to enter from Manrose Street but for him it was never an issue: there were so many workers that separate entrances for the admin and factory staff made sense.
At the age of 68, Bobbs is still working as a driver for Rex Trueform. He spent most of his 51 years there working on the fourth floor of the factory as a sleeve setter. Lombard and Bobbs never met during their time at Rex Trueform, and formed a romantic relationship only years later. But they worked there together at some point without knowing it. Bobbs still remembers the separation that existed. "We were just in all the floors of coloured people, you know, coloureds working on the production floors. We weren't in accounts, so we weren't among accounts people," he recalls.
More and more coloured people began to move into Salt River and Woodstock under apartheid. The area was divided between white people and coloured people, with most staying inside the carefully drawn boundaries that had been decreed.
"When they brought that modernist aesthetic here, Policansky had to abide by the conditions of coloniality here," says Ilze Wolff, the co-director of Wolff Architects in the Cape Town city centre.
Wolff prepared a heritage statement on the factory building in 2012. It was later accepted and the building has since been declared a heritage site. She is currently preparing to release a book on the buildings. For Wolff, the factories in Cape Town are entwined with the histories of coloured families.
"My grandmother worked in somebody's house until the day she died. My other grandmother was in the factories. It's a completely different situation. I benefited from both grandmothers and the reason I'm sitting here and own a building in Bo-Kaap, have a practice, have an education, is because those two grandmothers had access to a place like Rex Trueform," she says.
A place like Rex Trueform was, for young fiery-minded activists such as Wolff, a place of exploitation. But for Lombard, it was the kind of workplace that offered her opportunity.
Her job, however, wasn't easy. Time was regulated strictly in the factory, and she had to keep track of the clock cards. Workers would punch in at 7.45am and then out at 1pm for lunch. They would have 30 minutes before they would have to clock in again at 1.30pm. They would then clock out at 4.50pm unless they were working overtime. If they were late, the lost time would result in money docked from their wages.
"It was a bit harsh. Because we got some of them and they were very rude at the end of the day and we had to face them if they had any queries. They would throw their packets in your face or whatever if their card was incorrect," Lombard says.
As the years went by, a more reliable and modernised system was implemented to replace clock cards. During that time, the workers would go on strikes, they would
sew the suit Nelson Mandela wore when he was released from jail, and listen closely to his speech in 1993 when he came to ask for their votes.
But despite these moments that promised political freedom, a new threat was waiting. Just before the weight of international sanctions clamped down on South Africa, Rex Trueform opened a retail store that helped to increase its profits. It was called Queenspark and, although the workers didn't know it at the time, it would be Rex's future.
In the age of transformation
In 2005, Lombard was at work when she noticed that every manager in the company was in a meeting. She had heard that they had called one another to meet, but had no idea what it was all about — until the workers were informed the factory was shutting down.
"I always thought here you wouldn't get fired unless you do something wrong. I thought that here you won't be laid off because this place is so solid. I never in my life dreamt that they would actually retrench," she says.
The Shub family said it could no longer compete with cheap imports and needed to focus on Queenspark. The name Rex Trueform is still there on the building but its manufacturing operations, like many factories in Salt River, have been obliterated.
On June 14 2005, factory workers bade farewell to the company tearfully, filling up the streets outside the building one last time.
"I was just scared because all I could think was 'Where do I go from here? I know nothing else'," Lombard says.
In that same year, another development was to have a lasting effect on Salt River. The Old Biscuit Mill was bought and redeveloped to set the foundation for the upmarket Neighbourgoods Market. The old heritage mill would host business tenants, such as designers and architects, and be the site of a well-known Saturday urban market where the Cape's cool kids could congregate over trendy foods.
For Lombard, the retrenchment was a gift in disguise: she had bought a house in Kitchener Street, Woodstock, soon after her husband died from pancreatic cancer in 1990. She bargained the owners down to R106 000.
Her bond was less than R1 000, and when she received her retrenchment package she was able to pay off what she still owed.
Lombard now works as a bursar for a primary school in Woodstock. She has witnessed the changes taking place in the community, and she has also seen how Rex has changed. She no longer believes Rex Trueform exists, saying that the company is now known as Queenspark.
But the company has kept its name for all these years, even as it made more pressing transformations to match the expectations of the times.
Bobbs says: "We never had so many black people in the company those years. But now the last couple of years back, they are employing black people. That is what they want now, you have to employ. You have to have. Which is good, because
they also got to have some work."
The Shub family, after 80 years in control, has also relinquished its hold on the company. Three months ago, Marcel Golding, a unionist-turnedbusinessperson, bought the family out. After eight decades, a business that had relied on the labour of coloured workers now has a black economic empowerment business, Golding's Geomer company, as its controlling shareholder.
Rex Trueform is now on the cusp of yet another big change. Golding has a vision for the company's future that he hopes will keep shareholders happy.
What he plans is that Rex will become an investment holding company, and that industries such as tech, health and engineering will form part of the company's portfolios.
"One's got to make it commercially viable. These are assets that have been there for a considerable period of time. And there are heritage considerations but, at the same time, you have got to make it viable. So, we have got to find the right balance," Golding says.
A city still fighting
The changes coursing through Salt River and Woodstock mimic the story of the Rex buildings themselves: one has been redeveloped, with a new Queenspark head office and an office park for tenants where the factory was; the other remains empty, a requiem to the families who have said their goodbyes. Its windows are broken and graffiti mark its walls. The entrances and exits have been locked up. No one is allowed in.
Golding knows the struggles of rising property prices and the demand for the Salt River/Woodstock node. Close to the inner city and a hit with a younger generation of urban wealth, the two suburbs are filled with opportunity.
But he also knows the older Woodstock that existed back in the day when people were still lawfully segregated. Golding lived in Greatmore Street when the suburb was racially split.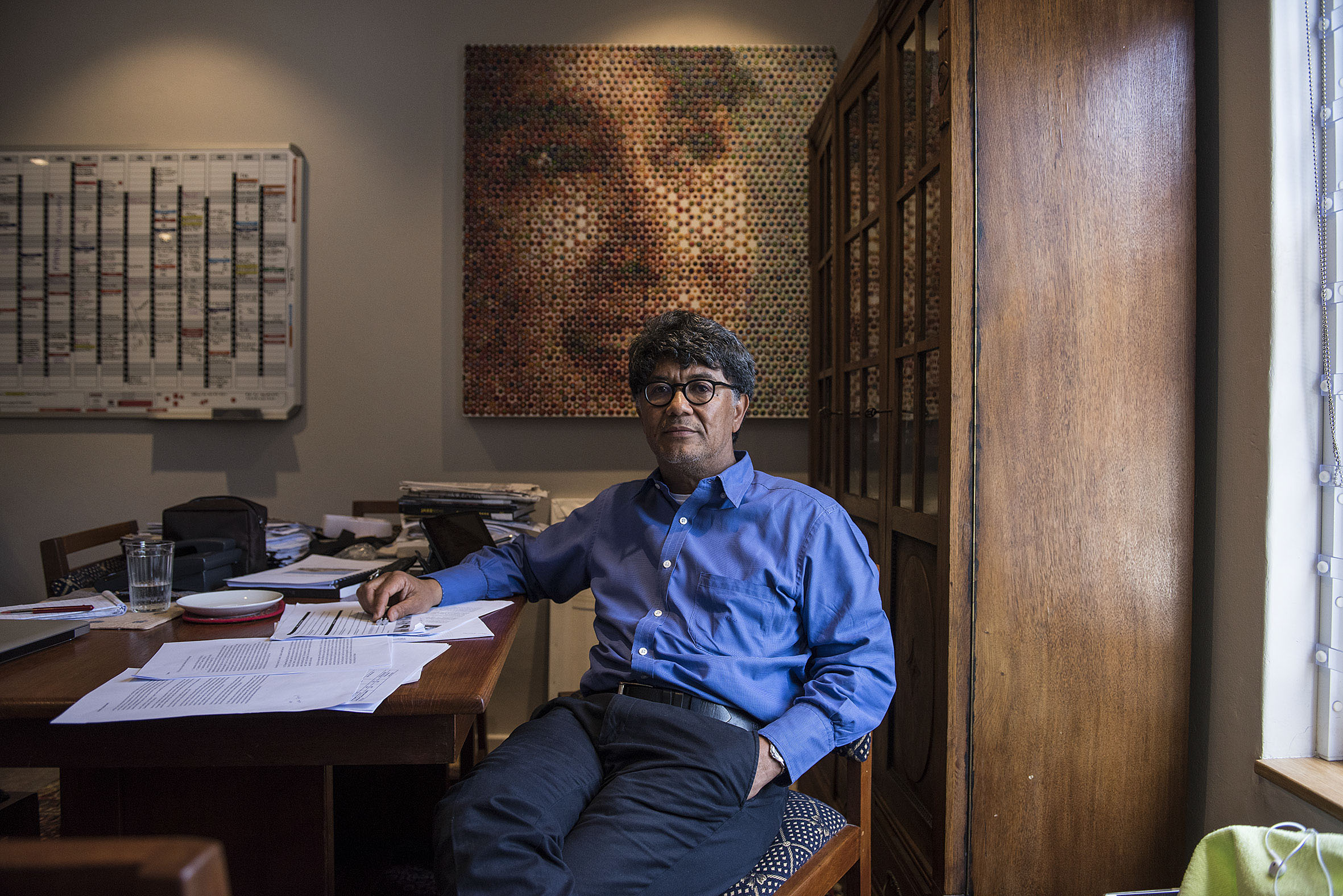 [Marcel Golding a former resident, recently bought the building and a new fate awaits it (David Harrison)]
His history with Rex Trueform is also intimate. When he became an MP and attended the opening of Parliament in 1997, workers took the time to make the former unionist his first summer suit.
The architects of Rex Trueform created a building and a company that would hold the fate of generations of families. For these families, who live in Salt River and Woodstock, the era after apartheid would disrupt their lives in ways they never anticipated.
The City of Cape Town has been forced to build social housing in areas near the inner city after housing pressure groups such as Reclaim the City protested earlier this year. Local newspapers were dominated by coverage of a group of families facing eviction from Bromwell Street in Salt River. Their rented homes had been sold to developers who plan to build a block of flats.
"They selling the antique furniture and everything, you name it. What's the name of the place at the bottom? Oh, ja, the Biscuit Mill. They have also got major things in there," says Lombard.
"I don't have a problem with all the shops opening but the thing is people there were renting [houses]. They were put out for them to make a shop there. In Roodebloem Road, that was all houses. There's now restaurants in all the houses and those people were paying rent had to leave."
Wolff proposed a plan to the Shubs when they were still the owners, which would have seen the vacant property being used either for social housing or as a tenant space for small black businesses.
"We actually worked out a scheme where they can benefit financially from that," Wolff says.
Golding is not yet sure what will happen to the building but, as part of Rex's assets, he wants it to be functional. He may lease it or use it in another way that will once again allow it to be operational for the business.
But Golding and Wolff agree that regulations need to be in place to protect small businesses and families in the area.
As the company looks towards a new future, like some residents contemplating their fate of probably having to leave their home, those who still remain at Rex wonder what will become of them without it.
"If you give them my name, they will tell you the person I am. You really get old in this company. I remember there was also somebody that was a driver. He used to drive the chairman from the company and he finished off at 74. He wasn't long when he was at home and then he was a goner," says Bobbs.