Cape Town, a parched city of rain worshippers and opposition contrarians, has in the past few years been refashioning itself as an art destination. New museums and art institutions have opened new spaces, among them the Zeitz Museum of Contemporary Art Africa, A4 Arts Foundation and the Maitland Institute.
Even the Cape Town Art Fair, a ropey spectacle in its first few years, has grown up. Last year, it secured a credible artistic director in curator Tumelo Mosaka, a worldly traveller with American museum experience, and recently bagged Investec as its title sponsor.
A noteworthy feature of this year's fair is its concerted focus on young women. Lungiswa Gqunta, Turiya Magadlela and Sethembile Msezane — all exciting talents with career momentum — have been commissioned to contribute new installations about "the everyday lives of contemporary women".
Guest curator Nontobeko Ntombela has also produced an all-women exhibition for the SOLO section of the fair. The line-up includes Buhlebezwe Siwani, Pamela Phatsimo Sunstrum and Lhola Amira, a creative alias for Khanyisile Mbongwa, a founding member of the pioneering arts group, Gugulective.
Behind this selection is an accumulating number of social frustrations. They are summarised in a new viral language: #BlackLivesMatter, #RhodesMustFall, #FeesMustFall, #WhitePrivilege, #MeToo, #TimesUp, #MenAreTrash.
These hashtags are not abstractions; they speak to real-life experiences.
"Our parents and grandparents were promised so much but given nothing," said Siwani in 2016. "The youth want their refund."
She works in the uncompromising tradition of Tracey Rose and Berni Searle. As she once explained, her practice involves placing "the black body" in front of viewers, "without it owing anyone explanation of it existence".
Siwani is not alone among the women artists at the fair to be blessed with an acute understanding of the times. In April 2015, when administrators capitulated and removed artist Marion Walgate's unctuous study of Cecil John Rhodes from the steps of the University of Cape Town, Msezane put on a beaded headdress and feathered arm adornments and posed — arms outstretched, her back turned to the action — on a mobile plinth. It was a remarkable act of artistic witnessing.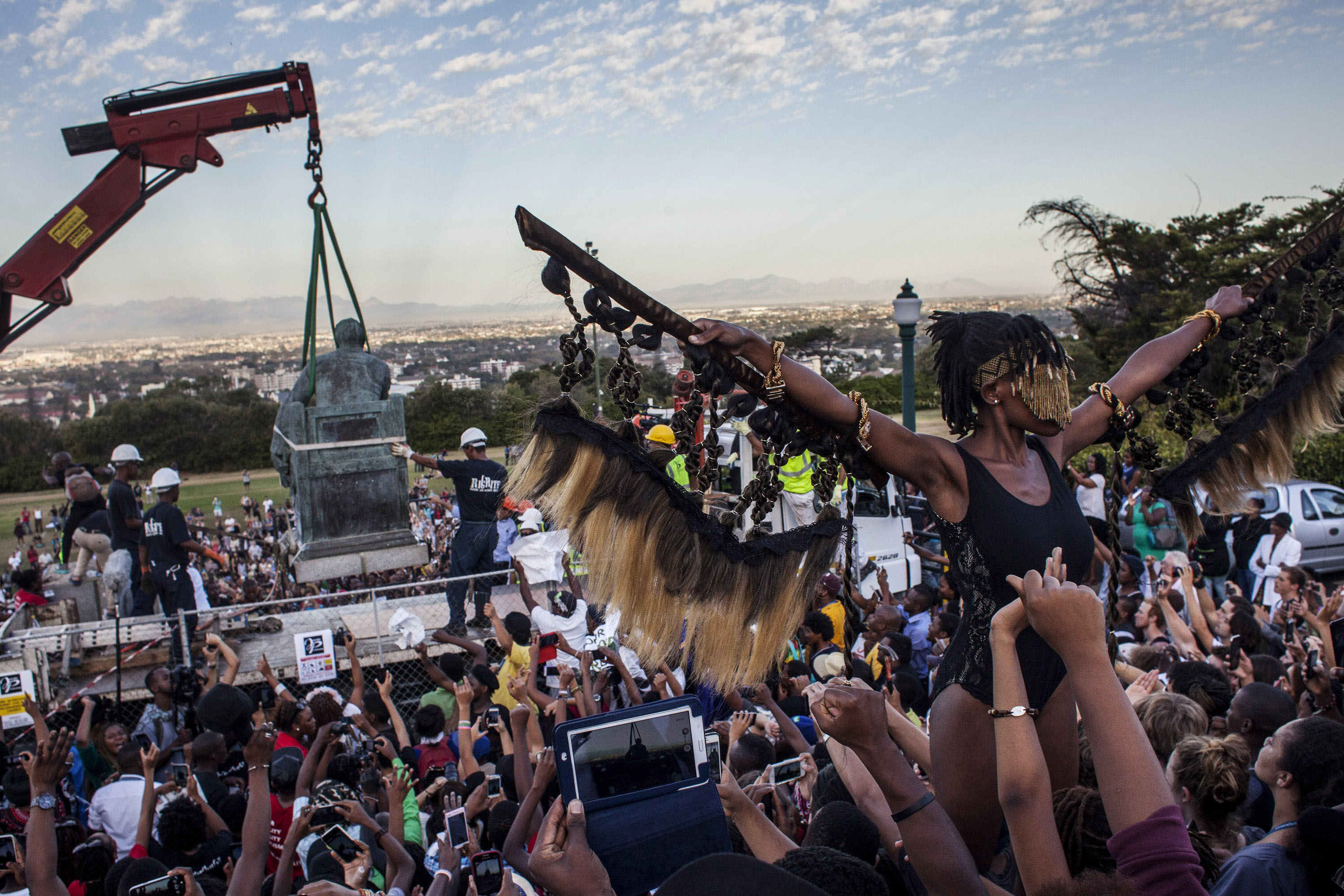 [Artistic witness: Artist Sethembile Msezane at the removal of the Cecil John Rhodes statue at the University of Cape Town (Photo: Charlie Shoemaker)]
In a crude telling of history, the origin of the Fallist movement could be reduced to a complaint about the University of Cape Town's taste in art. After all, it was the 2015 activism surrounding a bronze sculpture that drew attention to long-simmering student complaints about transformation and finances.
The ensuing activism not only toppled sculptures and carbonised paintings, it has transformed sedentary debates around everyday life and national culture. For the most part, though, this activism was been met with trepidation by Cape Town's gilded art institutions.
But for a thrilling 2016 colloquium on decolonisation and the creative arts organised by art historian Nomusa Makhubu at the Institute for Creative Arts at UCT, I can think of no sustained attempts by local art institutions to make sense of this new phase in our long-roiling culture wars.
The Cape Town Art Fair and Zeitz MoCAA, both privately owned initiatives, have noticeably tiptoed around the subject. This is to be expected. Both institutions are founded on the logic of domestication rather than decolonisation. This process of taming, or subjugation even, sometimes requires art administrators to engage in strange acrobatics.
Take, for example, the awkward public negotiations between the organisers of the 2013 Jo'burg Art Fair and artist Ayanda Mabulu after his painting was briefly removed from view. The polemical painting, which speculated on President Jacob Zuma's perceived role in the Marikana massacre, was censored for fear of offending a state sponsor of the event.
Of course, this brief quarrel involved a fair amount of showmanship by Mabulu, who is also not alone in conflating righteous argument with career opportunity. Take, for instance, Gqunta and Msezane. Both are members of the all-women collective iQhiya. During their first brush with success, in 2016, iQhiya performed at the Jo'burg Art Fair. Was this wrong? It is a matter of perspective. Artists, even politically conscious black artists at the fighting edge of decolonisation, are often complicit in a shape-shifting game, one in which they are also increasingly at the mercy of a privatised art market.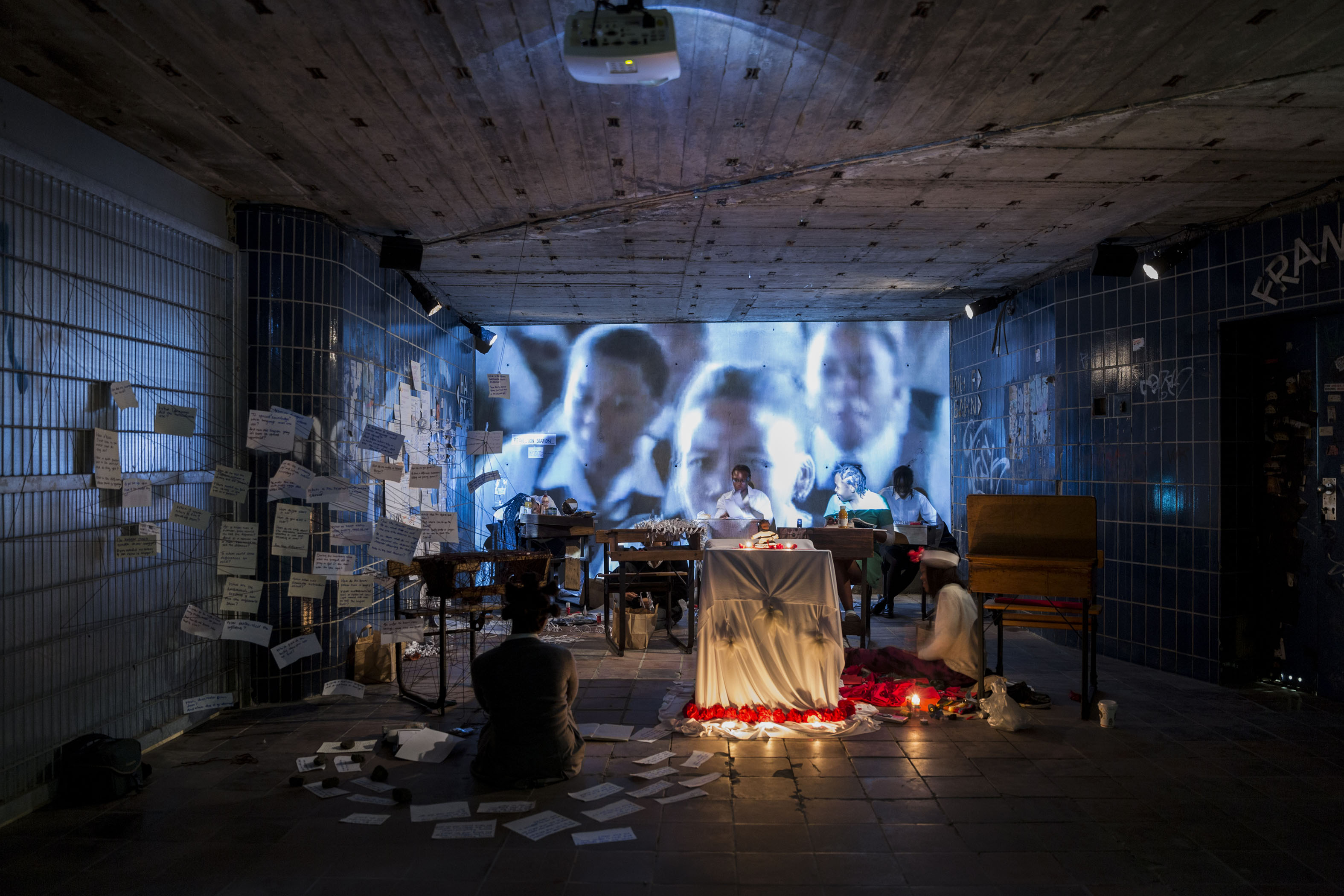 [Monday", Performance, Installation and digital video in Former Underground Train Station in Kassel (Fred Dott)]
"The rise in the number and importance of art fairs has been one of the most significant trends in the art market in recent history," according to a new art market report commissioned by fair organiser Art Basel and its long-time sponsor UBS, a Swiss financial group.
In 2016, the most recent year for audited results, global art sales at art fairs alone totalled R154-billion, up 5% year on year and 57% since 2010. The art-fair model is an economic juggernaut. Its presence and also impact is now unavoidable. Young artists list appearances at art fairs in their CVs. Galleries have increasingly taken on public museum functions. Witness Stevenson's soft collaborations with the Maitland Institute and the Goodman Gallery underwriting an exhibition by Ghanaian artist El Anatsui at the South African National Gallery, its opening coinciding with the art fair week.
On one level, art fairs have pluralised the possible venues for registering early success. Where previously a museum or biennale show functioned as a peer-reviewed mechanism for acknowledging young achievement — for example, Cape Town artist Haroon Gunn-Salie's appearing on the current New Museum Triennial in New York, or iQhiya being invited to last year's Documenta 14 — selection for an art fair is now increasingly brag worthy too.
There is a difference, though. Museums and biennales nominally stand at a distance from the market, although this is a fragile truth. Arguably art fairs have stripped away this pretence of virtue: everything on view is for sale at an art fair, potentially even a social revolution.
I'm being purposefully churlish. It requires wilful blindness to overlook the asymmetries that underwrite visibility, let alone success, in South Africa's increasingly privatised art world.
Far from being self-congratulatory jamborees for the rich, art fairs — along with private museums and galleries — have become defining crucibles of culture. We resist them at the peril of our own obsolescence. This general ceding of the cultural commons to private interests at a time of intense agitation over the meaning of nationhood may yet emerge as the next flashpoint in our unresolved culture wars.