The Palais de Tokyo in Paris is hosting an exhibition of work by Bronwyn Katz. This is the artist's first international solo exhibition since two shows at blank projects in Cape Town.
Katz (25) is a founding member of iQhiya, an 11-women artist collective who performed at documenta 14 last year.
In the months leading up to the exhibition, Katz, who is based in Johannesburg, was a recipient of the Sam Art Projects residency in the French capital, nominated by Marie-Ann Yemsi, who curated her latest exhibition, A Silent Line, Lives Here, at the Palais de Tokyo.
Since its inception in 2002, the Palais de Tokyo has established itself as arguably the main contemporary art space in Paris.
Katz's sculpture is quite distinctive in the South African art landscape. Abstract and poetic on the one hand, it is also deeply symbolic on the other.
The artist initially appropriated a found mattress in its entirety (stains and all) in the gallery space in her first exhibition Groenpunt (2016) with works such as Blommetjies, à la Marcel Duchamp. Poetically titled, Nicoletta Michaletos wrote in Art Throb in 2017 that "it manages to imbue the work with an ultimately tragic character, effecting its dual personality as a pitiful ruin but with the life-affirming charm of little flowers".
In works like Droom Boek, from her second exhibition Grondskryf (2017), one still recognises the form of the bed springs and sponges attached to them, which hint at a more nonrepresentational direction.
In Paris, she cuts the figurative umbilical cord, resulting in new abstract forms, unrecognisable from whence they come.
In Here, a Line is Drawn (2018), she draws with the thick bold outline of a metal bed frame. In contrast, the nondescriptive Untitled, Notes on Perception (i) is a lyrical triptych of transparent lace curtains in thin vertical metal wire lines, intermeshed with softer horizontal zigzag lines in rope. The staid old materials are given new artistic life.
Of the three other contemplations, Untitled, Notes on Perception (ii), (iii) and (iv), with (ii) resembling the style and lightness of (i), (ii) and (iii) are thicker free-standing sculptures in metal, cotton and rope placed directly on the ground, giving the sense that the artist is enjoying the tactility of the materials and a new-found confidence to play.
Château Vert (2018), sketched with salvaged bedsprings, is not easy to look at. It resembles a prison courtyard fence, albeit closed only on three sides, and sits clumsily in the centre of the space. But there is something aesthetic in the detail of the incongruous juxtaposition of mild steel mesh and withered green cotton.
The work pays homage to the area known as Château Rouge in Paris, says the artist. "It refers to those spaces where people seem to have multiple identities. They carry their own identity as well as a French identity, without them having to choose a dominant one.
"Some people I spoke with in these spaces were interested in integrating and standing out as little as possible. It's about access and about knowing my limits to these spaces."
A stone-and-wire triptych hanging from the ceiling, Under the Barbès Bridge (2018), completes the exhibition and is strikingly different from other works in the artist's oeuvre. It was made while Katz was in residence in the Netherlands earlier this year and the work is intended to evoke the inaudible plight of immigrants there who are pushed further out of the cities.
Katz's drawings also carry the silent histories of those displaced at home.
Yemsi's curatorial statement provides further clues. "The worn mattress, as a central figure of her work, also alludes to forced movements and the current economic difficulties of a large part of the black population of South Africa."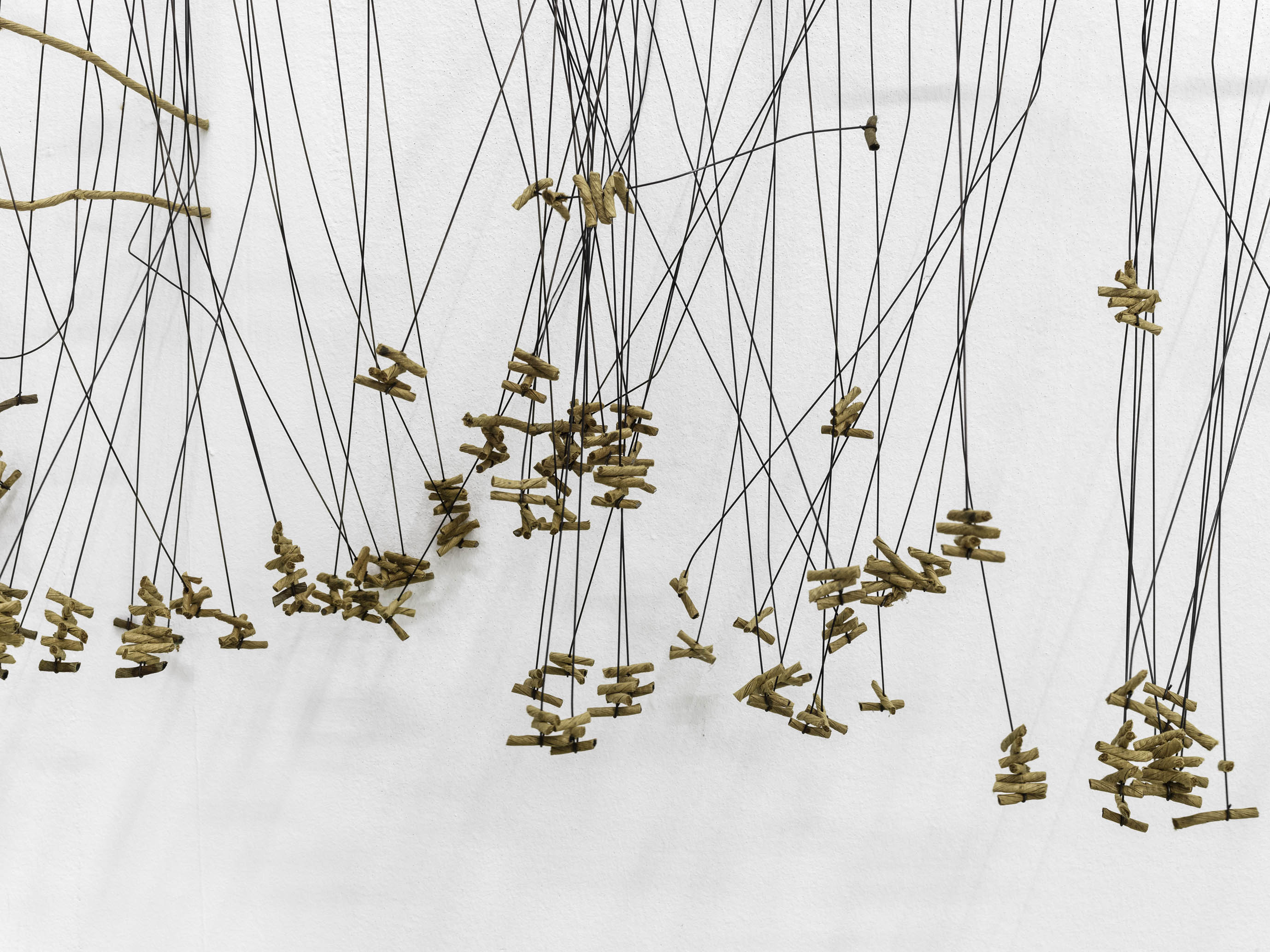 'Untitled, notes on perception (i)' (2018) (André Morin/Palais de Tokyo)
Without delving too much into the discriminatory land legislations of the past, it is not uncommon today to see the hangover effects of this, when mattresses lie in the streets of downtown Johannesburg and the city's suburbs of Hillbrow and Yeoville at the end of every month.
Intrigued to know more, I caught up with Katz at the Palais de Tokyo.
Tell me a bit about the theme of your exhibition.
It's about being in a new space and encountering barriers and blockages. How much do I take from here and how much do I assert of myself? Coming directly from a multilingual space like South Africa, where everyone speaks English but where we can appreciate people with different accents and from different backgrounds … so, it's about me drawing a line and saying this is as far as I go. My not wanting to learn French is an example of that. I know that it may stop me from accessing some nuances but maybe that's okay.
How would you describe your work produced during this time in Paris?
Here, I'm experiencing being a minority for the first time, being part of the African diaspora and having a different experience of being black. It's a discovery of the similarities and the differences of being black.
You speak about "drawing the line" and I read multiple meanings of line in your work. There is the imaginary "silent" line you're not prepared to cross but your exhibition is also very much about drawing the physical sculptural line in metal and wire, which is characteristic of your earlier work with mattresses.
Most of the artworks are created from salvaged beds. There are parts of the bed that no one sees or recognises. The artworks in this exhibition are in different stages of deconstructed beds. Some are more worn in. I take my cues from the materials and push it further, accentuating the residue. For example, where there is a bend, I exaggerate this. Once the material is deconstructed, I try and bring back the human connection with the material.
Tell me a bit about the development of your work thus far.
A lot of it is due to economic reasons. Initially in Cape Town, I was just buying foam from the stores and working with this; it was the most affordable material. Then people offered me beds and I started to experiment with different parts of the bed, with the metal springs and dents in the material. You can see this in my earlier work like Blommetjies. When I moved to Johannesburg, I didn't have to look for beds — the material was found on the street and specific parts of the city. I adapted to what the different cities offered me.
Could you explain the symbolism of working with mattresses?
I was living in Jeppestown. A lot of my neighbours were not able to afford the slightest increase in rent. The beds were burnt because it's too big to carry to the next space. Some people were not from Johannesburg. I knew a woman who had to go back to KwaZulu-Natal because she could not take her bed with her. We can talk about the life of a mattress — a trace and a map of whom it had belonged to before — in a very abstract way. In some ways the mattresses look like maps of a place or a landscape, a topographical view of an area. I named these artworks after places, some imaginary, some real … mostly fictional but typical-sounding South African place names.
Tell me a little bit about your background.
I grew up in Kimberley. My dad has a keen passion for metal; he worked for a company that made metal gates and I have always had a relationship with the material because of him.
Would you describe your work as political?
I remember when I was studying at the Michaelis Art School at the University of Cape Town, some students made work about clowns and butterflies, etcetera, but there are structures in place that remind you of your blackness, so it is difficult for me to make work about butterflies, even though there is something poetic about the way the butterflies flap their wings. There's room for both, I guess. With the world that we live in it feels difficult for me to imagine that politics does not affect the art world; that art exists in a vacuum. My work is very quiet. It links to my personality as well in that it makes a statement in a quiet way.