The gangs and merchants of Hanover Park were given a warning in 2015. In the homes where they lived, and in the drug dens where the lives of young people were stolen, they were confronted by brave parents and residents who would no longer tolerate the onslaught of violence in their streets. It worked for a little while.
Now, as people around the Cape Flats once again try to invigorate a spirit of resistance against gangsters, they are facing similar problems that saw the Hanover Park resistance movement fade into obscurity.
Mansoer Arendse (43), remembers when he could inject fear into gangsters.
"They shot a four-year-old in the head, so we decided we are going to each and every merchant. We went to go talk to them. We went to go see the gangsters and we told them: 'If we catch you, we're going to take you to the police, then we're going to follow up on what is happening with you, so the system doesn't let you go.' It worked so well," Arendse recalls.
Three years ago, when gang violence had stained the streets of Hanover Park with blood, Arendse founded the Hanover Park Society, which began as a campaign to purge gangsters from the area by delivering any youngster found to be involved in gang activity to the cops.
But then local politicians began to notice the society and held meetings with its members, Arendse says. There were photo opportunities and promises that money would be pushed into uplifting Hanover Park.
"Afterwards, people started to politicise it [the campaign] and it just crumbled," Arendse says.
Arendse distanced himself from the society, and residents of Hanover Park became despondent.
Arendse knows violence and grief intimately. His 17-year-old son was stabbed to death two years ago, and his friends were killed in gang-war crossfire."I grew up here. I know a lot of hard-working guys that I went to crèche with that was shot. I've lost friends that were not even gangsters, whose kids are now fatherless," he says.
Now, Arendse has joined a new campaign — a shutdown movement that has spread through the Cape Flats. Bonteheuwel, Kensington and Ottery were scenes of protest action on Tuesday as residents attempted to close off their areas and blockade major arterial roads during peak hour traffic.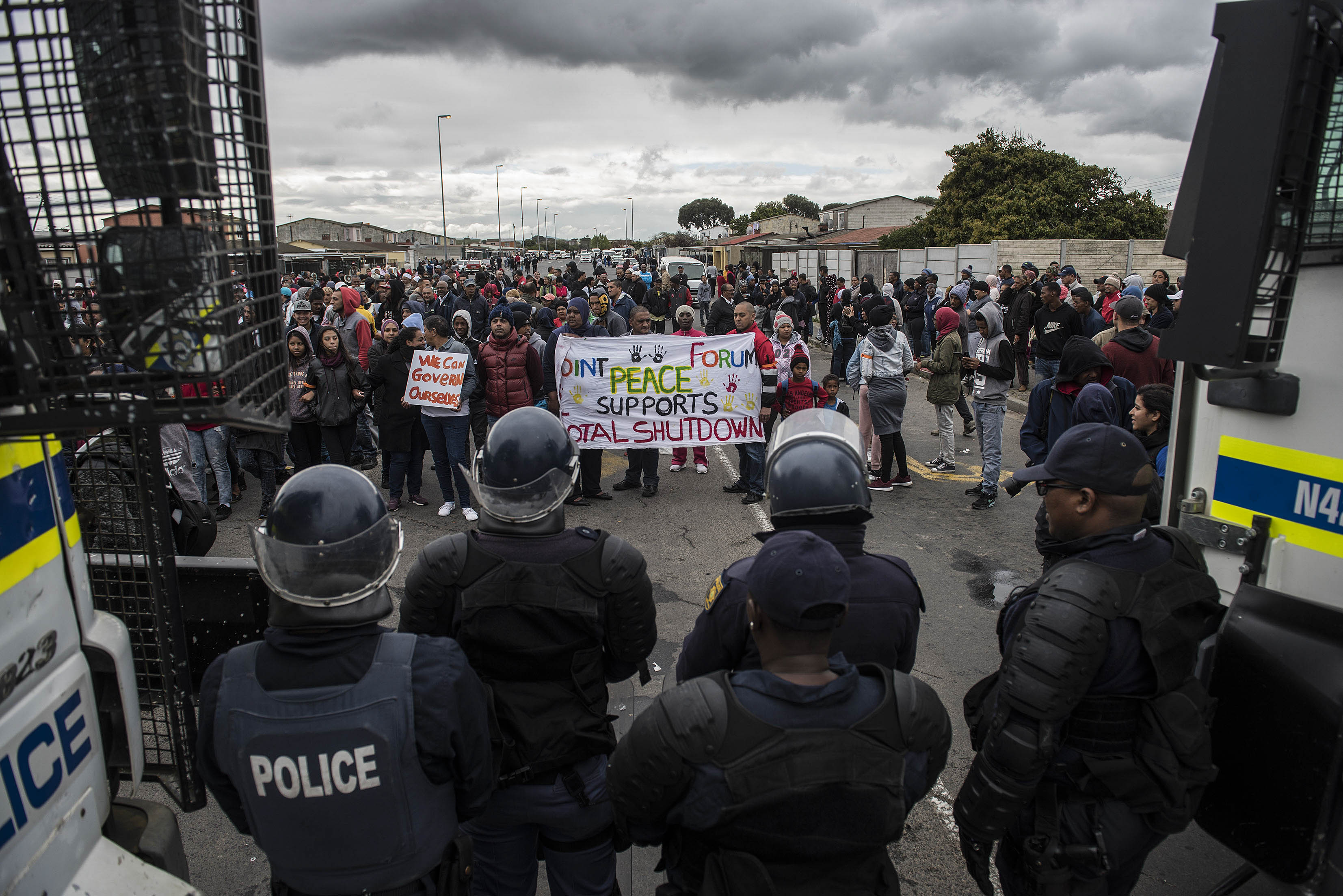 Residents attempted to close off their areas during the shutdown movement. Photo: David Harrison
A Western Cape-wide shutdown had been promised; instead, there were only protests in Hanover Park, Bonteheuwel, Kensington and Ottery. The movement — which also spans Langa, Nyanga, Mitchells Plain, Manenberg and other neighbourhoods — sought to disrupt the economy by blocking roads between 5am and 10am on Tuesday and disrupting peak-hour traffic.
It was a show of mass action that had not been seen since residents of the Cape Flats united against apartheid in the 1970s and 1980s. Many people recalled the apartheid police tactics as they faced off against stun grenades, teargas, a water cannon and arrests in Bonteheuwel.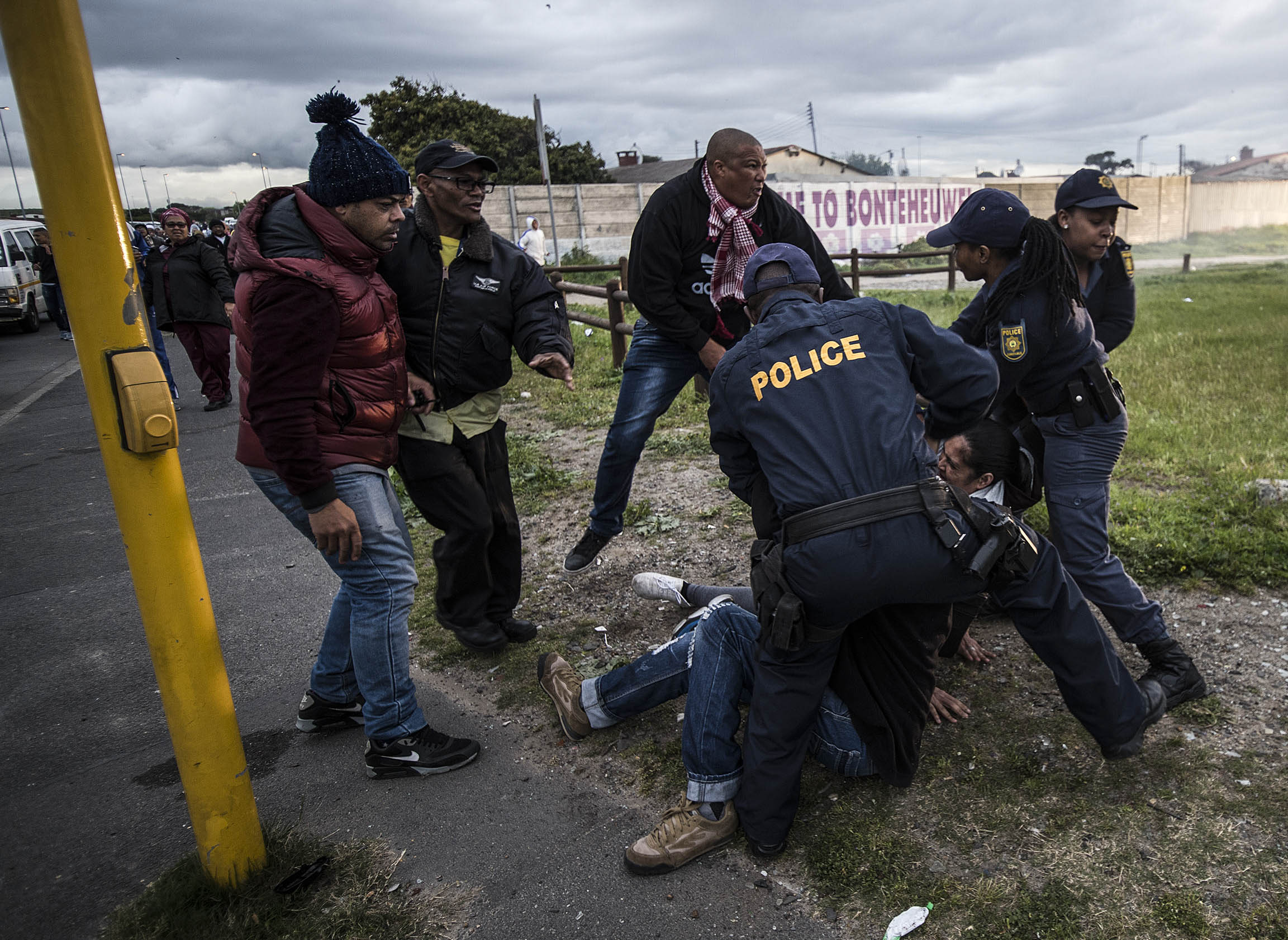 Protesters faced off against stun grenades, teargas, a water cannon and arrests in Bonteheuwel. Photo: David Harrison
In the mid-1990s, as people's frustration with gangsterism grew, their desperation gave birth to the People Against Gangsterism and Drugs (Pagad), a grassroots organisation of residents,later dominated by Muslim religious groups, who took up the mantle to fight drug-peddlers and gangs.
The group would turn increasingly violent, reaching a crescendo with the public execution of notorious Hard Livings gang leader Rashaad Staggie, an action that made headlines worldwide. After Pagad burned Staggie alive, the group was celebrated — but also condemned as too violent.
Protesters this week have vowed to be peaceful. They were angered by the presence of Pagad members at protests in Bonteheuwel in August.
But it's no longer only gangsters the residents are fighting — a political squabble has overshadowed their demands for justice.
"You have to be incredibly daft to think it's apolitical," JP Smith, the Democratic Alliance's mayoral committee member for safety and security, said in response to the protests. "For alleged civil society organisations, they all have well-produced banners and T-shirts and, lo and behold, there's a very significant commonality between the design of these."
Smith has accused Tuesday's protests of being organised by labour federation Cosatu, and therefore by its alliance partner, the ANC.
"Can the real ANC just stand up and be grown-ups already? When you're doing politics under disguises and behind fronts then you're busy with dishonest politics," he said.
Although he mentioned details of what transpired in the meetings of protest organisers, Smith denies that any of the city's safety and security units were involved in spying on the meetings, as some organisers have alleged.
Manenberg resident Roegshanda Pascoe stood up during a meeting, at which Cosatu members were present, to accuse Smith and law agencies of attempting to gather intelligence. Smith has denied the claims and sought to discredit Pascoe's role in the protests.
Pascoe and residents in Mitchells Plain, Strandfontein and other areas have begun a movement separate to the shutdown movement of Tuesday. Although the two groups have the same goal of purging the Cape Flats of gangsters, and have both pledged to be apolitical and nonpartisan, their methods are different. Pascoe — with help from Cosatu — has obtained a permit for a protest march to Parliament on October 3. The organisers have asked Cosatu to be involved because they want to use legal means to bring the economy to a standstill. The shutdown movement has dismissed using permits, arguing the city would not permit the economy to be shutdown.
"We know that police and the city are out there to provoke and get us locked up and criminalise us. I'm not going to allow them to use my pain to criminalise me," Pascoe said.
Cosatu has agreed to work with the organisers of the October 3 march and has filed a section 77 notice at the National Economic Development and Labour Council (Nedlac) because members of unions have been affected by gang violence.
The first meeting at Nedlac was due to take place on Friday, at which four representatives from the October 3 group, Cosatu and members from all spheres of government would discuss a solution to the dispute. If a solution was not forthcoming, Malvern de Bruyn, Cosatu's provincial secretary, has said the union would obtain a permit for a mass strike by its members.
"The march was not a Cosatu march. We are not part of any of those meetings. So, we are quite surprised that JP [Smith] can make such statements in the media," De Bruyn said.
He said that Cosatu had, however, been part of the meetings for the October 3 protest and it would only endorse a march that had a legitimate permit.
"We will never risk our members' jobs to involve ourselves in illegal protests. We support the call of those communities to stand up against crime, because of what's happening in the communities. Yoh. You don't even know how to describe it," De Bruyn said.
Everyone involved in the protests has a story. Alicia Dooling remembers her grandmother crawling across their house in the late afternoon, begging her not to come home from work because the gangsters in Kensington were shooting.
Dooling was one of the organisers of Tuesday's march in Kensington.
Nadia Mayman de Grass in Bonteheuwel won't let her son walk out of the house unless she is with him and has sent him to a boarding school out of fear that the gangs would target him. De Grass cried as she spoke of how police had treated protesters during a public meeting with Police Minister Bheki Cele on Wednesday.
In that meeting, Cele asked Smith and Bonteheuwel ward councillor Angus McKenzie to leave after residents angrily jeered at the two. It was a moment when Cele, an ANC member, kicked out Smith, a DA politician, at a time when crime in the Cape has become an important focus of both parties' election campaigns for 2019.
Smith believes that the protests have unfairly targeted the City of Cape Town for failing to address gang violence, whereas protesters have argued that the police and the city are responsible for not containing the violence.
For Arendse, the memories of grassroots protests becoming politicised are all too clear. As these latest protests have become embroiled in political spats, the gangs are left untouched, he says.
"Cases were made against protesters for public violence. Now what do you call guys that shoot you in the street every day?" he asked.
"We're not complaining about anything, but at least if we're poor, let the police come and do their jobs. Let there be safety for us."