Government officials including Basic Education Minister Angie Motshekga, Eastern Cape premier Phumulo Masualle and other members of the provincial executive descended to the East London home of education MEC Mandla Makupula on October 9 to mourn his death. Motshekga said she has been aware of his health issues and had encouraged him to take it easy. She said she constantly gave him advice on the kinds of treatment that he should consider.
He has been attributed with bringing stability to the crisis-riddled Eastern Cape department of education and laying the foundations for improving the state of education in the province.
Part of the department's effort to improve things was to rope in four Cuban education specialists, to help turn the province's disastrous maths and science results around.
Another challenge the department was faced with was reducing its district offices from 23 to 12. The process was achieved in a short period of time.
"He [Makupula] ensured that we fill the posts so that their administration was functional," said provincial superintendent Themba Kojana.
Motshekga said the work that Makupula had done for the province was beginning to pay dividends.
She said the mother tongue-based bilingual education (MTBBE) will be rolled out to other provinces where the isiXhosa is taught. "He has introduced the reading culture in Eastern Cape; the province has translated books from other languages into isiXhosa that are used by readers in primary schools."
Over the years the Eastern Cape department of education has been hampered by resignation of educators. Many educators leave the classroom in order to cash in their pensions, then reapply to rejoin the system after a year or two.
The department of basic education offers a bursary called Funza Lutshaka for those intending to pursue teaching, and Makupula introduced a provincial department of education bursary called the Matthew Goniwe Bursary for Educators.
"He regarded Matthew Goniwe as the embodiment of teaching; he used to say Goniwe was everything teachers should aspire to be," said provincial department of education spokesman Malibongwe Mtima .
Makupula was known for his detailed and thorough work methods. Kojana said: "We used to meet weekly so that he could understand what was happening with administration and so that he was able to provide his strategic guidance."
He described Makupula as someone who was very meticulous, who had to satisfy himself with every detail of information he received from the officials.
"He would go to an extent of calling officials of the department when he needed clarity on something," said Kojana, who added: "We're no longer having problems of strikes by teachers, because his door was always open for engagement. He simplified difficult problems."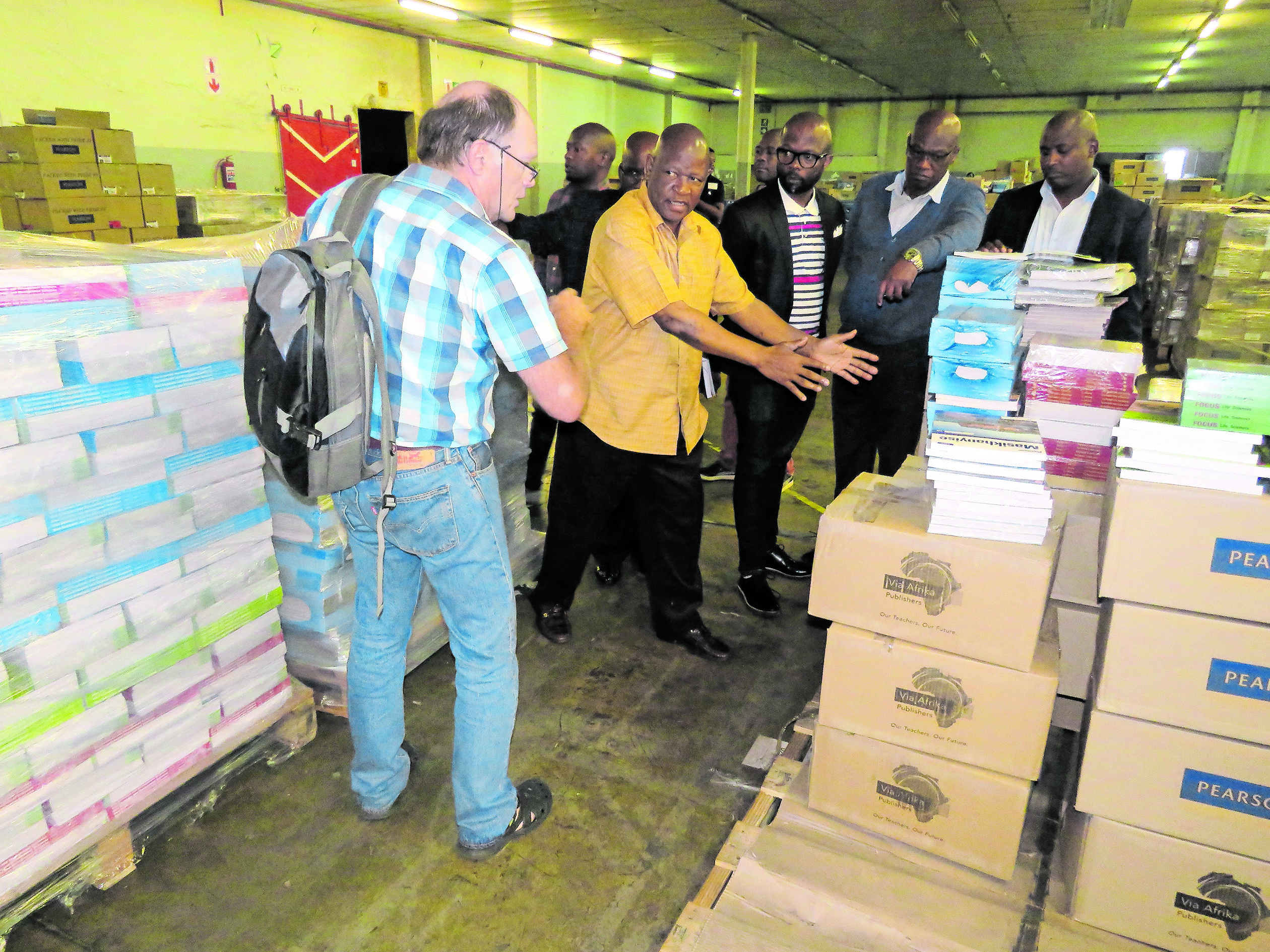 MEC Makupula during a visit to the Central LTSM warehouse in East London
Despite Makupula's passion and determination to make education accessible to everyone who needs it, poor matric results continued during his tenure and that put him at odds with general public and education activists.
Masualle was put under enormous pressure to fire Makupula, as the province failed to crack its target of a 70% matric pass, year after year. Even at the beginning of this year, there were speculations that Makupula would be axed in the muted provincial cabinet reshuffle.
The African National Congress in Eastern Cape elected new leadership at the beginning of October last year, in a controversial conference which was abandoned by some delegates after delegates attacked each other with chairs. Although the validity of that conference is being challenged, the election of Cyril Ramaphosa as ANC president during the party's 54th conference in Nasrec boosted the provincial leadership, which had rallied behind Makupula.
On the sidelines of the celebrations of the provincial matric top achievers in East London, Makupula was asked about the provincial cabinet reshuffle and speculations that he was among those facing axe. His response was: "I wouldn't know, you guys [the media] are always the first to know these things."
When asked how he felt about his decision to keep Makupula amid calls to dismiss him, Masualle said: "I stood firm in saying we can't keep on doing the same thing and expect different results — that is called insanity. I said we must give him a chance and rally everybody behind him and we can see what he has achieved thus far; we can also see where he is heading."
The ANC NEC member Senzo Mchunu said he knew Makupula from the time when he was education MEC in KwaZulu-Natal. "After his appointment, he made an appointment with the KZN MEC of education at that time, and that was myself," said Mchunu. "He requested to come and spend three days in the province and learn how we do things there."
Mchunu said they had a great time exchanging ideas on how to improve the education system of the poor. Makupula believed that education was the only hope for the poor to overcome their circumstances. His department at times held career exhibitions in farms and rural communities, a move he said was to expose children of those communities to other opportunities in order to break the cycle of poverty.
ANC Eastern Cape chairman Oscar Mabuyane described Makupula as one of the finest revolutionaries and committed cadre the province had ever produced. Mabuyane spoke at Makupula's memorial service, which was held in Mthatha earlier this week.
He said: "He embodied the values and principles of ethical leadership and selfless service to the people and the struggle for a just world."
Mabuyane said Makupula was identified and recruited by the underground machinery of the ANC's Umkhonto we Sizwe for liberation and social emancipation while he was a learner at Wongalethu High School. He became a young activist in the underground politico-military structures of the movement.
"He will be remembered as a fearless and straight-talking activist who loved his country and fought relentlessly against the tyranny of white minority rule. He belongs to that generation that was prepared to take on the evil apartheid regime and showed moral courage and commendable defiance even in the face of physical violence and death," said Mabuyane.