"Grill us, we are here to do the right thing." These were the words of Deputy Speaker of the Gauteng Provincial Legislature, Nomantu Nkomo-Ralehoko, speaking in Vosloorus on behalf of the Legislature on October 17. "Your views are our vision. We are not here to say vote for a particular party, but that choosing your public representative by form of voting is your constitutional right.
Nkomo-Ralehoko was addressing a crowd that had gathered at the Jabulane Dumane Hall in Vosloorus for a Critical Thinking Forum hosted by the Gauteng Provincial Legislature in partnership with the Mail & Guardian and IEC (Electoral Commission of South Africa). The hall was packed to capacity, with people occupying all available seats; some people even had to stand at the back of the hall. Community members across all age groups came to make themselves heard; Nkomo-Ralehoko responded to many of them.
While aimed primarily at young people, the event saw people from all over Vosloorus come forward to engage with the panel and hear what they had to say.
"To vote or not to vote?" was the question of the day; Broadcast journalist Xoli Mngambi facilitated a panel discussion featuring TV presenter Jessica Mthimkhulu, Radio DJ Bujy Bikwa, comedian Donovan Goliath, and Radio producer Bongekile Skosana — all young people in the media industry, all of them able to lend their own insights and experiences to attempting to understand how young people feel about voting. Mthimkhulu said of the event that she hoped young people in the hall would give their "raw passionate views about voting", remarking that she believes one of the drivers of young people's disillusionment is that the rate of change is happening way too slowly.
Other points that the audience raised included issues related to housing, concerns about corruption, and issues related to the National Student Financial Aid Scheme (NSFAS). Dieketseng Thabethe (31), an entrepreneur involved in National African Federated Chamber of Commerce and Industry (Nafcoc) Ekuhuleni Youth chapter, said that she believes that in some ways the government's definition of youth has become limited.
"We want to also fuel a conversation about business and youth," she said. "Many people will talk about NSFAS, but what about the bracket of people 25-38 who are out of the education system and who want to fuel and drive the economy — what breaks are being given to this sector of youth, who are not waiting for handouts, but are here bringing something positive to the table?"
Thabethe said that she would have loved for the panelists to be made up of a variety of people include government officials who must be held accountable and listen to the grievances of the community. "The relevant people who need to provide answers are not present," she lamented. But facilitator Mngambi was quick to correct Thabethe, pointing out that several members of the Gauteng Provincial Legislature — including the Deputy Speaker Nkomo-Ralehoko and Chairperson of Committees Mike Madlala — were in attendance at the event. Madlala emphasised that it is the GPL's responsibility to ensure citizens exercise their democratic right to vote, especially in light of dwindling numbers when it comes to people registering to vote and actually voting.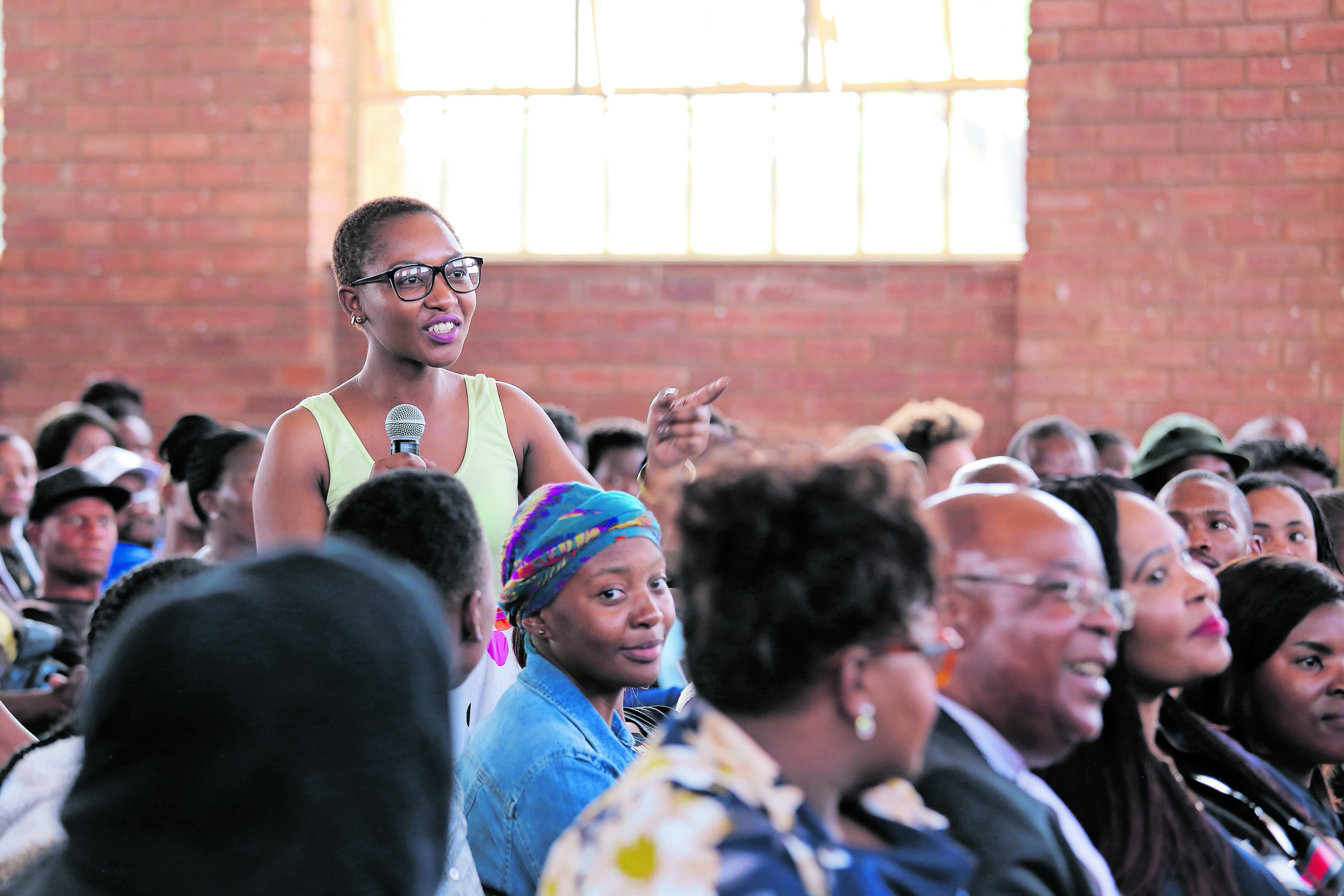 "If you want to change this country, your vote does count," said Skosana. "If we can say collectively that we want change, we can change the people that represent us at all levels of government. We need to be South Africans who are responsible, and participate in the policymaking practices of this country. We have a legislature you can present memorandums to, and say that as young people in this country 'this is what we would like to see, and it starts with voting for our public representatives.'"
Mngambi highlighted that the 2019 election marks the first time that young people will constitute the highest number of voters in South Africa, giving them plenty of power. With this in mind, said Bikwa, it is more important than ever that young people are active citizens. "Go and volunteer! As young people, we cannot sit on our hands. We like to complain about things, but ask yourself: what have you done? Young people also need to hustle," he said.
Bhekisisa Buthelezi (24), an electrical engineering student at Ekurhuleni West TVET College, said that talking about constant "change" is frustrating. "People are making laws about things they do not have to live with," he said, with many in the crowd audibly agreeing with him.
"This is a very subjective panel. None of us have answers, and none of you have answers," posited Goliath. "We all have the rights to opinions. And we all know what problems exist in South Africa. But I believe in the philosophy that says that you have to write the book that you want to read.
"And I know this is frustrating — I have been voting, my friends have been voting, and we have seen how things have gradually changed. But if you don't go vote, you are just as responsible as the person who doesn't vote."
One audience member argued that long queues are also a deterrent to voting, and that the government should keep up with technological advances. "We are living in the Fourth Industrial Revolution, the digital era," he said. "Why must we stand in lines to vote?" But not everyone agreed with this point; a fellow audience member pointed out that moving away from traditional voting systems will exclude large portions of the voting population who may not have access to smartphones.
Mthimkhulu expressed frustration with rhetoric, and the ways in which it holds voters back. "When we talk about politics we hear these big words like legislature and policy and protocol … but how do these things help us when we are trying to make decisions? What convinces people to set schools alight, or to burn tyres because they are angry? I'll tell you what it is: the change is happening too slowly. So if you are not going to do this for us, see our anger. See the flames."
Skosana also picked up on this point: "It is undignified that our people have to live the way that they do. It cannot be that in 2019, our people are going to vote and we still have pit latrines."
Fezile Nondonga of the GPL said the purpose of events such as these is to encourage citizens, especially students, to vote and to be active citizens. The event proved to be a platform of much-needed engagement for the community; not only with the members of the legislature, but also with each other.
With the 2019 elections on the horizon, it's crucial that people across South Africa — especially young people — remain cognisant of the political landscape, and the roles they play in defining it. Closing the event, Madlala said that the GPL was very excited by this initiative. As Bikwa pointed out: "It is not fair to assume that everyone who is young is not interested in voting."