With smart technologies disrupting industries and changing the way we see and experience the world, the future workplace looks very different to that of the past. The Fourth Industrial Revolution, or "Industry 4.0" is upon us, and the graduates of 2018 and beyond need to be prepared for what this new wave of change brings.
According to Cynthia Olmesdahl, senior business leadership lecturer at Vega (a brand of The Independent Institute of Education – The IIE), it's vital that tertiary qualifications, regardless of the discipline, constantly evolve in order to remain relevant.
Curricula that evolve with the times
Technology — including smart devices, collaborative mobile apps, learning management systems and online courses — has certainly changed how students learn, but to what extent does this affect what they learn, particularly at a tertiary level?
"The world needs more graduates who are able to handle the change that technology is bringing. This is why it's so important that higher education institutions take a more holistic approach when developing curricula informed by these needs," says Olmesdahl. "For one thing, students in all qualifications should be learning the intricacies and implication of technology in business, which includes understanding digital business and digital branding."
It is important that curricula are facilitated and delivered by lecturers who know what they're talking about, with industry experience to back it up. "Permanent lecturing staff should have business and related industry experience," says Olmesdahl.
"At Vega, senior lecturers are tasked with taking initiative and remaining active in their respective fields, including writing papers and opinion pieces, attending conferences and retaining membership in professional and industry bodies."
Vega employs a high percentage of contract lecturers who run their own businesses or who have enjoyed fruitful careers in the industry, while its national and regional (campus-level) advisory councils are drawn from business and industry.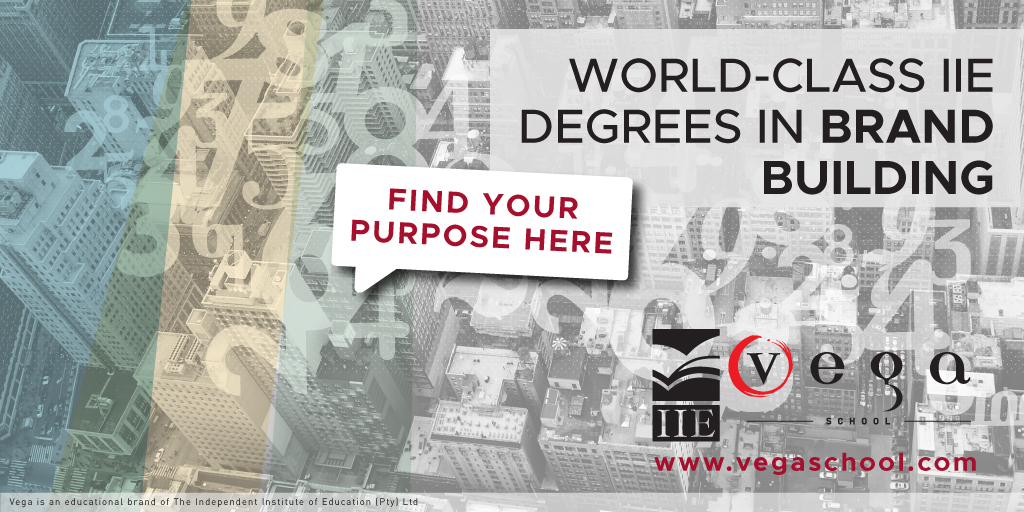 Understanding the bigger picture
In addition to building and delivering curricula that prepare students for Industry 4.0 careers, higher education institutions need to create learning environments that help students gain insight and experience in their chosen industries. Olmesdahl explains that some of the biggest companies in the country deliberately opt for students from Vega for this very reason.
"Vega students hit the ground running. From the time they arrive on campus, they are encouraged to show initiative, confidence and curiosity for learning," she says. "Vega's Brand Challenge and Brand Activation allow students to see what it's like to work with a real-life brief from a real-life client, while following strict timelines and producing agency-quality work.
"They're working with the latest software and engaging with technology to bring their ideas to life, impressing some of the country's most respected executive teams. I believe that this is the direction that higher education really should be heading if our youth are to become tomorrow's successful leaders and captains of industry."
Vega routinely hosts international speakers, bringing industry professionals from around the world to its campuses to share new knowledge and insights with its students.
Graduates who have a wider world view are able to pursue more fulfilling and lucrative career paths. Ensuring students have access to trends and perspectives outside of their comfort zones becomes an important part of their learning.
For more information on IIE qualifications available at Vega and other career-building opportunities, visit www.vegaschool.com.
About Vega
Vega is an educational brand of The Independent Institute of Education (The IIE). The IIE is South Africa's leading and largest private higher education institution and is internationally accredited by the British Accreditation Council.
Vega's teaching philosophy is built on the mantra of wisdomwithmagic, creating an academic environment that is based on experiential learning, where creatives are trained in strategy and strategists in design-thinking. As South Africa's only brand-focused school, Vega aims to inspire a new breed of thinkers with the expertise to generate meaningful brand ideas that link business profit to adding value to people's lives.
The IIE Vega students graduate at a work-ready level, with 95% of 2016 graduates employed within six months of completing their qualification (this includes part-time and freelance positions). Vega was ranked first in the national Loerie Awards Top Educational Institutions in 2017, maintaining its reputation as a leader in the South African higher education arena.
Students can enrol for IIE undergraduate and postgraduate degrees, diplomas, higher certificates and short courses in design, brand communication and brand management, at campuses across South Africa and online. All of these are available on a full-time or part-time basis.