In a swanky ballroom at the Grand Hyatt Hotel in Hong Kong, Higher Education Minister Naledi Pandor and freedom fighter, former Mozambican education minister and humanitarian Graça Machel were shopping for something different — ideas on how to transform South Africa's education system.
Pandor and Machel had been invited to attend the Yidan Prize Summit, one of the biggest education prizes in the world, to speak on education in a developing country. Pandor had been approached because of her expertise in policy-making.
In an interview with the Mail & Guardian, she spoke openly about areas in which her department lagged behind in making policy in higher education.
"I don't think we're sufficiently data driven. I think we should be using data far better," she said.
According to her, the department's policy is "driven by demand … rather than really a carefully calibrated use of data that is developed or extracted in order to inform what we need to do".
She was speaking after a presentation by Larry Hedges of Northwestern University, in the United States, at the summit. He was awarded the 2018 Yidan prize for educational research, for his work on developing a statistical method to analyse research studies to make findings that could improve policy. The method is called meta-analysis and involves looking at a range of common research studies to determine what they can tell educators and policy-makers.
Pandor, a science enthusiast, was fascinated by what Hedges had produced, particularly because data-driven analysis is a skill that she has pushed her department to master.
"It's something I'm talking about to the department all the time because they generate so much data. Then I ask them, 'So why do you want me to read this?' They say, 'No, it's a report'. I say, 'No, but what's it telling us? Can you extract the key information so we look at what it implies for us?' I think South Africa is really good at gathering data, but I suspect quite poor on using it to inform practice," Pandor said.
She said the department is working with South African researchers to train people to advise policy-makers.
She arrived in Hong Kong on Saturday on the same flight as Machel, and the two left together after the summit on Monday evening.
Machel made a special keynote address at the summit, in which she spoke about the need for girl children to be educated and protected.
In an interview with the M&G, she said that activists have been key players in the progress of education in South Africa. "Transformation was always accelerated by this kind of activism we are seeing now in South Africa. I'm thrilled to see it happen.
"Look even at the #FeesMustFall. You can question sometimes whether the methods were the right one, but so what? You learn as you go, isn't it?
"The promise of free education had been made a long time back. Institutions had been too slow implementing. It took #FeesMustFall movement then to take all the vice-chancellors of the country and the minister of education, the minister of finance, the president himself to say how do we implement this."
Pandor admitted that South Africa cannot afford free tertiary education for all students.
For Machel, it was activists who forced the government to listen to students, and it is activists who may force the government to be left behind if it cannot lead transformation.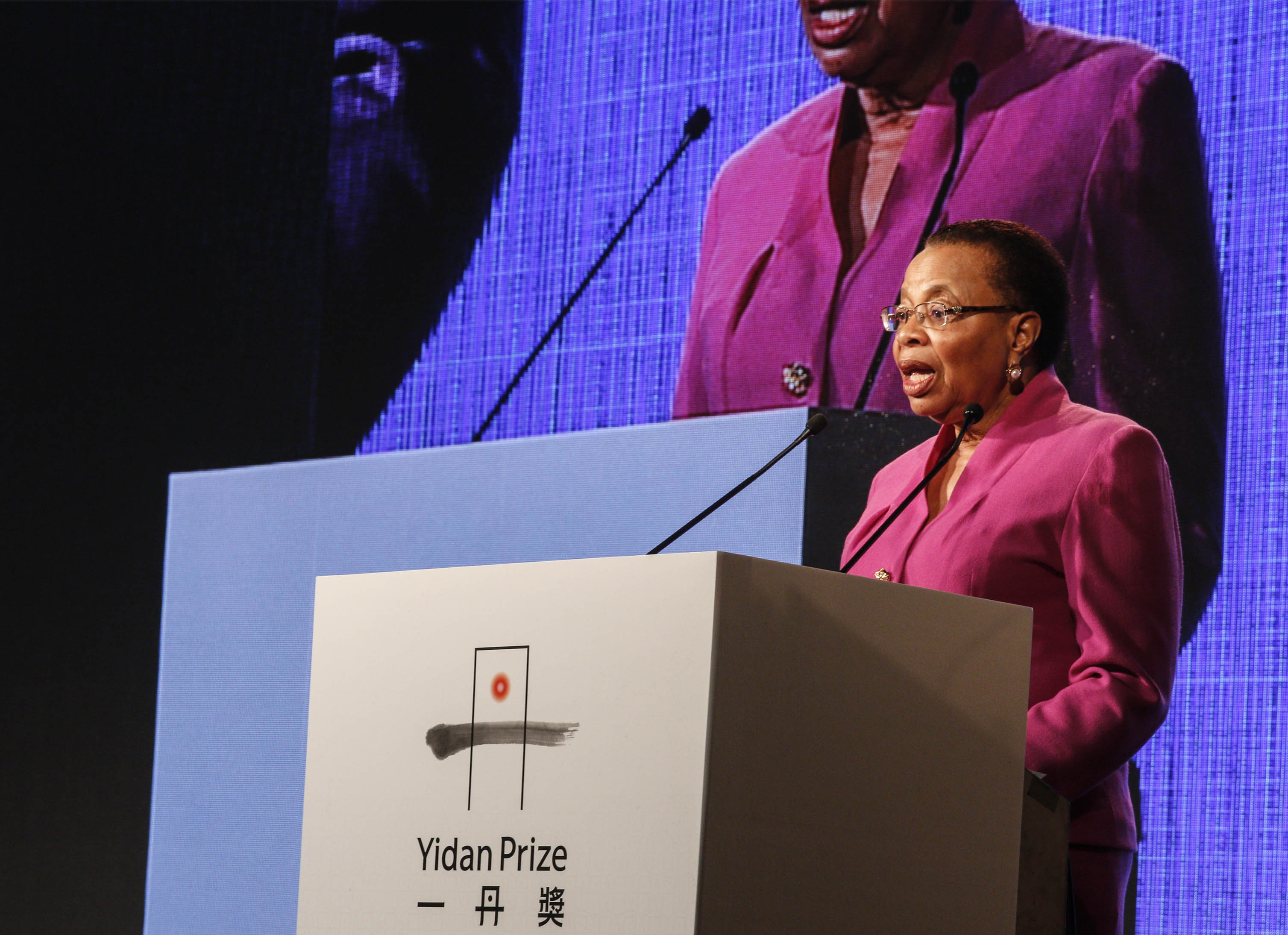 "I don't think there's any way back in terms of the activism you seeing in South Africa today. It took some time to take off, it is there to stay and it will actually force transformation of institutions. The leadership itself either it picks up and it leads because leaders have to be in front," she said.
Machel said she is also happy to see organised protest against gender-based violence. Women at university forced tertiary institutions to take action against violence on campus by deploying task teams to deal with it, and even the recent gender summit had put the country on a progressive trajectory.
"Look at the recent summit on gender violence. It was very painful for you to sit and listen to those stories. But I'll tell you, whoever is a responsible leader will never be the same again after that. You can't ignore it anymore. It took the courage of those women, including the one who lifted up her clothes and said, 'Look at me'. With that kind of movement, I think we are moving into a different phase of our history in the country," she said.
Both Pandor and Machel have had their own experiences of activism in education. For Pandor, it was under the apartheid regime, when her family had been exiled and she had been forced to move schools often while her high-profile family was on the run.
"We changed countries about every three years for most of my life and I changed schools because, when you move, you change schools. And when you change school and go to another system, because you not familiar with it, they tend to put you back a class.
"So, it was a thing of learning a new curriculum, learning new accents, getting used to different teachers, and not having friends for a very long time because, as you made friends, you moved."
Her family eventually settled in London and Pandor went to a poor school in South London.
The minister is known to be conscientious about decorum but laughingly said there was a time during first-year university when she, too, bunked class and skipped her assignments. It was her mother's disappointment that made her promise to stick to the rules.
"I told students in Mitchel's Plain a story. You know, we present ourselves as adults — as though everything in our lives has been smooth — and I told them that they'll be surprised to know that I went through a period where I was very troublesome.
"Unfortunately, I slacked on university and I got in with the wrong crowd. I said I skipped school and just didn't attend classes for a long time.
"A lady who knew my mother saw me one day with these friends and must have told [her]. The minute I saw her I knew I'm in trouble," Pandor said with a laugh.
"And when I got home, my mother said, 'I'm very disappointed in you; I hear you're not going to school'. She was almost crying and I was very ashamed."
Her mother was a constant in her life of changing cities and different faces and the disappointment had a profound effect on her, Pandor said.
For Machel, education was built in the liberated areas of Mozambique and was spread through the country after the Portuguese were defeated and independence was triumphant.
"In Mozambique, we established our first network of primary schools; it was established in our liberated areas. We were not free yet. But in those liberated areas where we learnt how now to Mozambicanise the education system then, which we translated into national process when we became independent," said Machel.
But this is the past.
At the summit, policy-makers, business leaders and educators and politicians wanted to know about the education of the future.
The second Yidan prize, for technological development, awarded by the Yidan Prize Foundation, which aims to improve access to education around the world, was handed to Anant Agarwal of the Massachusetts Institute of Technology.
Agarwal has developed an online open-source platform, edX, which is free for all students around the globe. It supplies courses from a range of first-rate institutions, including Harvard and MIT.
Pandor is interested in adapting the software for a South African context if Agarwal is amicable about including African languages. Machel said the platform could transform how scholarships are granted and increase children's access to education at home.
Already, such a platform has been tested in South Africa by Yusef Waghied, an education policy expert at the Stellenbosch University. He, in collaboration with others, developed a tool similar to Agarwal's as a pilot. But neither Pandor nor Machel knew about these innovations.
South Africa is still trying to fix old problems. Pandor made it clear in her conversation on policy at the summit.
"We have had some instances that surprised me, because I believe that in higher education you're at the highest level of intellectual activity. So, to find someone promoting gender inequity or being racist is really a testimony to the fact that your intellectual project is not succeeding," Pandor said.
She admired the young women who had protested against inequality on campus, she said. "I have spoken to them, I have had the opportunity from time to time to meet them, to be told off by them, and I just think they're fantastic."
But when she looks at the ANC's own structures, there are not enough women, including those from university student structures within the party, rising through the ranks to lead the organisation.
"Sometimes, I go to meetings or structures and I find it's mainly young males leading, so I wonder about women's penetration as leaders into positions of organisation leadership."
In historically black universities and training and vocational education colleges, which Pandor has prioritised, infrastructure remains inadequate. Schoolchildren have protested, calling on Basic Education Minister Angie Motshekga to provide basic resources, such as safe toilets, since the death of Michael Komape.
For Machel, a lack of resources should not stop leaders from developing plans for transformation.
"Sometimes it's different for people now. They start requiring resources before they think on how to transform," she said.
This trip was sponsored by the Yidan Prize Foundation