Dakar, with its weathered skin of stone, is a city in a hurry. In the past few years this scruffily elegant Atlantic port city, which shuns the brutal hustle of Lagos or Johannesburg, has been reimagining itself. Modest skyscrapers, barricaded hotels, strange statues and a distant new airport are markers of Senegal's transformation.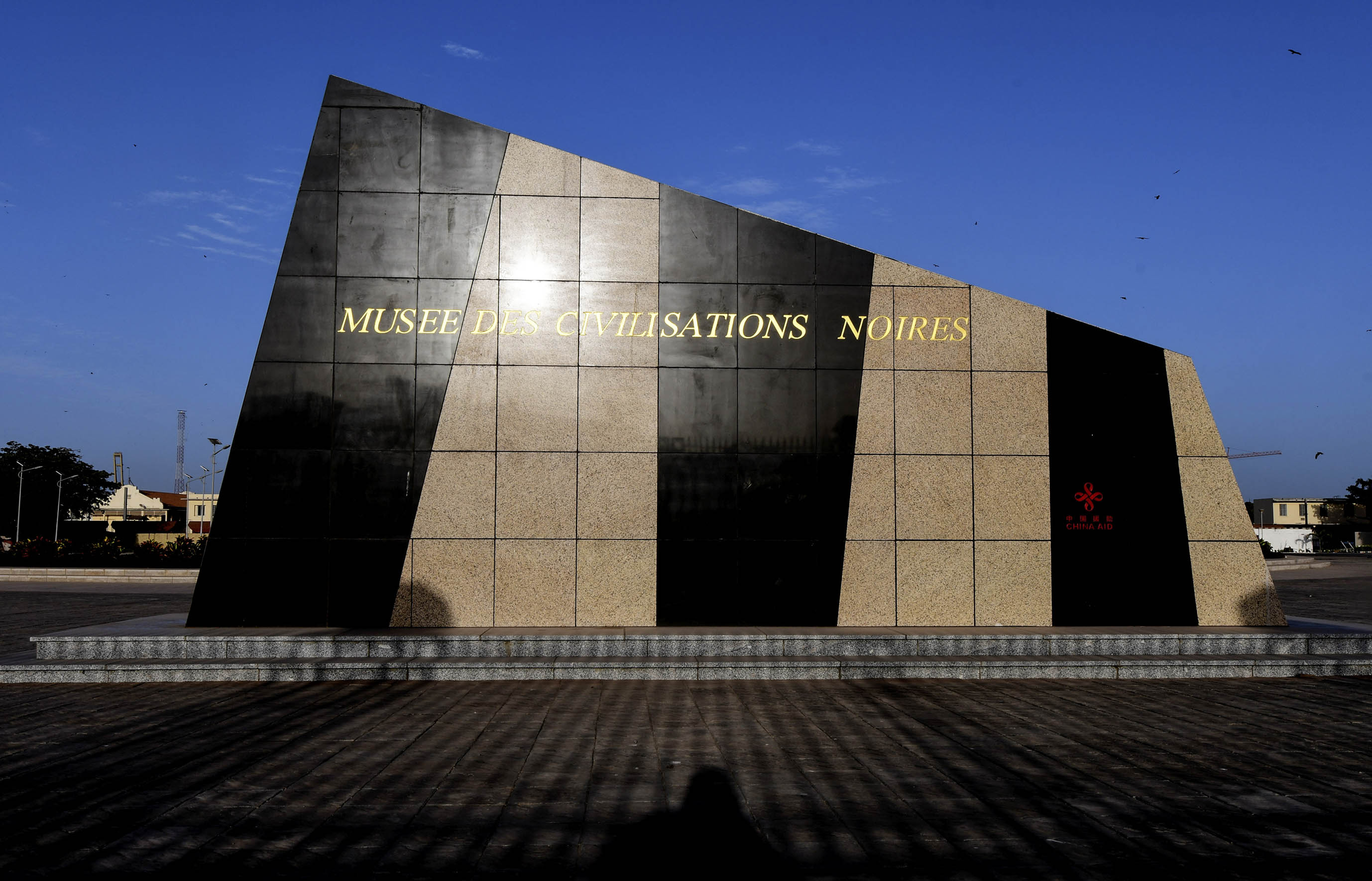 Museum of Black Civilisations. Photo: Seyllou/ AFP
On a fenced-off plot of land wedged between the docks and a military complex, near the work-in-progress terminus for a new 55km regional express link to the airport, is a large, circular building. Located opposite the Grand National Theatre, the four-storey structure is officially called the Museum of Black Civilisations, or MCN (from its official French name, Musée des Civilisations Noires).
The new museum, which was inaugurated by Senegal's president, Macky Sall, earlier this month, is the culmination of a decades-old mission by politicians to build a museum to honour black achievement. That it took so long is part of Dakar's charm: this is a city slowly in a hurry.
History is central to the content of MCN. Take the dominant indigo tones of Malian artist Abdoulaye Konaté's labour-intensive draperies, currently on view alongside works by contemporary and long-forgotten artists. The indigo colours draw on a millennium-old Malian history of dyeing and fabric know-how.
Fittingly, Konaté, who in 2004 founded the Balla Fasséké Kouyaté Conservatory in Bamako to preserve and teach local craft practices, was honoured with Senegal's National Order of the Lion. The president bestowed the award, which recognises distinguished contributions, during MCN's opening.
But celebrating Konaté's achievements, and those of the other artists in the new museum, is only a small aspect of MCN's function. Principally, the museum is a symbol. And it is as symbol that it is most vulnerable.
Two months before MCN opened, its director, archaeologist Hamady Bocoum, spoke to a small group of art historians and writers about his ambitions. Early into his translated talk Bocoum dismissed as moribund Dakar's Ifan Museum of African Arts, a storied institution founded in 1938.
"No one in Senegal goes to the ethnographic museum," said Bocoum.
He said that MCN would not replicate Ifan's displays, which include compelling painted animal masks from Guinea-Bissau, nor would it try to outdo the Quai Branly Museum in Paris, which houses 70 000 objects from sub-Saharan Africa.
"We are trying to find our own way," said Bocoum. "It will not be a museum of the black in the fighting sense of the word, but rather a museum that will put black culture in its right place."
The new museum will not have any permanent displays. Contemporary art, ancient rock paintings and Egyptian objects are of equal interest to its director, who was assisted for the opening by curator Babacar M'Bow. Formerly a director of North Miami's Museum of Contemporary Art, M'Bow was dismissed for sexual harassment in 2016.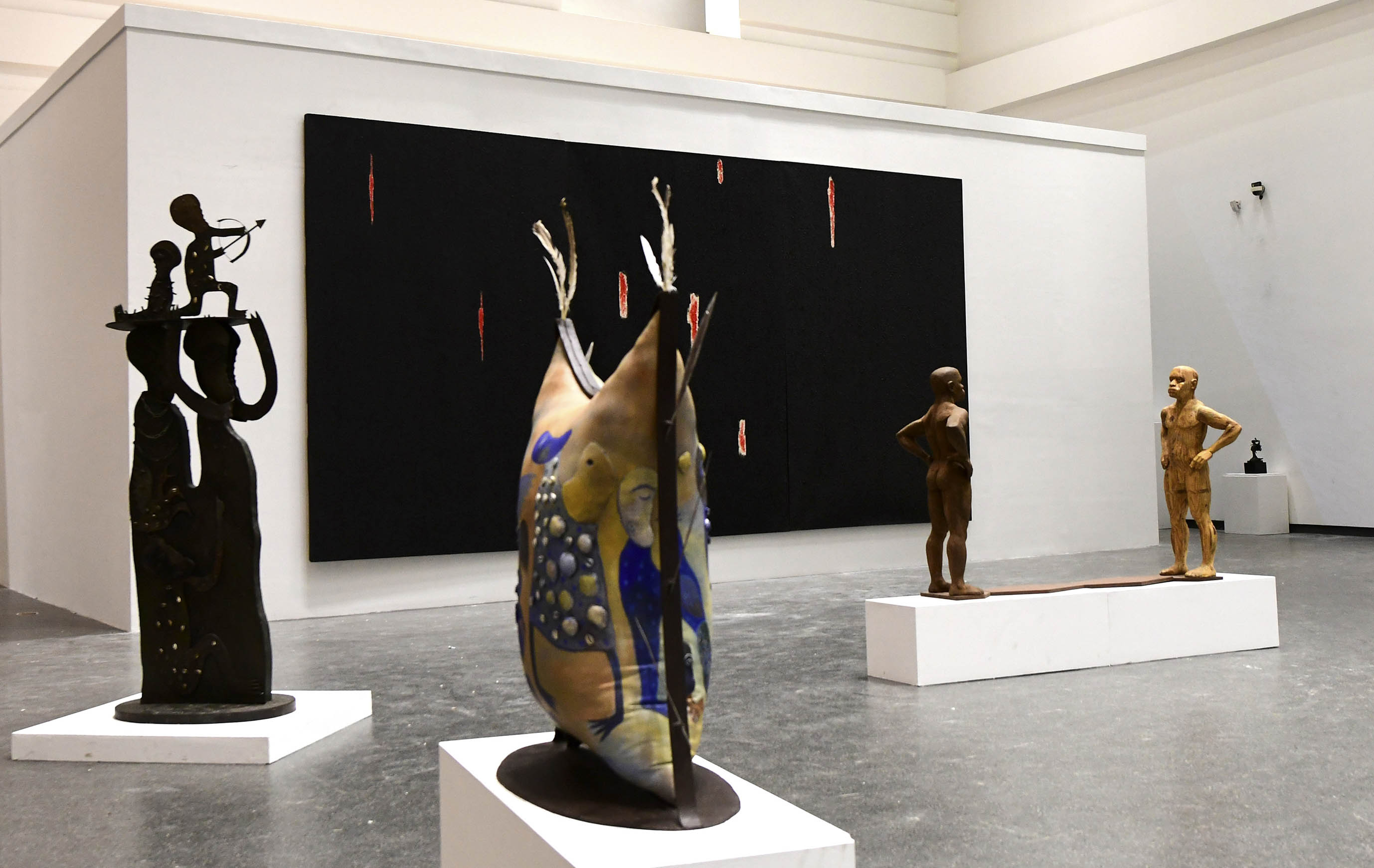 The artwork housed in the new museum are the works of artists from the past, some long forgotten, and contemporary creatives. Photo: Seyllou/AFP
In a sharp rebuke of the scholarship under discussion at organiser Koyo Kouoh's symposium in MCN in September, Bocoum dismissed the mostly votive artefacts at the centre of current restitution debates as of secondary interest and "meaningless".
"Africa is not a museum of nostalgia, and we will present facts that formulate our mutual future," he said.
Bocoum spoke about seeing the newly revamped Royal Museum for Central Africa outside Brussels, which houses 180 00 ethnographic items from King Leopold II's avaricious plunder of Congo. He also mentioned French President Emmanuel Macron's November 2017 statement in Burkina Faso about kick-starting a process of returning colonial plunder.
In November, two weeks before MCN opened, a report commissioned by Macron was published. It laid out the intellectual foundations for the restitution of cultural plunder to Africa. Drafted by Senegalese economist Felwine Sarr and French art historian Bénédicte Savoy, the non-binding report includes a detailed timeline.
The Sarr-Savoy report motivates for the immediate return of some two dozen artefacts from Benin, Ethiopia, Mali, Nigeria and Senegal. Immediately after the report's publication, Senegal's culture minister, Abdou Latif Coulibaly, called for the return of all Senegalese artworks held in France.
The new museum, whose generous galleries were still empty two months before opening as administrators prevaricated over what to show, may well be the ideal home for this looted patrimony.
Not so, said Ery Camara, a Senegalese-born curator and museum specialist when we met in the southern Mexican town of Oaxaca. The new museum's direct proximity to the sea makes climate control and conservation mechanisms imperative, he explained. "There is no technology to look after the collections" — even temporary ones.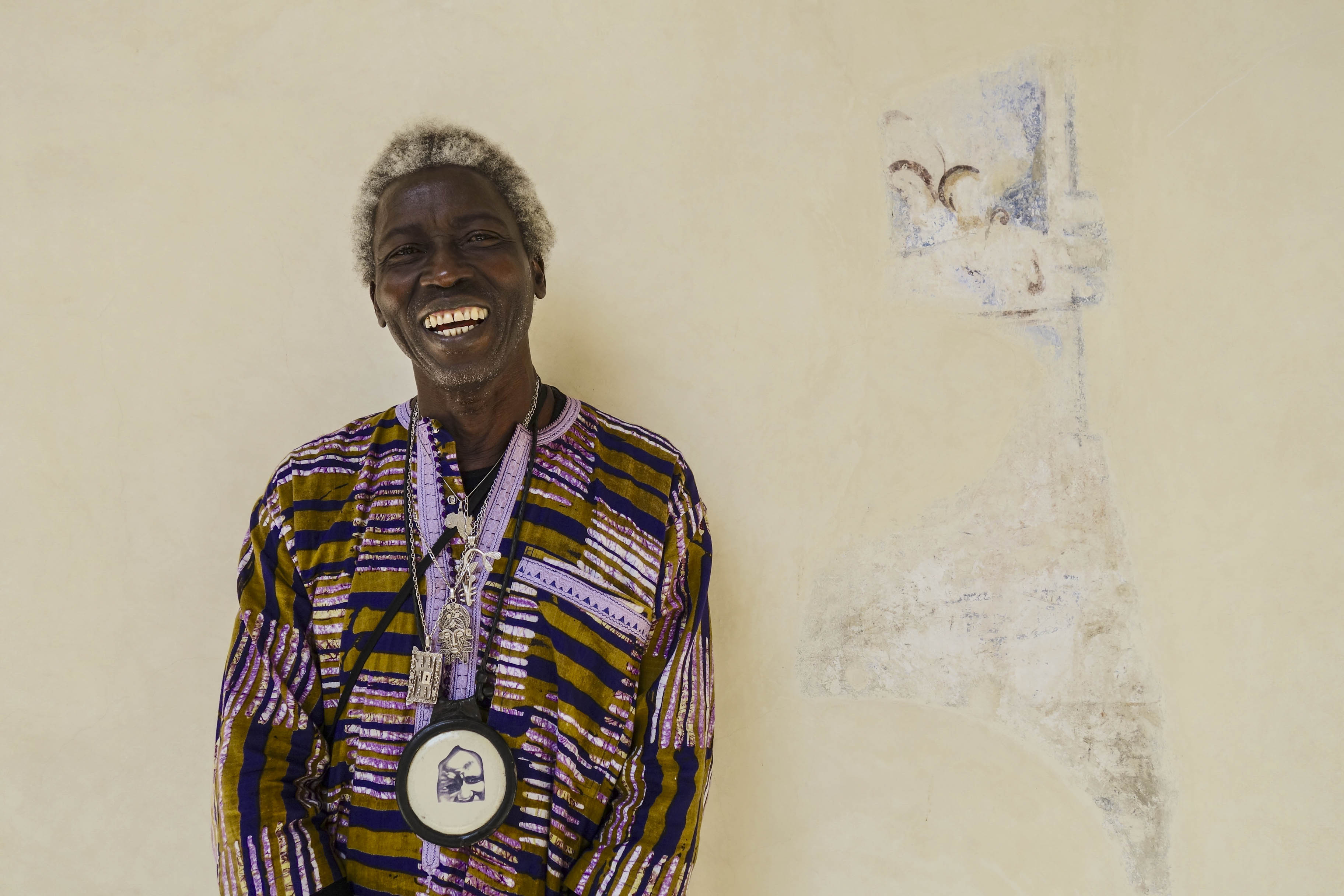 Deficit: Ery Camara says the museum lacks skilled people to restore old works
Senegal also does not have professional conservators capable of restoring the necklaces, pendants, pearls and medallions currently housed in Quai Branly, all of which are earmarked for immediate restitution to Senegal. Ifan, Camara learnt on a visit in May, outsources conservation to Paris.
"How can you build a museum without training people?" asked Camara.
Léopold Senghor, Senegal's charismatic first president, whose poetry inspired my opening sentences, appreciated the problem. To this end he sent Camara and three other young Senegalese to study conservation and museology in Mexico.
This chapter in BCN's long history is routinely glossed over.
The idea for a museum of black achievement germinated shortly after Senegalese independence in 1960, and was a talking point at Fesman, the month-long culture and arts festival held in Dakar in 1966. But Dakar is a city slowly in a hurry.
In 1974 Senghor visited Mexico. His itinerary included a stopover at Mexico City's National Museum of Anthropology, a jaw-dropping monument to Mexico's pre-Columbian heritage. The museum's designer, Pedro Ramirez Vazquez, was soon contracted by Senghor to do something similar in Dakar. The United Nations Educational, Scientific and Cultural Organisation even footed the architect's bill.
According to Camara, who went to Mexico in 1975 and has lived there ever since, the original design proposed a complex of three museums to be built near Dakar's university — to ensure a feedback loop between symbol and further education.
Senghor's successor, Abdou Diouf, whose term was marked by unpopular economic austerity programmes, shelved the paper project. Camara forged a successful career in Mexico, hosting musical shows for rapper Akon's Senegalese father and even becoming deputy director of the Anthropology Museum so esteemed by Senghor.
In the early 2000s, Abdoulaye Wade, Senegal's third president, revived the museum plan — albeit in his own image. Wade's cultural legacy is most visible in the 49m bronze statue of an idealised family near the ritzy suburb of Ngor. Local architect Pierre Goudiaby Atepa designed this landmark in conjunction with a North Korean company.
The pivot east was indicative of changing geopolitics, which has also influenced the outcome of the new museum.
A Chinese contractor built MCN, which was also largely financed by Beijing (to the tune of $34-million). Since resuming diplomatic ties with Senegal in 2005 China has become the country's second-largest trading partner after France.
Speaking at an event in Oaxaca attended by Camara, Nigerian-American art historian Chika Okeke-Agulu spoke about the "cultural recolonisation" of Africa. He also likened Dakar's new tourist-focused museum to Cape Town's Zeitz Museum of Contemporary Art Africa, a modish but fraught portside project.
"It is symptomatic of how new money can be useful, but oftentimes it creates monstrosities and white elephants," said Okeke-Agulu.
China's influence is palpable inside Dakar's museum, in which the inaugural exhibitions include a display of Chinese masks. Possibly as telling is MCN's safety signage: it is all in Chinese and English, in a country of Wolof and French.
The museum's circular design is another point of contention. Some have likened it to the traditional design of Wolof homes. Camara, who recently visited Beijing, sees a Chinese pagoda.
"It is really surrealistic to think that this is the venue for African arts and civilisations," he said.
Despite his many reservations, Camara has remained a generous ally. In 2016, when MCN's physical completion suddenly pointed to the horror of a vacuum — of things to show as much as of creative leadership — Camara was invited to address Senegalese bureaucrats and cultural administrators.
He cautioned them against the politicisation of culture. "I told them that a museum is not just a mirror in which you see yourself; a museum is more than that." It requires investment in soft infrastructure: people, training, networks, alliances and, most importantly, vision.
He predicted the hurry that filled the museum for its opening would generate some goodwill, followed by a slow and precipitous decline into obsolescence similar to Ifan and the poorly maintained slavery museum on nearby Gorée Island.
"They don't have an idea of what the museum can be, or what the museum has to be," said Camara. Others in Dakar share in his grief over the fate of an optimistic project that has been hijacked by hubris and the politics of patronage.