Sandra Sithole* was unsure what it was that wooshed past her ear. She discovered it was a rubber bullet the painful way, when the second one hit her on her pubic bone.
"It was so painful … yoh," says Sithole. "I was scared it was maybe going to start infecting me inside, so I went to the doctor." It took almost a year to heal, she adds. A sex worker, Sithole was the target of a resident of Primrose, in the east of Johannesburg, where she works.
Sithole is not alone. Crammed into a tiny room, eight of the area's sex workers speak about the abuse they face on a daily basis. Although they say it is occasionally at the hands of residents, it is the area's community policing forum (CPF) that, they allege, regularly targets them.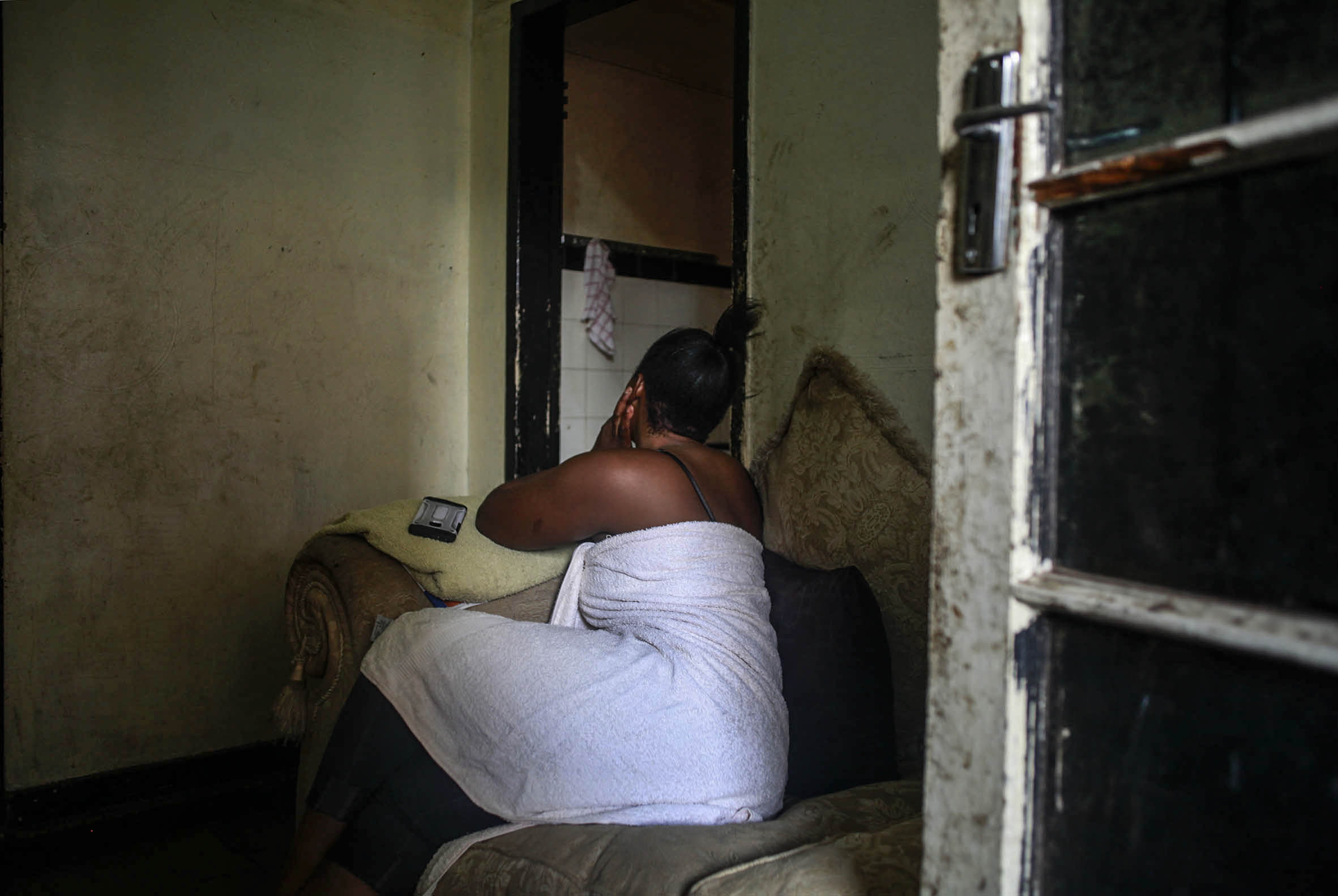 Sandra Sithole says it took her a year to heal after a Primrose resident shot her with a rubber bullet. (Oupa Nkosi/M&G)
According to the women, the tactics employed by the CPF to rid the neighbourhood of the "whores and sluts" are as varied as they are brutal: verbal assaults, taser guns, dogs, pangas and pepper spray. Every now and then, they even have snakes thrown at them.
Joan Segale* says: "I don't know how many times they did beat me. And when they hit you, they hit you like you are a man."
Even when sex workers are not on the streets waiting for clients, they are targeted. The simple act of going to the grocery store can result in them being verbally abused.
"Even if we are going to the shops, they will say that we are working and tell us, 'You can't walk in our sector'. Even when we are in Pick n Pay, they will shout at us, saying, 'We don't want you in here. This is a prostitute. She's got Aids.' You just keep quiet, but you end up crying," Segale says.
Leora Casey, programme manager for sex work at the Networking HIV and Aids Community of South Africa (Nacosa), a network of more than 1 500 civil society organisations working together to turn the tide on HIV and TB in Southern Africa, says the abuse is not unique to Primrose.
"Generally it is the same argument: condoms, flashing, drugs and criminality. You know, the idea that sex workers are connected to crime or anything bad that is happening in the neighbourhoods. Because they don't see it as ethical or morally right, they generally jump on this moral bandwagon to stop anyone from doing sex work, and they will go to any lengths to do it. This is what we are seeing in Primrose and other places across the country," Casey adds.
Tracy Enslin, Primrose CPF's chairperson, says: "Prostitution is illegal in South Africa. Sex workers are breaking the law. Residents of Primrose have the right to feel safe in their neighbourhood. They should not have to be afraid of coming out of their homes and being harassed or subjected to inappropriate, illegal behaviour."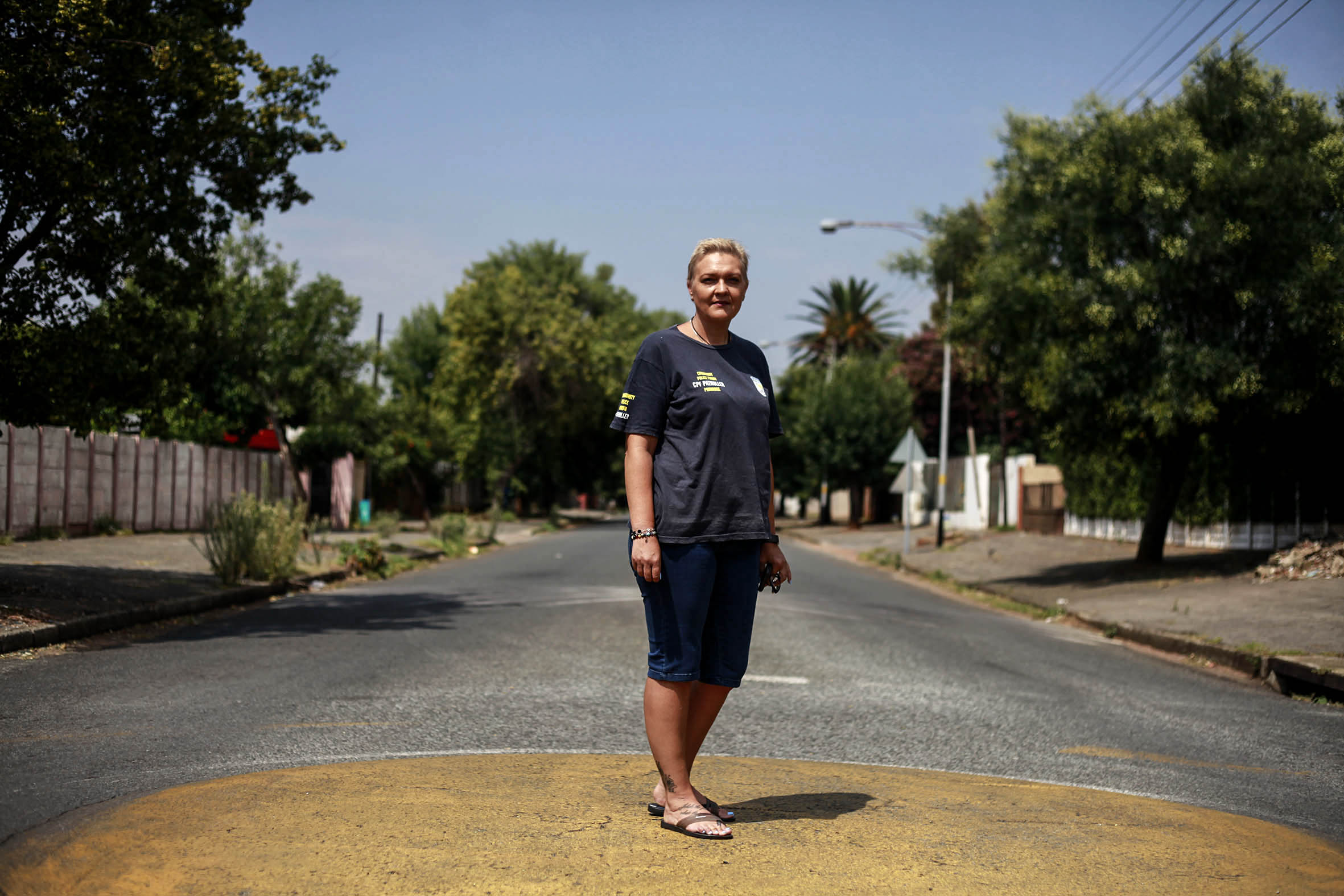 Tracy Enslin, chairperson of the Primrose community policing forum, says the sex workers have reneged on an agreement that they would not work in residential areas. (Oupa Nkosi/M&G)
Rene Anthony is a senior attorney at the Sex Workers Education and Advocacy Taskforce's (Sweat)legal defence centre. According to Anthony, the "moralistic" stance taken by the CPF often takes the shape of "unlawful behaviour … that boils down to thuggery".
Enslin says that, in addition to the area's residents ("especially our elderly and children") being witness to sex workers flashing their private parts daily and behaving erratically, other issues include "sex workers urinating and defecating in public, in front of residents and children, and not even trying to hide or cover their private parts while doing so".
Enslin adds that CPF members have been victims of attacks by sex workers. "CPF patrollers have had rocks and stones pelted at their vehicles when asking sex workers to move. They have been verbally threatened by sex workers, almost on a daily basis," she says.
Although Casey acknowledges this, she adds that these attacks stem from the fact that "they have got so angry … they have literally been driven to the edge".
Anthony says that a 2018 high court order "for the parties involved to come to some kind of working agreement" was "simply ignored by the CPF".
"They've basically thumbed their noses at the whole process and continued with their abusive behaviour," she says.
Enslin counters: "We all came to the agreement that they would not work in the residential area in front of our community, and especially [in front of] our children. We were also informed that the organisation Sisonke [which works with Sweat]would assist with educating the sex workers on cleanliness, how to dress, etcetera. None of this has happened and the sex workers have continued doing as they want and working as they want, which is in breach of our agreement."
For Casey, a power imbalance puts the sex workers on the back foot.
"The reason these CPFs are so successful at what they do is because these things are difficult for sex workers to report and for us to document. Often what happens is [that]their phones are destroyed, so photos and video evidence are lost. Police won't help. Cases aren't documented or they are lost.
"That is why this kind of abuse is so successful — because these community members know that sex workers have very little recourse to justice. They know that they are more powerful. That they can behave unlawfully and commit hate crimes — because that is essentially what it is — with the sex worker having very little recourse to justice," she says.
Numerous attempts to report incidents of abuse to the police have proved fruitless, Segale says matter-of-factly: "Mna, no, I don't go to the police anymore. I went there many times and … nothing."
Published in 2017, a report by the Hate Crimes Working Group said that 28% of victims of hate crimes were self-employed, a category that included sex workers. The report also found that only 26% of victims sought assistance from the police.
Titled, Stop Harassing Us! Tackle Real Crime, a report by Sweat, Sisonke and the Women's Legal Centre found that "most sex workers are reluctant to approach the police to report crimes committed against themselves or others… There is great scepticism about the police as a mechanism for protection or redress".
Numerous attempts by the Mail & Guardian to get hold of the precinct's station commander proved unsuccessful. Kay Makhubele, spokesperson for Gauteng South African Police Service says, however: "If they do not get joy from the police they can report the matter to the Independent Police Investigative Directorate [and] if they can submit statements, it will be investigated."
According to Casey, many sex workers are not aware of their rights. "They often do not know what discrimination is because they don't believe that they have rights. Often I would hear them say things like, 'I thought it was normal' or 'I'm used to it'."
This, according to Casey, is indicative of the "self-stigmatisation" of sex workers, which is compounded by the continual abuse and discrimination.
Segale adds: "I don't say what I am doing is right, but they don't try and find out why we do this thing, what was the reasons that put us here. Some of us don't have families. We grew up with very difficult lives that put us here. So when these things happen and I go to [a] police station and they won't help me, I feel like I am not a citizen … like I don't have rights, but they have the right to do what they do."
*To protect the respondents, their real names have not been used
Carl Collison is the Other Foundation's Rainbow Fellow at the Mail & Guardian