The systemic changes introduced by the Eastern Cape education department are paying dividends for the schooling system; the Eastern Cape matric class of 2018 achieved a pass rate of above 70% for the first time.
With a pass rate of 70.6%, the province has attained the largest matric pass rate improvement in the country, from the pass rate of 65.6% recorded by the class of 2017. It has also seen seven of the 12 education districts achieve a pass rate above 70%, a significant growth from just two districts the previous year.
There was a marked increase in the number of candidates who qualified for bachelor degrees at university and more candidates obtained distinctions, Eastern Cape education MEC Mlungisi Mvoko said.
"Not only did the pass rate and number of successful candidates increase, but there was an increase in the quality of passes, from 15 380 bachelor [passes] in 2017 to 18 001 bachelor [passes] in 2018. That is a 4.7% increase in the number of candidates achieving bachelor passes. The number of learners obtaining distinctions equally improved from 14 492 in 2017 to 16 109 in 2018, representing a 3.1% increase," said Mvoko.
He said the improvements were the result of a three-year system-wide Education Transformation (ET) Plan adopted by the executive council and implemented in January 2016.
The plan entailed providing support for the 12 education districts, including reducing the number of districts from 23 to 12, promptly filling vacant posts in district offices to provide support to schools and regular monitoring of progress in schools.
Learners, particularly those in historically disadvantaged areas, were also encouraged to attend extra classes on Saturday, for extra tutoring in key subjects by their teachers and tutors, some of whom were former top-performing learners.
"The year (2018) began with the analysis of 2017 grade 11 and grade 12 results and the identification of learners, teachers and schools for differentiated support throughout the year. From the second term extra tuition was offered on Saturdays, during school holidays and right through the exam period," said Mvoko.
Since the implementation of the ET Plan in January 2016, the province has seen gradual but steady improvements of the matric pass rate in the province.
In 2015, the Eastern Cape matric pass rate was the lowest of all provinces at 57%. Following the first year of the ET Plan, the class of 2016's pass rate ticked up to 59%. A more significant change was recorded in 2017 when the matric pass rate jumped up to 65%.
Mvoko said the long-term goal for the Eastern Cape Department of Education is to reach an 80% matric pass rate.
"We are excited to get into the club of 70%. This performance is not enough, the challenge is to improve and reach 80%. In order for us to reach the club of best performers requires a collaborative effort from all stakeholders."
Mvoko said the ET Plan has contributed to the improvement not only of the matric pass rate, but of the entire schooling system from grade one.
"These system-wide improvements have been difficult and required courage, hard work and sacrifice … they entailed the appointment of 12 district directors and the appointment and up-skilling of circuit managers, subject advisors and other district staff. These exceptional officials are certainly the drivers of the achievements we celebrate today," said Mvoko.
The MEC said the systemic changes have led to greater stability in schools and increased time spent in teaching and learning.
"Early indications are that there has been an improvement in the pass rate in all but two grades. I'm pleased to announce that there has been a slow but steady improvement in the foundation phase pass rates. So as we celebrate the achievement of the grade 12 class of 2018, we also celebrate the success of all the children of the province."
Schools in historically disadvantaged areas (quintiles one, two and three) have been recording large improvements in matric performance since 2016.
Quintile one schools had an average pass rate of 49.7% in 2016; the picture has changed markedly in 2018, as these schools obtained a 69.2% pass rate. Quintile two schools improved from 55.4% in 2016 to 66% in 2018 and quintile three schools climbed from 58% in 2016 to 66.1% in 2018, Mvoko said.
The number of schools that obtained a 100% pass rate increased from 34 in 2017 to 43 in 2018.
Mvoko said the aim for this year was to sustain the momentum of improvements the province has achieved since 2016.
Congratulating the matric class of 2018, chairperson of the Eastern Cape education portfolio committee Zolile Mrara praised the late MEC Mandla Makupula.
"The education portfolio committee dedicates the improvement to the late MEC Mandla Makupula for his sacrifices and tireless efforts … we understand that in all these years of decline the teachers of this province took the blame. As the portfolio committee we could pick up that these teachers are dedicated. We thank all teachers who go the extra mile," said Mrara.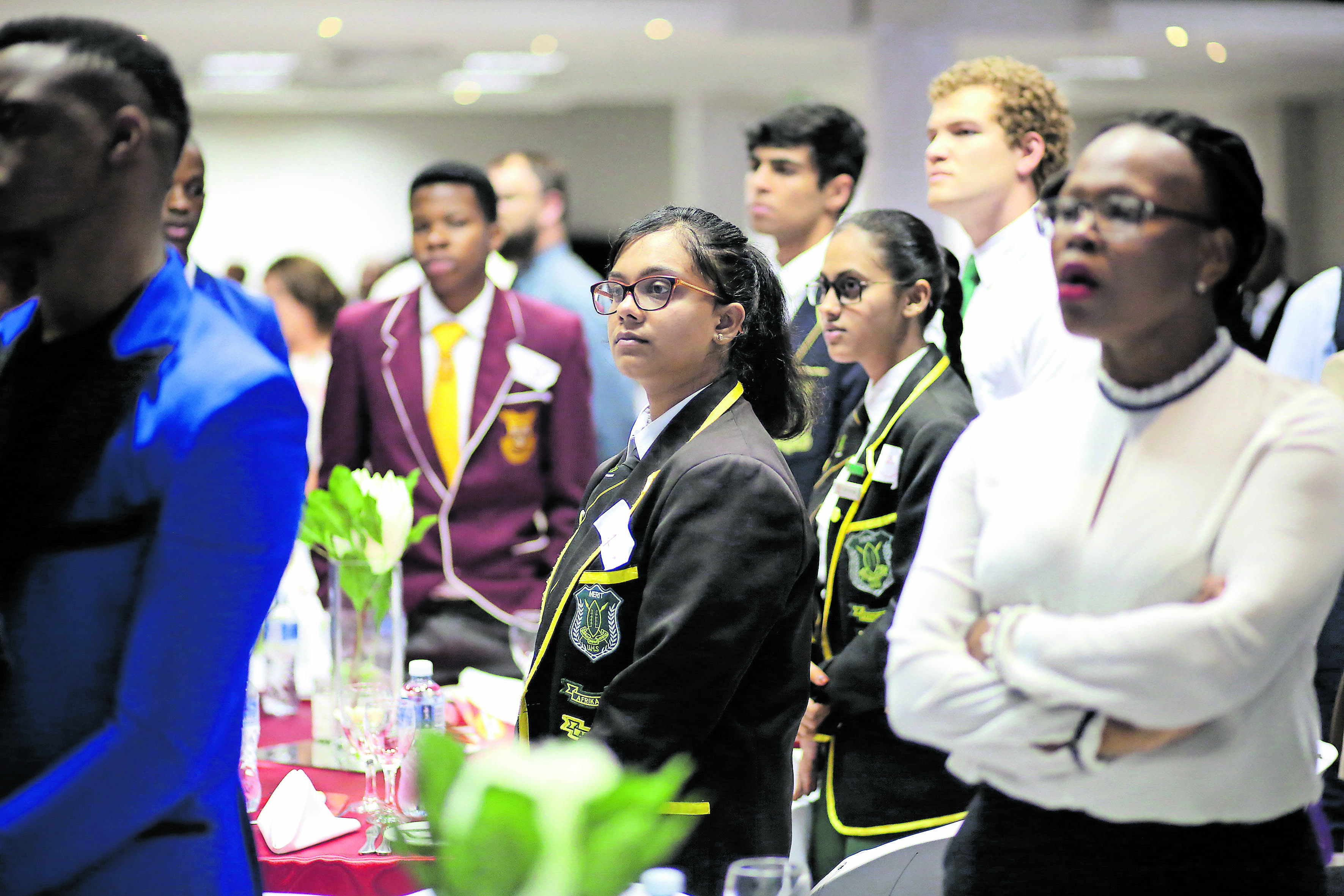 EC matrics shine at national awards
Avukile Nkayi has overcome the hardships he faced growing up poor to become on of the best matriculants not only in the Eastern Cape, but the country as a whole.
Nkayi hails from the small town of Elliot and aspires to become a doctor. He placed second among the country's top quintile three schools learners and was top in the Eastern Cape class of 2018, receiving first prize in the Premier's Awards (Top 3 Category) at the Eastern Cape Top Achievers Awards held in East London on January 4.
Second prize went to Uzma Shaik of Mthatha High School, while Adrian Grove of Pearson High School in Port Elizabeth and Francois Naude of Stirling High School shared third spot.
Nkayi was placed second among quintile three schools nationally. He got an average mark of over 93%, with 99% each for physics and life sciences and a maths mark of 93%.
The matric class at Nyanga Senior Secondary School, which Nkayi attended, has had a steady pass rate climb from 78.5% in 2016 to 82.5% in 2017; the class of 2018 took the pass rate to 90.3%.
Principal Khulile Qamata said this year the school aims for a 100% matric pass. He described Nkayi as a focused and excellent student.
"Nkayi has done extremely well. He joined us in 2016 when he was in grade 10 and from the onset we could pick up his potential. He showed he was a hard worker, was focused and didn't allow anything to disturb him," Qamata said.
He credited the school's steady climb to the dedication and sacrifices of teachers and students, the school governing body and private sector participants.
"At the end of the year, we put the learners who pass grade 11 in a maths camp for 15 days. They are taught only maths by the learners who just wrote matric. They impart that knowledge fresh from their minds. We teach 50% of the syllabus at the camp," said Qamata, adding that this enables them to finish syllabus at end of June and allows enough time for revision.
Nkayi and his classmates are the first cohorts of beneficiaries from the Oscar Mabuyane Maths Camp, which is sponsored by Eastern Cape economic development MEC Oscar Mabuyane, renowned for the slogan "phila ngenjongo" (live with purpose).
"The Oscar Mabuyane Maths Camp is very beneficial to the learners. The top 10 maths learners are selected to participate as peer tutors, so they strive to be in the top 10. Nkayi and his classmates were the first beneficiaries of that Maths Camp. I spoke about the idea with Mabuyane and he vowed to support it. He organized sponsorship for R50 000. That money is used to pay the learners who are tutors at the end of the year," said Qamata.
He added that the school has a peer support programme that encourages outstanding learners to help those who are struggling. "It's called Team Sipasa Sonke (we all pass). In July, the peer educators — stars like Nkayi —go and teach maths from Friday to Sunday. So this is what sharpens them. I told them you go to a school, you introduce the topic; give them an exercise and mark. After that they identify the smart learners and let those learners help them unpack the concept." Qamata said learners of all grade participate in weekly camps for physics, geography, economics and accounting.
"I have a great team of teachers here. They do their best. We have a functional SGB. We are trying to create a story that says [kids from] a rural school can make it and our kids can reach their [full] potential. Parents must know that they don't have to send their children to expensive schools. Our target for the class of 2019 is a 100% pass rate," said Qamata.
He said the school faces challenges with facilities and infrastructure, as it was initially a senior secondary, until grades eight and nine were introduced in 2013.
"We only got three prefabs to accommodate the two new grades. We now have six classes and only three old prefabs. We need seven permanent structure classrooms. Our hostels can only accommodate 412 students and we have an enrolment of over 1 000. We need more accommodation space for boarders," said Qamata.
Nkayi said he was overjoyed on his two awards and the bursary that will cover his school fees in his quest to become a doctor.
"I am very happy, I don't even know what to say," he said. "There are three things that I think contributed to my success. Firstly I spent all my time focusing on studies, I sacrificed my social life. Secondly I helped my peers, because I discovered that the more I did that, the better I also understand the subject matter. Thirdly, my teachers played a huge role in helping me and encouraging me."
Nkayi plans to go to the University of Cape Town, where his school fees will be covered by the Eastern Cape premier's office.
"I want to study medicine at UCT because I can see here in Elliot, there are a lot of people who do not get medical help. There seems to be a shortage of doctors and I hope to come back and make a difference once I'm done with my studies."
On his mother's role, Nkayi said: "She always does her best to provide for me, that is the most important thing. She always encourages me to focus on my studies and not compete with other children for what they have and lose focus of the big picture. She told me to remember where I come from and to know where I'm going."
The three other learners from the province who made it to the national award ceremony are Mihlali Fapaza from Bashee Senior Secondary School, Sipamandla Cibi from Richard Varha Senior Secondary School and Sinolwethu Mfedu from Marelane Senior Secondary School.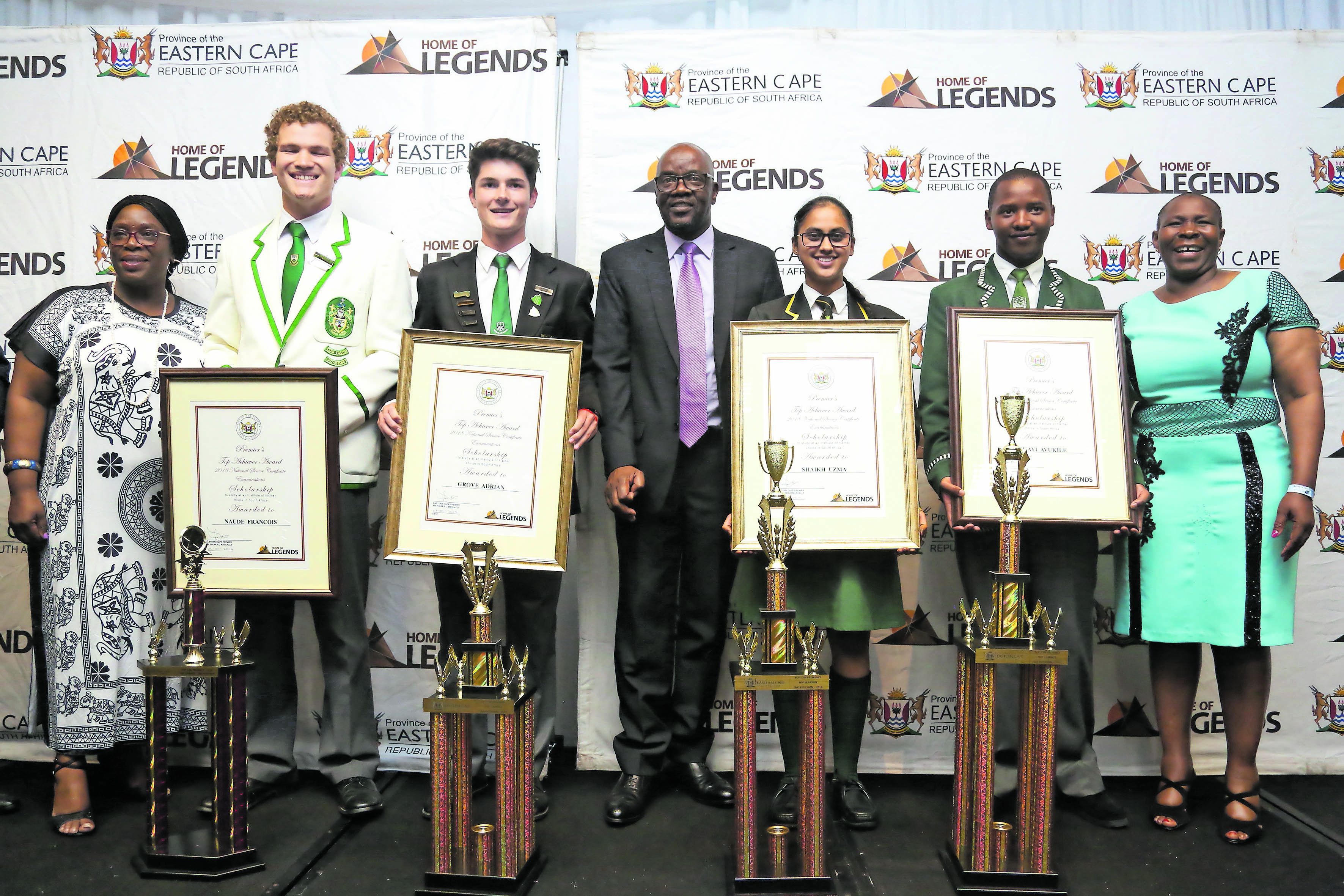 Special focus on building school facilities
Hundreds of projects to tackle classroom and facility backlogs are under way in the Eastern Cape, with billions allocated for the purpose, the Eastern Cape department of education said.
The department noted in its Infrastructure Report for 2018/19 that the 556 projects for which a budget exceeding R6.6-billion is allocated, include basic services projects such as sanitation, water and electricity, classrooms, special schools, hostels and early childhood development centres throughout the province.
Four hundred and sixty-seven of the projects are in the rural parts of the province, in the OR Tambo, Alfred Nzo, Amathole and Chris Hani districts, where school infrastructure and basic services are urgently required. These will cost R4.71-billion, the bulk of the total budget allocated. The rest will be spent in the Buffalo City, Nelson Mandela Metro and Sarah Baartman districts.
Eastern Cape education superintendent-general Themba Kojana said providing adequate infrastructure is integral to delivering quality education.
"It is important to remember that the Eastern Cape has struggled with under-resourced, inadequate and dilapidated infrastructure that has made it difficult to provide the required standard of education to all learners in the province," Kojana said.
He added that the province still faces a large infrastructure shortage, but is making progress by working hand-in-hand with the national department of education and various implementing agents with the necessary experience, technical expertise and capacity. These include the Eastern Cape Development Corporation, Coega Development Corporation, the provincial department of public works, IDT, Mvula Trust and the Development Back of South Africa that deliver facilities and basic services in schools.
"The department's fixed assets include approximately 5 500 operational schools, serving close to 1.8-million learners. About 49% of our assets are in excellent condition; the remaining 51% range from fair (42%) to very poor. Although the state of our infrastructure is not what we hoped for after 24 years of democracy, we are making steady progress in an ongoing effort to raise the standards of schools within the province," said Kojana.
He said it is estimated that the province still needs billions to eliminate all the backlogs. "We still have severe backlogs to eliminate before we can rest on our laurels. The estimated backlogs are in the region of R65-billion and the ever-changing needs of our schools are dynamic."
Director of infrastructure delivery Tsepo Pefole, who joined the department in 2016, said the two critical factors for success are effective management and effective communication among implementing agents.
Infrastructure projects are managed through the Education Facilities Management System (EFMS), a web-based property register and programme management system for education infrastructure developed by the department. The EFMS data repository system was designed for specific use of implementing agents, contractors and consultants to co-ordinate communication with the department.
The system helps the department with smooth management of projects and building human capacity to manage their implementation.
"We have come a long way these past few years, although there is room for improvement. I am happy to report that we now have a defined centre for infrastructure delivery. We know where we are, which projects we are rolling out, where these projects are located and how much are we spending," said Pefole.
Zama Mnqanqeni, chief director: physical resource management, said high on the agenda was eliminating mud structures and ensuring that schools are safe environments for children. He added that efforts to eliminate infrastructure backlogs are aligned to the national education department's Accelerated Schools Infrastructure Delivery Initiative.