Load-shedding may extend into the coming weeks, according to Eskom's own forecasts, because the utility faces a confluence of factors that have again plunged the country into regular rounds of darkness.
The department of public enterprises has warned of Eskom's severe liquidity problems, which, if not resolved, means it could run out of cash by April.
A major contributing cause of the current outages is the poor performance of Eskom's two new power stations, Medupi and Kusile, which were intended to come onstream with additional capacity and provide a buffer for Eskom's existing coal fleet, which is aging, requires extensive maintenance and is prone to unplanned outages.
This is according to Public Enterprises Minister Pravin Gordhan, who told parliamentarians on Wednesday that Medupi and Kusile were supposed to provide "the extra energy space" to allow old units to be taken down for repairs.
Instead, the power stations are years behind on their completion dates and costs have increased exponentially since they were first announced. In addition, despite being the newest members of Eskom's fleet, the stations are not performing as expected, achieving only 40% reliability, according to the department of public enterprises.
In a presentation given to the portfolio committee on public enterprises, the department detailed how costs to build Medupi and Kusile have increased by more than R300-billion — reaching R145-billion for Medupi and R161.4-billion for Kusile.
But Chris Yelland, managing director of EE Publishers, using Eskom's 2016 financial statements, has previously estimated these costs are "conservatively" closer to R208.7-billion and R239.4-billion for Medupi and Kusile respectively. This is after additional costs such as retrofitting Medupi with flue-gas desulphurisation (FGD) equipment that were not included in official costs to completion estimates at the time, as well as other items such as interest during construction and unprocessed contractor claims.
But, said Yelland, even these estimates may now be too low, because the cost of retrofitting Medupi for FGD, for instance, is believed to have doubled since 2016.
On Monday, Eskom unexpectedly increased the intensity of nation-wide power cuts from stage two, which requires that 2 000 megawatts of power be rotationally cut from the system, to stage four, which requires cuts of 4 000 megawatts.
Load-shedding is intended to protect the grid from total system blackout.
According to Eskom's most recent system adequacy report, published for the week ending February 3, Eskom forecast that it is unlikely to meet its operational reserve requirements as well as projected demand, by between 1 001 megawatts and 2 000 megawatts in the coming weeks.
This scenario is likely to last until March 4, according to the report, which has yet to be updated. The risk of load-shedding is then expected to heighten again, beginning on April 1, and may intensify from May 6, when supply may potentially be short by more than 2 000MW.
Gordhan told MPs that Eskom's board, management and government are working to ensure that this period of "severe load-shedding is as short as possible".
On Monday the minister met the Eskom board and management after seven units unexpectedly tripped, including a reported two units at Medupi, precipitating the stage four load-shedding.
In a statement the board said the unreliability of Medupi and Kusile was a "serious concern".
Eskom will launch an urgent review to establish when "these projects will be completed, the extent of design and other operational faults, what steps can be implemented to minimise the ever-escalating costs and what can be done to increase output", it said.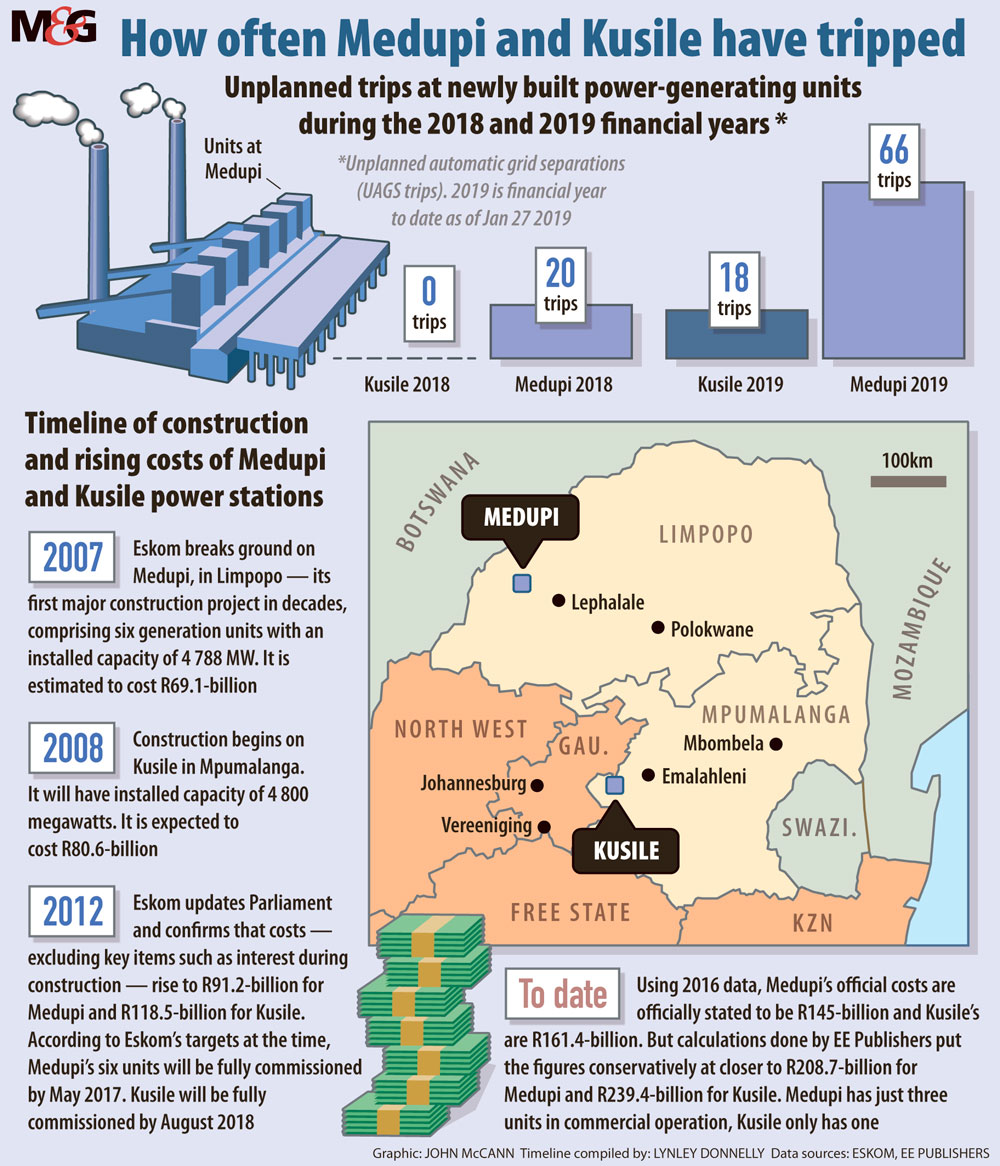 Eskom recently revealed as part of a presentation to the national energy regulator the extent of the design flaws at Medupi and Kusile. The power stations have tripped 87 times during the current financial year. In the case of Medupi, which has three units — units six, five and four — in commercial operation, unit six did not operate during September, October and November last year.
Their design and technical problems include flaws in boiler design, resulting in high temperatures that the spray water-cooling system cannot cope with under certain conditions, which causes units to trip. Flaws in the fabric filter plant result in excessive wear of bags, requiring frequent bag replacement and causing ash blockages and increased load losses and trips.
The coal mills at both plants do not meet operational technical requirements, meaning they need to be serviced twice as often as they should be.
The units at Medupi and Kusile that have been put into commercial operation are "some of the worst-performing units in the fleet", said Yelland.
"I think we are going to have load- shedding on and off for the next few months," said Yelland. Eskom was operating "on the edge", he said, and just the random nature of breakdowns in its plant could take Eskom "over the edge or back on to safe ground".
The problems at Medupi and Kusile intensify the long-standing challenges of the upkeep of Eskom's fleet. Under previous leadership the utility continually deferred much-needed maintenance to save money and avoid power cuts.
Gordhan said Eskom had requested the assistance of Italian energy firm Enel, which will send two or three senior coal-station engineers in the next 10 days to help deal with these problems.
Years of corruption and poor leadership and management had contributed to both the current challenges facing Eskom as well as the loss of skills it had experienced in recent years.
Gordhan said Eskom was making efforts to contact people who have left South Africa in recent years, in a bid to bring this expertise back home.
"One of the issues complicating the problem is that, in all of the institutions that have been confronted with the experience of state capture … good people are either forced out, or top skills leave, because they don't want to work in a toxic environment," he said.
Major industry has already begun to feeling the effects of load-shedding. The Minerals Council warned of the danger posed by sudden, unexpected changes to load-shedding schedules.
"It is critical that power outages are carried out according to the agreed protocols in order to minimise potential ramifications for the mining industry," said Charmane Russell, spokesperson for the council, adding that, with thousands of employees underground, safety is a priority.
Since the initial power crisis of 2008, the country's mines have scheduled high power usage activities to avoid peak consumer times as far as possible.
"Extended load-shedding will have a severe impact on the viability of mines, particularly deep-level gold and platinum mines," she said.
Eskom did not respond to the Mail & Guardian's requests for comment.
---
Eskom faces 'liquidity challenges'
The department of public enterprises caused consternation on Wednesday after its presentation in Parliament, which stated that Eskom was "technically insolvent" and, based on its current trajectory, would "cease to exist" by April. The severity of Eskom's financial difficulties are well known, but it is rare to see government officials describe its problems so baldly.
It backtracked a few hours later, issuing a correction removing any reference to Eskom being insolvent or ceasing to exist.
Instead, it stated that it faced "liquidity challenges".
Public enterprises spokesperson Adrian Lackay said Eskom was not insolvent to the extent that its liabilities are greater than its assets, but rather that the problem was that it did not generate enough cash to cover its operating costs. Left unresolved, Eskom would, by April, "run out of money and not be in a position to pay their debt", he said.
The company has amassed loans of R420-billion, which represents 15% of South Africa's sovereign debt, according to the department.
The state has agreed however, to provide Eskom with financial support — the details of which will be revealed in the budget speech next week. Eskom also recently concluded a R15-billion loan from a consortium of banks geared towards funding its capital expenditure programme. At the time, Phakamani Hadebe, Eskom's chief executive, said it was a sign that financial markets view Eskom in a "positive light".