"The eighth of May is your big day. Halala, 8 May, halala!" This is how Khaya Sithole kicked off the panel discussion hosted by the Gauteng Provincial Legislature (GPL) in partnership with the Mail & Guardian at the University of South Africa's (Unisa) Sunnyside Campus in Tshwane, the latest in a series of Critical Thinking Forums ahead of South Africa's sixth national and provincial elections. Posing the question: "to vote or not to vote?" renowned young South Africans on the panels will discuss the importance of voting at a number of tertiary institutions across Gauteng.
Featuring South African media personality Somizi Mhlongo, former Fees Must Fall leader Nompendulo Mkhatshwa, activist and author Sizwe Mpofu-Walsh, and Unisa Tshwane Regional Student Representative Council chair Simamkele Xani, the February 19 event was attended by a number of students from various political and academic backgrounds. Sithole moderated the panel, which provided students with some insights into the importance of voting. Representatives of the Independent Electoral Commission (IEC), the university and the GPL also spoke at the event.
"We see all around us, nationally, continentally, and globally, what happens when citizens do not exercise responsible citizenship, and the massive power that is vested in the single act of voting," Dr MJ Mashiapata, acting executive director in the office of Unisa's vice principal told the crowd. "If we don't act responsibly and vote for our leaders, we face a catastrophe."
First-time voter Surprise Mampane (19) said that the forum was a way for him to learn more about voting, and about the role of the legislature. "This will help me," the higher certificate of economic and management sciences student told the Mail & Guardian. "I'm here because I'm interested," 23-year-old bachelor of education student Mehlomakhulu Esona said. "This is important for us. I even broadcast this event's poster on Whatsapp."
The GPL has emphasised the role that young people play in South Africa's young democracy. "This is a right that was hard-won, and voting is the basis of our democracy," said speaker of the GPL Ntombi Mekgwe, who explained to the students that the GPL is the "Parliament of Gauteng".
"The legislature is a multi-party institution with public representatives determined by the citizens of Gauteng through voting." Mekgwe also reminded students that you can only vote where you have registered to do so. According to the GPL, current statistics suggest that young people aged 18-29 make up the highest population of the province, yet many have not registered to vote. "If you don't vote, we corrode the 'we' of the preamble of our Constitution. Your vote is the change that you want to see," said Mekgwe.
Mkhatshwa, who was the Student Representatives Council president at the University of the Witwatersrand during the Fees Must Fall protests in 2016, reminded the students in attendance of the power that young people have, especially when they come together. "As young people, we should recognise each other and make ourselves a force to be reckoned with," she said. "Force yourselves in, young people. No one is going to give us our country to take over."
She also emphasised the ways in which voting empowers voters. "Because I know I put you there, I can hold you accountable", said Mkhatshwa, also highlighting the importance of active citizenry. "But active citizenry is beyond the vote. If we want to see young people in places of leadership and influence, we need to be working on the ground and organising ourselves as young people. We need to have a plan when it comes to how we are going to own this country."
University of Oxford graduate Mpofu-Walsh told the crowd that a memorable voting experience for him was when he had to cast his vote while studying in England, and that should serve as a message that there "really is no excuse" for why someone shouldn't vote.
Mpofu-Walsh also reminded those in attendance that they should never feel restricted to voting for a certain party. "What we need to stop doing as citizens of this country is treating political parties like soccer teams and thinking we have to vote for the same party for the rest of our lives. Instead we can say, 'you know, this election, I like what you're doing, I'm going to give you a trial period and see how you serve the interests of me and the country.'"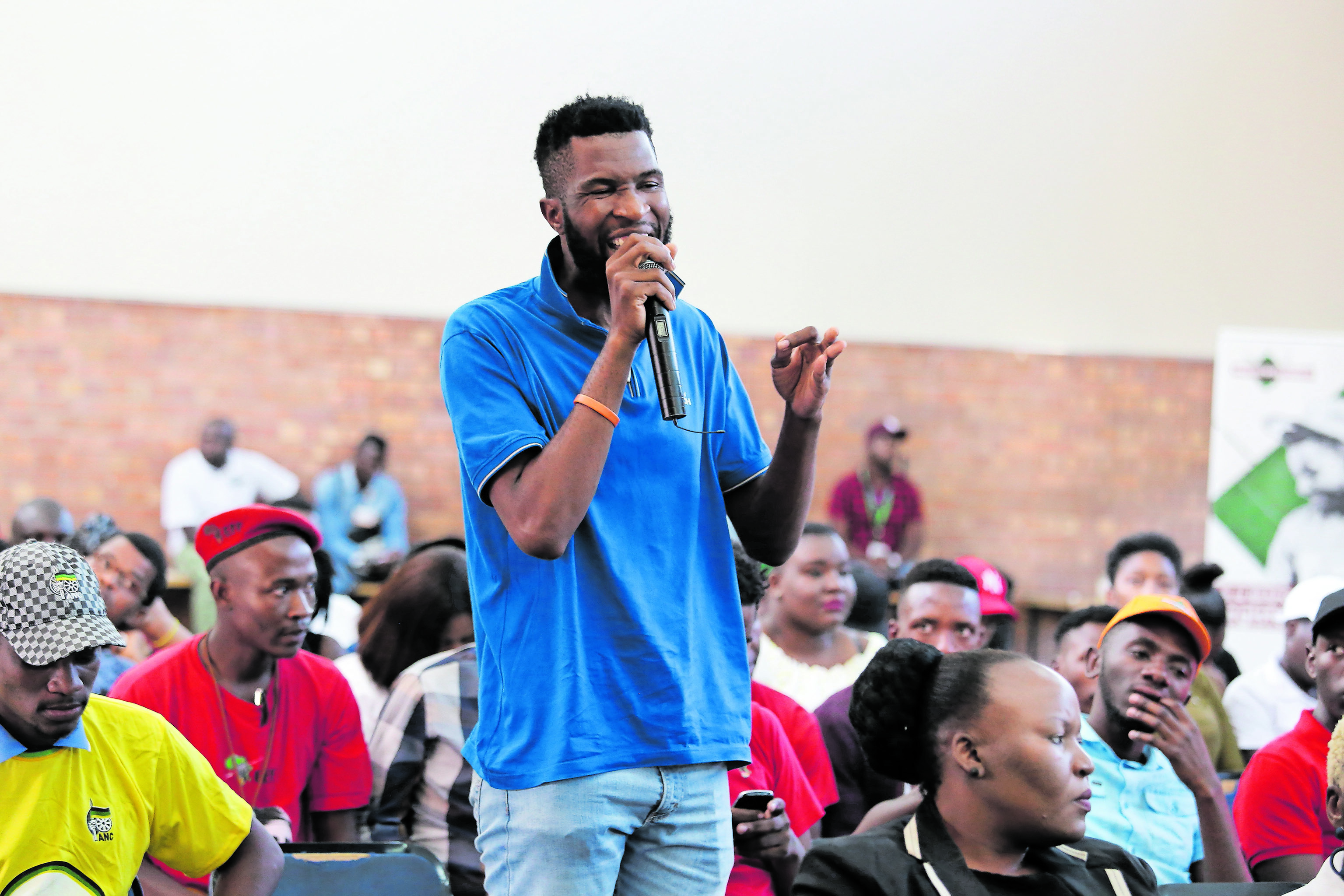 According to Mpofu-Walsh, realising what your priorities are as a citizen will lead you to make more strategic decisions. "You have to go back and see, what do I care most about in this country? Voting is not the ultimate important thing in a democracy, but even if one party doesn't resonate with you 100%, you should still make a decision," he said. "If you can't choose your best option, you can still choose your least-worst option. You still have the ability to vote against something with which you fundamentally disagree. This is also a means of identifying for yourself what the most important issues to you are."
The crowd's favourite, Somizi, was 21 in 1994, when the first democratic election took place. "I was once your age. And I was told the things you are told," he told the hall. "And not too much changed. What would be the change if you guys were represented by people who care? We need young faces up there." To Somizi, youth representation would present so many solutions to current issues. He believes that the older generations are too out of touch with the struggles and realities of young people. "I think we'll never have an understanding of what you guys are going through."
When it comes to voting, Somizi believes everyone needs to accept each other, despite the different views that they may have. "We need to respect one another's opinions. No opinion is less than another." He also once again reminded the young crowd of the power that they possess. "You guys are the majority of the numbers. Don't be apologetic about it. Use your power. Stop voting with your heart. Vote with your mind."
The Independent Electoral Commission's Lloyd Rikhotso told the crowd: "Our bright futures are linked to a living functional and active state that we create through voting."
According to Rikhotso, there were 25 million people on the voter's roll for the 2014 national and provincial elections, but only 18 million cast their votes. This put voter turnout at around 73.48%. In 2019, the IEC hopes for an 80% turnout.
"We are not here to ask you to vote for whoever, but to encourage you to register to cast your vote on the 8th of May," said Fezile Nondonga, director of communications, public participation and petitions.
As Xani reminded his constituency: "We need to vote to make sure we make changes in the country, and the only way to do that is through government. Let us vote, and represent ourselves."