Sixty-four-year-old military veteran Nompi Buthelezi could not hold back her tears as she was allocated an apartment at Fluerhof Lifestyle Estate, one of the Department's Mega Human Settlements developments.
Buthelezi is one of 200 military veterans who were allocated two-bedroom apartments during the launch of the Military Veterans Housing project in December 2018. She said that she is very happy to receive a place of her own after being subjected to a very difficult life upon her return from exile in Dar es Salaam, Tanzania.
"I went into exile with my mother, who passed away while I was still young. When I came back in 1992, I had nothing. I went back to a family home where I received a hostile treatment. I had nowhere to go, but all that is history now. I really thank God that this government has remembered me," said the emotional Buthelezi.
She said that her mother, who is buried in Kinondoni Makaburini cemetery in Dar es Salaam, must be proud of this government. "My mother can now rest peacefully, knowing that her daughter has a roof over her head. I cannot believe it myself that I have a house of my own."
Buthelezi's sentiments were echoed by another beneficiary, Cyril Ahkee, who was integrated into South African Defence Force. Ahkee said that his life has changed for the better; he stayed in a back room of a family home for years.
"It is not right that a grown man like me should stay in such a home. It is really not right, but I had nowhere to go and I couldn't afford a house of my own. I am really grateful that I have a place that I can call home. My children can now visit their father's house. It is a fulfilling feeling to know that even if I die, I will leave a legacy for my children," said Ahkee.
Both Ahkee and Buthelezi, who received their houses in Fleurhof, urged other military veterans to be patient, because they believe that their turn will also come.
Fleurhof is one of the success stories of Mega Human Settlement project development that is located south of Main Reef Road, between the neighbourhoods of Florida (Roodepoort) in the north and Meadowlands (Soweto) in the south, 13km southwest of the Johannesburg CBD.
The main objective of this Fleurhof Mega Human Settlements project, is, among other things, to eradicate Zamimpilo informal settlement, which is nearby. It will reduce the 1996/7 waiting list of beneficiaries in the surrounding areas, provide business opportunities, ensure integration of communities and create a model township where social amenities are shared by all.
Fleurhof is an integrated housing project based on the Breaking New Ground principles, delivering various types of housing tenures such as fully subsidised housing for military veterans, qualifying beneficiaries, people living with disabilities, elderly and child headed homes. It also includes social housing, rental opportunities and entry-level bonded housing.
This project is doing away with spatial planning and bringing people closer to infrastructure and true integration of communities. Over 90% of the units will fall within the Financial Sector Charter definition of affordable housing, and are contributing significantly towards the transformation objectives of government.
The Fleurhof development project is expected to yield more than 18 000 different typology units upon completion.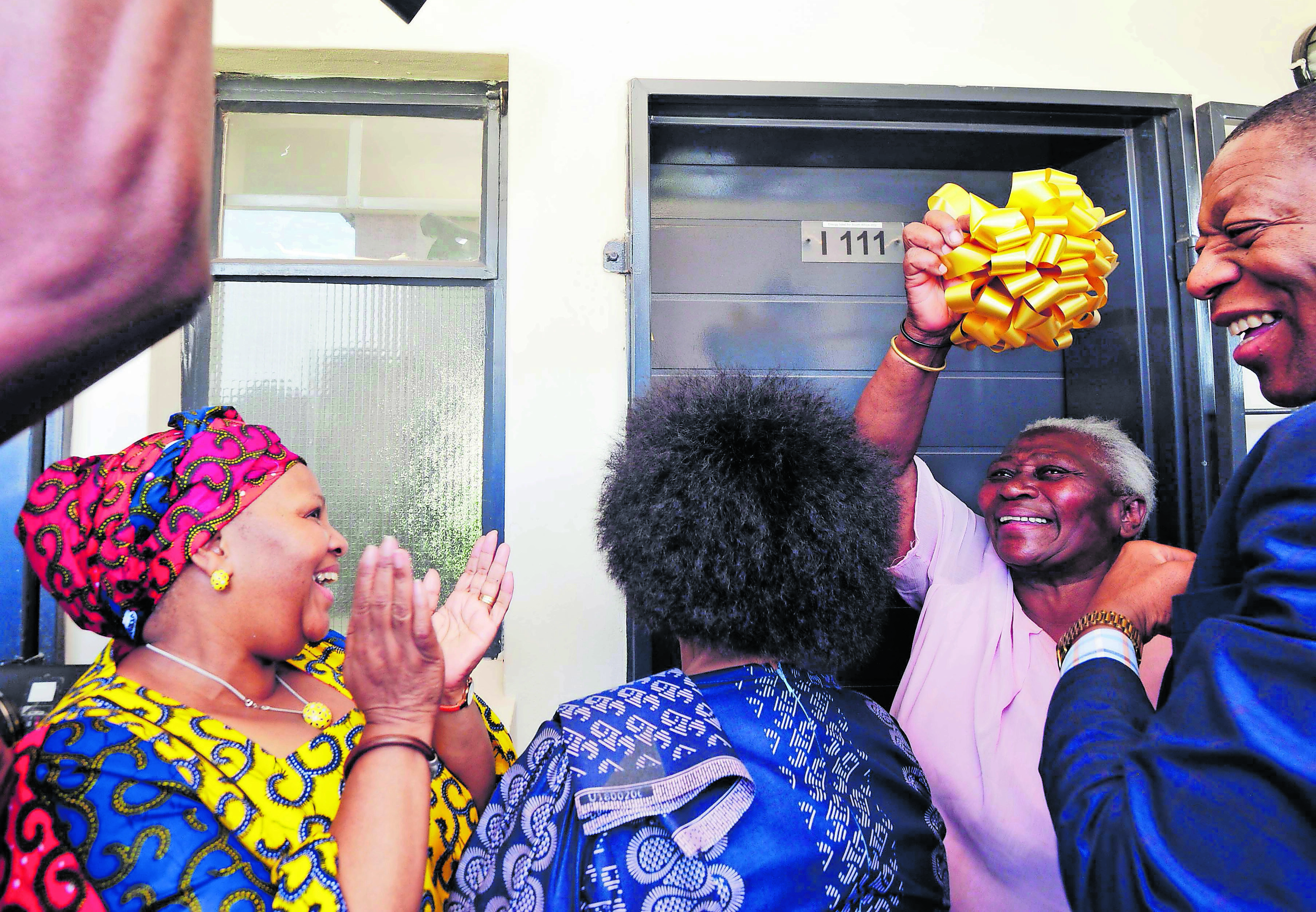 Gogo Sealanyane receives a title deed in the comfort of her own home
Savanna City Mega Human Settlement project restores dignity to the previously disadvantaged
Sithembiso Mkhize
Gauteng MEC for human settlements Dikgang Moiloa personally delivered a title deed to 77-year-old Gogo Masetshedi Lydia Sealanyane in the Savanna City Mega Human Settlement project, Sedibeng.
Moiloa handed over more than 1 300 title deeds to beneficiaries in the development. Gogo Sealanyane said that she is very excited to receive her title deed while she is still alive.
"Many people died in shack fires before getting their houses. I am very fortunate to get my house and very quickly get my title deed. I never thought that life would be so nice while I was still staying in Everton informal settlement" said Sealanyane.
Speaking at Savanna City at the title deeds hand-over ceremony, Moiloa said the issuing of title deeds forms part of government's programme "Title Deeds Friday" as pronounced by Gauteng premier David Makhura, to restore the dignity of the previously disadvantaged by giving them proof of ownership.
Moiloa said that the apartheid regime denied black people a chance to own land and properties, which is the reason this government is giving them the right to a house and land ownership. The MEC told the beneficiaries that a title deed will ensure that no one can come and claim their stands or houses; it is proof of ownership to their properties.
"As we walk this journey to develop communities, mistakes will happen, but that does not mean we must forget where we come from. The land of our forefathers was forcefully taken by the apartheid regime. Today we are allocating title deeds to give you security of tenure and a lifetime investment," said Moiloa.
The MEC further said that he is aware that Savanna City is not electrified and that the electrification of the township is the responsibility of Midvaal local municipality. "I have met with the department of energy to raise the issue of Savanna City's electrification and they have committed to start the process in the next financial year, which starts in April 2019," said Moiloa.
He said that he will be meeting with the mayor of Emfuleni, Bongani Baloyi, to discuss the plans for electrification. "What happened in Savanna City should not happen anywhere again. We had to allocate beneficiaries to avoid illegal invasion of houses by people who I trusted would help resolve the misunderstanding, only to find out that they were behind the invasion," said the MEC.
Moiloa said that the weekly distribution of title deeds would include the elderly, child-headed homes, people with disabilities and military veterans.