Vaal University of Technology's (VUT) Human Sciences graduation ceremony was a flurry of excitement and joy, not only for the students themselves, but for senior staff, management and the Sobukwe family, whose matriarch Zondeni Veronica Sobukwe was posthumously honoured with a degree in humanities. The ceremony took place at the Desmond Tutu Great Hall. The honorary degree celebrates the life and work of Mama Sobukwe and all ordinary African women who were involved in the struggle.
Vice chancellor and principal of VUT, Gordon Ndodomzi Zide, spoke to the Mail & Guardian about how the principle of Ubuntu guided Mama Sobukwe's life, and how the Sobukwe's pan-Africanist values strongly align with VUT's own.
"We've got six values at VUT: integrity and honesty, mutual respect, collegiality, creativity, excellence and diversity. These are the embodiment of Mama Sobukwe. VUT has historically recognised people of great intelligence and people of great credibility — we have recognised the George Bizo's of the world, the Hugh Masekela's of the world, the Sipho Pityana's of the world. So, one can imagine Mama Sobukwe easily falling into this space," Zide said.
"She is the embodiment of humanity; evidently as a nurse, but above all, as a mother of Azania. What impressed me the most was her intellectual capacity to use the pen to fight the racist regime. She believed the pen was mightier than the sword, because she consistently wrote to the white racist regime demanding the release of her husband and all political prisoners."
Her husband, the late Robert Mangaliso Sobukwe, who founded the Pan-Africanist Congress (PAC) was a mentor and inspiration to Zide, as is the Sobukwe family, and the honouring of Mama Sobukwe spoke to the vice chancellor on many levels — both professionally and personally.
"The first time I met uncle Robert was in 1958 in Aliwal North. I was a youngster at the time and he was meeting my uncle — they studied together at Fort Hare — I was coming home from school when we first met," said Zide.
Zide's uncle, the late John Nyathi Pokela, was Sobukwe's friend and a founding member of the PAC. When Zide was released from prison in 1976, he went to visit his uncle on Robben Island, an experience which shaped his ideas of humanity, and were strongly aligned with pan-Africanist thought.
"I gained so much from that man. Let me tell you one of the things he said to me. So, at the time, we were fighting against the use of Afrikaans and fighting against Bantu education. He said to me that in the absence of a better system of education, I should grab that education and say to myself 'Bantu education has failed me, but you will be somebody one day.' I listened and I thought, 'these are wise words'."
Zide went back to university, and is now vice chancellor of VUT, after holding prestigious positions at Fort Hare, Unisa and other academic institutions. He said that through his familial relationships, he came to know the Sobukwes and looked up to their understandings of politics and the ways in which they treated those around them. He also stated that when Veronica and Robert met, "it was a meeting of equals," and that their relationship was forged in the struggle.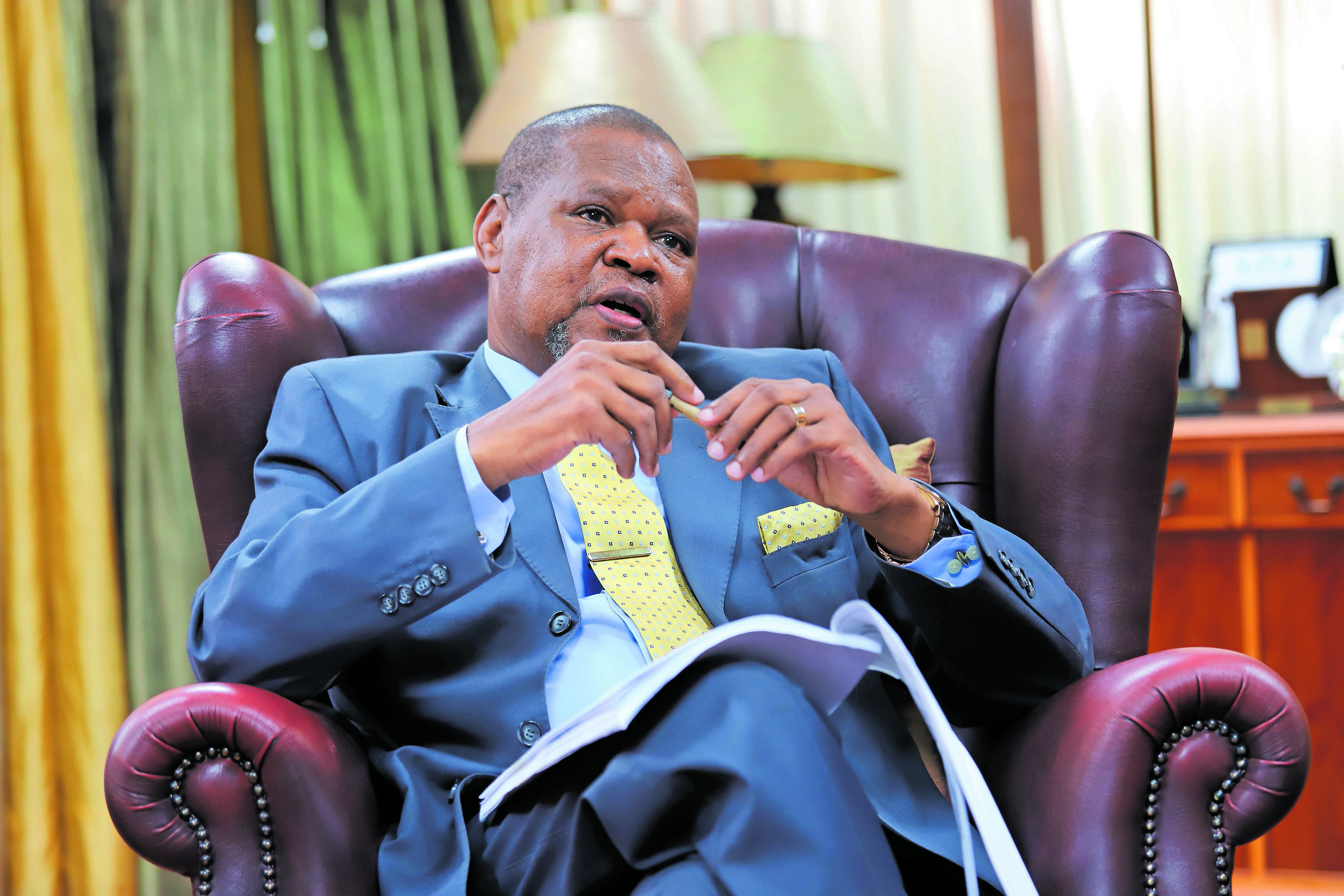 Vice chancellor and principal of the Vaal University of Technology, Gordon Ndodomzi Zide
"When we look at people like Mama Sobukwe, like Robert Sobukwe, these are the people who shaped and changed the political landscape and people of Azania. Remember they met in 1949, and it was a meeting of great minds. What happened is that both of them met as political supporters, but that association developed into a love affair, which transcended the political space and became so close and relevant to the struggle that they ultimately shaped and formed together," said Zide.
Zide explained this point further, by noting on one side of the River Tyume was Victoria Hospital, where Mama Sobukwe led nurses on a strike against the racist administration of the hospital, and on the other side was Fort Hare, where Robert, SRC president, led a protest about exclusionary university policies. "Robert said 'No, no, no. We can't sit on our laurels as Fort Hare students when our sisters across the river are involved in a strike. Let us go and support them.'" And so their relationship began.
This knowledge and respect for the relationships between people is one that Zide hopes will stay with graduates. In his message to humanities students he emphasised the principles of Ubuntu and offered the phrase "I am because you are" as a guiding ethos to the graduates.
"They [the Sobukwe's] never believed in that colonial and imperial categorisation of people in terms of race — they were seeking the humanity of all people. If you pay your allegiance to Africa, and you promote and embrace African values of Ubuntu, then you're an African. A true Africanist is somebody who values and embraces the African philosophy of being a human being, and being an African in the true sense of the word. They are driven by high ethical values which shape and nurture and develop a human being," said Zide.
VUT's passion and drive in remembering and respecting the Sobukwe legacy and the Africanist Nationalist values they espoused comes in the face of what Zide and others believe is the forgetting and erasure of the Sobukwes from the national discourse about struggle veterans and political stalwarts. The Sobukwe family's Robert Mangaliso Sobukwe Trust is an organisation VUT has earmarked for potential partnership to combat this.
"VUT is in the process of entering into partnership with the trust because of the values we feel we can share and provide to each other. It's in the pipeline as a potential partnership that we are very excited about, so that the Sobukwe family and values remain on the forefront of the political agenda," Zide said.
To that end, the nomination of Veronica Sobukwe came from Zide, and it was passed with no objection. "We took it through all the processes, looking at her history and work in the community. No one can dispute her role," he said. VUT's honorary degree is the second institutional recognition for Mama Sobukwe, the first being when President Cyril Ramaphosa conferred her an Order of Luthuli in Silver.
"After the higher degrees committee approved the honouring of Mama Sobukwe, a VUT team went to Graaf-Reinet to break the news. We got there and she was very alert and we spent almost 45 minutes with her. The purpose of our visit was two-fold. It was to touch base with her and break the news of honouring her but also, our contact person, Thando Sipuye, informed us that she'd be turning 91. We wanted to wish her everything of the best for her 91st birthday. Little did we know it was going to be a goodbye visit. It was good, but it was sad at the same time," Zide said. Mama Sobukwe died on August 15 2018.
The sincerity of the gesture did not go amiss. "Thankfully we went there and recognised her while she was still alive. We did not wait until her passing on and then do it as an afterthought," Zide said. The team from VUT also visited Robert Sobukwe's grave, which is accessible to the public to pay their respects.
"I am indebted to Mama Veronica, but also to the whole family, as they contributed to my professional, personal, and political development. In anything I do I always put myself in the shoes of the next person. I would not be here if it were not for other people and respecting that essence of humanity," concluded Zide.