New North West Premier Maureen Modiselle plans to ignore unhappiness about her appointment.
Modiselle to focus on bringing rival ANC factions together

The three names submitted to Luthuli House — ANC provincial chairperson Nono Maloyi, national deputy secretary general Thandi Modise and deputy chairperson Molefi Sefularo — were overlooked, sparking some dissatisfaction in the provincial ANC.
Modiselle says she is still uncertain about how to manage the two centres of power, but is not deterred. "I just don't want to even think of that. It will give out negative energy and I'm not a negative person," she told the Mail & Guardian this week.
She admits she was "shocked" that the national executive committee chose her despite her not featuring on any preferred list, including those from Cosatu and the SACP, which included outgoing premier Edna Molewa and ANC MP Louisa Mabe.
She failed to make the cut as a provincial executive committee (PEC) member at last year's Sun City conference, and was co-opted to the provincial leadership in November last year only after two PEC members defected to the Congress of the People. Even the ANC Women's League, of which she is treasurer, did not include her on its list.
Despite being relatively unknown, she is one of the more experienced North West leaders. She settled in Mafikeng in 1990 when she returned from exile in the United States and Canada, and has been on the PEC since 1994. A former nurse, she holds two bachelor of arts degrees, in health administration and nursing, both from the University of Toronto. As provincial minister she has filled several portfolios — safety, economic development and tourism, finance and social development.
Modiselle faces the challenge of uniting a party torn apart by support for rival presidential candidates from as early as the Polokwane conference in 2007. "It's an open secret that there is tension between the ANC deployees in government and those at Mphekwa House [the ANC's North West office]," she said.
There are also a few personality challenges: Modiselle has been described as antisocial, rarely attends the ANC's public events, and does not speak the province's first language, Setswana. She will now have to interact regularly with traditional leaders who prefer to be addressed in their own language.
Modiselle can be a toughie and is willing to go public with her fights for good governance. She traded words with Molewa in 2006, when she told Parliament's portfolio committee on agriculture that the province's agricultural department had collapsed because of fraud and corruption.
She says she will rely on her experiences as minister in different portfolios to improve the governance of the province. A passionate gender activist, Modiselle is widely expected to appoint several female ministers.
Noxolo: 'I will ensure zero tolerance of corruption'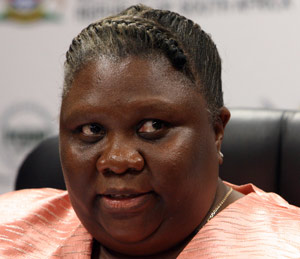 New Eastern Cape Premier Noxolo Kiviet will have her work cut out turning back the tide of sleaze in the poverty-stricken province.
A former unionist, Kiviet, was sworn in this week as the province's second woman premier since 1994. Previously speaker in the provincial parliament, she has vowed to root out corruption and accelerate service delivery in the province.
"My approach will be to ensure there is zero tolerance of corruption," she said.
"We need to ensure that public servants do what they were employed to do. We will try our best to give the necessary support to all government employees, but those who are corrupt to the bone will not see the light of day in the new administration," said Kiviet.
She said her job would not be affected by internal ANC wrangling. "As speaker, I have worked in an environment where there has been political infighting, but it never affected me. I can work with anybody as long as there is respect between the parties."
Born in the dusty village of Mdantsane in the Eastern Cape, Kiviet began her political career as a shop steward for the Chemical Workers Industrial Union in the early Nineties. She holds an honours degree in public administration from the University of Fort Hare and served as provincial treasurer for both Cosatu and the ANC between 1993 and 1996.
Kiviet's rise to the province's top job has come as a surprise to many within the ANC, who expected former premier Mbulelo Sogoni, or ANC provincial executive committee member Mcebisi Jonas to take the reins. And for their part, Cosatu and the SACP backed SACP treasurer and former provincial finance development minister Phumulo Masualle .
Kiviet's appointment ahead of Sogoni and Jonas is seen as an attempt by party bosses to quell internal political dogfights among provincial ANC leaders.
Those who have worked closely with Kiviet describe her as a unifier and a strong administrator. Said Mziwamadoda Sothana, director of communication at the provincial legislature: "She [Kiviet] is an assertive and no-nonsense leader, who does not take no for an answer. During her time at the provincial legislature one did not feel there were opposition parties in the legislature. She enjoyed respect from all political parties.
Jay Kruuse, head of monitoring and research at the Rhodes University-based Public Service Accountability Monitor, said Kiviet's immediate challenge was to ensure improved performance in key government departments. "Previous premiers have been unable to address long-standing deficiencies within the departments of education and health. And we have a massive housing backlog in the province because government officials have failed to utilise the housing budget.
"There have been several commissions of inquiry, but very little was done to deal with the findings, which included gross misconduct by senior officials."
Youth league warns Jenkins not to grow a beard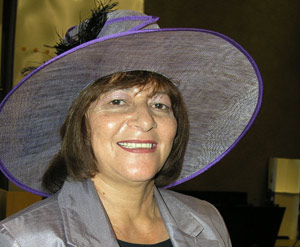 The appointment of municipal mayor Hazel Jenkins to the premiership of the Northern Cape was a surprise to everyone, including the provincial ANC leadership.
Jenkins is no stranger to the party — she serves on the provincial executive committee — but the party was clear that it preferred ANC chairperson John Block, who has been waiting in the wings for years to take the top job.
In the Mbeki era he was overlooked because of allegations of corruption; now it looks as though the Jacob Zuma era will treat him similarly.
Jenkins is a teacher by training, but served as mayor of the Pixley Ka Seme municipality, situated near De Aar, after the 2006 local government elections.
She is part of Block's camp, so her appointment, although disappointing for Block's personal ambitions, keeps the reins of government in the Northern Cape firmly in Block's hands. Block supporters have been reassured that she is merely "a proxy appointment" and therefore will not deviate from Block's way of doing things.
The ANC Youth League in the province has already warned her "not to grow a beard" — meaning she is expected to consult the ANC on all matters relating to government. "She must not get an attitude of 'I know it all'," provincial ANCYL chairperson Alvin Botes told the M&G.
The province has also turned the misfortune of Block being overlooked again into a feather in the province's cap. Said Botes: "Maybe the calibre of the female cadres in other provinces was not that good and the ANC is not a rent-a-dress party, so unfortunately for us, we had the strongest female candidate."
Jenkins's detractors point to audit reports suggesting misspending and lack of proper accounting during her watch at the Pixley Ka Seme municipality, where administration is chaotic and service delivery is not up to scratch. "So, if you can't even run a smallish municipality, how are you going to run a whole province?" one questioned.
As a coloured premier in a province where that voting bloc is important, Jenkins's appointment might help the ANC claw votes back from Cope, which managed to become the official opposition in the province by taking 17% of the vote. Some believe Block was punished by Luthuli House for the ANC's poor performance as it shed more than 10% of the province's voters.