In this section: Iman Rapetti, Stephen Grootes, Zanele Khumalo, Andy Davis and more…
Nikiwe Bikitsha; senior news anchor; e.tv
Nikiwe Bikitsha always wanted to be a journalist — ever since she read her distant relative's Doc Bikitsha's column in the Sunday Times. She says she had romantic notions of becoming a famous and reclusive writer but her teachers soon noticed that she had a voice for radio.
Bikitsha studied journalism at Rhodes University, working later as a trainee news reporter at 567 Cape Talk and Talk Radio 702. Since then, she has co-hosted AM-Live with John Perlman and been an anchor for CNBC Africa. Now she is senior news anchor for Newsnight with Jeremy Maggs on e.tv, and is completing her honours degree in journalism at the University of the Witwatersrand.
For now, her literary dreams are channelled into occasionally writing about Jane Austen in her Mail & Guardian column. — Eamon Allan
Lunch spot: Allora, Sandton, Johannesburg
---
Katy Katopodis; group editor-in-chief; Eyewitness News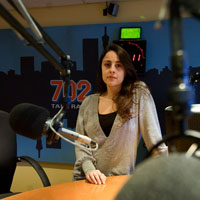 Katy Katopodis is one of a handful of editors who sets the country's news agenda.
As the group editor-in-chief for the Eyewitness News team, which runs across all Primedia-owned stations as well as their recently launched Eyewitness News website, she leads some of the best broadcast news journalists in the country, keeping abreast of every breaking news story both here and abroad and filling in the blanks for the rest of us.
Katapodis started her career at a Greek community radio station in Bedfordview and was snapped up by Primedia in 1996. Since then, she's interviewed everyone from Muammar Gaddafi to Bill Clinton and was the last journalist to interview ANC stalwart Walter Sisulu before he died.
But it was her clash with the Forum of Black Journalists (FBJ) that placed Katapodis in the news herself. In April last year the Human Rights Commission upheld her complaint against the FBJ for holding an Africans-only news briefing with ANC president Jacob Zuma. Chances are it's not going to be the last time Katapodis makes headlines. — Tanya Pampalone
Lunch spot: On the beach (eating grilled octopus and sipping white wine)
---
Alon Skuy; photographer; The Times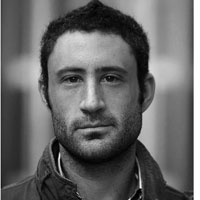 This award-winning photographer does what he does because it allows him to merge aesthetics with people's day-to-day lives and enables him to work in what he calls "the pinnacle climate".
The 28-year old spent three New Year's Eves in a row working in Hillbrow, where he finally snapped the picture that won him a Mondi Shanduka award for News Photograph of the Year in 2008. He also won the Ruth First Fellowship for Photography that year for his "Inside the Bridge" series.
What scares him most in his work is the mob mentality he sees, which culminated in the 2008 xenophobic attacks. He ultimately wants to photograph conflict, not a surprise with photographers such as Don McCullin and Joao Silva at the top of his idols list. Skuy's work on last year's xenophobic attacks is on exhibition at the Constitutional Court until the end of July. — Ilham Rawoot
Lunch spot: Bowling Club, Zoo Lake, Johannesburg
---
Zodwa Kumalo-Valentine; Johannesburg bureau chief; Marie Claire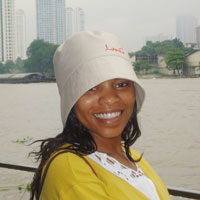 Zodwa Kumalo-Valentine always loved magazines — since she bought her first copies of Blush and Seventeen. To satisfy her lifelong interest, she studied journalism at Rhodes University for a while but soon realised that the genre she wanted to tackle wasn't hard news at all.
Instead, she wanted to get into the "sticky, tricky, salacious, trendy, sexy, juicy, uncomfortable, hard-hitting, serious and entertaining issues."
Kumalo-Valentine says that magazines such as Marie Claire — where she is Johannesburg bureau chief — encompass all of those things as well as the other subjects she likes: gossip, debate and style.
The 31-year-old, whose sister Zanele Kumalo is Johannesburg bureau chief of Elle and another of our 300 Young South Africans, started out at Independent Newspapers in the Cape as a sub-editor and a reporter and moved to Drum and then to Elle as a features writer. She joined Marie Claire as senior editor in 2006 and was later appointed the Johannesburg bureau chief. — Eamon Allan
Lunch spot: Tasha's, Atholl Square, Johannesburg
---
Tsepiso Makwetla, broadcaster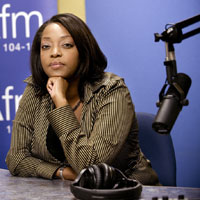 Tsepiso Makwetla is the face of SABC's prime time news broadcasts. The journalist started her career in 1995 at community radio station, Cani FM, spending the next five years at Primedia before moving to the SABC in 2001.
Makwetla has been at the public broadcaster ever since, working as a writer in the news department and as a presenter on Safm.
In 2003 Tsepiso moved to SABC Africa to co-host its flagship current affairs show 60 Minutes Live. In 2006, she returned to Safm to co-host the drive-time current affairs show, PM Live with Jeremy Maggs. They both later moved to the breakfast show AM Live.
She now hosts the Safm breakfast show with Tim Modise, while also presenting SABC's Sunday current affairs programme Interface. — Eamon Allan
Lunch spot: Fratellis, Greenside, Johannesburg
---
S'Thembiso Msomi; political editor; The Times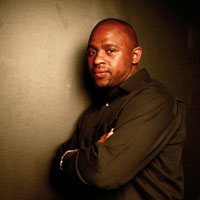 S'Thembiso Msomi grew up in KwaZulu-Natal during a volatile political time in South Africa's history.
So it's only natural that he became interested in politics, he says. The main difference between Msomi and his friends was that he went to the public library to find out what the different political parties had to say. He found what he was looking for in the newspaper.
Msomi started out as a cub reporter at the Natal Witness. Over the years, the award-winning journalist made his way through several newsrooms, including those of the Sunday Times, Business Report and City Press. Now he's the political editor for The Times.
Msomi says that it has been a while since he was bored. In fact, not since the ANC's Polokwane conference. Political commentary is all about opinion and his column, Politics in Command, generates quite a few responses from readers who love him and hate him. — Hendri Pelser
Lunch spot: Adega, Bedfordview, Johannesburg
---
Iman Rapetti; news anchor; e.tv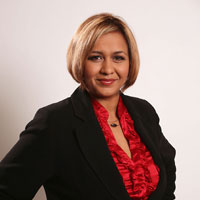 Iman Rapetti is known best for her historic on-air confrontation with former president Thabo Mbeki. The doorstop moment took place on October 2 2007 when Rapetti questioned Mbeki about reports of a warrant of arrest that had allegedly been issued for National Police Commissioner Jackie Selebi, which led to the suspension of National Prosecution Authority boss Vusi Pikoli. Mbeki refused to answer.
For Rapetti, now an e.tv news anchor, this is what her job is all about. She believes that as a journalist, she does not just hold the mirror that reflects on society, but rather that she gives it a voice. Rapetti is a journalism graduate from Durban and has also worked in television news in Iran, for the SABC, Business Day and Talk Radio 702. — Jane Steinacker
Lunch spot: Masala, Northcliff Corner, Johannesburg
---
Stephen Grootes; political reporter; Eyewitness News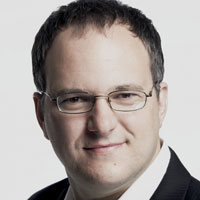 As the results poured into the Independent Elections Commission centre in Pretoria late April this year, Stephen Grootes sat at one of the long desks in the reporter's den, broadcasting results throughout the day to Eyewitness News listeners on Talk Radio 702 and 94.7 Highveld Stereo.
Everybody listened. Even the other journalists who sat right next to him. Because we all knew that whatever Grootes was reporting was spot on and we, like the rest of the nation, take serious note of his breaking analysis to help us better understand what's unfolding.
Grootes is a Rhodes University journalism graduate who worked as a radio news editor and reporter in London before coming back home and getting a job at Talk Radio 702.
He was named the regional Vodacom Journalist of the Year for two years running in 2005 and 2006; in 2007 he won the Webber Wentzel Bowens Legal Journalist of the Year Award for electronic journalism. — Tanya Pampalone
Lunch spot: Radium Beer Hall, Orange Grove, Johannesburg
---
Andy Davis; editor; Mahala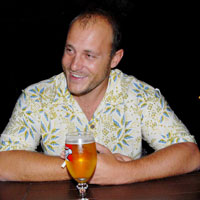 Back in 2002, Andy Davis was the frustrated Joburg-based editor of Student Life magazine. All he wanted to do was surf. To quench his thirst for waves, he started up the Mahala Surf Company to hook up young children with surf equipment that they wouldn't otherwise have access to.
Now that original concept has gone mainstream. In May, Davis launched a music, culture and reality magazine with the hopes that Mahala will become a gathering place for young writers, photographers and all kinds of creative types based on the belief that "all the good stuff in life is free."
The magazine is online now at mahala.co.za and Davis hopes to have a free print version out by August "available at cool outlets". He thinks advertisers will jump on the free band wagon, giving away their goods in the name of good brand advertising.
Davis is funding the venture through Jingo, his content creation company that created FNB's new teen magazine and the Levi's Original Music magazine.
Davis is also a contributing editor to Zig Zag and writes for the Sunday Times, Marie Claire, GQ and Men's Health. — Tanya Pampalone
Lunch spot: Empire Café, Muizenberg, Cape Town
---
Zanele Kumalo; beauty editor; Elle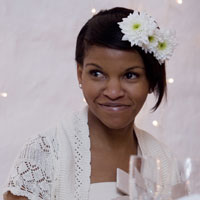 While still in her teens, Zanele Kumalo remembers wanting to be a creative director for a magazine. She even designed a glossy with some school friends. Kumalo shelved the idea when she studied fine art and language at Rhodes University, pursuing a fantasy of being a fashion designer and training in clothing sales.
But after landing an internship at the Sunday Times, she was approached to join the start-up team for Top Billing magazine and later went to O, The Oprah Magazine. And the rest is South African magazine history, which happened to land two sisters from KwaZulu-Natal at the top of the local magazine heap. Her sister Zodwa Kumalo-Valentine, another of our 300 Young South Africans, is the Johannesburg bureau chief of Marie Claire while Zanele is beauty editor and Johannesburg bureau chief at Elle. — Eamon Allan
Lunch spot: Cnr Café, Craighall Park, Johannesburg