We thought we were going to have an easier time rating the government's executive corps this year than in 2009. Ministers had track records and could be rated against both their own priorities and ours. But just as our assessment process was gearing up, President Jacob Zuma reshuffled his Cabinet.
Malusi Gigaba: Minister of Public Enterprises
Grade: Too soon to tell

When Zuma hoofed out Barbara Hogan in his Cabinet reshuffle, Malusi Gigaba got the unenviable task of picking up the pieces in a portfolio where parastatals have lurched from one crisis to another. The most obvious problem has been the leadership vacuum at Transnet. But, acting swiftly, Gigaba appointed a new board, which he has given a three-month deadline to find a replacement for acting chief executive Chris Wells.
Gigaba has replaced the department's long-acting director general Andrew Shaw with Tshediso Matona, formerly of the department of trade and industry. But there are still a number of positions in Transnet and the other parastatals that need filling.
The behemoths that the department oversees, such as Eskom and SAA, have reached relative financial equilibrium, but the department under Hogan's watch can be credited with helping them get there.
SAA's new chief executive and board have taken decisive action against former chief executive Khaya Ngqula for money he misspent while heading the airline.
Similarly the appointment of Brian Dames to head Eskom has been seen as a positive move. The utility is back in the black after renegotiating some of the troubling derivatives contracts that wreaked havoc on its bottom line. Gigaba is determined that the government must take a stronger hand in the running of its state-owned enterprises. He has already publicly admonished Transnet for cost overruns on its new multiproduct pipeline and he froze SAA's plans to buy aircraft engines until he was satisfied with the deal.
Pravin Gordhan: Minister of Finance
Grade: A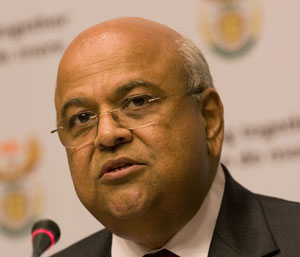 Pravin Gordhan has a desperately difficult job. On the one hand, the treasury is staffed by the most capable bureaucrats in the government, men and women who outgun most of their colleagues in other departments.
One of the unacknowledged foundations of South Africa's fiscal stability is that the people handing out the money are cleverer than the people asking for it. The ministers committee on the budget (call it MinBudCom if you are trying to bluff your way in government) is consultative, but it is not an even bureaucratic battle.
And then there is Parliament, which for the past two years has had the authority to intervene seriously in, and potentially complicate, the budget, but which has done almost nothing to set up the structures that would enable it to wield its power to change "money bills".
That means that Gordhan and the treasury team have a bit of leeway. But he is the person held most directly responsible for both the government's finances and the overall health of the economy on which those finances depend. And that is where it gets tricky.
First, some big spending decisions have been taken out of his hands, including the biggest of all, the civil service wage bill, which is growing faster than any other major spending item. Indeed, this year's double-inflation increase will sharply cut into the "fiscal space" won by years of restraint. No amount of cleverness is going to change that.
Second, the crucial microeconomic reforms that the treasury has been asking for years — better infrastructure, more competitive product markets, more open labour markets, an immigration policy designed to attract skills, a trade policy that pushes local oligopolies towards efficiency — all lie in the hands of other departments, such as trade and industry and home affairs, that are hostile to them.
And third, there is the long, grinding process of global economic recovery, complete with European debt crises, American money printing and Chinese currency "management".
Against that backdrop, Gordhan has done well to deliver spending plans that fund key state priorities without breaking the bank and to begin forging an approach to corruption, and the social contract, that sets out a path of sound governance, redistribution and the competitiveness that points the clearest way to future prosperity.
We are a bit worried by the level of grumbling emanating from treasury officials. They are the foundation of Gordhan's success and we hope that he finds ways to galvanise them behind his vision.
Tina Joemat-Pettersson: Minister of Agriculture, Forestry and Fisheries
Grade: C+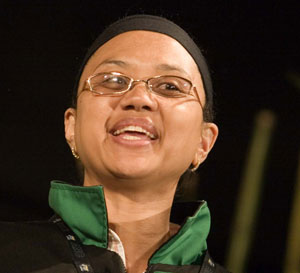 ANC ministers generally have a strained relationship with commercial farmers, but Tina Joemat-Pettersson has bucked the trend with charm, strategic speeches and an open-door policy.
One of the most accessible ministers, she has so far succeeded in balancing the interests of emerging and commercial farmers, which she admits is one of the most treacherous tightrope acts in government. But despite her warming relationship with AgriSA and even with the conservative Transvaal Agricultural Union, she has made it clear that developing emerging farmers remains her top priority.
One of the rising stars in the Cabinet, with the reputation of being one its hardest-working members, she can be very outspoken and the staff in her department are said to dread her temper.
In agriculture she has made important strides in helping to build new markets in the Far East and Africa. In fisheries, the politically loaded, key government delivery area, the allocation of quotas remains as hot an issue as ever. Among her headaches are the small-scale fishing sector and particularly corruption and fronting in quotas and fixing and combating poaching in the abalone industry.
Central to the Byzantine politics of the fisheries sector is Marine and Coastal Management (MCM), which was investigated for graft this year. But Joemat-Pettersson is a potential head girl in the executive — able and ambitious.
There is perhaps a better chance that she will get to grips with these chronic problems than her predecessors did. Her involvement in the sable antelope saga unfortunately compels us to mark her down. Her appointment of the inexperienced Zitha Langa as director general may come back to haunt her.
Paul Mashatile: Minister of Arts and Culture
Grade: Too soon to tell

Paul Mashatile, previously deputy arts minister and Gauteng finance minister replaced Lulu Xingwana in Zuma's Cabinet reshuffle. He continues to trail clouds of controversy: in Gauteng, he was allegedly at the centre of "the Alex mafia", a political and business network involved in trying to usurp major Gauteng government contracts.
Although he has won some praise for his enthusiasm, drive and willingness to advance the arts and culture sector, detractors complain that one of the biggest problems in his portfolio is non-delivery on the official "Investing in Culture" programme, which is intended to create jobs for the unemployed.
Only 22% of the R42,9-million budget for the ­programme has been spent.
He struck the wrong note late last month when he failed to appear for an important sitting of the arts and culture committee on the setting aside of money for his department in Gordhan's mini-budget.
In the department itself, rumours abound of staffing problems. Director general Themba Wakashe's term ended in September and he was replaced by Veliswa Baduza, former chief operating officer of the department, in an acting capacity.
Mashatile is a young, well-travelled tweeter and Facebook user who likes to project himself as a 21st-century politician. When Zuma shifted him to a deputy ministership in a minor portfolio, it was seen as sidelining him.
But his potent provincial power base — he continues to chair the Gauteng party — has kept him in the reckoning. Watch this space —
Nosiviwe Mapisa-Nqakula: Minister of Correctional Services
Grade: C-



Nosiviwe Mapisa-Nqakula walked into a minefield when she took over this ministry and it remains to be seen whether she can mount a serious attack on corruption in her chaotic department.
Her appearances in Parliament and at meetings of the correctional services portfolio committees have not been regular enough for her to leave her mark. Yet she gets brownie points for appointing the kick-ass correctional services national commissioner, Tom Moyane, who must now account for lack of compliance and performance in the department.
Although overcrowding in prisons has improved during Mapisa-Nqakula's tenure, 19 South African prisons were found recently to have occupational levels of 200% and higher. In her department's 2009-2010 annual report, Mapisa-Nqakula outlines the action she is taking to reduce prison overcrowding further and the task team she has appointed to assess categories of prisoners.
Last month the Judicial Inspectorate of Correctional Services revealed that many inmates are being held in inhumane conditions. In response, one would expect the minister to make regular surprise visits to prisons. If she is doing this, it's a closely guarded secret.
Popular with her colleagues, Mapisa-Nqakula clearly has a mammoth task as most South African prisons are unhygienic, lack adequate healthcare facilities and do little to rehabilitate inmates. Having thrown herself into the trenches as an Umkhonto weSizwe fighter under apartheid, there is hope she might yet come out with guns blazing.
Fikile Mbalula: Minister of Sport and Recreation
Grade: Too soon to tell

Fikile Mbalula took over from a lethargic Makhenkesi Stofile, who, although the minister formally in charge of the Fifa World Cup, can hardly be credited with its success. Indeed, he seems to have slept through it.
After Mbalula's first meeting with provincial sports ministers, some of whom were also new in their posts, it was agreed that more focus was needed on unfashionable matters such as school sports, mass participation, sports councils and youth camps. This is where they should be expending their energies, rather than on quick-and-easy sound bites on the demographics of cricket and rugby and South Africa's performance in the national sport, football.
He has already stirred a hornets' nest by proclaiming that he is not in favour of quotas for national sides. But he would be well advised to scrutinise and help improve the running of some lower-profile popular sports, the administration of which is in a shambles.
These include Boxing South Africa, which changes leaders as often as the Springboks lose Test matches, and Athletics South Africa, which has shed some of its dead wood, including former president Leonard Chuene, disgraced after admitting that he lied about not knowing of gender tests conducted on athlete Caster Semenya. But Mbalula must ensure that ASA's new brooms sweep clean. Basketball South Africa also needs a facelift.
Edna Molewa: Minister of Water and Environmental Affairs
Grade: Too soon to tell

Water affairs is Edna Molewa's problem child. Its deep-seated ills, including allegations by independent forensic auditors that senior managers have interests in companies that do business with the department, have been widely reported.
Acid mine drainage in Gauteng has been singled out as South Africa's biggest environmental challenge, potentially as far-reaching as the Eskom meltdown of 2008, and critics have been scathing about the department's lack of response.
Former minister Buyelwa Sonjica's tainted legacy includes the fact that the department still lacks a permanent director general after Pam Yako was axed. Clearly, the department can be brought to heel only under strong visionary leadership.
Molewa's waterborne ailments also include the growing number of leaking and overloaded municipal sewerage works, highlighted by the department's Green Drop Report this year, the steady deterioration of water quality in South Africa's rivers and the threat posed to crucial wetlands by pollution and mining.
Only six of 169 water services authorities and 7.4% of all waste water systems are up to scratch, according to the Green drop report.
Despite reports of internal management conflict, the environmental affairs department seems to be reasonably well run. As host of critical United Nations climate change talks in Durban next year in November, Molewa will have to get her head around the complicated international negotiating issues.
Thrown into the deep end in Cancún, Mexico, she has already made her presence felt, alerting the world to the fact that South Africa will be a major player at next year's talks.
Angie Motshekga: Minister of Basic Education
Grade: E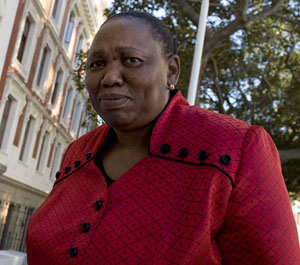 It took Angie Motshekga several days to respond publicly to the death of a schoolgirl shot by police during nationwide protests against the ­preliminary matric exams.
That distils her surreal detachment from her portfolio. The death followed public-sector strikes that caused the worst disruption to teaching and learning in post-apartheid South Africa.
Yet the national minister emerged only once or twice to utter soothing banalities about everything being under control. Tell that to the matrics who have just written their finals with even greater discrepancies in preparation than usual; tell it also to the teachers who remained in their classrooms throughout the strike but now find their pay docked for being "absent".
The same low-key detachment marked Motshekga's announcement of yet another "revised" curriculum. If she intended to stifle debate, she certainly did so effectively by calling the vast new enterprise a "repackaged curriculum" — there is nothing much to talk about if it's just the wrapping paper that's being changed.
This is patently not the case, but the lack of public outrage — or any public engagement — is striking. Perhaps this derives from the weariness induced by watching the Titanic's deckchairs being rearranged yet again.
Similar apathy met the other rabbit Motshekga produced from her hat this year — "Action Plan 2014", sold as part of something called "Schooling 2025".
There have been a lot these — remember "Curriculum 2005"? But when does "Schooling Here and Now" lock in? With this minister, probably never.
Aaron Motsoaledi: Minister of Health
Grade: A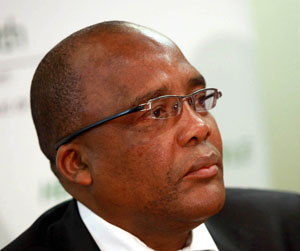 Aaron Motsoaledi doesn't need to pat himself on the back for his efforts this year — the health sector is happy to do it for him. Stakeholders have welcomed the refreshing change in leadership style he has brought to the ministry.
He has won many supporters with his consultative, science-driven approach and his unflagging can-do attitude. In terms of outcomes, he has had a mixed year. The ambitious national HIV counselling and testing campaign has not met its targets, but it has led to the testing of four million people in six months.
The health department received an unqualified audit for the first time in seven years, but had to return more than R800-million in unspent infrastructure funding to the treasury.
Though the department is making headway in launching an Office of Health Standards Compliance, which will enforce minimum health standards in healthcare institutions, the legislation is long overdue. It is no secret that the department is held back by incompetent bureaucrats and Motsoaledi will have to show strong leadership in rooting out inefficiency.
Finding a solution for training and retaining medical staff will be crucial in 2011. Motsoaledi will also need to show real gains in preventing new HIV and TB infections and reducing maternal and child mortality. This will be difficult without overhauling the way provincial health departments are managed.
Stakeholders will also be counting on the minister to steer policy development on national health insurance, using the same practical and consultative approach he has shown to date.
Motsoaledi's biggest coup for the year was undoubtedly the renegotiation of the antiretroviral tenders, which resulted in a 53% reduction in drug prices and created a massive R4,7-billion saving for the department. The strategies used to achieve this could improve procurement processes and efficiencies in other health services.
Nathi Mthethwa: Minister of Police
Grade: C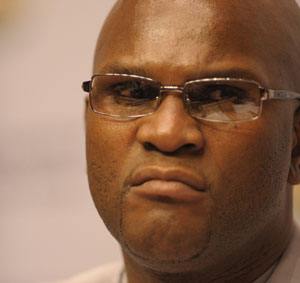 Nathi Mthethwa and his national commissioner, Bheki Cele, made South Africa proud by reducing crime almost to zero during the Fifa World Cup, a monumental achievement. Bear in mind that the media in countries such as Germany had warned tourists that they stood a good chance of coming back in body bags.
Mthethwa has also shown some welcome signs of openness about the deficiencies of the South African Police Service — in particular, he has openly admitted that public perceptions of police corruption are correct and has vowed to crack down on graft.
He has been far less vocal on the need to root out the use of torture by police investigators — the subject of repeated allegations, particularly in the Western Cape — and the massive fraud perpetrated on the public by the manipulation of crime statistics by his officers.
It was recently announced that training for police officers will be increased from one to two years. But Mthethwa also needs to implement further training programmes for the thousands of detectives whom MPs were told this year lack the requisite skills for the job. Inadequate training of detectives is one of the key reasons that the criminal justice system struggles to secure convictions.
Mthethwa should be seen to be cracking down on the criminal behaviour of police and holding them to account for the haemorrhage of police weapons to the criminal underworld every year.
Still, combating crime is one of the Zuma government's priorities and there are undeniable signs of progress, particularly in the fight against violent crime. Annual crime statistics released in September, for example, showed that murders in South Africa declined by 8,6% in 2009 to fewer than 17 000.
Sibusiso Ndebele: Minister of Transport
Grade: B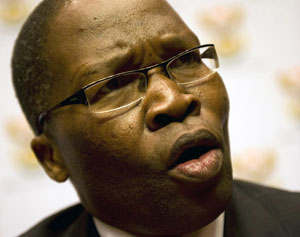 South Africa is not in the same league as developed nations when it comes to public transport, but the Fifa World Cup showed that the country can deliver an efficient service.
It is for this reason that S'bu Ndebele deserves a high mark this year, for ensuring smooth rail, road and air services for local and international football fans. But Ndebele will have to redouble his efforts if he is to use the successes of the 2010 World Cup to create a seamless multimodal transport service that facilitates movement to all parts of South Africa.
There has been significant progress in rolling out the Integrated Rapid Public Transport Network, particularly in cities such as Johannesburg, Cape Town and Port Elizabeth. The service between Johannesburg's central suburbs and Soweto has been operating at full steam, with Rea Vaya buses transporting more than 20 000 passengers a day.
The government has invested more than R38-billion in arresting the decline of rail infrastructure and addressing the availability of rolling stock. The 160km/h Gautrain was introduced just before the World Cup to provide a shuttle service between OR Tambo International Airport and Sandton in Johannesburg. A high-speed rail link between Durban and Johannesburg is also under discussion.
Road deaths cost 1 100 lives in December 2009 and especially those caused by unroadworthy vehicles and buses continue to put a damper on every festive season. This should be as important for Ndebele as ferrying World Cup spectators.
The proper implementation of the controversial Administrative Adjudication of Road Traffic Offences system would be a good start.
Maite Nkoana-Mashabane: Minister of International Relations and Cooperation
Grade: C


Maite Nkoana-Mashabane's biggest achievement this year was the re-election of South Africa to the United Nations Security Council.
But this time round there will be much more at stake, with greater pressure on South Africa to prove that the country is breaking with its past by avoiding debating topics such as Zimbabwe in that influential forum.
It will also have to perform nimble diplomatic footwork to avoid stepping on the toes of its new best friend — China — when climate change or human rights come up for discussion.
Departmental officials are ­convinced that South Africa's second bite at the cherry will lead to the country becoming a permanent member of the security council — a goal since former president Thabo Mbeki's administration.
Nkoana-Mashabane and her officials brought Brand South Africa to a wider audience and successfully managed South Africa's contribution to the Shanghai Expo in China. She has also followed up well on her promise at the start of her term to take foreign policy to the people on the ground.
Moving out of the Union Buildings into the state-of-the-art OR Tambo building down the street may have moved the minister physically away from Zuma but politically they are moving closer, with Zuma playing a larger role in international relations than first envisaged.
Nkoana-Mashabane's attention seems to be paying off: her department managed to declare a clean financial audit this year.
Gugile Nkwinti: Minister of Rural Development and Land Reform
Grade: E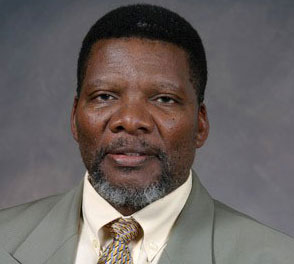 The path to successful land reform remains strewn with pitfalls and blind alleys. Every year it's the same story — land redistribution is moving at a snail's pace. Who is to blame?
Nkwinti has committed no major sins as a minister — but has not given this increasingly important portfolio the kind of dynamic leadership it needs.
His department attempted to produce a Green Paper containing new proposals on land reform, including the replacement of the "willing buyer, willing seller" principle by legal provisions enabling the minister to expropriate land in the public interest and to impose a cap on land ownership in some (unspecified) parts of South Africa.
The paper was due to be tabled in July this year, but an indication of its sensitivity is the fact that its unveiling has been postponed several times.
Nkwinti also lost his director general this year, Tozi Gwanya, who was not seen as a particularly industrious official, and no permanent replacement has yet been made. The minister would be well advised to surround himself with vigorous, passionate civil servants.
A possible black mark against him was a charge of nepotism relating to his term as Eastern Cape agriculture minister. It is alleged that in approving a list of 20 beneficiaries for the Gorah Land Reform Project, near Kenton-on-Sea, he gave a cattle farm to his friends. He denied being the author of the list, or that he had violated his ministerial mandate.
Blade Nzimande: Minister of Higher Education and Training
Grade: C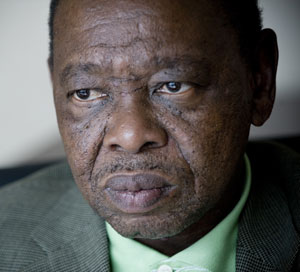 Blade Nzimande had been cruising towards a comfortable B+ when the wheels came off. In a campaign reminiscent of the South African Communist Party's Red October programme, he ditched two pivotal and hardworking officials, seemingly in a fit of pique and paranoia when his views met with some dissent.
The effects were immediate — not exactly in undoing the fine start he and his overstretched, understaffed new department had made, but in bringing the departmental vehicle to a spluttering, fear-filled halt.
The shock of ousting Mary Metcalfe as director general had almost immediate repercussions — Project Literacy, the highly regarded adult-education NGO, has been decimated because grants from the National Skills Fund have been suspended for a ludicrously long period and Metcalfe's acting replacement shows no sign of understanding, or caring about, what is at stake.
Since the head of communications, Ranjeni Munusamy, was ousted, communications from a department that had comfortably topped all previous education regimes in this regard veered between the non-existent and farcical — witness the inept explanations of Nzimande's "new Seta landscape" in November.
Communication is direly needed about and with all the sectors under Nzimande's watch: FET colleges are rudderless and heavily in debt, Setas are uncertain and fearful about their new boss (they used to account to the labour department) and universities need much more expert listening ears.
Before Red October, Nzimande set a cracking pace, with a higher education summit in April and two skills summits in September. But will he again let his overweening ego trump his undoubted intellectual mastery of his portfolio?
Mildred Oliphant: Minister of Labour
Grade: Too soon to tell

Zuma's decision to axe Membathisi Mdladlana as labour minister and replace him with Mildred Oliphant did not come as a surprise, given the department's dismal performance over the years. Under Mdladlana's watch, the department received a qualified audit report from the auditor general for the seventh consecutive year in the 2009/2010 financial year.
One of Oliphant's major assignments will be to redeem the department's image by installing proper internal financial controls and appointing a permanent and credible director general. The current director general, Jimmy Manyi, is on suspension pending disciplinary action. Manyi allegedly advised the Norwegian ambassador to use companies that he (Manyi) recommended for investment opportunities.
Even if the disciplinary process clears Manyi, Oliphant will still have to make a tough call on whether to allow him to continue as director general while he is serving as president of the Black Management Forum.
One of the key criticisms that have been levelled at the department concerns its inability to employ more inspectors to monitor compliance of labour policies. The current vacancy rate is 11%.
Given the government's commitment to the creation of decent jobs, Oliphant will need to make significant inroads in making the most of the employment opportunities presented by the department's unemployment database, created in 2006.
According to departmental figures, only 26 000 job opportunities were created of the 421 000 registered on its database.
Radhakrishna Padayachie: Minister of Communications
Grade: Too early to tell

In Roy Padayachie the communications sector at least has a minister who knows it well — he served for years as the late Ivy Matsepe-Casaburri's deputy. But his association with Matsepe-Casaburri's disastrous ministerial term does pose some uncomfortable questions about him. Can he really distance himself from her failures?
Padayachie replaces Simphiwe Nyanda, whose term as communications minister lasted a year and a half and was plagued by controversy, including alleged interference at the SABC, attempts to reverse South Africa's decision on the digital television standard, alleged excessive expenditure and his public dispute with communications director general Mamadupi Mohlala.
Permanently replacing the director general should be the first item on Padayachie's agenda to get his department running smoothly.
There are also other matters that urgently need his attention. Sorting out the management of the SABC and Sentech are tough asks, as is managing the digital migration process for television.
With a bit of prodding from Nyanda, Icasa has finally got around to finalising regulations for such bottlenecks as interconnection tariffs. Another key telecommunications regulatory intervention that is required is the unbundling of the local loop — Telkom's copper cable network.
It will give other operators access to millions of South Africans' homes, businesses and consumers, potentially boosting competition and bringing down prices.
Naledi Pandor: Minister of Science and Technology
Grade: D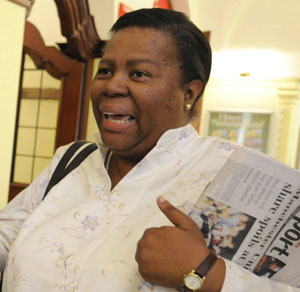 Naledi Pandor seemed to be sulking after she was demoted from the glamorously high-profile education portfolio last year to the nearly invisible science and technology portfolio.
And she still seems to be, judging by her lackadaisical attention to a portfolio that needs more attention if the country's research and development base is to survive the ravages of the recession.
It's not that Pandor keeps a low profile — on the contrary, in her speaking engagements she maintains the same impressively high work rate she set in education, making her not only one of the more visible but also among the most stylish communicators in the Cabinet.
But it is her attention to the less glamorous sweat and grind of departmental planning — her Achilles heel when she was in education — that occasions concern. Consider this year's chilling annual report of the National Advisory Council on Innovation, which advises the minister and the Cabinet.
The report indicates a "high overall risk of underperformance in meeting the national science, technology and innovation targets" — targets that include research and development expenditure, high-technology exports, PhDs in science, engineering and technology, and South African-originated United States patents.
This report should have, but did not, set off loud ministerial alarm bells. So too the October mini budget — to be off target by a few million here or there is permissible, but to have nearly a quarter of your total budget redesignated suggests awesomely poor departmental planning and foresight.
Better housekeeping, minister, please.
Ebrahim Patel: Minister of Economic Development
Grade: D


Last year we gave Ebrahim Patel an unrated X. His newly formed department was barely a skeleton, without a clear mandate and viewed as having been created simply to make Zuma's labour allies in the alliance happy for helping him to rise to the presidency.
This year the department has put some flesh on its bones by recruiting more than 50 staff, set to rise to about 90 by year end. The handover of several development finance institutions and regulatory bodies that once belonged to the department of trade and industry, including the Industrial Development Corporation, the Competition Commission and Tribunal, and the International Trade Administration Commission, has progressed. But the department's capacity for overseeing these agencies is still lacking. By its own admission on the under spending of its budget, only R171-million of R418-million was used, because of staffing challenges.
It has been managing the government's framework response to the economic crises and through the various funding programmes has helped save or create about 25 000 jobs.
The Competition Commission under Patel's watch has had some success, including securing a R251-million fine, and divestiture of assets, from Sasol for anti-competitive behaviour in the fertiliser sector and in getting a settlement from Pioneer Foods. Part of the settlement also included steps to bring down bread prices.
Finally it succeeded in launching its economic policy framework — the New Growth Path. Patel's ministry has noted criticisms from business and labour about the state's capacity to implement it, the balance between the private and public sectors, and the concerns about a pact on wages and executive pay.
But the release of the plan has helped only to illustrate that a year of uncertainty still mars the government's approach to economic policy. Patel's department has shown that it can draft documents and hold workshops. But how it will realise its policy, and whether it can marshal sustained support and co-operation from other departments, business and labour will be Patel's true test.
Dipuo Peters: Minister of Energy
Grade: D


Energy is both a high-profile and critical ministry yet its minister, Dipuo Peters, is something of a scarlet pimpernel, keeping in the background even to the extent of not pitching at important meetings.
Her detractors say she has too low a profile in Parliament and tends not to show up even when she is due to answer questions.
As the energy minister she is responsible for security of supply, and she has had to guide the country through the electricity crisis. Her capable — now ex — colleague, Barbara Hogan, the former public enterprises minister, shouldered most of the responsibility, working closely with her deputy minister, Enoch Gondwana, in reshaping, refocusing and refinancing parastatal Eskom after its disastrous stint under former chief executive Jacob Maroga.
Peters's stewardship has seen the development of IRP 2010, a master plan to guide energy use in South Africa over the next few decades. Critics say that it is a manifestation of a lack of capacity in the department of energy that its development was outsourced largely to heavy users of electricity and Eskom.
The government's recommended position as outlined in the IRP 2010 has also come under a barrage of criticism for being too reliant on the public sector, and specifically Eskom, and for treating renewable energy sources as an add-on, rather than being the heart of our energy future.
Jeff Radebe: Minister of Justice and Constitutional Development
Grade: D


Justice has not had a great year. Financially, it is in the dog box, with R805-million in irregular expenditure, mostly because of supply-chain irregularities. The auditor general warned that Radebe was failing as a leader because his department lacked systems to ensure that the law was obeyed.
His department had a qualified audit for the fifth year running. It has been criticised for general mismanagement too, especially in small but important things — such as not having the means to deal with third- party funds and not capturing leave forms properly. But Radebe went on the warpath this year, promising to punish corrupt officials who cost his department millions and to remedy mismanagement. It has yet to be done.
Radebe's appointment of prosecutions boss Menzi Simelane was also slammed, with the Democratic Alliance challenging it in court and information emerging later that Radebe had withheld information on Simelane from the president when the latter made the appointment.
The functioning of courts has deteriorated even further — disastrous administration, a horrendous backlog of almost 38 000 cases (especially criminal ones) and 43 senior management vacancies not filled.
The information in this year's financial report is unreliable because of inadequate monitoring systems, which leave statistical gaps.
On the bright side, Radebe has begun spending on the courts, building more courtrooms and installing lifts, for example. His department has appointed 41 judges and 107 magistrates in an attempt to cut down on the backlog.
Tokyo Sexwale: Minister of Human Settlements
Grade: C


The billionaire-turned-builder took his mantra — "build communities where people can play, pray and stay" — to the country this year and got much ribbon-cutting done. But he still fell far short of the target Zuma gave him.
Sexwale is supposed to deliver 160 000 houses by March — so far he has delivered only 64 121. But his wealth of experience in, um, wealth gives him leverage with banks, so he has introduced a R1-billion Guarantee Fund to provide both blue-collar and white-collar workers with better access to bonds.
Transforming the housing department, renamed human settlements, took a lot of Sexwale's time this year. He cracked down on dodgy contractors who built substandard houses or just took the money and ran or tweaked the design, for instance, so that bigger windows make the houses look a bit more like houses and less like upgraded shacks.
Another pebble in his shoe is the slow delivery of infrastructure, including water and electricity, without which no proper communities can be built. He asked Zuma to set up a coordinating committee to address this.
Polishing his man-of-the-people image, Sexwale flies economy class for his regular visits to Parliament and uses his own cars for government business. He also declined the use of a ministerial home in Cape Town — his mansion in Clifton has a much better view, anyway.
Susan Shabangu
Grade: C+


The department of mineral resources has had an ignoble year. The public battle between Kumba Iron Ore and ArcelorMittal South Africa over a supply contract inadvertently threw a light on the chaos over mineral rights in the country.
The Kumba case revealed the department's ailing capacity as a regulator and the awarding of the Sishen Iron Ore rights to a group of politically connected individuals exposed how easily the government processes can be manipulated for personal commercial gain and power.
But the one thing that makes Shabangu different from her predecessors is that she has admitted that there is a problem.
She has worked to overhaul the mineral rights licensing process — starting with a freeze on the issuing of prospecting licences — and has made the awarding of mining and prospecting rights public, in line with other countries.
An audit of the process has revealed the extent of the trouble, including BEE fronting, illegal mining activity and unauthorised sales of rights.
It has also revealed that ANC funding arm Chancellor House has been the recipient of a significant number of mineral rights.
Shabangu has remained steadfast, if not overtly vocal, on opposition to nationalisation, despite incredible pressure from the ANC Youth League, and she survived a Cabinet reshuffle despite being mooted for axing.
The looming crisis of acid mine drainage, stemming largely from derelict and ownerless mines, is a national problem. Shabangu's department is at the forefront of devising a solution, which will be very expensive.
Sicelo Shiceka: Minister of Cooperative Governance and Traditional Affairs
Grade: F


Top of Sicelo Shiceka's priorities for 2010 were basic service delivery, the financial viability and sound management of municipalities, partnerships between municipalities and organised labour, and good governance. But none of these areas has shown any convincing improvement.
Shiceka's promise to professionalise local government is yet to yield results — the teams of administrators he deployed in municipalities are still heavily political and little has changed for the better. We are yet to see the results of the local government turn-around strategy that was his key priority when he took office, implemented at a cost of R20-million.
Although he successfully established the department of traditional affairs, the first for indigenous leaders in the country, the department has yet to show its worth. His ministry needs to do a proper audit of how many traditional leaders the country has and how they are paid. And he has not yet addressed the demarcation of borders.
Though as a minister he is not directly accountable for finances, allegations that Shiceka pressured employees to approve financial transactions that led to irregular expenditure are strong enough to question his leadership.
Local government elections are a few months away and his department is expected to lead the process. But with the department's 2010 record, the ruling party will probably lead the way and Shiceka will follow.
Lindiwe Sisulu: Minister of Defence and Military Veterans
Grade: D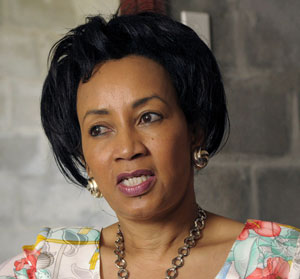 Lindiwe Sisulu's quick response to soldiers' gripes earned her a few medals this year. Poor salaries were increased (doubled for the lowest paid), working conditions are being improved and a new dispensation for the South African National Defence Force that will see soldiers' salaries structured independently from those of other public servants is in process. But suspicion remains that Sisulu implemented the increases in a deliberate strategy to undermine the role of trade unions.
The new dispensation will also establish a permanent National Defence Force Service Commission to manage and administer the affairs of the military.
Sisulu fulfilled her promise to redeploy soldiers at the borders to improve security there. Regarding HIV/Aids, her firmness in defending government policy is coming in handy and she is insisting on deploying HIV-positive soldiers to SANDF missions while educating South Africa's peers in the region who question the wisdom of doing so.
But Sisulu's month-long stand-off with MPs on Parliament's portfolio defence committee, particularly those in the opposition DA, and her determination to ban trade unions in the SANDF has created a cloud over her good work. She will need to keep her sleeves rolled up for a while longer because the trade unions will not accept their demise without a fight.
Because of her no-nonsense approach, Sisulu has been labelled arrogant, but she is one of the few ministers who know the rules of both Parliament and the Cabinet and always applies them with confidence.
Denel and Armscor both need more attention but under Sisulu's watch three of Denel's four industrial clusters reported a profit this year. Overall, she is what the defence force needs.
Her grade would have been higher had it not been for her clear disdain for Parliament and her sudden decision to refuse disclosure of presidential flights. Her irresponsible remarks about the media "killing" Gauteng premier Nomvula Mokonyane's son in a M&G interview is also not what one expects from someone of her stature.
Marthinus Van Schalkwyk: Minister of Tourism
Grade: B



The huge flow of tourists into the country for the Fifa World Cup gave Marthinus van Schalkwyk a huge year — and the fact that most had only lovely things to tweet and blog about says a lot about what his department has been able to achieve. South Africa was ready and Van Schalkwyk's department has to take credit.
Yet tourism is not a portfolio that is particularly loaded politically and this gives Van Schalkwyk the room to manoeuvre without much controversy. He worked hard behind the scenes and so seemed quiet — though he made some waves when he was favoured to become the United Nation's climate chief, a position he failed to get at the last minute.
That disappointment didn't diminish the energy he brought to throwing himself back into his work, where he has earned the reputation as the Cabinet's ultimate technocrat. His department is scandal free and seemingly stable. Programmes are rolled out and implemented and, like Van Schalkwyk himself, everyone just gets on with it with little fuss.
The minister's vision is that tourism should become an ever bigger contributor to South Africa's GDP, and he is quick to identify opportunities for achieving that. In November, cruise tourism received his attention and, before that, business travellers from non-traditional markets.
Lulu Xingwana: Minister of Women, Children and People with Disabilities
Grade: Too soon to tell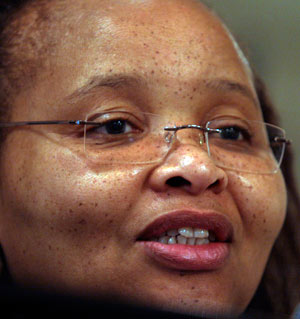 Lulu Xingwana hit the ground running when she made all the right noises on child rights, thanks the National Children's Day celebrated a few days after she took office. It's too early to assess her performance, but she has a huge task in building the department that her predecessor, Noluthando Mayende-Sibiya, failed to get it off the ground.
As arts and culture minister, Xingwana's criticism of photographs of nude lesbian couples as "immoral" and "against nation-building" could come back to haunt her if she doesn't change her attitude. The sooner she realises that the women in her new portfolio include lesbians, the better.
She must sort out the ineffective Commission for Gender Equality and introduce tougher legislation to protect children from all forms of abuse. Effective ways of curbing violence against women, particularly domestic violence, and improving the lives of people living with disabilities who are mostly isolated from their communities are two further items she needs to have on her diary.
As if that is not enough, she must look at ways of handling children in trouble with the law as well as reducing the number of juveniles in prisons. Will Xingwana rise to these challenges?