SA Fashion Week at the Crowne Plaza, Johannesburg got off to a rather chaotic start on Thursday, which some explained to be the standard. Bad form, I say. There was a lot of confusion regarding accreditation and who had to go where for the first show that was to open the fashion fanfare with a bang (which it did, albeit after a many ruffled fashion feathers). The Motions Sheer Glamour show was packed with fashion A-listers and their wannabes who came to witness this year's summer and spring fashion, and hair trends. All I can say about the hair trends is that if you have enough hair – without extensions, that is – no matter the texture, braid it.
Thursday saw some of South Africa's leading fashion houses giving trend lovers just a taste of what their collections had in store. Sharing a ramp with seven others and ensuring that your collection stayed in people's mind was no easy feat. Designers such as Black Coffee, Rubicon, Stoned Cherrie and Gert-Johan Coetzee showed half collections and set the tone for the rest of the week's fashion fare. There were collections that stood out for how trend-conscious they were and some that stayed true to what they are known for.
Here is a run-down of some of the standout collections:
Day One
Stoned Cherie's Khensani Manganyi said the fashion house did not really follow trends and they liked to observe what happened in the streets. They interpreted this in a tried and tested Stoned Cherie method of dresses that flatter the female form (peplum was seen in one of two garments) and using vibrant colours. But it was something that I felt I had seen before and the only interesting part of collection was the Johannesburg City skyline painted on the fabric of some of the dresses and the amazing earrings that went with them.
Durban-based designer Terence Bray did not deviate from summer's favourite colour, white, with a collection of dresses most would kill to be seen in during summer. My favourite piece was the drop waist 20s-inspired dress that got a lot of reaction from the crowd. I would have loved to see how he interpreted some of these collections with colour as some of them felt more like wedding outfits than every day wear. But there is no doubt that Bray celebrated the female form in a collection he said was inspired by art deco.
"I wanted a collection that translated into sheer glamour, that didn't rely on fit but also on the movement of the fabric," he said.
Day one of fashion week also saw the launch of trailblazer Suzaan Heyns's bridal collection. This collection is most definitely not for the conventional bride but there were no surprises here really. However, I had one or two favourite pieces in the line that made me want to walk the isle pronto, if only just to be seen in them.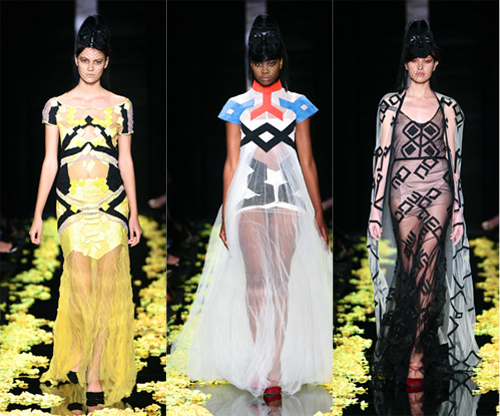 (Simon Deiner, SDR Photo)
After murmurs of discontent from fellow front-rowers the success story of the night was definitely that of the Black Coffee collection, which had all the high drama and atmosphere that most of the shows lacked. Black Coffee's Jacques van der Watt said the collection was inspired by the Kuba tribe from the Democratic Republic of Congo and the ancient geometric shapes that can be found in their mud cloths. The applause garment after garment received cemented the fashion house's role as one of the most innovative in the country.
---
Day Two
Kottin and Twill, a label that I wasn't familiar with before their showcase, happened to be one of my favourites of fashion week. They had one of the more accessible collections. Because I could see myself wearing that garment there and then doesn't mean they lacked edge. The pieces were presented in a way that would flatter all shapes and the use of leather to accessorise some of the garments was an absolute win. I look forward to seeing more from them.
Colleen Eitzen's collection is also one that stayed true to accessibility, which has seen it become one the most popular labels at the fashion store, The Space. Women of all shapes and sizes can find garments to suit them in this collection, whether you want a pair of shorts or floor length black maxi dress. The matching of some of the dresses with Converse All Star sneakers illustrated the relaxed nature of the collection and the type of woman who would wear the clothes.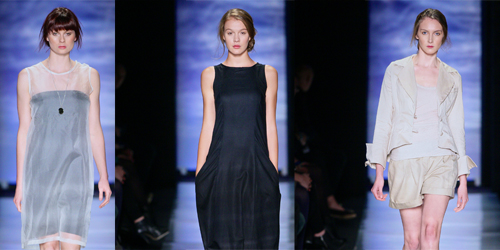 (Simon Deiner, SDR Photo)
Paledi Segapo's Palse Homme collection had some of the boldest designs I have seen in a men's collection, with polka dots and stripes in some of the suits. I loved the black toenail polish detail on the models as well as the turbans. I would love to see South African men interpret this look on the street.
---
Day Three
My most anticipated collection had to be Loxion Kulcha's return to fashion week. Once South Africa's premier street brand, I was eager to see what they had been cooking up after a hiatus from the fashion scene.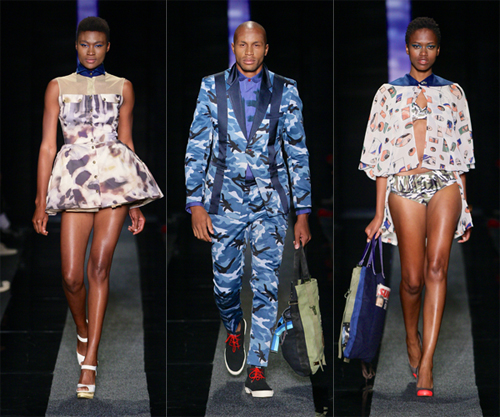 (Simon Deiner, SDR Photo)
Their collection was definitely not as "street" as it used to be, although some elements of its former self did make a brief appearance with relaxed and sporty looks. The collection was quite camouflage heavy, a trend that was quite prominent in autumn and winter collections last month, and I loved the intrepretation in shorts form.
A show where people in the audience let their love for the clothes on the ramp be heard loud and clear is always a winner. This was the case for the Skorzch collection, where almost every look that came out was met with resounding applause; leading some to whisper rent-a-crowd suspicions. I definitely think it was well deserved and again would love to see South African men on the street take its edginess and run with it. Bright, well-fitted suits were the order of the day. I also certainly hope that the cheers from the crowd translate to actual monetary support for the label. They deserve it.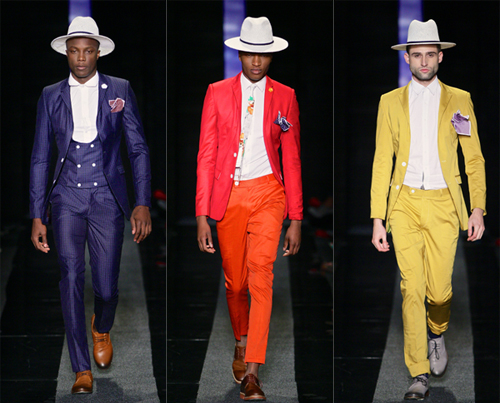 (Simon Deiner, SDR Photo)