The greenlit minarets of the Nizamiye Mosque rise above the warehouse roofs and blank office parks of industrial Midrand. There is a festive atmosphere at the mosque complex, which has come to be known colloquially as the Turkish Mosque.
The building of the mosque complex, which includes a school, clinic, boarding school, restaurant, gallery and a strip of shops was funded entirely by Turkish philanthropist Ali Katircioglu.
It was former president Nelson Mandela who, during a meeting in 2007, asked Katircioglu to consider including facilities that could benefit the larger community.
As the Muslim holy month of Ramadaan winds down and the biting chill of winter recedes, families have taken the opportunity to make a trip to the mosque to break their fast together and to join in the special prayers held after the late evening prayers.
The marathon "taraweeh salaah", which stretch on for an hour or two, sees Muslims recite large tracts of the Qur'an, the Muslim holy book, the first verses of which were revealed during Ramadaan.
Mosques are particularly full on the nights of the odd dates that the last 10 days of Ramadaan fall as Muslims seek "Laylatul Qadr", the Night of Power, when it's believed that the blessings for good deeds performed and prayers offered are multiplied. During these nights, many Muslims try to stay awake as long as possible to dedicate themselves to prayer and the recitation of the Qur'an.
The Nizamiye Mosque is no different in this regard. But it deviates from the cultural norms of most Gauteng mosques in that it makes provision for women to pray inside the mosque. As a result, this Ramadaan entire families including parents, children and grandparents, have come to the mosque to break their fast together and pray in congregation.
There is a festive atmosphere as families gather around tables in the cafeteria on the lower floor. Those who cannot find room in the cafeteria spread picnic blankets on the marble tiles of the mosque courtyard and cluster together, Middle Eastern style.
It is a far cry from the cold solitude that greeted me in many Jo'burg mosques where, when I could find one that allowed women to partake in prayers, women prayed in their ones and twos, in a dark upstairs corner of a mosque.
'A straight, unique order'
Mosques around the world come in many shapes and sizes. They are primarily prayer spaces but also places for community meeting places.
Muslims will tell you that all the world is a mosque, and regale their friends with tales of praying in side streets, on verges and in clothing store change rooms. But to pray in congregation, which is always preferable, one requires a clean space with room for orderly rows of attendees. These spaces can be small and improvised or grand and luxurious.
A visitor to Paris might find a congregation in a garage adjoined to a house, with a single tap for ablutions and a patchwork of rugs to pray on. On Fridays, Sandton businessmen pray together in a cramped concrete room in the parking lot of the Sandton City mall. The Nizamiye Mosque, meanwhile, is the polar opposite of these sparse, makeshift prayer spaces.
Modelled after the 16th century Selimiye Mosque in Edirne, Turkey, the mosque has room for about 800 people. But because of its situation in an industrial area, it is seldom this full and usually hosts no more than a quarter of its capacity.
Nevertheless, the interior features stained glass windows, 100% wool carpets, imported marble tile, ornate wood carved pulpits, enormous chandeliers, and intricate Arabic calligraphy, which took 15 Turkish artisans almost a year to complete.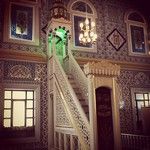 With its impressive 31m dome and towering 55m high minarets, it is an attraction that sees visitors, Muslim and non-Muslim, local and foreign alike, flocking to Midrand each week.
"We receive lots of visitors, especially at weekends" says Imam Ibrahim Atasoy, who leads the congregation. "Sometimes close to 500, sometimes close to 50. Some of them come from far, especially on holidays. Some of them come from three hours away."
"They ask us about our religion and our aims," he says. "We inform them about our religion and our beliefs … and we tell them we want to serve humanity first."
An oddity in Midrand
The mosque is of course completely at odds with the world around it, a Turkish transplant into an industrial area. It has no natural community from which to draw congregants. On a usual day, it is relatively empty. Friday afternoon prayers, compulsory for Muslim men, are usually busiest and consist mainly of people who work in the surrounding areas.
Situated on an impractical Midrand hilltop, its centuries-old architecture almost obscured by a hideous pharmaceuticals warehouse, the fairytale-like mosque has been embraced by visitors and locals alike.
In the years since it was planned and the months since its completion, there has been nothing like the hysteria that surrounded the building of an Islamic community centre in New York City, a couple of blocks from the site of the World Trade Centre, or Switzerland's ban on minarets.
Instagram pictures by Faranaaz Parker
Perhaps this is because Muslim communities in South Africa are not as ghettoised as they are in other countries – there are always mosques to be found in city centres and informal prayer spaces at malls, convention centres and office parks – and there are many Muslims who play prominent roles in South African society. During Ramadaan, formal clothing and baking supplies go on sale and clothing stores throw up "Eid Mubarak" signs.
"We in South Africa don't have the degree of Islamophobia that you have in other parts of the world," says Moulana Ebrahim Bham, head of the council of Muslim theologians, the Jamiatul-Ulama.
Bham speculates that this may be because Muslims have been part of the social fabric of the country for so long – over 300 years – and played a visible role in the anti-Apartheid struggle.
You don't have to look very hard to find well-known South African Muslims who easily put paid to any preconceptions one might have about how Muslims fit into South African society.
Struggle stalwart Ahmed Kathrada, affectionately known as Kathy by his comrades in the ANC, was sentenced to life imprisonment alongside Nelson Mandela and Walter Sisulu, and is still called on when remembering the Rivonia treason trials.
The bearded cricket player Hashim Amla is a devout Muslim and a beloved sporting hero to many.
Provincial transport minister Ismail Vadi may often be called on to defend local government decisions concerning electronic tolling or train ticket prices but never his white robes or long beard.
And while the average cellphone user may not care who calls the shots at their service provider so long as costs are kept low, it does not fail notice that the chief executives of both MTN and Vodacom are Muslims.
As the holy month of Ramadaan winds to a close, South African Muslims are grateful for many things – the food on their tables and roofs over their heads, which so many South Africans do not have, the peace and stability which has evaded African countries including Sudan, Egypt and Libya these many months, and the fact that we are largely free to pray as we like, dress as we like, and go about our lives, without fear of anti-Islamic sentiment.